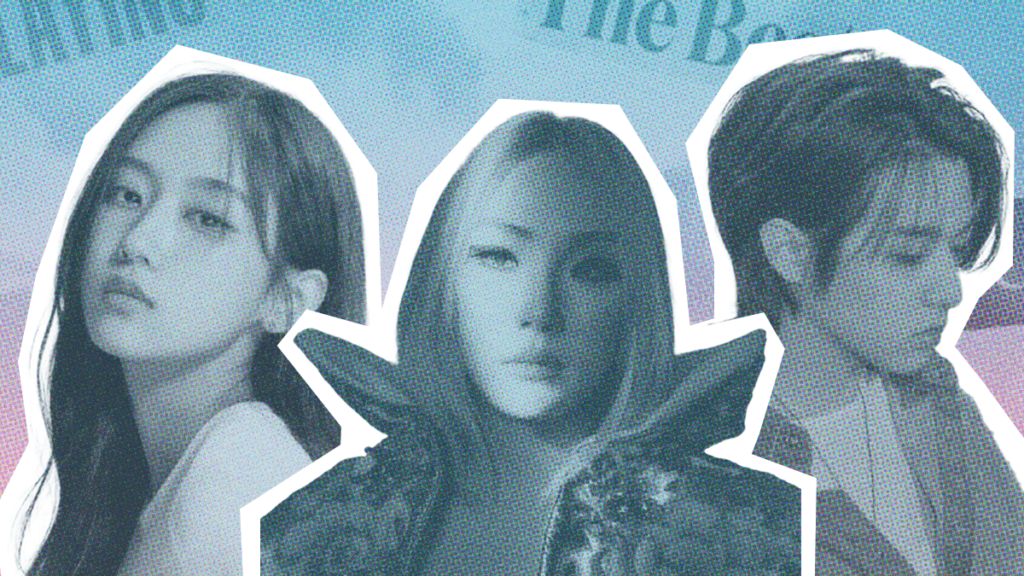 88rising's annual festival, Head In The Clouds, is just around the corner! The festival celebrates Asian music, with a diverse group of rising and/or well-known stars. Here is our guide to this weekend's Head In The Clouds 2021 lineup.
Day 1 (November 6, 2021)
Atarashii Gakko!
Atarashii Gakko! are recognized for their unique pop and jazz-rock sound. The group consists of leader Mizyu and members Rin, Suzuka, and Kanon. They debuted in 2015 and had their US debut on January 20 this year with "NAINAINAI," an introspective song about feeling lost during adulthood. Atarashii Gakko! hold an eccentric and fun image that will definitely continue to reel new fans in.
Ylona Garcia
Filipino-Australian singer and actress Ylona Garcia first gained popularity in the Philippines after becoming a runner-up on the show Pinoy Big Brother: 737 back in 2015. She then starred in two other shows, On the Wings of Love (2015) and Sana Dalawa ang Puso (2018). In March, she made her debut under 88rising with "All That" and recently came out with "Don't Go Changing," both showing her musical versatility. At the young age of 19, Garcia is already taking over the world with her powerful vocals. She's establishing herself as not just an artistic musician, but a multi-talented individual.
Audrey Nuna
New Jersey-based R&B singer-rapper Audrey Nuna is well known for "damn Right" and her collaboration with Jack Harlow, "Comic Sans." Her stage name comes from the word 누나  ("older sister" in Korean, used by men when referring to women older than them), reflecting her Korean ancestry. Earlier this year, she released a liquid breakfast. It features 10 songs highlighting her adolescence and duality in life. 
View this post on Instagram
Lil Cherry & Goldbuuda
Best known for their song "Mukkbang" that went viral earlier this year on social media, Lil Cherry & Goldbuuda are South Korean rappers under Wedaplugg Records infamous for their distinctive sound. On December 4, 2020,  Lil Cherry & Goldbuuda came out with a collaborative album titled Chef Talk that features 10 different tracks. Recently, they returned with "1000 Words."
DPR LIVE & DPR IAN
Hong Da-Bin and Christian Yu, known best by their stage names DPR LIVE and DPR IAN, are part of the independent label Dream Perfect Regime. South Korean singer-rapper DPR LIVE debuted in 2017 with the EP Coming To You Live. He has since then released many songs that demonstrate his creativity and capability. Meanwhile, Korean-Australian singer and rapper DPR IAN is the founder, creative director, producer, and chief editor of DPR. In late 2020, he made his solo debut with "So Beautiful" and showed the world just how multifaceted he is. Both artists are notorious for their brilliant abilities and innovative artistry that continue to inspire a new generation of musicians.
Rei Ami
With genre-meshing songs and distinctive personas, Rei Ami is a star on the rise. The Korean-American singer-songwriter gained online recognition after releasing her debut song "MAKE IT MINE" in 2019. After collaborating with other artists, such as Sub Urban and Aminé, she released her debut album FOIL this June. Check out her latest self-titled single below.
Elephante
Taiwanese-American DJ and producer Elephante — real name Tim Wu — has amassed attention with his captivating electronic dance tracks, including "Catching On," "High Water," and the recently released "Dopamine." As featured on our artist spotlight, Elephante released his sophomore album, Heavy Glow, on October 22 and is expected to perform on the Head In The Clouds stage along with other 88rising artists.
View this post on Instagram
Saweetie
Also known as icy bae on Twitter, Saweetie is a rapper with hits like "Best Friend" featuring Doja Cat and "My Type." She has multiple brand collaborations, like the Saweetie Meal with McDonald's and a jewelry line with PrettyLittleThing. Saweetie's YouTube channel also features "Icy University," her series discussing life advice. Recently, she was featured on 88rising x Marvel Studios' Shang-Chi and The Legend of The Ten Rings soundtrack album, collaborating with NIKI on "Swan Song." Her debut album Pretty Bitch Music is expected to be released soon.
Stephanie Poetri
As the Indonesian singer-songwriter behind the often-covered "I Love You 3000," Stephanie Poetri is known for her catchy pop melodies. She released her debut single, "Appreciate," in 2019. In March, she released her EP AM:PM, which is a collection of songs that explore the juxtaposition of the brightness of day and darkness of night. From the more laid-back and contemplative "3PM" to the upbeat and romantic "Selfish," Stephanie's discography might have the perfect song for your mood.
View this post on Instagram
CL
CL is no stranger to the international music scene. She debuted as rapper of legendary K-pop group 2NE1 in 2009, where she achieved her first Billboard chart ranking. Since then, she has launched her own solo career, with hits including "The Baddest Female" and "Hello Bitches." In 2018, CL participated in the Closing Ceremony for the PyeongChang Winter Olympics, where she performed her 2NE1 debut track, "Fire," and "Hello Bitches." This year marks a new page in CL's journey. The rapper-songwriter returned with her first full-length album, ALPHA. The long-awaited album consists of 11 riveting and bold tracks, including singles "Spicy" and "Lover Like Me." As an experienced performer, CL is ready to take the Head In The Clouds stage by storm.
UMI
Seattle-born UMI is known for her R&B and lo-fi blend sound and cinematic music videos. Her most popular release, "Remember Me," revolves around the theme of past love and growing up. This year, she released Introspection Reimagined, a reworking of her previously released Introspection. The Reimagined version allows listeners to hear how UMI experiments with her sound. 
Illenium
Electronic music producer and DJ Illenium is known for songs like "Good Things Fall Apart" and "Takeaway." Fans love his music for their catchy melodies and "sadboi" feel. This July, Illenium released his fourth studio album Fallen Embers. In the album, Illenium incorporates pop-punk sounds with his signature EDM style. 
View this post on Instagram
Japanese Breakfast
Indie rock band Japanese Breakfast, headed by Michelle Zauner, is known for captivating music videos and intimate lyrics. In June 2021, Zauner released her third album, Jubilee. As the album title suggests, the songs explore happiness, finding joy in creating, and lack of happiness and loss. Check out the music video of "Be Sweet," taken from the album, below.
Rich Brian
Six years into his career, the Indonesian artist Rich Brian continues to rise into prominence. So far, he has released two studio albums, Amen (2018) and The Sailor (2019), and one EP, 1999 (2020). This year, he featured in bbno$'s catchy single "edamame," which quickly became a TikTok sensation. Brian's gruff yet sentimental rap, coupled with his witty personality, makes him stand out. On November 4, he returned with "New Tooth."
Day 2 (November 7, 2021)
Luna Li
A self-described "music-making moon fairy," Luna Li is well-known for her quarantine jams and feel-good, relaxing songs. She is a multi-instrumentalist, capable of playing the piano, violin, guitar, harp, and drums. The Toronto-based artist released two EPs this year: the fully instrumental jams EP and the pop-oriented Flower (In Full Bloom). For those who enjoy chill and soothing music, Luna Li's discography is worth adding to your playlist. 
View this post on Instagram
Mỹ Anh
Mỹ Anh is a Vietnamese singer-songwriter who rose to fame after her appearance in The Heroes, the nationwide singing-producing competition. In the show, the 19-year-old performed her self-produced songs, namely "Got You" and "Yên." With R&B, jazz, and soul influences, Mỹ Anh sets herself apart from her peers in the Vietnamese music scene. Aside from singing her own songs, she also does covers and behind-the-scenes vlogs on her YouTube channel. Listen to her newest track, "Real Love," below.
Warren Hue
Debuting as an 88rising artist earlier this year with "omomo punk," 19 year-old Indonesian rapper Warren Hue — previously known as warrenisyellow — has proved to be a seasoned musician with a lot to offer. His career skyrocketed in less than a year, featuring in 88rising x Marvel Studios' Shang-Chi & The Legend of the Ten Rings soundtrack and appearing in different brand endorsements. Hue sets himself apart in the music industry. He continues to pursue his passion by creating unique songs that display his talents.
The Linda Lindas
Founded in 2018, the punk rock quartet Linda Lindas became viral after performing "Racist, Sexist Boy" at the Los Angeles Public Library earlier this year. The band consists of Mila (11, drums), Bela (17, guitar), Eloise (13, bass), and Lucia (14, guitar); all of them take part in singing. Beyond their viral video, The Linda Lindas has released a self-titled EP in 2020 and contributed to the soundtrack of Moxie! (2021), a Netflix movie about a student's attempts to call out the sexism in her high school. Their most recent single under Epitaph Records, "Oh!" depicts the importance of lifting each others' voices.
View this post on Instagram
Feel Ghood Music (Tiger JK, Yoon Mi-Rae, BIZZY, BIBI)
Four different musicians from the label Feel Ghood Music are set to perform this year at Head In The Clouds. South Korean singer-songwriter, BIBI, debuted on May 15, 2019, with her single "Binu" and has since made a name for herself while captivating listeners with her sleek vocals. Korean hip-hop group MFBTY consists of some of the most respected rappers, Tiger JK, Yoon Mi-Rae, and Bizzy. After four years, they made a comeback in 2019 with the EP Dream Catcher. With their unique impact, MFBTY have a strong influence in the Korean hip-hop community. 
View this post on Instagram
keshi
Known for his lo-fi R&B melodies and unique voice, keshi is a Texas-born singer, songwriter, and producer. His songs have been covered by K-pop stars like Day6's Young K and added to playlists curated by BTS' Jungkook. Recently, keshi has released two singles: "beside you" and "SOMEBODY." He was also a part of the 88rising x Marvel Studios' Shang-Chi and The Legend of The Ten Rings soundtrack album with "War with Heaven."
Seori
Best known for featuring in TOMORROW X TOGETHER's "0X1=LOVESONG (I Know I Love You)," Seori is an up-and-coming South Korean R&B and soul singer. After garnering attention for her English song covers, the 24-year-old signed to ATISPAUS in 2020 and later 88rising. In the same year, she released her debut EP, ?depacse ohw, which features six songs highlighting her sultry, soothing voice. Her most recent comeback is a collaboration with DAY6's Jae (under the name eaJ), "Dive with you."
Josh Pan
The multi-talented producer, DJ, singer-songwriter, and designer Josh Pan is all about representing the Asian community with the diverse work he puts out. The LA-based Taiwanese artist enjoys experimenting with his music and encourages others to do the same. He has a diverse range of discography, ranging from energetic songs such as "Supersonic (My Existence)" to mellow ones like "Many Moons" and "Save The World."
View this post on Instagram
eaJ
eaJ is DAY6's Jae moniker in his solo endeavors. Since 2020, the DAY6 vocalist and lead guitarist has ventured into his own singing-songwriting career, first releasing the song "LA TRAINS" on his YouTube channel. He then collaborated with other 88rising artists such as Rich Brian, keshi, and the latest being with Seori in "Dive with you." Compared to his contribution to DAY6, eaJ is more stripped down and personal. With soulful ballads and poetic lyrics, eaJ has proved himself to be a soulful artist.
Guapdad 4000
Also known for being a member of the hip-hop supergroup Zoink Gang, Guapdad 4000 is an American rapper and singer-songwriter of Filipino and African-American descent. He's immensely proud of his heritage, as shown in some of his hits like "Dragonball Durag" and "Chicken Adobo." Recently, he was featured in 88rising x Marvel Studios' Shang-Chi and The Legend of The Ten Rings soundtrack with the song "Foolish."
NIKI
Indonesian-born NIKI is the singer-songwriter behind the TikTok viral sound "You know I'm your type, right?" from her song "Indigo." Her debut studio album MOONCHILD, a concept album with three parts that represent the phases of the moon, was released in 2020. She was also a part of the 88rising x Marvel Studios' Shang-Chi and The Legend of The Ten Rings soundtrack album, releasing nostalgic and sweet "Every Summertime," badass "Clocked Out" with Audrey Nuna, and defiant "Swan Song" with Saweetie. 
View this post on Instagram
beabadoobee
Famous for her silky vocals and dreamy indie-pop music, Beatrice Laus — who goes by the stage name beabadoobee — is a Filipino singer-songwriter based in London. She first gained attention after uploading her first self written song "Coffee" on YouTube in 2017. After recognizing her potential, she continued to pursue her music career. Her latest comeback was in June this year with the EP Our Extended Play. 
Joji
Although he had started his career off by being a comedian and YouTube personality, Joji always had a passion for music. His decision to fully focus on his music career in 2017 soon paid off when his debut album Ballads 1 reached No. 1 on Billboard's Top R&B/Hip-Hop Albums in November 2018. Joji is now a prominent figure in the digital age.
See You This Weekend, Head In The Clouds! 
Nothing beats a celebration that honors Asian culture and creativity. If you'd like to stream the festival from home, make sure to tune in this weekend! The Head In The Clouds 2021 lineup is guaranteed to serve incredible live performances.
HITC will be streamed live all over the world! ❤️‍🔥⛅️❤️‍🔥⛅️Tune in from anywhere and watch the festival live-stream all weekend long, hosted by @amazonmusic on Twitch and Amazon Prime Video. Let's party

🏁📺🏁📺🏁https://t.co/mYaWypMS90 pic.twitter.com/GRZYOzYK3R

— 88rising (@88rising) November 2, 2021
Going to the Head In The Clouds 2021 festival? Check out our list of concert beauty essentials here.
Thumbnail courtesy of Mal.