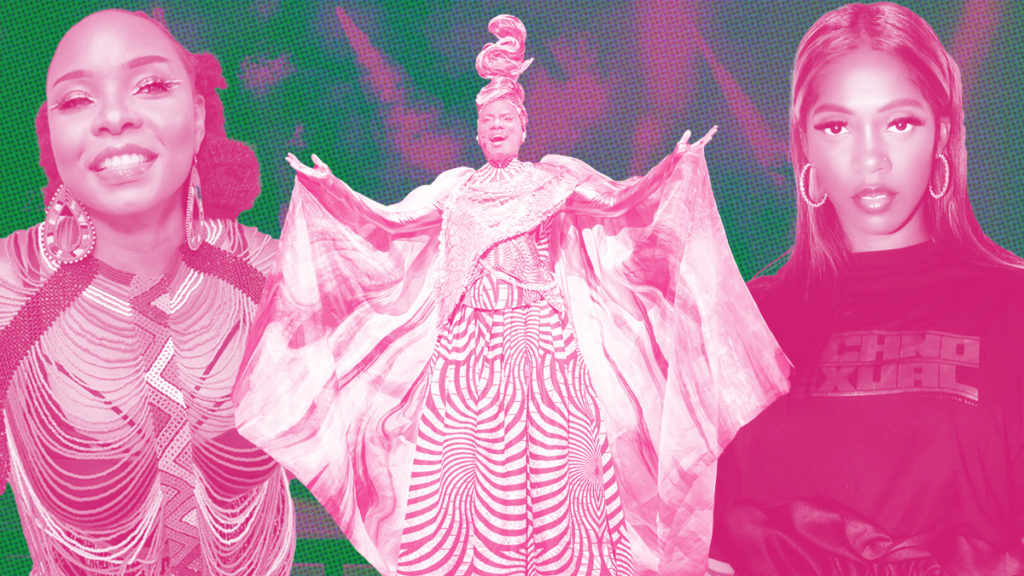 For International Women's Month, Formation is celebrating women trailblazers in Afropop. In part one, we are celebrating iconic artists over 30.
Afropop (sometimes referred to as Afrobeats) is a popular African music genre with roots in Nigeria and Ghana. It combines traditional West African music elements with global pop music, R&B, hip-hop, and dancehall influences. Artists under this Afropop umbrella may refer to their styles with different labels, such as Afrofusion, Alté (an alternative genre), and Banku.
Afropop has grown monumentally across the last decade, with global stars topping global charts, breaking records, and selling out shows worldwide. However, female artists have spoken about the scene continuing to be male-dominated. EnVi is shining a light on women artists who inspire as record-breakers, trendsetters, and philanthropists.
Country: Nigeria
Called the "Queen of Afrobeats," Tiwa Savage has had a trailblazing career. With several hits, chart-topping collaborations, international awards, and a solid presence at international festivals, she has made a name in a male-dominated industry. The Nigerian singer has had a lot of first-time achievements, including being the first female Nigerian artist to be nominated for a BET Award. She earned her first nomination in 2014 in the Best International Act category. In the same vein, her management and publishing deal with Roc Nation in 2016 made her the first African act to sign with the American company. Winning the 'Best African Act' at the MTV Europe Music Awards in 2018 earned her the title of the first and only African woman to achieve that feat.
Announcing her presence with "Kele Kele Love" in 2011, Savage dabbles in Afrobeats and Afropop, singing in her native Yoruba and English. She is known for hits such as "All Over," "49-99," "Eminado," and more. Savage has also collaborated with Brandy, Wizkid, Davido, Omarion and featured on "KEYS TO THE KINGDOM" off Beyoncé's The Lion King: The Gift.
Adding to her catalog of collaborations, Savage has lent her voice on background vocals for many acts, including Coldplay in "Eko" from their 2019 album Everyday Life. She also has songwriting credits on Jaicko's "Oh Yeah" and Monica's "Catch Me."
Tiwa Savage has graced the stage at many festivals and concerts, such as the Made in America Festival, the 2018 Global Citizen Festival: Mandela 100 in South Africa, and the 2019 Wireless Festival. In August 2018, she headlined a concert at The O2's Indigo venue. "The Savage Tour" tickets sold out hours before the performance, making her the first African female act to sell out Indigo at the O2 in London.
EnVi's Recommendations: "Koroba," "Somebody's Son (feat. Brandy)," "Ma Lo feat. Wizkid," "Tiwa's Vibe," "Dangerous Love"
Country: Nigeria
Naming her 2016 album Mama Africa (The Diary of an African Woman), Yemi Alade showcases diverse African cultures through her music and visuals. Her music videos often include high-energy dance routines and comedic scenes depicting love and everyday life in Nigeria. She has described her sound as "Afropolitan," which is "a blend of the Western sounds and Afrobeat with Highlife." New African dubbed her "Africa's multilingual nightingale." In addition to her native languages of English, Nigerian Pidgin English, Igbo, and Yoruba, she sings in French, Hausa, Portuguese and Swahili.
The Nigerian singer-songwriter won the Peak Talent Show talent competition in 2009, five years before her first international hit single, "Johnny." Proudly representing African women at home and abroad, Alade has collaborated with artists from across the continent and beyond. Collaborators include fellow Nigerian artists, Flavour and Falz, Beninese veteran singer Angélique Kidjo, and Beyoncé in The Lion King: The Gift.
Alade has several notable achievements. She was the first African female artist to reach one million YouTube subscribers in 2019. She has been recognized as one of the most influential people in the continent, featuring in New African's 100 Most Influential Africans of 2021 and Forbes Africa's 2018 30 under 30 lists. Alade has received various awards for her artistry, including the MTV African Music Award for Best Female in 2015 and 2016. She was also the first Nigerian woman nominated for Best African Act at the MTV European Music Awards in 2015.
Outside of music, Alade is known for her philanthropy. The Nigerian artist became a Goodwill Ambassador for the United Nations Development Programme in 2020. She expressed a goal to promote women's empowerment in areas such as the COVID-19 outbreak, climate change, and poverty. Alade also performed at Global Citizen's 'Global Goal: Unite for Our Future' concert to fight COVID-19.
Recommendations: "Johnny," "Oga," "Don't Jealous Me," "Na Gode," "Shekere (ft Angelique Kidjo)"
Country: Benin
Crowned "Africa's premier diva" by Time Magazine, the veteran Beninese singer-songwriter is known for her eclectic blending of global musical styles from the African diaspora and beyond. These styles span traditional Beninese music, African-American funk and jazz, and music from Latin America, with a tribute album for salsa icon Celia Cruz. Kidjo has described music as a "universal language," allowing her music to reach global audiences and break barriers. Kidjo herself is multilingual, singing in English, Ewe, French, Fon, Mina, Swahili, Spanish, Yoruba, and even created a language of her own.
The global star has released 13 albums since her first album Pretty (1981), at 21. Over her four-decade-long career, Kidjo has collaborated with international artists, such as Sting, Alicia Keys, and Ziggy Marley. The Beninese singer has inspired various artists, including Burna Boy, who sampled Kidjo's "Wombolombo" and "WE WE." Kidjo's music honors subjects close to her heart. Named after her mother, Eve (2014) is dedicated to African women and women's empowerment. The singer's most recent album, Mother Nature, covered uplifting themes with collaborations from the next generation of African stars, including Mr Eazi and Yemi Alade.
Both an artist and activist, Kidjo has been a UNICEF Goodwill Ambassador since 2002, campaigning for children's rights, education for girls, and climate change. She is also the founder of a not-for-profit organization. Bearing the same name as Kidjo's 1991 track, the Batonga Foundation was founded in 2006 to develop a more equitable society and help hard-to-reach young African women reach their potential. In addition, the Beninese artist was recognized for her commitment to equality with the Amnesty International Ambassador of Conscience Award in 2016.
Kidjo is the only African woman to have received 12 Grammy nominations and four wins. The artist has also been recognized as Forbes Africa's 50 Most Powerful Women of the Continent and Time's "The 100 Most Influential People of 2021" for her music, activism, and support for the next generation of artists.
EnVi's Recommendations: "Agolo," "We We," "Do Yourself ft. Burna Boy," "Wombo Lombo," "Batonga"
We hope you enjoyed this celebration of trailblazing women in African Pop Music! You can check out part 2, Influential Women Under 30 in Afropop.