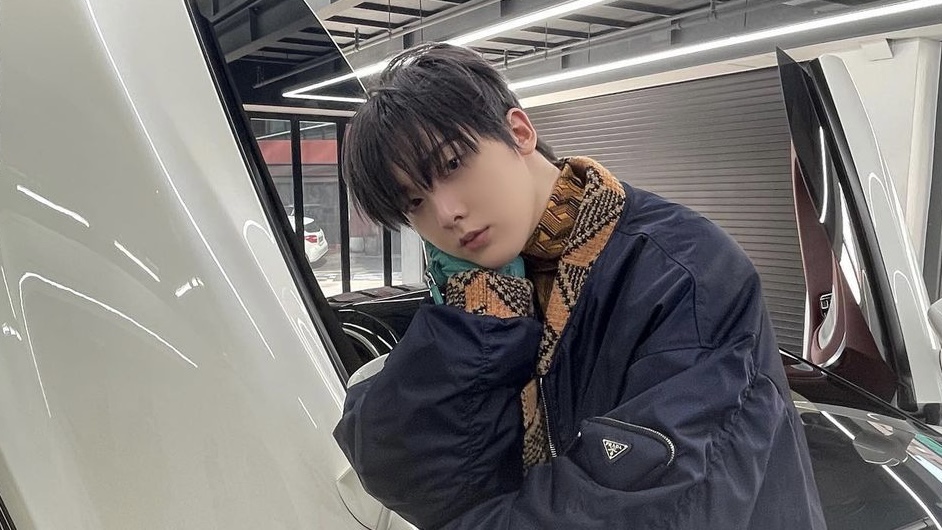 On October 4, ASTRO's Sanha was revealed as the newest cast member of the upcoming romantic comedy Crazy Love. It stars f(x)'s Krystal (Police University) and actor Kim Jae Wook (Her Private Life). Crazy Love is set to air on Mondays and Tuesdays on KBS2 from February 21, 2022, and will have a total of 16 episodes. 
[UPDATE] ASTRO Sanha to join Kim Jae Wook and Jung Soo Jung in upcoming KBS drama 'Crazy Love'

Source: https://t.co/7eSQAsOOqO https://t.co/r3LGKPePqn pic.twitter.com/VbAZPLVJtr

— The Seoul Story (@theseoulstory) October 4, 2021
This announcement follows the September 26 announcement of Sanha's casting as the male lead in the upcoming web series Your Playlist. With filming officially completed, Your Playlist premieres October 15, 2021, on Hello Live with new episodes Fridays at 12 p.m. KST. 
[#윤산하 #한기찬] [너의 재생목록] 윤산하, 수민, 김지훈, 한기찬, 한서울 30초 티저 청춘로맨스 사랑 이야기💖
(출처: EMOTION STUDIO)
▶️ https://t.co/bVszlmDL9a#판타클립 #너의재생목록 #아스트로 #ASTRO #YOONSANHA #HANGICHAN #YourPlaylist

— fantagio (@fantagiogroup) October 2, 2021
Crazy Love, Crazy Life
Crazy Love follows CEO Noh Go-jin (Kim Jae Wook) and his secretary Lee Shin-Ah (Krystal) as they navigate their lives. They face a murder threat, a terminal illness diagnosis, faking amnesia, and an engagement all in the process. Sanha takes on the role of Lee Shin-Ah's younger brother. 
Crazy Love will mark his official television drama debut, and as such, fans were quick to share their excitement on social media.  Here's a glimpse:
mainstream drama at last! 💜🥰 https://t.co/RA8t3luYdq

— ᴀᴄ✶ᶦᵃ | actor cha "soon" (@chastar__) October 4, 2021
Our maknae is booked and busy, I'm so proud of him😭😭 pic.twitter.com/C0TsxEB1EY

— 📚📚📚 (@MJsChizza) October 4, 2021
SANHA AND KIM JAE WOOK ??? LETS GOOO🗣🗣 https://t.co/EO2FaJkCZW

— j | CHANGER☀️ (@junheesspark) October 4, 2021
Congratulations, Sanha!!! Sooooo happy for you!!! https://t.co/HymhnauBkm

— maan (@zekeshocks) October 4, 2021
Reaching the Small Screen
ASTRO's maknae made his acting debut in 2015 with the pre-debut web series To Be Continued. Sanha appeared as a fictional version of himself alongside his fellow ASTRO members. In the years since, Sanha has honed his skills with roles in Soul Plate and Love Formula 11M. 
Following bandmates Cha Eunwoo and Moon Bin, Sanha will be the third ASTRO member to take the small screen. His latest role follows a string of ASTRO members' solo ventures, including musical theatre, variety show hosting, podcasting, and composing.
Arohas are in for a treat in the coming year. While Sanha makes his first TV drama appearance, Cha Eunwoo is set to take on his darkest role yet in the drama adaptation of the 2017 fantasy thriller webtoon Island, airing in the first half of 2022. 
In the meantime, there's plenty of content to catch up on. Watch DIVE Studios' Unboxing with JinJin and Pentagon's Kino on YouTube, check out the trailer for Your Playlist, and watch ASTRO's "After Midnight" off their latest mini-album Switch On here!
Want more from ACT!ON? Read all about some of the best webtoon-to-K-drama adaptations here. 
Thumbnail courtesy of  @ddana_yoon on instagram.