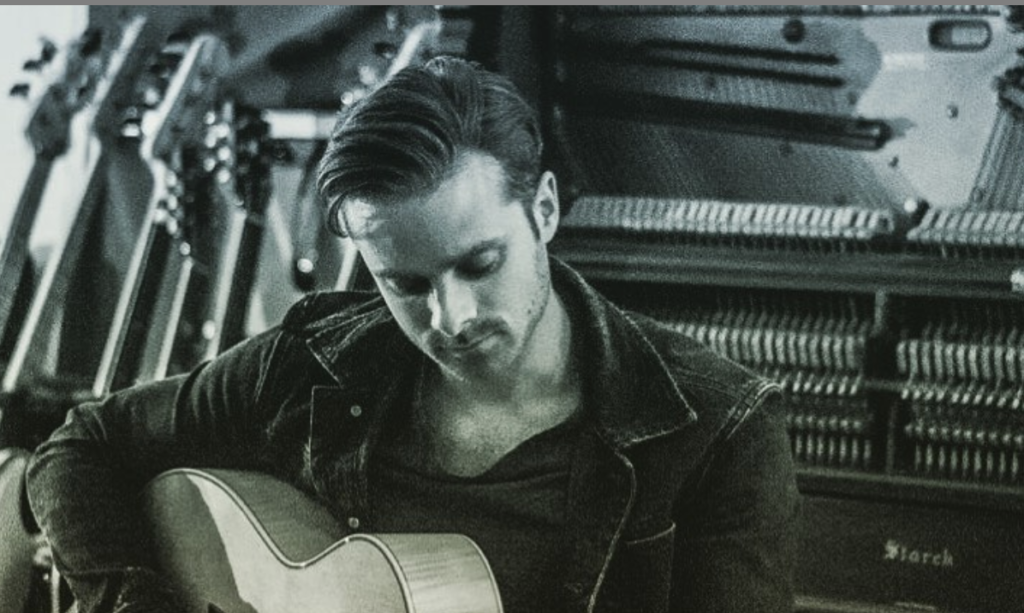 By Diana | @18kst
Dan Richards is a professional songwriter, producer, and guitarist originally from England, now based in the United States. He served as One Direction's lead guitarist during their tours. EnVi Magazine sat down with him to discuss his experiences touring, and his work as a writer and producer since then.
EnVi: How did you get started as a professional musician?
Dan: I started learning guitar when I was 14, and by the time I was 15 I was already doing paid shows. I was doing wedding bands in university because they paid really well and I got to meet a lot of great musicians on the circuit. It's just a really good way to get your name out there. Nearly every weekend I'd be out playing shows. When I initially graduated, I went and worked on a cruise ship for four months in a band, then I came back and got my master's degree. A week after I got my master's, I got the One Direction audition.
EnVi: One Direction was formed in 2010 and lasted for five or six years. It seemed like you were always touring. How was your experience working with them?
Dan: They formed in 2010 and had to do the X-Factor tour. After I joined, it was pretty much nonstop. We used to have around a month a year off, and I say that as a musician. For the One Direction members, that might not have been the case because they would have promotions and album recording. For the musicians, we'd have a month and since we weren't doing any touring, we could go do whatever we wanted, so I went backpacking and would see random parts of the world. 
View this post on Instagram
EnVi: What was it like playing those kinds of venues nonstop compared to stadium shows for the Where We Are tour?
Dan: If you're on stage, you can usually only see the first 20 rows of people's faces. After that, it's just a sea of people. I've always been a bigger fan of the smaller venues because I can feel the vibe of the crowd and I'm feeding off the energy of the people around me. With arena shows, you've got your stage and then 10-15 feet between you and the front row, so immediately you feel detached. For me and the rest of the band, after the first arena tour and the first couple of stadium shows, you don't really think about it. 
EnVi: I remember when we talked about this subject a while back, you said that for the most part, there's a lot of waiting around before the show starts.
Dan: It's very unglamorous. For us musicians, you have to do things people forget. You have to do a soundcheck and make sure everything works when you're about to fill a venue with 60,000 people. People also forget how long it takes to set up a stadium show, and they seem to think you do it overnight when it's usually a three or four-day process to set everything up.
On a show day, we may be in the venue by noon. We'll have played some of the songs and checked that everything works, finish by 1 p.m. and from then to 9 p.m. when we go on, we're just there. We're just hanging out at the venue, watching a lot of trash TV, playing computer games, and a lot of things like that.
EnVi: How long would it take after a show to get everything packed up and headed back to where you were staying?
Dan: You really want to go to the next venue, because what you don't want is to wake up and have a seven-hour drive to the next stop, and not make it in time to perform. So, most people decide to just drive there and sleep on the way. It all depends on what you're doing and who you're with, but we used to like getting on the tour bus and playing some games, just chilling, and then we'd wake up in a new city.
EnVi: That sounds like an incredibly busy time, but a fun one at least.
Dan: It's funny, you become part of this little bubble where you're not really in touch with reality because what you're doing is so surreal. There's a lot of amazing people who work behind the scenes to make sure everything keeps working.
EnVi: I remember watching the This is Us documentary and hearing them say they would record on the road. How would you set up a portable recording studio?
Dan: They had a van or bus that basically had a recording studio that was already set up, so someone would drive it and everything was there in the back for them to record. Their schedule is so intense, so if they could effectively double-book themselves, they could have time off the following week. They were working hard, I can understand why they'd want to get some time off.
EnVi: Even though you had a different schedule as a musician, I imagine that it was tiring for you to be moving around constantly.
Dan: It's kind of weird, but like with anything, you get into the rhythm of it. We had a good amount of days off. That is one of the benefits of stadiums, they take so long to set up and you get a few days off in each place. I remember we were in South Africa and we had a few days off, and we went on a safari because we could. 
EnVi: When did you move to the United States, and what were your goals moving here?
Dan: I moved here in 2016 with the idea of building a recording studio and working with different people who wanted to record. I love doing tours, don't get me wrong. The experience with One Direction was incredible. Nothing is going to compare. You can't fathom working with an artist at that level and it won't ever be replicated. I would gladly do tours again, but you sacrifice a lot of personal things for the tour, including relationships or having a family. So for me, having a recording studio and producing was the endgame. 
I will still tour and I did a small van tour a while back with Anna Clendening. It was very different, but it was great and I loved it. But especially now, in the music industry, you need to be fielding and doing multiple things. If I were only doing live performances, I would've been screwed when the pandemic hit. I was able to keep myself afloat because I do other things, and artists will contact me to finish songs since they can't tour. So, having side hustles is really important if you want to get into the industry. Don't put all your eggs in one basket.
EnVi: How did you go about establishing yourself in the U.S.?
Dan: I had people introduce me to different people in the industry, and I was putting myself out there. I was writing, recording, I even did shows for different artists including Rachel Platten. Nowadays, everyone is so tenacious that you can't wait for someone to stumble upon you. You just have to put yourself out there.
EnVi: Did you get your start as a songwriter when you were touring with One Direction?
Dan: No, I've been writing since I started playing guitar. I had my own band back then and would write my own songs. A lot of the writing actually got put on hold during the tour, but it was always something I was passionate about. When the tour ended, I had a lot of time on my hands, so I spent it writing and getting my production chops up. 
EnVi: How did you learn to produce?
Dan: I was very fortunate to begin with because I started working with a lot of people who were better than me, and that was a good way to improve quickly. I also did a lot of experimentation and practice, because ultimately, that's how people learn. I think a lot of people underestimate YouTube as a source for learning things because a good amount of what I know was learned by watching videos and understanding how to recreate that effect.
View this post on Instagram
EnVi: As a songwriter, do you usually work by yourself or with other songwriters? Do you ever do writing camps?
Dan: It depends on who you work with. If you work with EDM bands, for example, a lot of them are not interested in writing toplines and just want a solid song because they're going to do all the work and make it sound impressive. In those situations, I would just get some songwriters in and write for the group, then send the demo to them and let them do what they want. If it's an artist and it's their project, the main way you get success is by working with them rather than pitching. I personally prefer to work with the artists because you build that relationship, and you can get in their heads and understand what they're looking for.
If you want to stay connected with Dan, follow his Twitter, Instagram and check out his website!
Enjoyed this interview? Check out Kevin Chung, another multi-talented artist and his music journey!