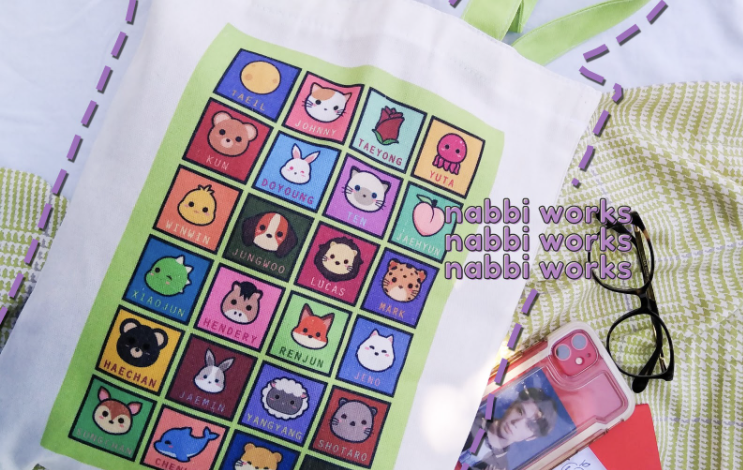 Country:
Philippines
Describe your business:
Through our business, we sell our own-made customized K-pop merch for all K-pop groups and fanbases. From tote bags, mousepads, and canvas wallets to pop sockets, sticker sets, pillows, and pillowcases, we create products that can create a K-pop fan fashion statement. Before making a design for each K-pop group, we research them. This includes their fandom color and name, recent comeback concept, personalities, iconic lines, and more to make it really personalized and close to the hearts of fans. We also make sure to upgrade our products by exploring other fandom merchandise that fits our designs and branding as well.
Picture of your product(s):
Inspiration and Background Story of the Shop:
Our small business really started as a hobby, and an outlet as well. Both of us are working individuals and are part of a very demanding industry, marketing & advertising. K-pop has been our source of comfort and happiness amidst our busy schedules. From there, we decided to merge our skills and our love of K-pop to create something that could creatively express our K-pop fandom and other fandoms as well. And seeing how happy and excited our customers are whenever we receive a message from them that they have already gotten the item really pushed us to continue with our business, despite all the hurdles and challenges.
Usage of Advertisement:
We advertise our business through our social media channels. We regularly post content and our products to our Facebook, Instagram, and Twitter accounts. We also use social media marketing tools such as Facebook Boosting, Instagram Boosting, Facebook Ads, Geotargeting, and many more. We use hashtags on all of our posts to garner a larger reach and engagement. Word-of-mouth is also one of our marketing tools – especially with those who post good reviews to our social media accounts and e-commerce sites. We are also currently developing our website so our clients can easily access and see all of our K-pop designs.
Issues while handling this small business:
One of the main issues that we are currently facing by owning a small business is the tight competition among online sellers nowadays. We have to be updated with K-pop fashion, K-pop group comebacks, and K-pop fandom culture to really make sure that our designs are aesthetically pleasing and intimate to the fandom as well. We have to juggle our time and skills in a lot of aspects just to make sure that our business and items are really visible to our target market. From social media management to selling to design creation and researching, we need to do this to deliver quality items and designs to different K-pop fandoms. We try to overcome these struggles by believing in our capabilities and items, and by moving forward. It is our motto that you won't be able to overcome such hurdles and problems if you dwell too much in it. You must think of a solution and move forward in order to achieve your dream and goal.
Lessons and benefits gain while being a shop owner:
One of the greatest things that we have learned by starting our business is to celebrate and recognize your own small successes. Whether it is a bulk order or a one-item order per day, what matters is that you are achieving success, whether in small or big quantities. Great things come to those who are hard-working, but at the same time, patiently waiting. Some of the unexpected benefits that we have gained from owning a small business are friendship and self-love. We gained clients that became our friends within different K-pop fandoms. We learned how to love and appreciate our abilities and small successes, both in the aspects of business and life.
Go-to advisors:
For our business, we do seek advice from our family members to be able to see through another persons' lens or point-of-view. It is very important for us to hear their opinions to know if our designs or marketing strategies are effective or aesthetically pleasing.
Tips and Encouragements for aspiring sellers:
To those people who would want to start a small business of their own, always trust the process. No matter how hard it might get, no matter how many obstacles and hurdles you might face, always move forward and do your best. Don't stop achieving your dream and goal for your business and learn from all the mistakes and problems you would face. Trust in yourself, in your business partner/s, and in God. And really trust the process and step-by-step small or big successes towards your dream.

Looking to support more small businesses? Check out an extensive list featured here.