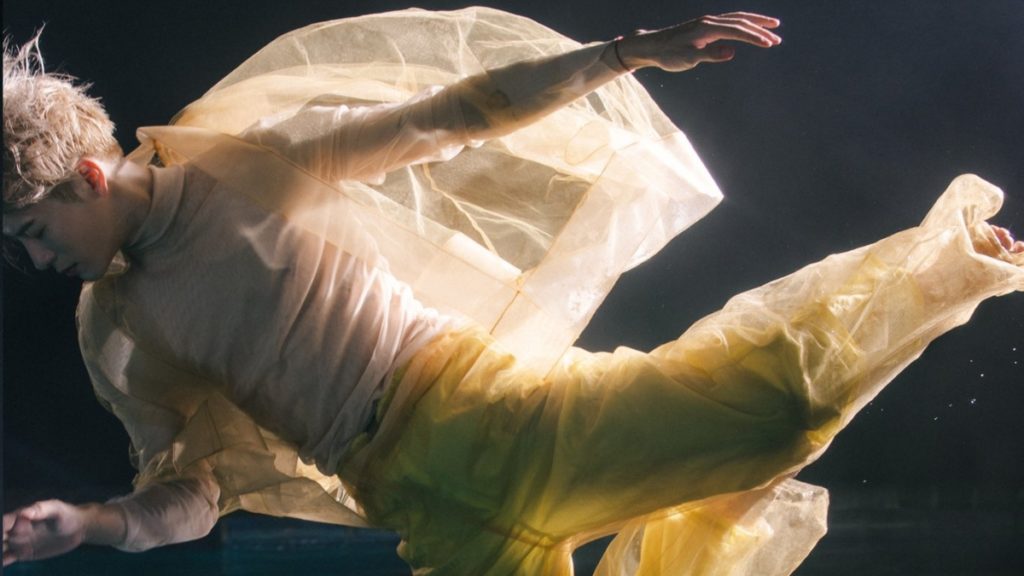 Jackson Wang is an all-rounded artist. From being an Olympic fencer, a member of GOT7, founder and creative behind co-ed group PANTHEPACK, to the founder of Team Wang Records and creative director and designer of Team Wang Design, he has many faces. And with the release of his highly-anticipated album on September 9, Jackson revealed himself as the MAGIC MAN.
MAGIC MAN: The Most Authentic Version
MAGIC MAN comes as a side of Jackson he has yet to reveal to the world. It's also one that the artist just recently discovered for himself. Jackson describes it as "the ultimate form of oneself, having gone through different peaks and valleys of life to arrive at the most authentic version. Everyone is able to become their own version of MAGIC MAN." He shares his journey through self-discovery in an open letter on his site. Immersed in his work and stuck in a year-long cycle of loneliness, he admitted to losing his passion for art.
"I got to a point where I was so lost and the further and longer I went, the more lost and the more negative, and the lonelier I got. Everything felt like a cycle and loop. I was lost, not connected with anyone also believing that talking to anyone wouldn't make a difference. And for the first time, I do not want to face them anymore. I tried avoiding them. Got to the point that I was lost without passion, and I wasn't inspired to think, to function, to have a healthy mindset, or to even breathe. That went on for around 1 year," the artist shared. With this, he explores the feelings of confusion, loneliness, and temptation in his sophomore album.
Temptation
With distorted guitar riffs and hard percussion sounds, "Blow" kicks off the album. It weaves a compelling soundscape that explores the growing addiction Jackson feels towards something that is bad for him, yet is too tempting to resist. In his psychedelic rock composition "Cruel," Jackson shares with listeners a cinematic storytelling of a cruel love story. Credited as a co-writer, the artist brings a sense of desperation. He truly captures the feeling that comes with wanting someone you know you can't, or even shouldn't have.
Through each track, Jackson pulls his listeners deeper into his mind. The artist confronts the pain and hopelessness that afflicted him throughout his journey, coupled with a gritty bassline and a dulcet groove. Using champagne to symbolize fame, the Hong Kong native reveals the dreary reality behind the glamor in "Champange Cool." This pop rock track's groovy rhythm is addictive in its sound just as the 'fame' he sings of. "Fame / I swear it's just a game we play / It's candy crush without the taste / But it's enough to make you chase." Despite its instability, the high life of stardom is enough to keep people chasing it.
Being in Love vs. Loving Someone
Opting for a juicy fusion of jazz, rock, and bass-filled verses, Jackson adores his partner in the soul-baring track "Come Alive." The song expresses the artist's pleading need for them, as he confesses he comes alive only with them. "I come alive / You start me up a million times / And I'm terrified / That you could leave me crying." It's in "Just Like Magic," where the multi-hyphenated artist explores the idea of a confusing spell-binding love . Featuring eclectic strums of an electric guitar, and Jackson's raspy falsettos, he compares the feeling of being in love to that of an enchantment, one that has him chained up. "I hold you in my arms five days of the week / Then you disappear on the weekend / You wrap me in chains and you tie up my feet / Then drop me off in the deep end."
Creating a Musical Experience
In MAGIC MAN, Jackson demonstrates ability to have his music surpass sound. He essentially creates an atmosphere and experience for listeners to immerse themselves in. In "Go Ghost," the artist captures that feeling of losing oneself in an unhealthy relationship. The song nearly teeters that line of unnerving with the line "I can't leave you even if I tried to." He treats the chorus like a mantra to prove just how far deep he is. "Drive It Like You Stole It" pays homage to the '00s dance genre of nu-disco with its synthwave influences. Jackson's breathy vocals paired with smooth R&B create a hypnotic, hazy atmosphere. In essence, this song feels like the wind gliding against one's skin as they're zooming down the highway with the lights of the city blurring around them and their lover.
"All The Way" immediately greets listeners with its sounds of distorted guitars and somber sound. Jackson's voice is dripping with desperation as he sings of not wanting to let go of someone. "I'm not used to you saying goodbye, saying / Goodbye for all the time." The song quickly plunges into a strong chorus that engulfs listeners with a grittiness brought on by rock elements.
From Loneliness to Happiness
"Dopamine" sees Jackson further exploring a more vulnerable side of himself. The song centers on his journey of self-discovery—ultimately, his search for happiness. He sings of the inherent need of happiness and the euphoric feeling that comes with that gratification. "I need a little smoothing out the rough / I want relief, I want to feel your touch / I want release, a little something in the cut." Though heavy in its meaning, Jackson brings a sense of reassurance to the track with his uplifting vocals. The journey to happiness is not easy, but it's all about how one perceives happiness and learning to enjoy it in all its forms.
"Blue" explores the mellow and tranquilness one finds in moments of loneliness. With a smooth groove, Jackson's soft vocals lure listeners into an intimate ambience. Solace is found in the person. This is a feeling Jackson expresses in the lyrics, where his partner is the only one who can ease the pain of being alone. "When I'm broke and I'm stressing /  I know you'll stay by me. / When I feel disconnected, you're all I need / When the water runs dry, I know that I can always come find you." 
Visual representation has been an important part of Jackson's artistry. and the music video for "Blue" gives viewers a visualization of his thoughts and emotions. In the video, Jackson is inside a dream-like realm. He free-falls from a drab and dark sky, passing through flames and into a pool of water. The bluish-beige color palette of the video further emphasizes the song's sweet-sounding tone and the feeling of loneliness. 
Finding His Voice
Jackson Wang continues to prove himself to be more than a capable artist with MAGIC MAN. His sound transcends cultures, languages and genres; this new direction is right where he is meant to be. In a recent interview, the artist shared, "I just want to share my artistry." Opening up about the uncertainty of the future, "I just want to leave something behind. We're living this life where we don't know what's going to happen tomorrow." He ultimately just hopes to create something meaningful for people, "[I want to] leave something behind before I'm gone." And he has done just that. MAGIC MAN is art in its truest definition.
Listen to Jackson Wang's MAGIC MAN on Spotify and Apple Music!
Keep up with Jackson Wang and his upcoming promotions by following him on his official Instagram and Twitter accounts, as well as his official YouTube channel. Also, be sure to follow the official TEAM WANG accounts on Instagram and Twitter.
Want more Jackson Wang? Check out EnVi's coverage of Jackson Wang's "Cruel," here!