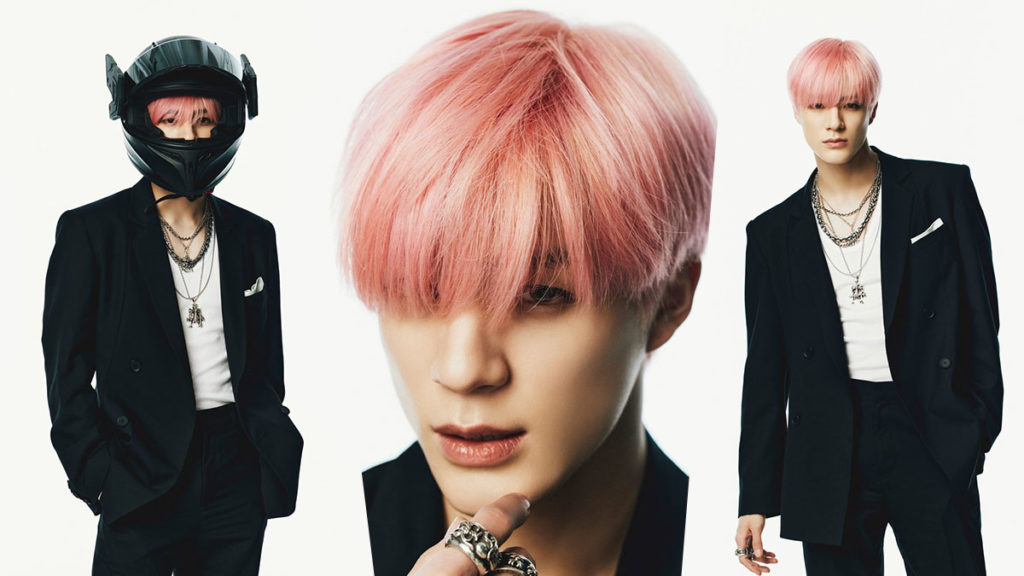 NCT DREAM's second full-length album, Glitch Mode, will be released soon. After the success of 2021's Hot Sauce and its Hello Future repackage, the group is set to show off a new image in the upcoming era. The septet referred to this comeback as an upgraded NCT DREAM. To celebrate, EnVi is reflecting back on each member's individual growth and evolution. With the comeback just around the corner, let's dive into Jeno's accomplishments and skill sets as an individual artist.
NCT DREAM's Captain & Backbone
While Mark leads the team from the front, NCT DREAM members say Jeno is their group's captain. He naturally shows his leadership abilities in how he conducts himself. Not only is he a pillar of support for his teammates, but Jeno's cool, collected nature and thoughtfulness allow him to listen and lead. As displayed in NCT DREAM's season of Boys Mental Training Camp, Jeno boasted his capabilities in group games. This was not Jeno's first time acting as leader. He stood in as a leader for the unit after Mark's brief graduation from the group in 2018.
Even so, he has always possessed essential leadership qualities, including sincerity, patience, and a collective mentality. Some of his wise words have been captured in some of his latest videos, including "Jeno's Beautiful Moments of 2021 and Beyond" and NCT DREAM's comeback kick-off. In the kick-off, he said, "Hot Sauce was an album that showed that there are seven members. Now we'll have to be able to say, 'Look what we can do.'" It is an inspiring statement with weight and a standard that he holds his group to.
Raspy Voice
Jeno is one of NCT DREAM's main rappers, delivering powerful punches through his practiced rhythm and edgy voice. Not only has he rapped for NCT DREAM, but he has recently been included in NCT's overall rap units. He has loaned his voice for "Misfit," "ZOO," and "OK!." Some of his standout NCT DREAM raps include his raps in "Dear DREAM," "Don't Need Your Love," "Best Friend," "Quiet Down," and "Hair in the Air."
In addition to rapping, Jeno has husky vocals. Some songs that showcase his singing abilities include "7 Days," "Dive Into You," and "Puzzle Piece." He has a unique energy that keeps listeners engaged, and sometimes hyped.
Clever Songwriter
Jeno's skills extend beyond the stage. He is also a songwriter with many credits for NCT. He is capable of owning different genres. He has participated in writing lyrics for intense songs like "Dream Run," "119," "Universe," and "ZOO." Some of his more sentimental pieces include "Dear DREAM," "Bye My First…," "Rainbow," "Best Friend," and "Puzzle Piece." Most recently, he helped write the bridge for NCT 2021's lead single, "Beautiful."
Powerful Dance
In addition to his writing and vocal skills, Jeno also has a very distinct way of dancing. His moves are powerful yet graceful. Contrary to his introverted nature, his dancing is wide and he fills the stage with his way of moving. In addition to his sharp movements and excellent control, he has intense stage presence and evocative facial expressions. Jeno's strong persona makes him the perfect candidate to be at the center of impactful dance sequences, such as the final chorus of "BOOM," or the "seukka" stirring move from "Hot Sauce." If his dancing was not already cool, he is also very agile and able to do acrobatics. In some of his performances, he incorporates backflips and spins for added drama.
The Host
In 2018, Jeno boasted more of his entertainment abilities when he became a host of the Korean music program, The Show. He ended the gig in late 2019. Through this, he showed his subtle humor, friendliness, and public speaking skills. He has since guest hosted other events, including the 12th INK Incheon K-pop Concert, the 2021 world K-pop Concert, and NCT's latest "NCT NEWS" spoof.
In addition to hosting music shows, he used to host his own ASMR YouTube series, JSMR. In this series, Jeno did a variety of tasks including eating, arranging flowers, and writing. Occasionally other NCT DREAM members would join in on the fun and record with him.
Variety Skills
His variety skills automatically show on camera. Jeno always listens, watches, and answers questions thoughtfully. He also acts silly at times when it is appropriate. He is also witty and sly with his humor. One example of this is when he joked that Haechan should have a smaller monitor next time NCT DREAM went on his "37.5 MHz Haechan Radio" for better communication. Another one of his subtle humor is when NCT DREAM guested on "It's You Dance!" on YouTube. He stated that he was more scared of the members in response to the question "who has nothing to be scared of when you're with the other members."
Jeno also shines in content when there are physical activities involved. He is one of the sportier members of the group. When given physical tasks on Weekly Idol, fellow member Chenle said "We have a Jeno" boasting his strength. This episode proved his abilities too. He was the MVP for their hula hoop game, able to back and forth whilst hula hooping. In the "Idol Troop Camp" YouTube series, he also jumps highest out of all members. He now has his own series called "JUST DO IT" where he and Jaemin try various sports activities.
The Model
Being part of NCT DREAM, Jeno has modeled for various products and magazines. Most recently, NCT DREAM promoted FCMM, Candylab, Lemonilo, and SOMETHINC. Through the different products, Jeno showed his ability to act and model, whilst also flaunting his clear skin and visuals. Some of his group photoshoots include MAPS in 2019 and Arena Homme in 2020, where he modeled alongside other members. His first solo pictorial was for GRAZIA Korea in 2020. His expressions always appear natural and effortless— perhaps a testament to his days as a child actor.
NCT DREAM, INCOMING
With a group of seven diverse members with various strengths, it is easy to look forward to their upcoming comeback. Both NCT DREAM and Jeno as an individual will certainly exceed expectations for their new album, music, and content. NCT DREAM will be returning to music with their second album on March 28.
Want more on NCT DREAM? Check out 7 Things to Know about Jeno's best friend, Jaemin here.