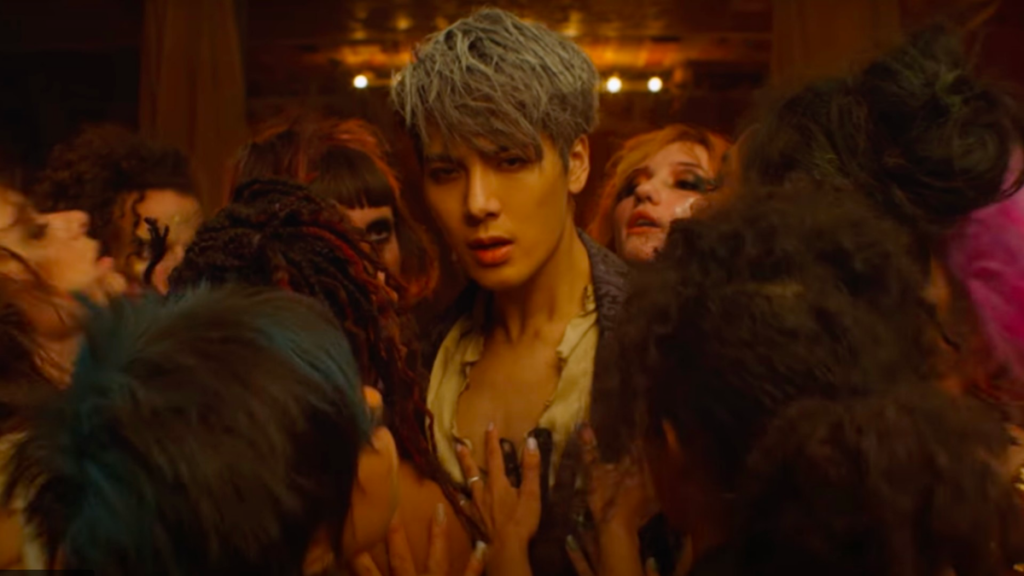 After the release of his surprise mixtape LOST & FOUND, multi-hyphenate Chinese artist Jackson Wang released his latest single "Blow," the first song off of his upcoming English album MAGIC MAN. The track was announced on March 29, with the declaration of a new musical era by the artist, and teased within 24 hours leading up to the song's release on March 31. 
A New Musical Era
Produced by Cambo, Louallday, and Leelee, the track explores a new sound for the artist, one that embodies an electrifying 90's rock vibe in full swing. Weaving a compelling soundscape, the track builds up through the layering of digital and analog sound effects, as the chorus soars through with distorted guitar riffs and hard percussion sounds, creating a dazed ambiance for the background vocals. Jackson's raspy falsetto is a perfect complement to the song's intense rock vibe.
Co-written by Jackson, the song reflects on a fatal attraction, a forbidden love that though the artist acknowledges to be dangerous for him, is still lured in by her addicting nature. "I felt her coming and I couldn't escape/I'm in the belly of the beast again/My dirty secret that keeps me awake." Comparing the addictive love to that of cigarettes, Jackson stumbles into a heated romance that further enhances the hard and electric influences of 90's rock. "You taste like cigarettes/Your body feels like disrespect/Let you play me like an instrument/But I'm addicted to it, yeah, I'm addicted to it, yeah, yeah."
MAGIC MAN Meets Bridgerton
Jackson Wang is a creative force to be reckoned with, and it shows in each project he produces. The music video for "Blow," illustrates a regency-inspired, theatrical theme filled with vintage influences in full swing. The bold, and sensual theatrical performance, depicts Jackson, and the performers clad in corsets, puff sleeve shirts, and vintage dress pants, entering a trance-like state when they breathe in the mysterious smoke. Viewers are then captivated in the following frames by the theatrical and dramatic choreography Jackson and professional dancers have partaken in. 
Ready for the MAGIC MAN
Upon release, "Blow" achieved #1 in 67 countries on Apple Music's Mandopop chart, entered the top 15 of US iTunes Pop chart, and ranked the third-highest charting English-language song on Apple Music China. Jackson also became the highest-charting Chinese artist on South Korea's Genie Top 200 Chart, ranked #30 on the Worldwide iTunes Song Chart, and rose to the top of QQMusic's New Songs Daily Chart and Popularity Index Daily Chart on its second day. 
On YouTube, the music video for "Blow" reached 5 million views since its release, debuting at #1 on Genius Korea's Hottest Songs by Hong Kong artist. "Blow" also made it to #1 on Genius' Rock Chart, and peaked at #14 on Genius' All-Genre chart. The song also earned Jackson his first-ever entry on Billboard's Hot Trending Songs chart, entering the 24-hour chart at #18. 
The upcoming MAGIC MAN project was first introduced in 2021 in the post-credit scene of the "Drive You Home" music video. The enigmatic title was further amplified through a cryptic message: "The longer the night lasts, the more our dreams will be."
Listen to "Blow"  on Spotify and Apple Music, and follow Jackson on Twitter and Instagram.
Looking for more? Check out our interview with Bang Yongguk here!