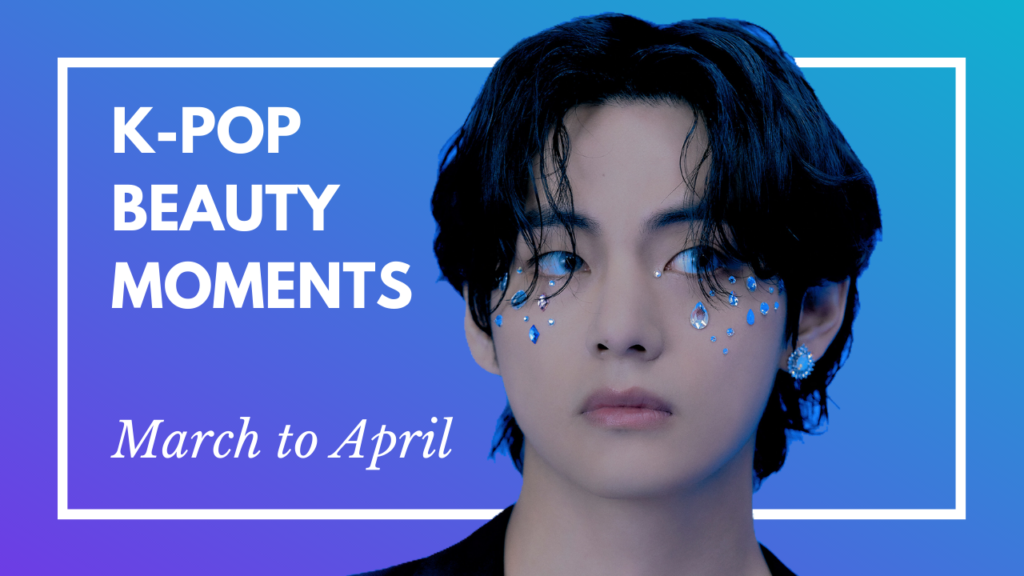 By Annie Bourbonnais | @_whoisannie
With the end of winter and the beginning of spring, makeup trends have changed along with the temperature, with more bright and warm looks appearing slowly in K-pop music videos and photoshoots. Bringing us amazing looks in the months of March and April, here are a few beauty moments we think are worth mentioning:
VERIVERY in the "Get Away" music video
Returning with an elegant but creepy concept, VERIVERY showed amazing visuals in their latest comeback, "Get Away." Following the current trend in K-pop of simple makeup with interesting details, the boys had warm colors with a smokey look on their lids and soft glitter on the cheeks, almost like it's part of their complexion.
ITZY in the Guess Who teaser pictures and concept films
ITZY showcased a variety of fun looks in their concept pictures for their newest album. Presenting many spring and summer trends, they showed us monochrome lids, blocky colorful liners, and tinted bright eyelashes. It's worthy to take a look at every picture and discover a cool new detail in each makeup look.
View this post on Instagram
View this post on Instagram
View this post on Instagram
View this post on Instagram
Lovelyz' Yein for bnt International
In her newest editorial for bnt International, Lovelyz's member Yein rocked looks perfect for the transition of spring to summer. First, a sun-kissed, blushy cheeks look, with fake freckles and glowy skin. Then, a fun bright combination of pink and yellow lids. She also showed a different side, with a more mature look, donning soft smokey shadow and red lips.
ASTRO in "One" music video
Also bringing makeup with subtle but interesting details, ASTRO had some amazing looks in this comeback, worthy of replaying the music video for "One" over and over again. A special emphasis on Eunwoo's look with gems next to the eyes, MJ's subtle liner dots, and Rocky's hairstyles- ranging from hairpins to glitter strands.
BTS' V in BTS Map of the Soul ON:E Concept Photobook
BTS released preview pictures for their upcoming concept photobook of their previous online concert, Map of the Soul ON:E. Amongst the beautiful photos, member V definitely stood out sporting a look with blue rhinestones and gems under his eyes.
Key in SHINee's "Atlantis" music video
It's even difficult to pick a favorite of all great visuals in SHINee's repackage comeback. However, from the orange eyeshadow to the dark green hair and the colorful nails, Key stands outmatching the concept perfectly in probably one of the most color cohesive music videos from 2021 so far.
Monsta X for Urban Decay
As part of an ongoing collaboration, Urban Decay ambassadors Monsta X released a new video and pictorial showcasing some of the products of the brand. The boys looked gorgeous as ever, but I.M, with his metallic green and grey shadow, and Hyungwon and his sparkly under eyes, stood out with their attention-grabbing looks.
View this post on Instagram
View this post on Instagram
The Boyz in "No Air" Kingdom performance
We all know that "Kingdom" and other seasons of the show have been a great opportunity to unveil amazing and different visuals on stage, in a more exaggerated manner than idols usually do. In the first round, "To the world," The Boyz chose A Song of Ice and Fire theme to showcase their song "No Air," with shimmery makeup that recalled ice, snow, and winter.
Enjoyed reading about the March and April K-pop beauty moments? Check out Eyeliners EnVi Beauty editors swear by.
Thumbnail by @orenjunal.
Image courtesy of bnt International, HYBE Corporation.