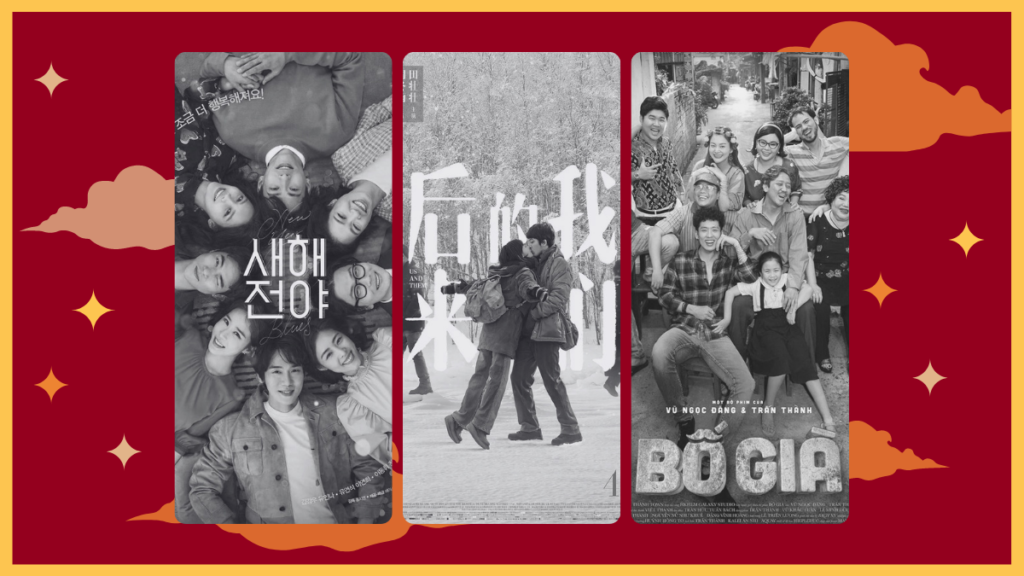 February 1 marks the beginning of a brand new year on the lunisolar calendar, and with it, around two weeks of celebrations known as the Spring Festival. 2022 marks the Year of the Water Tiger, the third of the Chinese zodiac animals. Lunar New Year is typically accompanied by masses of people returning home for the holidays, exchanging gifts, ancestral rites, lantern lighting, and family meals. Whether you're heading back home to celebrate the holidays with friends and family or you're stuck in place because of the ongoing pandemic, you can still enjoy the holiday spirit wherever you are. Our suggestion? Movie night. And in honor of the holidays, here are a few great films from across East Asia and the diaspora to help you ring in The Year of the Tiger.
A Year-End Medley (2021)
Trailer link: https://youtu.be/eYmy24EN74U
Country: Korea
Language(s): Korean
Where to Watch: iQIYI, FlixHQ, TVing (Korea only)
A Year-End Medley follows the intertwined love stories of employees and guests who cross paths at the fictional Emross Hotel during the New Year holidays. Actress Han Jimin stars as hotel manager Sojin, who faces new challenges when her best friend (and crush of 15 years) Seunghyo (Kim Youngkwang) announces his upcoming marriage.
Dubbed "Korea's Love Actually", A Year-End Medley captures seven different takes on love in a single film, from high school first loves to bromances. Romance blooms aplenty as the characters face "unrequited" love, rekindle old flames, and fall in love afresh. This heartwarming holiday flick features an ensemble cast including actors Lee Dongwook and Kim Haneul, as well as Girls' Generation's Yoona. Released on December 29, 2021, it is the latest film by veteran director Kwak Jaeyong (His Sassy Girl, Time Renegades).
Dance Dance Dragon (2012)
Trailer link: https://www.youtube.com/watch?v=MaEskLaaVgA
Dance Dance Dragon follows 84-year old matriarch Mother Loong as she tries every method possible to secure herself a grandchild before she dies. Her three adult children seem useless, with her eldest daughter, 48-year Lucy a spinster, Ah Bee a tomboyish gambling counselor fresh out of a breakup, and Ah Long, the only son, terrified of children despite being married for over ten years. Desperate, Mother Loong prays to the gods for a miracle baby, and when a baby boy shows up on the family's doorstep on the first day of the New Year, chaos ensues.
In Chinese astrology, the dragon represents good fortune, might, and intelligence. Across China and the diaspora, recent Dragon Years have been accompanied by baby booms, driven by the belief that children born in those years are destined to be especially prosperous. Set during Lunar New Year 2012, the most recent Dragon Year, Dance Dance Dragon pokes fun at this tradition. The film features a mixed Singaporean and Malaysian cast, starring Lai Meng, Dennis Chew, Adrian Pang, and Kym Ng. If you're looking for some family-friendly fun, this comedy film is the one for you.
Country: Singapore
Language(s): Mandarin Chinese, Hokkien, Teochew
Where to Watch: YouTube
New Year Blues (2021)
Trailer link: https://youtu.be/Ru_XkR9fbcg
In New Year Blues, four vastly different pairings attempt to navigate their personal and relationship issues during the week before New Year's Day. The story follows divorcee police officer Jiho (Kim Kangwoo), who is assigned to protect rehab trainer Hyoyoung (Yoo Inna) as she attempts to wrap up a divorce of her own. A trip to Argentina leads Jinah, an overworked part-timer nursing a breakup, to Jaeheon, who left Korea to escape the difficulties of working life. Travel agency CEO Yong Chan grapples with being cheated out of his money just before he is set to wed his Chinese fiancée Yao Lin, on top of his family's reluctance to accept his marriage to a foreigner. Meanwhile, Paralympic snowboarder Raehwan and his new fiancée Owol confront prejudice and judgment on all sides when the athlete signs with a new agency.
Released in February 2021, New Year Blues is a story of love, healing, and new beginnings, complete with cheesy romantic gestures, thought-provoking dialogues, and beautiful footage of Argentina. Directed by Hong Jiyoung, the film features actors Lee Donghwi and Yoo Yeonseok, as well as actresses Chen Duling and Lee Yeonhee.
Country: Korea
Language(s): Korean
Where to Watch: iQIYI, Viki, YouTube Movies, Waave
Us and Them (2018)
Trailer link: https://youtu.be/-xSs_xsf5sI
Jian Qing (Jing Boran) and Xiao Xiao (Zhou Dongyu) are two small-town Chinese young people who cross paths on a packed train heading home from Beijing during the Lunar New Year holidays. In the decade or so that follows, the two fall together and fall apart over and over again as they navigate personal, familial, professional, and romantic conflicts as individuals and as a couple. Capturing important lessons about nurturing the things that matter most, Us and Them is a bittersweet story of lost loves, reconciliation, and "what-ifs".
Us and Them is the directorial debut of Taiwanese singer-actress Rene Liu. It spans two timelines, past and present, with the former scenes filmed in black and white and the latter filmed in color. Taking place over roughly a decade, this film captures the ups and downs of love, life, and the pursuit of success in big-city China. It's definitely on the angstier side, so you might want to grab some tissues!
Country: China
Language: Mandarin Chinese
Where to Watch: Netflix, ViewAsian
Kung Fu Panda (2008)
In Kung Fu Panda, Jack Black portrays Po, a clumsy panda stuck in his father's noodle shop, who dreams of fighting alongside the Furious Five, a quintet of kung fu masters who protect the Valley of Peace. Po's life is twisted upside down when his unceremonious arrival at a tournament featuring the Five ends with him being bestowed the title of Dragon Warrior, much to the dismay of his idols and their mentor, Shifu. Set in a fictional wuxia version of ancient China, Kung Fu Panda follows Po on his quest to prove himself worthy, despite Shifu and the Five's numerous attempts to make him quit. With time, he learns and grows alongside the Five, who initially doubt his potential. Together, they work to protect the Dragon Scroll, a legendary artifact under threat of capture from Shifu's protégé-turned-enemy, Tai Lung.
Kung Fu Panda boasts a star-studded cast including Angelina Jolie, Seth Rogen, Jackie Chan, and Dustin Hoffman. It's a story about believing in oneself, embracing one's flaws, and finding friends along the way. Released in 2008, this well-loved animated classic has two sequels and several spinoff series, so it's perfect for family movie night.
Country: USA
Language: English
Where to Watch: Netflix, Yes!Movies
All's Well, Ends Well (1992)
Trailer link: https://youtu.be/Oaqi2af7RqI
All's Well, Ends Well follows the hilarious misadventures of the Shang brothers Moon, So, and Foon, who learn the hard way that the love they take for granted is easily lost in the face of selfishness and deceit. Moon (Raymond Wong) is a Hong Kong salaryman openly cheating on his wife while trying (and failing) to keep his two lives separate. Foon (Stephen Chow) is a radio DJ and womanizing playboy whose on-air flirtations and in-person kissing techniques earn him the attention of women far and wide. So (Leslie Cheung) is a family-loyal art school lecturer who is perpetually disgusted by his brothers' treatment of women, despite his conflicts with his second cousin Moseung. Throw in a banquet gone wrong, an affair exposed, a Hollywood-crazy fangirl with an obsession for acting out her favorite romantic movie scenes, and chaos ensues.
All's Well, Ends Well rings in as the oldest film on this list, initially released during Lunar New Year 1992. This Hong Kong cult classic directed by Clifton Ko is the first in a series of similarly titled films, some of which are sequentially connected. It's a mo lei tau film – slapstick comedy popular in Hong Kong – so don't take it too seriously!
Country: Hong Kong (China)
Language(s): Cantonese
Crazy Rich Asians (2018)
Trailer link: https://youtu.be/ZQ-YX-5bAs0
In Crazy Rich Asians, Chinese-American New Yorker Rachel Chu (Constance Wu) accompanies her boyfriend Nick Young to Singapore, initially to attend his best friend's wedding. In the process, she discovers Nick (Henry Golding) is a product of the Singaporean elite class, hailing from one of Asia's wealthiest families. With her boyfriend's attention in high demand and under severe, growing scrutiny from his family, particularly his mother Eleanor, Rachel is forced to find her place in Nick's world, if one exists. And with a target on her back and growing doubts about her relationship, Rachel has to decide whether Nick is worth tolerating his family.
Based on the novel of the same name by Kevin Kwan, Crazy Rich Asians is a story of sacrifice, overcoming traditions, and fighting for love. It features a predominantly Asian cast including Michelle Yeoh, Gemma Chan, Ken Jeong, and Lisu Lu. If you're looking for some romance mixed with social commentary on the relationships between Asian parents and their children, give this one a go.
Country: USA, Singapore
Language(s): English
Where to Watch: YouTube Movies, Yes!Movies, Flenix
Dad, I'm Sorry (2021)
Trailer link: https://youtu.be/jcwCaV9b03E
We wrap up this list with Dad, I'm Sorry, which follows the story of Bo Sang, a middle-aged Vietnamese single father who's too self-sacrificial for his own good. Set in a Saigon alley, Bo Sang struggles to meet the needs and wants of his incredibly dysfunctional extended family while growing increasingly disconnected from his teenage YouTuber son Woan. Debt-ridden, constantly ridiculed, and perpetually overwhelmed, Bo Sang can never seem to catch a break. His constant meddling only worsens his already strained familial relationships. The second half of this comedy-drama film takes some unexpected turns, so be prepared for a fair share of unexpected arrivals, age-old grievances, and deeply-rooted family conflict.
Dad, I'm Sorry, currently the highest-grossing film of all-time in Vietnam, hit theaters in March 2021 after COVID-19 delayed its initially scheduled Lunar New Year release. It stars Ngọc Giàu, Tuấn Trần, Ngân Chi and Lê Giang, among others. Bo Sang is portrayed by popular Vietnamese entertainer Trấn Thành, who co-wrote and directed the film.
Country: Vietnam
Language: Vietnamese
Where to Watch: Amazon Prime Video, FMovies, YouTube (Vietnamese only)
COVID-19 may have put a damper on things, but there are still plenty of ways to celebrate, and what better than a Lunar New Year movie marathon? Which of these flicks are you settling in to watch? Whether it's a tearjerker or something to make you laugh, grab some snacks, curl up and enjoy the holidays. Happy Lunar New Year!
Looking for more ACT!ON content? Check out "Year of the Tiger: K-Actors & Actresses Edition" here!