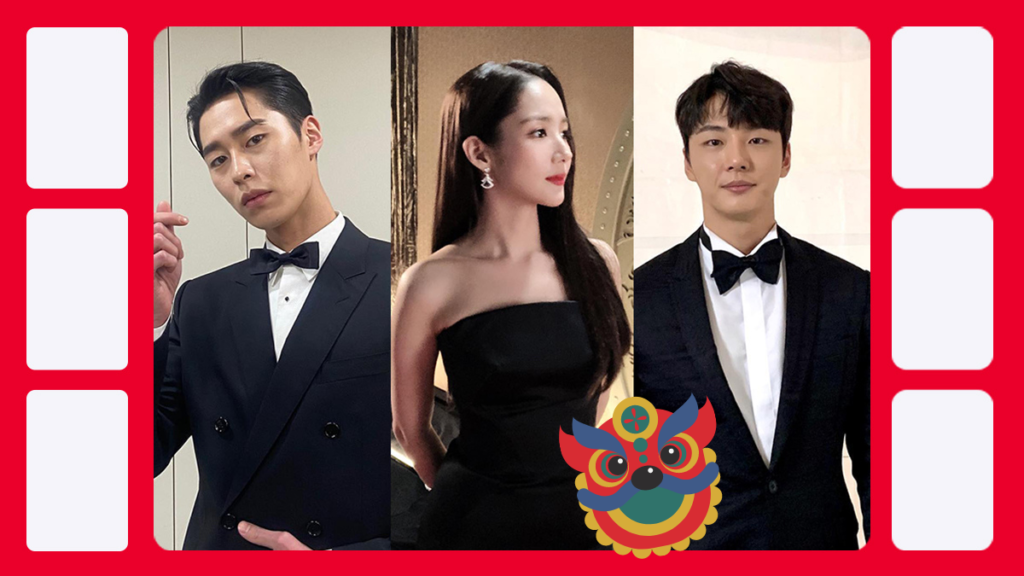 Based on the lunar calendar, Lunar New Year is celebrated by several East and Southeast Asian countries. Most follow a variation of the Chinese Zodiac, a 12-year cycle that assigns an animal per year— in the new year of 2022, we are now entering the year of the Tiger. Each animal has assigned attributes, similar to western horoscopes and their signs. Those with the Tiger birth sign year are generally believed to be strong, confident, and charming leaders. Whether these traits are true or not, let's celebrate below these Korean actors and actresses born in the Year of the Tiger!
Yoon Shi Yoon
This well-decorated actor started his career off strong with the hit show High Kick Through the Roof. From one successful project to the next, it was when he starred as the titular character of King of Baking, Kim Tak Gu that Yoon truly shot to fame and recognition. The beloved show did so well it's become one of Korea's highest-rated dramas of all time with over 50% peak viewership rating. Since then, he's explored different roles and genres acting in Hit the Top, Grand Prince, Your Honor, Psychopath Diary and Train. Through these shows, his switch between making others laugh and captivating viewers with emotional scenes have gained him immense respect as an actor. Yoon is set to star in the upcoming family drama, Now is Beautiful, as one of three brothers.
Yoo Ah In
Winning the Best Actor award at the Blue Dragon Film Awards and Baeksang Arts Award, Yoo Ah In has shown his acting skills throughout his roles in films and K-dramas. He has played a diversity of roles playing as a villainous cult leader in Hellbound (2021) to a prince in the historic film The Throne (2015). He is also known in dramas like Chicago Typewriter (2017), Secret Love Affair (2014), and Fashion King (2012). He has also taken the role as Lee Jong Soo in the Korean film Burning (2018), acting alongside Steven Yeun. The film had been shortlisted for Best Foreign Language Film at the 91st Academy Awards, becoming the first Korean film to do this. Yoo Ah In once said he wishes for the audience to understand actors experimenting as they expand their roles and acting abilities instead of wanting to see what they want to see from those actors.
Park Minyoung
Park Minyoung has dominated the rom-com K-drama scene since her acting debut in 2006. The actress has won numerous awards for her sizzling chemistry with her co-stars for dramas like Healer, What's Wrong with Secretary Kim, and Queen for Seven Days. Even with such a busy life Park enjoys vlogging her daily life on her YouTube channel and dedicating donations in her fans' name in gratitude for all their love and support. As fierce as her zodiac animal, the actress is starting off the year strong as she returns to the small screen with Forecasting Love and Weather. 
Moon Chaewon
Moon broke barriers with her breakthrough role as a beautiful courtesan who falls for a cross-dressing painter in Painter of the Wind. Her performance was so well received she even won the 2008 SBS's Best Couple Award making her a part of the first female couple to ever achieve this in Korean acting history. The actress is best known for her roles in Brilliant Legacy, The Innocent Man, Good Doctor and most recently Flower of Evil. She has several awards under her belt, most notably securing Best New Actress in 2011 from the Grand Bell Awards, which is regarded as one of Korea's most prestigious award ceremonies. Moon is set to star in the upcoming Korean film remake of Argentinian movie, No Kids.
Jeon Somin
Jeon Somin has won hearts with not only her acting but her witty upbeat personality shown through the popular variety show, Running Man. Her time on the show has made her a household name which translated to increasing attention on her work outside of variety. Jeon gained recognition for her sweet chemistry in Tomorrow Victory, Something About 1 Percent, and Top Star U-back. Her recent performance in Show Window: The Queen's House allowed viewers to see a new darker side to her as her character finds themself involved in infidelity. The actress has announced her participation in the upcoming drama remake of the UK series, Cleaning Up.
Lee Jaewook
Known for his charms and looks, Lee Jaewook entered the K-drama scene by debuting in 2018 with the drama Memories of the Alhambra . After his appearance, he had gained lots of attention and had succeeded in taking major roles in K-dramas like Search: WWW (2019) and Extraordinary You (2020). In October 2020, he made his first leading role in the K-drama Do Do Sol Sol La La Sol (2020). Lee Jaewook also takes part in modeling—participating in photoshoots and fashion shows for brands like Prada and Lancome Cosmetics.
May good luck and fortune be brought to those born in the Year of the Tiger. We can't wait to see what these actors and actresses have in store for us in 2022. We wish you all a Happy Lunar New Year!
Looking for more ACT!ON content? Check out breakdown of JISOO's acting career here!