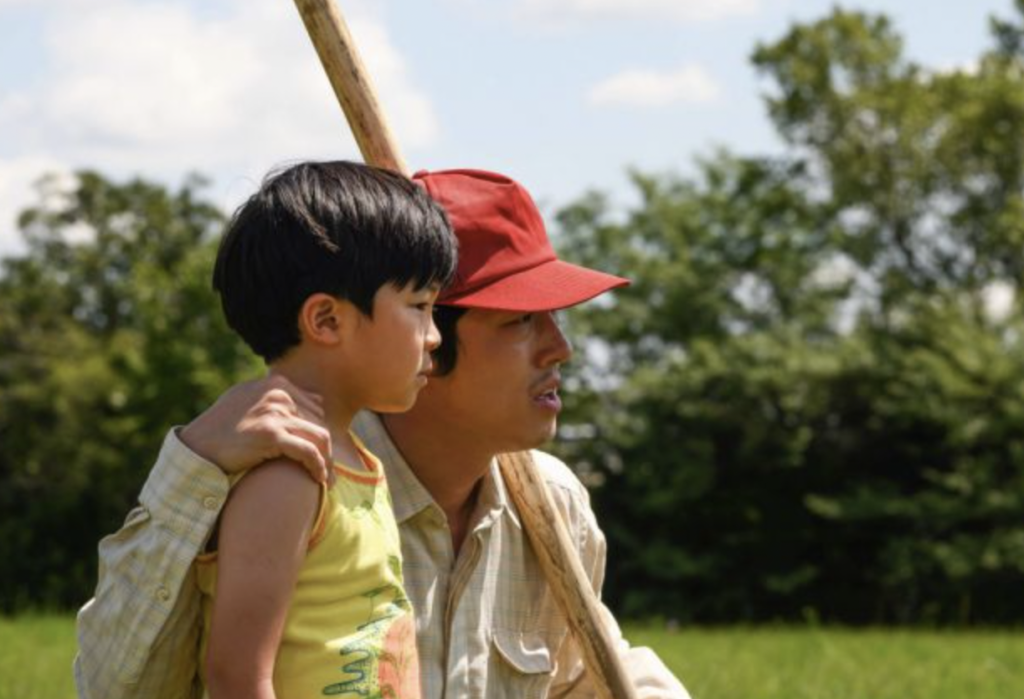 By Mendy | @baobeihei
This week, Minari was nominated for six awards, including "Best Film" at the Oscars. Despite Minari making history, inconsistencies about Minari's categorization as a "foreign language" reveal Hollywood's ongoing racism, and should compel both audiences and artists to reconsider award show prestige. 
The Oscar nominations come after Minari's disqualification from the "Best Picture" category at the Golden Globes and the Critics Choice Awards. Due to its dialogue being over 50% Korean, the film was instead confined into the "Best Foreign Language Film" category. This prevailed despite America not having a national language, and despite the movie entirely American production. In the cusp of February-March, Minari ultimately took home awards for Best Foreign Language film from both shows, but the joy of the win—and these current nominations—still remains tainted with disappointment. 
Specifically, while the adorable Alan Kim, who stars in Minari, recently went viral for his tearful acceptance speech at the Critics Choice, on-screen dad Steven Yeun grounded us with this bitter reality.
"Rules and institutions can never really capture the nuance of real life, and that is that Asian Americans make up the fabric of America as well, and it just sends a weird message, but happy that people will hopefully see this film so [I am] very grateful," Yeun said, responding to the Golden Globes win.  
For more context, Minari is a film based on director Lee Isaac Chung's Korean American family, and the experience they had moving to Arkansas from California. This treatment of Asian diaspora films is unfortunately not new. It also happened with director Lulu Wang's film, The Farewell, which was based on Wang's Chinese American family navigating her grandmother's terminal illness. 
Yet, every time, exclusion feels like a slap in the face, while inclusion feels like a consolation prize. It is not to downplay the accomplishments of these films, but these occurrences only amplify the racism that makes films, created by and for people of color, scarce. Even if they excel in every way, they are forever bound to being otherized, or a token. They cannot be masterpieces like white, Western films. 
This is the perpetual foreigner gaze, which continues to rear its ugly head. It is the idea that Asian Americans will never be seen as truly "American." No matter how many Asian celebrities become mainstream or "gain visibility," its lashes flutter when Asian celebrities get asked where they are from. Its brows wags when our favorite K-pop artists get told their English is good, despite being born in the West, and despite being more comfortable with English than with our mother languages.
But why are we constantly surprised when we are told we do not belong, when nothing has given us true hope that we ever did? From yellow peril/sinophobia in the late 1800s, to colonialism in Asia during the 1940s, to current increase of hate crimes against Asian Americans, why does it still come as a surprise every time?
What is missing from the conversation is what being Asian American originally meant, and what it has grown to become and even misrepresent.
Daryl Maeda, a former Ethnic Studies professor at University of Colorado, analyzes the context in which the term "Asian American" identity arose in this journal article*, writing, "The formation of 'Asian American' identity was catalyzed by 'performances of blackness.'" 
Essentially, Asian American activism has always been historically linked to, inspired by, and even copied from the Black Power movement, in which conceptions of Black and African American identity were birthed. Therefore, to understand what "Asian American" truly means requires understanding and learning from the purposes of "African American," as a term and as an identity.  
Robin Hayes, an Ethnic Studies and Political Science professor at Columbia, dove into the intentions for "African American" identity and Black Power in his paper, The Dialogic Relationship Between Black Power and African Independence: A Case Study of SNCC's Role, 1960-1970.
"The term 'Black Power' was first popularized in 1966 by Kwame Turé, an activist with the Student Nonviolent Coordinating Committee (SNCC)… [which] began to define African Americans as colonized people within a colonizing nation, thus U.S. institutions were delegitimized, and an anti-colonialist objective was adopted," Hayes wrote. 
The original meaning of the term "Asian American," derived from the term "African American" has been muddled. This viewpoint helps us translate what "Asian American" identity originally meant. 
As opposed to what "Asian American" implies today—that we are proud subjects of the American empire, and as "American" as a white settler—"Asian American" originally meant that we were Asians who were subjected to the violence of the American empire, by nature of living in America.
Asian American activists had debates on the nature of this violence, whether it was uniquely within American borders or if it was tied to global imperialism, (ie, the violence that Western nations inflict on our home countries).
However, one thing was clear: Asian Americans did not want to be a part of settler America and actively resisted against assimilation. We do not belong on this occupied Indigenous land, and we should not aspire to. 
The term "Asian American" was then also used to create a sense of solidarity and unity between multiple Asian groups, who were previously categorized as "Oriental" due to Asia being only seen as an imperial conquest by the West. Understandings of colonial harm and solidarity with Black, Latinx, and Native American groups made this umbrella term possible.
But what further complicates modern understandings of "Asian American," is that the term has grown to become divisive and exclusive. This is especially the case for those who do not fit into views of "the model minority," who are South Asian and Southeast Asian, and who suffer continued state violence such as incarceration, police brutality, and deportation. 
While Maeda said the term, Asian American, is more "'essential than ever'" for NBC, we have to consider the new implications of "Asian American," and also think about how we can realign ourselves for its original goals. 
So, rerouting back to Minari, what is the goal of being Asian American? What does it mean for us to fight for Minari to be included in Best Picture? Is that what would make everything okay, when in doing so, we are still upholding the completely-white voting organizations that are swollen with corruption and capitalism? 
What does it mean if we do have a seat, when these awards shows and institutions are still exclusionary, are still transphobic, are still racist? When the Grammys excluded categories featuring primarily Black artists, such as rap, R&B, and pop duo from being televised, in favor of being in the lesser-watched pre-show? 
What does this momentary acceptance, momentary win, mean for the rest of us? What is the end goal? Why are we always fighting for a seat at the table, when we can create our own table and work with others like us? 
Perhaps, we should stop looking for white American and/or Western validation. The lack of representation of Asians in American media has not changed significantly in decades, and even fewer win awards, despite the quality content that we know is coming out of Asia. 
This has already been put into action with recent responses to the Grammys. Following the snubs of 2020's most iconic artists like ChloeXHalle, Doja Cat, and BTS, fans trended #scammys to voice their exasperation with these awards.
also i must say… its kinda weird watching people jump on the fuck the grammys train THIS fuckin late when specifically black and latinx artists have been yelling this shit for years upon years. like yes fuck the grammys but it took a Long Time for some of yall to get here.

— jerries mom 🙂 (@HAUGHTYFORYA) March 14, 2021
Minari's exclusion is indicative of larger systemic problems that Black and Latinx fans and communities have already been discussing. On the celebrity end, Frank Ocean, Beyoncé, The Weeknd, and Zayn have already sat out from or openly criticized the Grammys in their own ways. 
As for Asian celebrities, the constant gatekeeping of Hollywood has led more and more artists to "repatriate" in a sense, finding more open arms in their home country. 
Steven Yeun, in an interview for The Independent, talks about how his role in the Korean movie Burning allowed him to shed the skin-tight suit of the white gaze. "It's been like, 'Here's what an Asian person looks like to a majority white audience… But if you go to Korea, the characters are just humans because they're not thinking about it like that. That's something that I was made aware of [with Burning], which was really wonderful for me to know. I didn't have to represent all Asians. I could just represent myself," Yeun said.  
We see it in K-pop too, with many Asian Americans finding success in Korea and Asia while there remain few, if any, mainstream Asian American, or even Asian British, musicians. 
Amidst all of this pain and anti-Asian vitriol from Western media, it is a rather hopeful light. Even if we proceed clumsily, after years of assimilation has forcibly scrubbed our mother languages from our tongues and our cultures away from our hands, there is great value from realigning ourselves with where we came from, and knowing that it is possible.
Specifically, a Korean-speaking Redditor compliments Yeun's improvements in Korean, an apparent leap from being unable to name side-dishes just a couple years ago. 
For audiences too, it is time to rethink what we want our media to be and to take away power from these white, Western institutions. 
Support local and international Asian filmmakers, art, literature, and movements unapologetically. More broadly, support the work of all Black, Indigenous, people of color and not just those in the West. Make an effort to look for artists abroad and to actively support their work in the ways you can, through streaming, buying, and celebrating their work with your own communities. 
Simply put, move with the mindset that Bong Joon Ho has in calling the Oscars "local." 
Just like activists of colors did in the past, delegitimize institutions and overturn and create new paths. We do not have to be bound by what we think we should accept. 
*It is important to note that Maeda's work focuses on the role of primarily Chinese activists in shaping Asian American identity. He mentions that, although it was not discussed in that specific article, "Korean, Japanese, and Filipino Americans also contributed vitally [and differently] to ["Asian American" identity] formation." 
In case you missed it, check out BTS' Grammy nomination and performance recap here!
Thumbnail from IMDb
Sources: