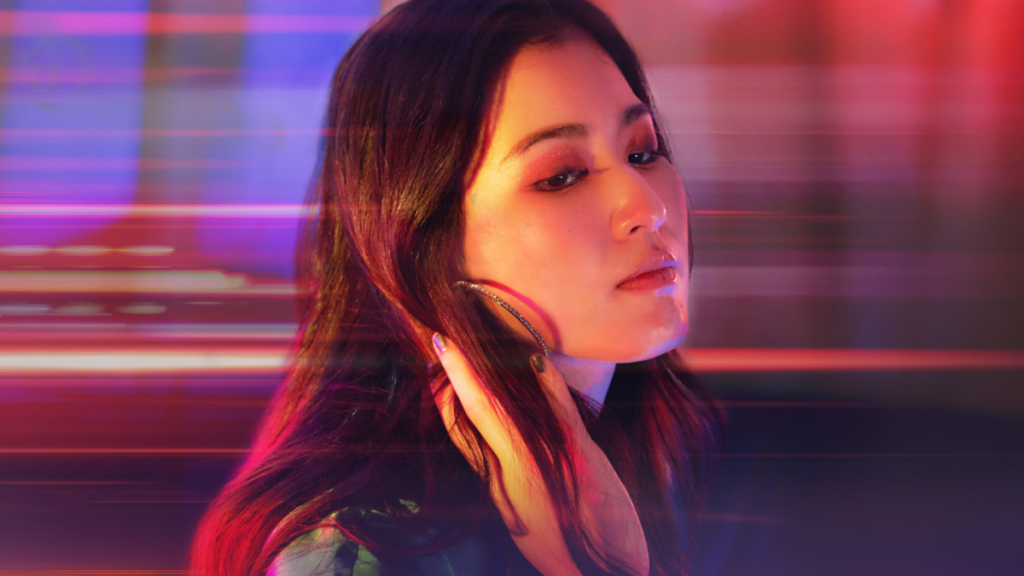 An alternative-R&B single laced with mesmerizing pop aesthetics, MIREI's "Sell Me Your Love" is an intimate look at love in the modern age. Released on February 11, the Japanese singer-songwriter takes listeners deep into Japan's red-light district to explore contemporary tensions between love and consumerism.
A Surreal Sound
Influenced by her global musical palate, MIREI's vibe feels right at home in the minimal, clean production behind "Sell Me Your Love." The track was produced by Selan, a singer/songwriter, and keyboardist for artists like Adele and Stevie Wonder, and co-written with Zak Leaver and DJ Shiftee. "Sell Me Your Love" is MIREI's latest English release, following her English-language debut album Take Me Away in January 2020.
The simple composition allows MIREI's bright, clear vocals to shine through, and in turn, her artful lyricism becomes the star of the show. "Sell me your love / How much do I gotta pay," MIREI croons–the lyrics become reflective of both MIREI's interest in the contemporary commodification of love as well as the inspiration for the track and its music video: the Kabuchiko Host Stabbing Incident.
For the uninitiated, a host club is a type of nightclub found primarily in Japan that caters to women seeking drinks and attentive conversation from attractive men–who work as "hosts." As MIREI explained, the Kabuchiko stabbing incident refers to a woman who fatally stabbed her then-boyfriend, who was working as a nightclub host. MIREI's storytelling places the listener in the perpetrator's place and challenges us to consider how we view relationships that hinge on consumerism. Exploring these complex, nuanced issues is a signature of MIREI's–she's an artist that's keen to use her art to explore social issues.
MIREI goes further than simply taking a dark look at love in the twenty-first century. In her own words, the track suggests there need to explore the risks of parasocial fan-celebrity relationships. MIREI expands on this, citing "the risky relationships between idols and fans bonding through handshake events, or between artists and performers who market towards fans into buying glimpses of their personal lives." Her lyrics echo this worry, too: "saw your face and you looked like my favorite singer / close my eyes and your touch still lingers."
Neon Lights, Hollow Hearts
The music video for "Sell Me Your Love" is shot in hazy shades of blue, pink and purple, with scenes of MIREI herself lit by flashing red lights – invoking imagery of police sirens. Model and J-pop artist Kanon Yamazaki, who has appeared in MIREI's previous visuals, stars as the music video's protagonist, and steps into the shoes of the real-life perpetrator. Throughout the video, viewers follow her through Tokyo's downtown, watch her jealousy bubble up to the surface between scenes set at a host club, and see the harrowing image of the murderer, casually smoking a cigarette after murdering her boyfriend. Shots of Yamazaki post-murder, and the murder weapon, are juxtaposed elegantly, in washed-out yellow towns, against bright and saturated visuals of Tokyo at night.
"Sell Me Your Love" was filmed and directed by Takeshi Nomura and fits into MIREI's larger cinematic project exploring Japan's hidden, less glamorous side and the "unspoken realities" of the country's nightlife.
A Platform to Speak Up
This track isn't MIREI's first foray into bringing social issues to light through her music. With music as her medium, the musician uses her platform to speak up on loneliness, depression, social conformity, sexual harassment–all problems that are often swept under the rug and stigmatized, especially in her home country of Japan. While these topics resonate with listeners of all backgrounds, MIREI brings with her a unique cultural sensitivity, having lived in the U.S. and Japan, when exploring these complex contemporary challenges through an intersectional perspective.
An audio-visual treat with a message that lingers, "Sell Me Your Love" is another dreamy addition to MIREI's rich discography of thought-provoking music, and we can't wait to see what she does next.
Stream "Sell Me Your Love" on Spotify and Apple Music. You can keep up with MIREI on Instagram and Twitter.
Looking for more new music? Check out our recap of ten can't-miss tracks from January here.