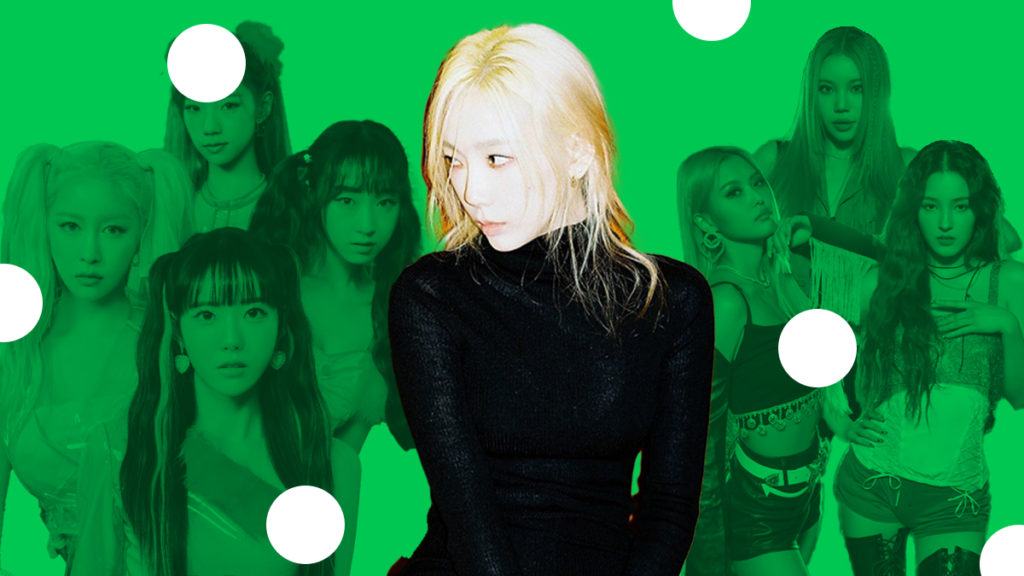 Missed out on some of K-pop's January releases? Worry not, EnVi has you covered. From the latest solo debuts to group comebacks, January has been a month full of music. Here is a recap of ten tracks that came out in January.
1. P1Harmony Are Trendsetters in "Do It LIke This"
Starting with a simple "Yo" over a powerful dance beat, P1Harmony abruptly pulls listeners into their "Do It Like This" single. "Do It Like This" was released on January 3 as part of their third mini-album, DISHARMONY: FIND OUT. P1Harmony expresses their uniqueness throughout the hip-hop single, sharing that they are amongst the best with powerful lyrics and smooth raps. Among the lyrics, the phrases "are you ready?" and their chorus line, "do it like this," stand out. In addition, the commanding nature of the track is complete with strong, synchronized dancing and expensive props.
2. WJSN CHOCOME Save January With "Super Yuppers"
On January 5, the WJSN subunit came back with sweet bubblegum pop. Their track "Super Yuppers" has a cheery vibe expressed in the music video as a superhero tale with WJSN CHOCOME as the leads. While the song is primarily upbeat and fast-paced, "Super Yuppers" pauses midway for an emotional monolog from DAYOUNG, who vows to be your shoulder to cry on. The song radiates positivity, making it the perfect track to start the new year.
3. WANNA ONE Reunite with "Beautiful (Part III)"
A new rendition of their 2017 hit, "Beautiful," WANNA ONE's "Beautiful Part III" is a bittersweet throwback to the group's establishment and legacy. WANNA ONE reunited for a performance at the 2022 Mnet Asia Music Awards on January 11, when they debuted the single. It is a slow, vocal-centric song that highlights WANNA ONE's members' individual strengths as singers.
4. HYOLYN Allures Listeners in New "Layin' Low" Single
The sophisticated and sensual K-pop artist is back. HYOLYN, known for her sexy R&B singles, returned to the music scene with "Layin' Low," featuring JOOYOUNG on January 12. "Layin' Low" is a pop-style song that highlights HYOLYN's dynamic vocals as she switches between loose and powerful vocals throughout the song. In the lyrics, HYOLYN describes a tumultuous night with a lover, which is expressed perfectly through her music video's sensual choreography.
5. "Slow Dance" with KANGTA
Released on January 12, KANGTA's latest single, "Slow Dance," is an acoustic pop song. KANGTA leads his partner through a romantic night in the slow R&B single. His airy, whimsical vocals stand out throughout the beginning of the track creating a light mood, but KANGTA's tone later becomes deeper in the song's climax, showcasing more of the intensity of the moment.
6. MOMOLAND Team Up with Natty Natasha for "YUMMY YUMMY LOVE"
On January 13, MOMOLAND teamed up with Latin superstar Natti Natasha for the Latin-inspired pop track, "YUMMY YUMMY LOVE." Through this collaboration, MOMOLAND showcase a sexy yet cute side of themselves as they taunt their potential lover with the promise of a "yummy yummy love." On top of MOMOLAND's old-school rap style and alluring vocals, the song stands out for the repeating trumpet sound. Natti Natasha matches MOMOLAND's lead, effortlessly singing and rapping in an equally enticing way. The cherry on top of "YUMMY YUMMY LOVE" is the music video, reflecting mature yet youthful themes with its retro skating rink and vintage stage setup.
7. TAEYEON Gets Edgy and Emotional in "Can't Control Myself"
Ahead of her third full-length album, TAEYEON dropped the pop-punk single, "Can't Control Myself," on January 17. TAEYEON, who helped pen the song, explores darker themes and tackles the toxicity of a dwindling relationship. While the instrumentation is most notable for the guitar, the song has an emotional verse in the middle which is overtaken by a soft piano. Reflecting the regretful tone of the song, TAEYEON acts as the main character of her short drama.
8. YENA and BIBI Are Heroes in "SMILEY"
On January 17, former IZ*ONE member YENA had her solo debut with the pop-rock track "SMILEY," part of her first EP of the same name. Showcasing a mix of pop vocals and muffled rocker singing, YENA describes the need to "smile away" all our problems. The song changes when BIBI enters with her signature raspy rap tone. "SMILEY" is reminiscent of a track you would find in an early 2000s coming-of-age movie. YENA's overwhelmingly optimistic song is topped off with a music video that illustrates her as an epic superhero with her own Sailor Moon-esque magical girl transformation.
9. YUJU Debuts With "Play"
On January 18, Gfriend member turned solo artist YUJU debuted with the R&B track, "Play." Part of her [REC.] EP, "Play" discusses betrayal after a lover has left. The song's somber tone is accentuated in the song's music video, full of deep reds and the bluest of blues. YUJU's sultry tone matches the song's slow vibe–a stark contrast to Gfriend's signature fairy pop sound.
10. TRADE L AND LOCO "White Night"
TRADE L teamed up with Loco to release the winter song, "White Night," on January 19. Opening with a steady guitar rhythm, "White Night" entrances listeners with TRADE L's light vocals. TRADE L and LOCO comfort listeners with lyrics that ask others to forget about the past and self-doubt and move forward. Even though it is not on TRADE L's debut EP, the song's theme is reminiscent of other tracks he has released on growth. It reflects the rising rapper's style perfectly, displaying a softer side of TRADE L while maintaining his usual swag with a brief rap verse.
Want more on January releases? Check out our review of GOT the beat's debut here.