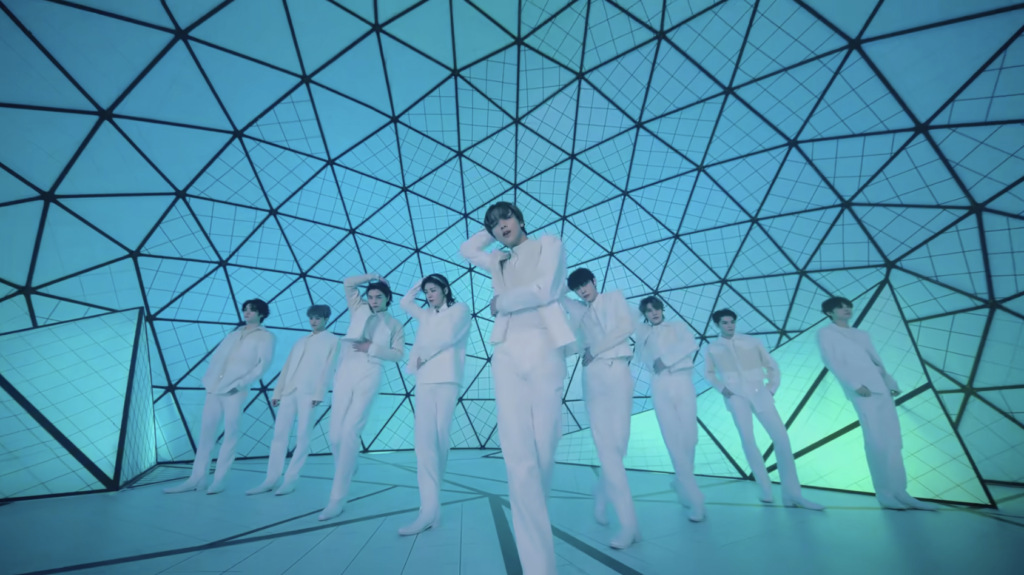 It's a new dawn, and it's a new day for fans of NCT 127. On June 4, 2021, the nine-member group released their single "SAVE" in collaboration with the record label Amoeba Culture. Produced by Gaeko, one-half of legendary hip-hop group Dynamic Duo, the track has a dance and EDM heavy chorus fit for summer. Along with Gaeko, the track was written by Choiza of Dynamic Duo, R&B singer THAMA, and music producer Philtre. The lyrics describe saving precious memories of loved ones, seeming to compare the relationship the group has with their fans as they chant "127 til infinite time" repeatedly throughout the song.
As the first release since their Japanese EP Loveholic in March, NCTzens have been excited for the digital track since the teasers dropped on social media a week prior. #NCT127_SAVE trended number one worldwide on Twitter as fans discussed if the single was the start of a new era for the group.
'Save' MV Teaser

NCT 127 X Amoeba Culture 〖 Save 〗
➫ 2021.06.04 6PM (KST)#NCT127 #Save#NCT127_Save #AmoebaCulture #아메바컬쳐#SaveMemory #SaveLove #SaveEarth #SaveAlltheProgress pic.twitter.com/I8obxQRnvh

— NCT 127 (@NCTsmtown_127) June 2, 2021
Culture Technology At Its Finest
Harking back to the electro-pop phase of "Superhuman," NCT 127 takes the meaning of "culture technology" to new heights. The electronic bassline and synths may not come as a surprise to fans who are familiar with the scope of 127's music catalog. But, for those who know Amoeba Culture for their hip-hop and R&B gems, it may seem out of character for the indie label to push an EDM, dance-driven track. However, the collaboration shows just how much Amoeba Culture and Dynamic Duo not only understand NCT as a group but as a concept. 
The song mostly consists of electronic instruments, but the small (and effective!) hip-hop breakdown by Mark and Taeyong helps streamline the entire piece together. The transition isn't abrupt—and should be expected—given the function of the group. Musically, "Save" remains true to 127's roots while pushing the overall agenda for NCT's tech-based background.
Warning: Theory 127
As the SMCU (SM Cultural Universe) expands, it's become even more exciting for fans to draw connections between groups and music videos. "Save," in particular, is reminiscent of NCT's Year Party video that dropped ahead of their 2020 Resonance album. Both videos use similar digital chips to save, upload and download information. 
In the Year Party teaser, each member uploaded his chip into a system as identity confirmation—assuming that the chip stored all of their individual data. For "Save," the chips represent the memories they've made with each other and their fans. By mounting it into the database, they've successfully saved and stored those moments. This could just be a theory, but something about it feels much more deliberate than a one-off callback.
"Save" Lights Up the Charts and Internet
Upon release the song trended worldwide on Twitter in both Korean and English and the music video has been viewed over two million times at the time of publishing. During the first hour of its release, "Save" and several other NCT 127 tracks topped Korea's Bugs and Melon charts with ease. 
Bugs Chart debut (7PM KST)

#1 Save
#2 Kick It
#3 Punch
#4 Simon Says
#5 Superhuman #NCT127 @NCTsmtown_127 ? pic.twitter.com/jNqLadeAD4

— 린 ? (@jaehyunbom__) June 4, 2021
? @NCTsmtown_127's songs on MelOn — 01.00 KST

#23 Save
#74 Kick It
#78 Fire Truck
#79 Cherry Bomb
#80 Limitless
#81 Touch
#86 Punch
#87 Regular (Korean Ver.)
#92 Simon Says
#93 Superhuman
#98 Highway to Heaven (English Ver.)#NCT127 pic.twitter.com/2y3heEYNv5

— NCT 127 CHART? (@127chart) June 4, 2021
Stay Tuned
Although this is only a single, Taeyong revealed that he and the group are preparing for the next album release, and it should be on its way soon. As NCTzens patiently wait for 127's official comeback to the stage, "Save" has arrived just in the nick of time to save the day.
With this new track saved to your summer playlist, check out EnVi's top NCT Performance picks to celebrate their 5th anniversary!
Thumbnail Courtesy of Amoeba Culture