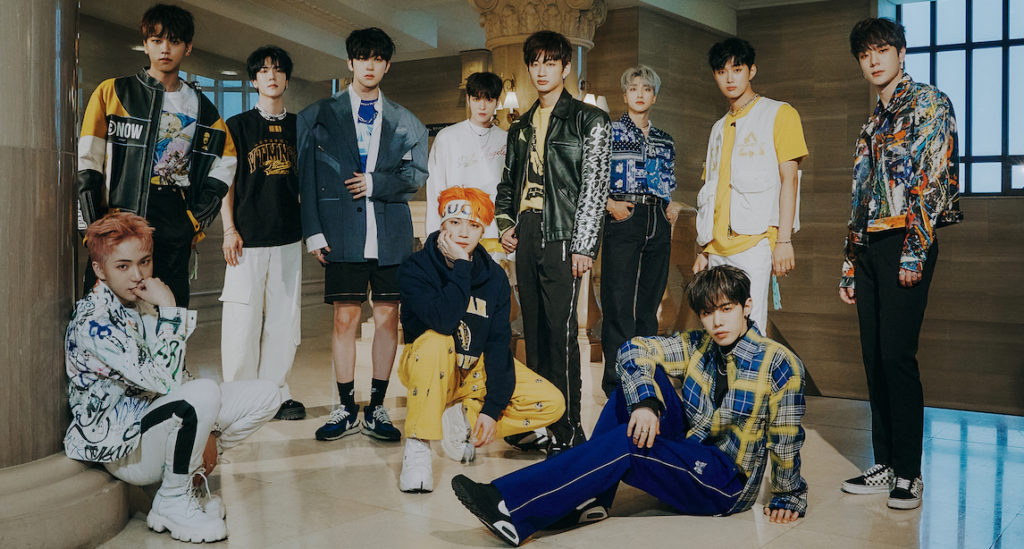 Five months after releasing their second mini album LOVE ME LIKE, OMEGA X are back with their highly anticipated debut full-length album 樂서 (Story Written in Music). The album includes 13 tracks, with the closing song available exclusively on CD. Similar to their previous releases, 樂서(Story Written in Music) boasts two conceptual versions: 'MUSIC' and 'STORY.'
With each new release, OMEGA X show a new side of themselves. The 11-member K-pop group under Spire Entertainment comprises JAEHAN, HWICHAN, SEBIN, HANGYEOM, TAEDONG, XEN, JEHYUN, KEVIN, JUNGHOON, HYUK, and YECHAN. In this full-length project are tracks that show off the members' colors, incorporating genres such as ballad, hip-hop, R&B, and dance. As with their EPs, LOVE ME LIKE and VAMOS, the members have yet again contributed to the composition and writing of several tracks, working alongside producers such as AnoTHeR, HOYAS, PiRi BOi (FAB), KYRIELLE, IKEK, and Nickko Young.
Showcasing Their Versatility 
On June 15, 2022 at 6PM KST, OMEGA X held a SHOW-CON (comeback stage) where they conducted Q&A sessions, performed five songs, and unveiled their title track's, "PLAY DUMB," music video. 
JAEHAN, who was officially announced as leader of the group, expressed his excitement for the release of their album. "I tried to show my sincerity to FOR X in this album, so hopefully, they can feel loved and encouraged by listening to this album. Also, I wish everyone who listens to our album feels happy while enjoying this album. Please show a lot of love for Story Written in Music."
Member HANGYEOM followed that same sentiment by stating, "Since this is our first full album, there were 13 songs, therefore, there was a lot to prepare. But now seeing our album is finally out, I'm very proud of it. Hope everyone enjoys our album."
Dressed in black and red outfits, OMEGA X kicked off their comeback showcase with powerful performances of "VENUS (Connection)" and "BOUNCE WITH ME." "VENUS" is a hip-hop track with a mix of rap and soft melody whose beat becomes more powerful as the track progresses. It carries a story of taking on dangerous and chaotic challenges to find a beautiful and mysterious being named VENUS. At the end of the track, the narrator pulls the being closer and makes a 'connection.' "BOUNCE WITH ME" is a hip-hop dance song with a unique OMEGA X twist. The song starts with heavy 808 bass that introduces OMEGA X's fast and raging rap that resembles exciting stunt actions. The group then slowed things down with their performance of "BINARY STAR." This track delivered a heartfelt performance and highlighted the members' vocal range. 
OX Show Their Playful Side
After the three performances, the music video for their title track, "PLAY DUMB," was revealed. "PLAY DUMB" adopts a high-teen rock genre with a funky groove. This title track shows the playful side of the members that fans have seen from their fun videos on TikTok and in their personalities. The music video cuts between scenes of the members playing at a tennis court, dancing in the center of a football field dressed in all denim, and admiring a giant tennis ball meteor. "PLAY DUMB" talks about a pure love that says "Even though I look dumb, even though you pretend like you don't know how I feel, I'll still love you."
Choi Young Jun, known for his work with artists such as TWICE ("TT"), Wanna One ("Energetic"), MONSTA X ("DRAMARAMA" & "Jealousy"), and Seventeen ("Don't Want to Cry" & "Adore U"), is behind the song's choreography. After previewing their music video, the members performed "PLAY DUMB" in the same tennis outfits from the music video.
FOR X are Lyricists
The SHOW-CON concluded with the members performing "FOR BABY," a song exclusive to the CD itself. "FOR BABY" is a fan song from JAEHAN and YECHAN's V Live broadcast, Studio of the oldest and the youngest. Since the song includes lyrics and phrases created by OMEGA X's fans, otherwise known as FOR X (short for Forever With OMEGA X), they were listed as lyricists on the album. By including a track for which FOR X has written lyrics, the group sends a message that FOR X is indeed the period mark to complete their first full album.
Keep Up With OX
Follow OMEGA X on Twitter, Members Twitter, Instagram, Members Instagram, TikTok, and YouTube to keep up to date with their future activities and performances!
Want to read more about OMEGA X? Check EnVi's write-up about their "LIAR" music video here!