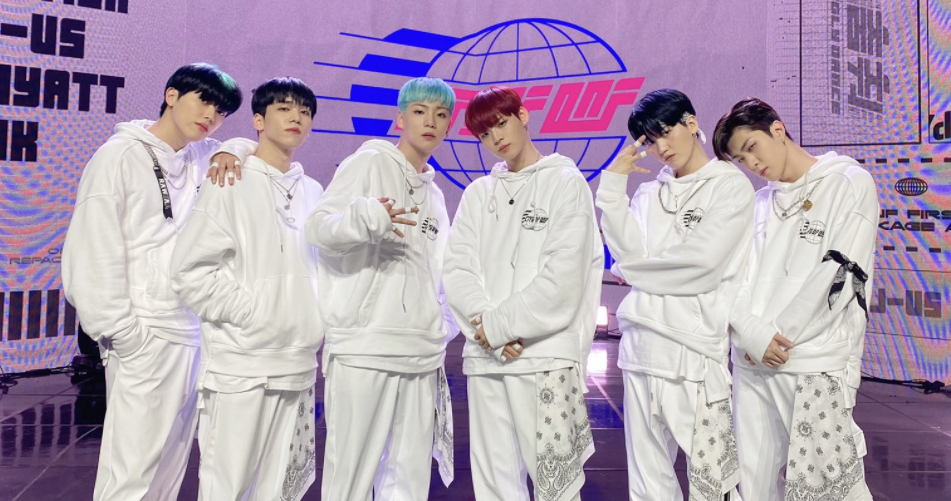 By Annie Bourbonnais | @_whoisannie
On April 28th, almost two months after winning their first ever music show first place on The Show, ONF returned with their repackaged album City of ONF.
Adding three more songs to their previous album – ONF: My Name -, the WM Entertainment group picked "Ugly Dance" as their new title track. The track is a bright hip-hop song with intricate vocal harmonies and an orchestral-like synth-pop arrangement. "Let's try something new, we always try something different. The world is always tight anyway", the lyrics say, bringing a message of letting go of your worries and being yourself without caring about others' expectations and impositions.
The music video and song bring clear references to the previous title track "Beautiful Beautiful" while continuing with the ongoing ONF sci-fi themed storyline. Even though this music video is single-scenery style and focuses more on choreography, it still has the usual stunning visuals and creative editing, filmed in 8k and 99% with a robot arm.
omg i LOVE that they tied beautiful beautiful into ugly dance that's so cute??? also such good vibes & brain sounds in this song aaa i love them what a bop!!!

— ? SAGE (ADVICE 5/18) ?? (@sageances) April 28, 2021
"Ugly Dance" broke the group's previous records as the ONF title track that stayed the longest at #1 on the Genie chart.
BITCHHHHHH UGLY DANCE IS MF BOPPPPP THE HARP??? OMGGG THE MV IS SO GOOD TOO!! IM OBSESSEDDD

— Buks??‍♀️✨ (@ne0buk1) April 28, 2021
Literally I'm on break right now , here I'm streaming ugly dance ONF mv pic.twitter.com/fuzRrNp3SG

— Dibsss ?✨? ONF?✨ (@Bahhdib787) April 29, 2021
ONF just keep making hit after hit. I don't know how they don't have more recognition. #ONF #온앤오프 #UGLYDANCE pic.twitter.com/yurxVU9mjR

— ً (@woosyungs) April 28, 2021
As a repackage album, the track list was updated with two more new songs.
"My Genesis (Übermensch)" is a fast-paced blend of rock and jazz, a hype song with motivational lyrics. It was produced by Hwang Hyun, who's worked on many ONF tracks, including the hit "We Must Love".
"The Dreamer" is a direct continuation of the fan-favorite "The Realist", referenced at the end of the song, as this one was referenced at the end of "The Realist", creating a full circle between the two songs. The track had lyrics written by main rapper Wyatt and was produced by MonoTree.
The ONF boys welcomed their comeback with a showcase, where they performed the new songs and thanked the fandom, known as Fuse, for the support, asking the fans to look after them through the "Ugly Dance" promotions!
god I love onf too much… ugly dance is so catchy

— lyndsay⁰³²⁵ (@3rachaxo) May 1, 2021
I just finished listening to ugly dance by onf and the lyrics are so interesting the dance is good and i liked the song onf is the only boy group beside b1a4 that makes me smile whenever I listen to their music they are so talented people need to stop sleeping on them ❤️??

— foxjinyoung (@Jinyoungx91Jung) May 1, 2021
Have you heard? Sarah Barrios and Eric Nam collaborated on the beautiful song "Have We Met Before?" Come read all about it here!
Thumbnail Courtesy of WM Entertainmnet