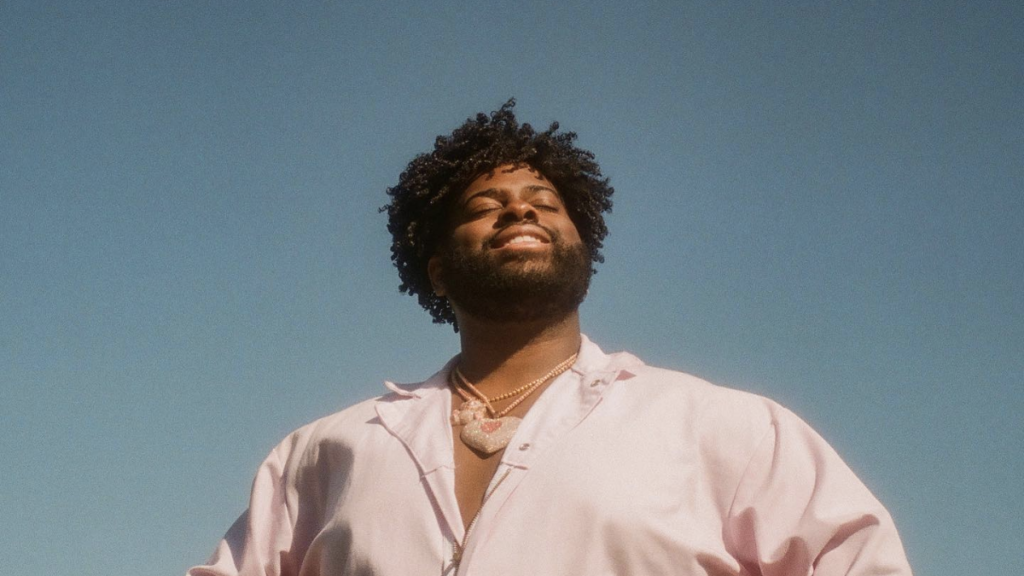 David Bowden, renowned by his stage name, Pink Sweat$, has been on a roll this year. After gracing the Coachella stage for the first time, the singer and songwriter announced he will be touring with American songstress Alicia Keys later this year. He also dropped his EP, Pink Moon, an eight-track mini-album with features from 6lack, Tori Kelly, and many more in January.
A household name in South Korea, Pink Sweat$ attained a new height in his career with his debut album Pink Planet going 5x platinum in the Asian country. Songs like "At My Worst," "17," and "Honesty," are among the popular songs on the album, with over 100 million streams each on Spotify. Ever since the American musician emerged on the music scene in 2018, he has received much love and support from Korea. His single "Heaven" entered the Melon Real-Time Search Ranking at number one in June 2021, after Stray Kids member Felix recommended the song through the fan community app Bubble.
Aside from Felix, Korean pop acts such as Beomgyu of TXT, Nichkhun of 2PM, and WAYV Xiaojun have shown admiration for Pink Sweat$'s music. Idols like Ye Dam of TREASURE, Justin Park, Maddox, ATEEZ's Seonghwa, GWSN's Lena, Young K of Day6, and the boy group P1Harmony have uploaded official covers of the R&B singer's songs. Further, other singers, including BTS members Jungkook and V, GOT7's Jinyoung, and Seungmin of Stray Kids, have covered his songs during live streams.
The Philadelphia native visited South Korea for the first time in May, when he headlined the Seoul Jazz Festival on the first day. He gave an electrifying performance, which saw an excited crowd sing "At My Worst" word for word. A touched Pink Sweat$ shared a snippet of his performance with the caption, "So beautiful I could cry, I love you #Korea."
While in Korea, he made history as the first African American to feature on Dingo Music's Killing Voices series. There, he sang the acoustic version of "17," and performed several songs including "I Feel Good" and "Nothing Feels Better." Fresh off his collaboration with the boy group P1Harmony, check out Pink Sweat$'s collaborations with K-pop acts.
Pink Sweat$ and Crush
Pink Sweat$'s first collaboration with a Korean artist was the Crush-assisted "I Wanna Be Yours" released in 2019. The alt-R&B track sees the two crooners express their desire to be with someone who is currently with another lover. "His stuff was soulful," Pink Sweat$ said about Crush in an interview with Eric Nam on the Daebak Show. Impressed by Crush's R&B discography, Pink Sweat$ and his manager reached out to the Korean singer. He described the collaboration as a giveback to Korea for the support he had been receiving.
Pink Sweat$ and DK and Joshua of SEVENTEEN
On September 17, 2020, Pink Sweat$ teamed up with DK and Joshua of SEVENTEEN for the remix of his song "17." It featured Korean lyrics sung by the SEVENTEEN members. The R&B pop song marked the boy group's first international collaboration and was released months after DK posted a cover of Pink Sweat$'s "Honesty." In a Zoom chat with the duo, Pink Sweat$ revealed he discovered the K-pop group on social media and decided to collaborate because fans requested it.
Pink Sweat$ and JEON SOMI
The American singer participated in writing and composing songs for JEON SOMI's debut album XOXO, released in October 2021. He composed and arranged the title track, "XOXO," alongside Pacific, 24, and TEDDY. During a broadcast, JEON SOMI revealed the producers also recorded parts of the chorus. In addition, Pink Sweat$ wrote and composed JEON SOMI's first full-English song, "Anymore." "Anymore" is a breakup song that sees the singer regret letting a person get into her life and wonder if the person thinks about her.
Pink Sweat$ and BamBam
#PINKxBAMBAM was a top trend in November 2021 after Pink Sweat$ teased a collaboration with BamBam. He shared a screenshot of a facetime call with the Thai artist on Twitter with the caption, "we up to something." Months later, BamBam released his second mini-album, B, whose title track "Slow Mo" was co-written by Pink Sweat$. As far back as February 2021, the two artists had hinted at a collaboration. The American singer also mentioned BamBam as an artist he would love to work with during an interview with Tero Radio. He reiterated his desire to collaborate with BamBam during a press conference in Korea.
Pink Sweat$ and P1Harmony
For his recent collaboration, Pink Sweat$ teamed up with the six-member boy group P1Harmony for a single titled "Gotta Get Back." The R&B Pop song was composed by Pink Sweat$ with P1Harmony members Intak and Jongseob co-writing the lyrics. In an interview on the Zach Sang Show, the members revealed the collaboration was agreed on after Pink Sweat$ attended their show in New York. While talking to him backstage, they suggested recording a song together that weekend. The artists share a special bond. While in Korea, the American singer named P1Harmony his favorite K-pop group. P1Harmony, on the other hand, have covered Pink Sweat$'s "At My Worst." Jiung has also declared his admiration for his American counterpart on Twitter.
More Collaborations on the Way?
In the past weeks, Pink Sweat$ has been teasing new music and a possible collaboration, getting fans excited about a potential collaboration between him and their favorite K-pop artists. While in Korea, he hung out with some artists, including Jung Kook, JEON SOMI, Lovelyz's Yein, Weki Meki's Doyeon, JUNNY, and JAMIE. Also on this list is B.I, whose virtual concert included Pink Sweat$ in the line-up of special performers. At a press conference held ahead of the Seoul Jazz Festival, he mentioned Thai artists LISA and BamBam as musicians he would love to collaborate with.
While anticipating his next release and collaborations, check out Pink Sweat$'s last album Pink Moon and connect with him on Twitter, Instagram, and TikTok.
Want to discover more music content? Read How Silk Sonic Brought Soul Music Back Mainstream here.