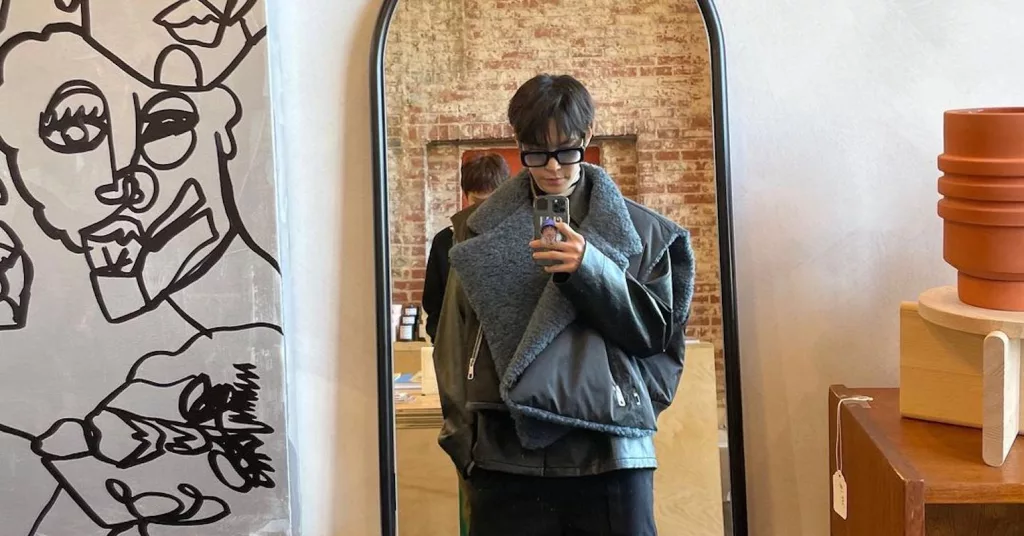 NCT's member, Doyoung, has earned a reputation as one of the most in-demand singers and entertainers in South Korea. Reaping success as an actor, singer, and variety show star, however, doesn't seem to suffice for the multihyphenate. In recent years, the K-pop star has also emerged as a style icon. With magazine covers and attendance at international fashion events, Doyoung has steadily shown his sartorial potential. And it seems, the superstar is just getting started. Whether he is touring the world, showcasing his powerful vocals on stage, or simply updating fans about his whereabouts, he is always serving the coolest fashion and beauty looks. Below, EnVi dives into some of Doyoung's most recent standout style moments.
Old Money Aesthetics
Aspirational micro trends are thriving online but Doyoung has long been tapping into the popular "old money aesthetics." Even before the boom of preppy style on social media platforms like TikTok, the singer was already adept at this style and has sported staples like V-neck sweaters, classic Oxford shirts, and chino pants. Recently, however, Doyoung has added an off-handed spin to the trend with slightly oversized pieces. For instance, while touring in Colombia, Doyoung combined a quarter-zip pullover by Polo Ralph Lauren with a pair of baggy corduroy pants for a more relaxed, street-savvy effect. If this isn't the perfect nice-weather look, we don't know what would be.
The Tank Top
The runways of the Fall Winter 2022 season proved the renaissance of the white tank top as a fashion staple and by the looks of it, Doyoung got the memo. Sightseeing in Mexico, the star made a tank top statement with a pair of wide-leg jeans and chunky Oxford shoes. The tank top — especially the white tank top — is perhaps one of the simplest pieces to sport, but the singer proved his style versatility by combining the ensemble with a wool cardigan first and then pairing it with a baseball jacket. The outfit went from vintage to sport-friendly in a heartbeat!
Winter-Ready
Seasons come and go, but there's not a time Doyoung is not rocking weather-appropriate looks. To commemorate the Lunar New Year — celebrated the second new moon after the winter solstice — the star took to Instagram to share the coziest, yet stylish #OOTD. While Doyoung generally sticks to more classic silhouettes and styles, for this post, the singer put on a modern, slightly experimental twist to his fashion with an oversized shearling jacket and baggy pants. The cool fit went to the next level accessorized with chunky sneakers, statement sunglasses and the cutest phone case — and yes, Doyoung, we can see the pop socket too and we approve!
Uneven Fringe
Fringes were one of the hottest beauty trends during SS23 Men's Fashion Week but you can trust Doyoung — and his make-up artists — to always bring an unexpected and refreshing take on popular styles. In the teaser pictures of NCT 127's repackage album, Ay-Yo, for example, the star underwent an unconventional hair makeover featuring uneven, messy bangs. The cool look, accompanied by heavy underlined eye makeup, was accentuated with silver accessories like rings and necklaces. A bulletproof formula, quite frankly.
Slicked-back Mullet
Mullets might be a divisive hairstyle but Doyoung proves that a purposeful and correctly styled mullet is always a winning choice. In the music video of NCT 127's latest single, "Ay-Yo," Doyoung dives deep into the slicked-back hair trend with a medium-length hairstyle perfectly combed backward. The style is edgy as it gets, with a few hair strands freely falling over his forehead, and an all-black outfit complementing the look. We're not sure if it's the MM6 Margiela turtleneck (which is currently retailing at only $72, by the way), the patent leather jacket, the leather pants — or all of the above — but Doyoung has it going on and we can't get enough of this glorious sight.
Looking Forward To
Fresh off a world tour with his group NCT 127, Doyoung is set to host Circle's Chart Music Awards 2022 on February 18. With TV appearances, MC gigs, and more coming down the pike, fans of the popular star can surely look forward to more of his stylish approach to beauty and fashion trends.
In the meantime, you can take a look at all the times Doyoung has shown his fashion range here.