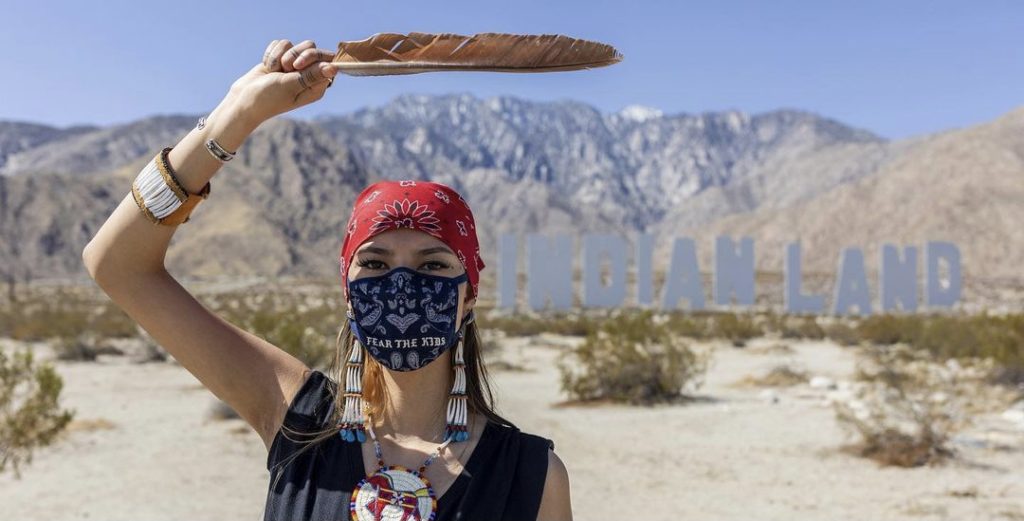 Being of Black and Native descent, I do not always find myself properly represented in the media. Especially when it comes to beauty and fashion. Quannah Chasinghorse turned heads at the 2021 Met Gala in what I would argue to be the truest form of American Fashion and "culture." Inspired by her own Indigenous background, she wore a beautiful gold Dundas gown, complemented with authentic turquoise Navajo Jewelry.
It was moving to see someone at the Met Gala representing Indigenous peoples, knowing the theme of this year was concerned with American fashion and "culture." Knowing much of our culture and practices were taken from us, seeing Quannah walk the red carpet was inspirational.  
Mahsi'choo (thank you very much) everyone for being so supportive and uplifting. I felt very alone there but some people were very sweet to me. The Met Gala was a dream and for the theme I wanted to represent indigenous art and fashion❤️✨ thank you Peter Dundas🥰 pic.twitter.com/oCT0XZGBbn

— Quannah Chasinghorse🪶 (@Qchasinghorse) September 14, 2021
Chasinghorse's appearance is special as it is so hard to find Indigenous representation in the beauty and fashion industries—fields well-known for their lack of diversity. Though it is a small step, it is a step in the right direction for Indigenous Representation. Indigenous people from all over will be able to see that they too have the potential to be on the covers of magazines and walk runways.
WHY ISNT ANYONE TALKING ABOUT THIS INDIGENOUS QUEEN WHO SERVED AT THE MET GALA. HER NAME IS QUANNAH CHASINGHORSE AND SHE ATE pic.twitter.com/ODAZn740HN

— ratcatcher 2 and sebastian shady facts🐭 (@takahashiputa) September 14, 2021
Why Representation Is So Important
In a Vogue interview, Chasinghorse shared she was obsessed with watching runway shows on TV when she was younger, but it was hard for her to feel like she had the potential to be a model herself. 
She shared on Instagram that she felt she could never meet society's beauty standards when she was younger. "… I never saw anyone that looked like me in the movies, magazines, etc." Instances like these are common for people of color. We are always in search of people like us in these spaces, who represent our own cultures, who make us feel seen.
This is why Chasinghorse's appearance is so important. This platform she now has provides her with the opportunity to share, educate, uplift, and represent her Indigenous culture.
Yidįįłtoo
Colonization has stripped many Native communities of their teachings, ceremonies, and cultural practices. Chasinghorse has said, "One of the first things colonizer's quickly identified to erase from our culture was the practice of tattooing across Turtle Island."'
View this post on Instagram
The model and activist is of Hän Gwich'in ancestry on her mother's side and Sicangu/Oglala Lakota on her father's side. Hän Gwich'in women wore facial markings in the form of Yidįįłtoo. These facial markings are sacred as they are done in the form of ceremonies, each tattoo marking a powerful and significant moment in a woman's life. Traditionally, women gave each other these tattoos. It was only right that her mother gave her her tattoo, hand poke style, at the age of 14. 
"I was the first girl (age 14) to get a traditional tattoo as my coming of age ceremony in over a century since tattoo practices were banned through colonization." — Quannah Chasinghorse, April 2021 via Instagram
The facial markings are not a trend nor a fashion statement. These tattoos represent her people, their sacred practices and the spiritual and emotional journey they've had to endure. There is power behind her proudly wearing her traditional tattoos to an "American" themed event. Chasinghorse said to Vogue, "To be able to bring [the tattoos] back is a powerful thing—you feel empowered knowing that you're carrying on a tradition that was meant to be erased." 
quannah chasinghorse pic.twitter.com/u6uCGJuE5h

— michaela 🏹 (@WIDOWSGRANDE) September 15, 2021
"These tattoos are a great reminder of who I am, the powerful meaning, how far I've come, where I come from and how resilient and strong my people, my bloodline, and my ancestors are." 
"Face of a New Generation of Models"
With how much noise Quannah Chasinghorse made at the 2021 Met Gala, you would be surprised to find out it was her first. The model and activist was only just signed to IMG, in December 2020. Her first big casting opportunity was in October 2020 for a Calvin Klein campaign that emphasized the importance of voting.
View this post on Instagram
She shared, "I never grew up feeling confident because of the negative stereotypes of Native Americans. But that's changing. Today, younger generations are going to be able to witness Indigenous excellence on the cover of magazines—and hopefully everywhere."
Photographed by Inez & Vinoodh, Chasinghorse was the cover of Vogue Mexico's May 2021 issue. She shared in an interview with them that she sees fashion as an impactful medium to educate and share her culture with others. This is shown as she incorporates her own culture's jewelry into shoots. 
View this post on Instagram
Her aunt, who was Miss Navajo Nation in 2006, brought her own jewelry collection to New York, for Quannah. Helping tie together the entire Met Gala look.
definitely my fave look of the night. quannah chasinghorse is a 19yrs old native model & activist. i love everything about this look but the show stopper is the Navajo jewellery belonging and brought to NY by her auntie. not nearly enough people are talking about this pic.twitter.com/Q0gR7uGvf1

— lottie 💖 (@lottiesblue) September 14, 2021
Power in Representation
Mahsi'choo, Quannah Rose. 
Redefining beauty standards in the fashion industry is doing so much for our Indigenous youth. I am so glad that the Indigenous community has someone like you to look up to. Thank you for representing and educating others on Indigenous culture so eloquently. If there is anything that I wish you take away from Quannah's story it's this: never forget the power you possess and the impact you have. 
If you want to check out more interviews with Quannah or find ways to help Indigenous cultures and fight climate change, visit Quannah's linktree. 
Thumbnail taken by @kerioberly