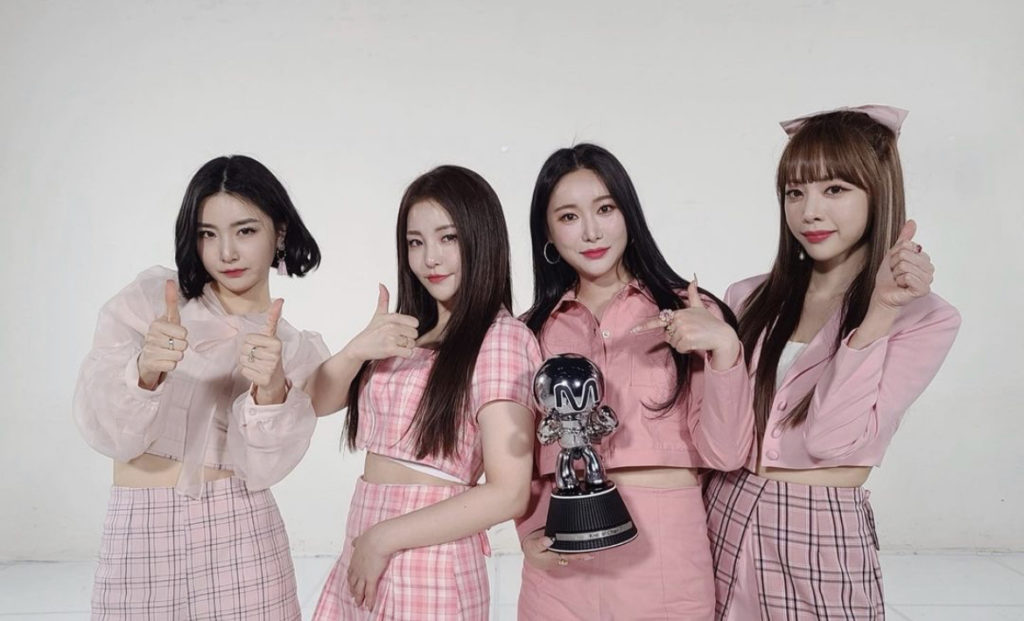 By Valerie Lopez | @valschwarie
In late February, K-pop group Brave Girls crept up Korean music charts for their song "Rollin'," four years after the original release of the track. It is not the Brave Girls' first song, but it is their first song to explode in popularity.
They gained traction after an edited video of their 2017 song "Rollin'" went viral on YouTube. The video was a compilation of their "Rollin'' performances with YouTube comments on the bottom. 
Many of the comments described how popular "Rollin'" was for men in the Korean Armed Forces. One of the YouTube comments expressed the song's popularity by joking that "Rollin'' was the "#1 Song in the Korean Military Billboard Chart." Another comment said, "I learned this song from my seniors in the military and taught it to my juniors before I was discharged."
Brave Girls had frequently performed for soldiers in the past, deeming no stage too small. "Those who served in the military since 2015 must have watched their performances a million times," one comment said.
A Turbulent History
The group debuted in 2011 with the album The Difference under Brave Entertainment. The original lineup had Eunyoung, Seoah, Yejin, Yoojin and Hyeran. The group promoted with music videos "Do You Know" and "So Sexy." The group had a comeback that year with the song "Easily" from their album Back to Da Future. That year the group won Rookie of the Year at the 19th Korea Culture Entertainment Awards. 
Brave Girls released the song "Nowadays You" in the Re-issue album in 2012 and "For You" single in 2013 and were set to make a comeback in 2014. However, things began to go downhill. Although they were supposed to have a comeback, Brave Girls went on a hiatus until 2016. That year, Brave Entertainment announced that Eunyoung, Yejin, and Seoah had left Brave Girls. 
Brave Girls returned as seven after Minyoung, Eunji, Yujeong, Yuna, and Hayun joined the group. They released the music video "Deepened" as part of their promotion for the High Heels album in 2016. In addition, they came back with the single "Yoo Hoo." They started a crowdfunding event to release new music in late 2016.
However, Yoojin and Hyeran, the last members of the original line up, left in 2017. Following their departure, Brave Girls came back as five members with the album Rollin' and title track "Rollin'"  in 2017. Yuna, Yujeong and Eunji then joined The Unit with the hopes of gaining attention from the public. Brave Girls returned in 2018 as four members with "Rollin' (New Version)." Hayun was not part of that comeback because she went on hiatus in 2018 and eventually left the company altogether. This left the Brave Girls as their current lineup consisting of Minyoung, Eunji, Yujeong, and Yuna.
After a two year break, Brave Girls returned to the music scene with the single "We Ride" in 2020. According to member Minyoung, the group believed that their promotions for their 2020 single would be their last chance to perform as a group. Minyoung told Top Star News that they could not really promote the single because it was typhoon season and really thought it was over for Brave Girls. Yet she remained optimistic and told her members that they would succeed.
On February 16, 2021, Yuna told fans that there were no plans for a Brave Girls comeback and considered getting another job. 
However, the situation changed in just over a week. Brave Girls exploded in popularity and the group began to chart in late February for their four year old song "Rollin'."
To the people who left comments on the video, ᴠɪᴅɪᴛᴏʀ who made the comment collection video, the people who listened to our song 'Rollin', which was released 4 years ago, to reach the number one on the music chart, and to the many who supported us.

— Brave Girls (@BRAVEGIRLS_) March 6, 2021
Yuna told Top Star News that she believed this was "an opportunity from heaven."
Killing the Charts
Shortly after the release of the edited video on February 23, the Brave Girls began to chart on major Korean charts on February 27. It reached number one on Bugs music chart first and by the evening of February 28, the song had also topped the 24Hits chart on MelOn, one of the biggest streaming platforms for music in Korea. The song then began to climb up other charts.
On March 12, the group got their first ever Perfect All-Kill on Korean music charts. A Perfect All-Kill occurs when a song charts on all major Korean music charts: Bugs, Genie, MelOn, VIBES, FLO, and iCharts.
The group is on their 170 hourly Perfect All-Kill as of March 19. 
Music Show Wins
After their song resurged on the charts, the group began to promote their songs on music shows again starting on March 11 with M COUNTDOWN. 
Brave Girls got their first ever music show win at Inkigayo on March 14. This was Brave Girls' first ever win in all ten years of the existence of the group and five years with the current lineup. 
[?]

?경⭐️브레이브걸스 인기가요 1위⭐️축?

여러분이 만들어주신 너무나 행복한 오늘을 평생 잊지 못할 것 같아요? 앞으로도 저희 브레이브걸스와 오래오래 함께해주세요! 사랑해요❤️❤️❤️#브레이브걸스 #Bravegirls#롤린 #Rollin#피어레스 #FEARLESS pic.twitter.com/tILPJg8Btz

— Brave Girls (@BRAVEGIRLS_) March 14, 2021
The group gave an emotional speech after receiving the results, thanking their fans, specifically giving a shout out to the soldiers and officers who are part of Korea's Armed Forces since they had performed many times for the military in the past. 
After their first win on Inkigayo, Brave Girls won first place at The Show, Show Champion, MCOUNTDOWN, and Music Bank. They are currently on their sixth win.
[?]

?브레이브걸스 6관왕?
롤린(Rollin')으로 6번째 1위❗️ 이 모든건 정말 다 우리 사랑하는 피어레스가 덕분이에요❣️ 쁘걸이들에겐 언제나 항상 피어레스 뿐이야?#브레이브걸스 #Bravegirls#롤린 #Rollin#피어레스 #FEARLESS pic.twitter.com/WjWiUOZq7Z

— Brave Girls (@BRAVEGIRLS_) March 21, 2021
A New Beginning
In response to the sudden spurt in popularity, Brave Girls have been doing and scheduling countless promotions. In addition to performing on music shows, they have had the chance to promote on one of the most popular singing programs You Hee Yeol's Sketchbook as well as top variety shows You Quiz on the Block and Running Man.  
Additionally, they guested on Power FM Cultwo Show, Ravi's Question Mark and Moonbyul's Studio Moon Night. They have even done some YouTube promotions with the shows Never Stop Being A Fan and Season B Season. 
On March 18, Brave Brothers, the producer and founder of Brave Entertainment, confirmed that he will be working on new music for Brave Girls.
While Brave Girls have had a rocky start, their recent recognition has shown hard work and dedication can make dreams come true. This is only the beginning for the Brave Girls.
For more music news, check out our article on PURPLE KISS' debut here. 
Thumbnail Courtesy of Brave Entertainment