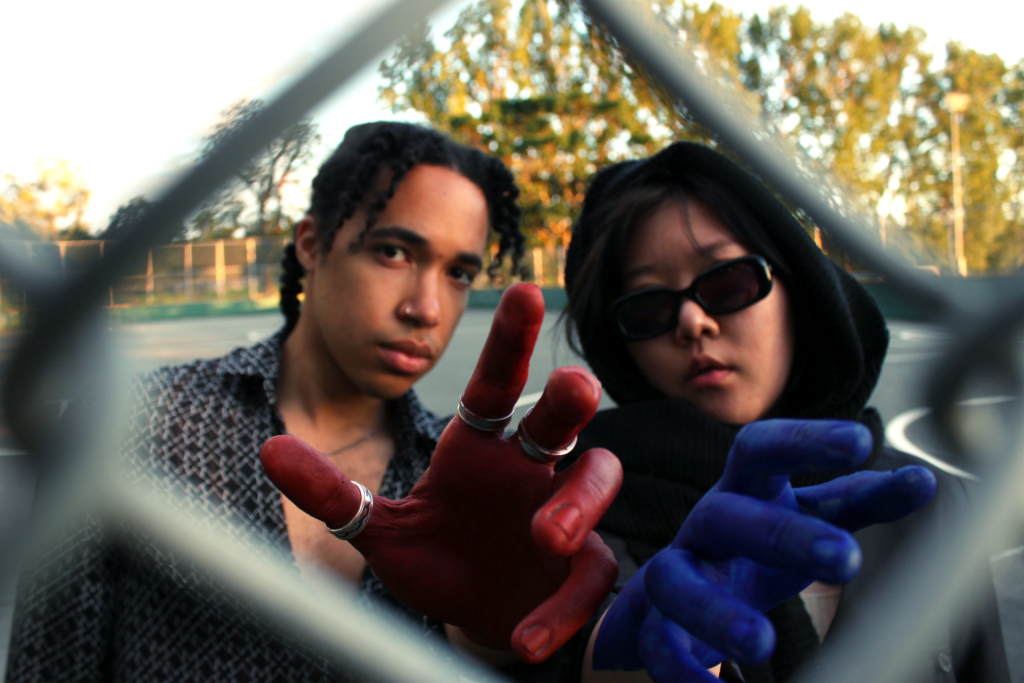 At the height of the pandemic, RUSUR became the subject of TikTok virality, posting song covers of many well-known K-pop songs. In 2022, the Canadian-born Zeboria Peters is continuing to show his love for the genre with a new goal in mind: releasing his first single in Korean. RUSUR has slowly inched towards his goal of releasing his first K-pop single, which came out on June 21.
To commemorate this feat, RUSUR sat down with EnVi for a second time—this time after working on his first K-pop release "One Way Home" alongside Korean producer Young Minnie.
On His Latest Single
RUSUR is not new to music. He has been in the game for nearly a decade. He began his journey on a Canadian survival show as Zee, where he competed to join the "next" boy group. RUSUR later began pursuing songwriting under the name Johnny Gr4ves. He has released numerous singles, including songs for the children's anime, Beyblade: Burst Surge, and the most anticipated game of 2020, Cyberpunk 2077. RUSUR is his latest project and alias, adopted by the multi-hyphenate for his performance career. RUSUR is a play on "rus," the French word for "red" and a color representing passion and love. This is fitting for the artist, who has nothing but love for the world and global cultures, including Korean culture. RUSUR's latest single, "One Way Home," is a testament to that.
Released in both English and Korean, "One Way Home" is the product of RUSUR's year-long transition into K-pop and a culmination of sorts. In terms of style, the song is a slow, bittersweet song about the end of a relationship, which doubles as the start of RUSUR's new era as a K-pop artist.
To further honor his love for Korean culture and music, RUSUR chose to have his song's cover art display the colors of the Korean flag with only an illustration of him and Young Minnie in red, black, and blue. Not only is the album art a homage to Korean culture, but it is also a symbol of their friendship, which blossomed thanks to their common goals as artists and love for Korean music.
Forming A Partnership
K-pop fans were not the only ones who discovered RUSUR through TikTok. He was discovered by Young Minnie, who reached out and sent him a clipping of her music. The duo clicked thanks to their shared love for music and began submitting songs to K-pop companies.
Not wanting the songs to go to waste, RUSUR suggested releasing their work together. "Regardless of whether these songs place or not, we should be using them to show what we are working on together,'" RUSUR said, recalling how their K-pop partnership came to be.
Since joining forces, the duo have become great friends. RUSUR then shared that their bond has transcended music and that they turn to each other for support. In fact, in anticipation for "One Way Home," the two met in person for the first time after Young Minnie flew to Canada for RUSUR's music video filming.
Inching His Way Towards K-pop
Throughout 2022, RUSUR has been dropping singles, each taking a more K-pop-style and experimental approach to pop music. RUSUR also challenged himself by learning Korean and practicing dance and choreography for his own releases. (And thankfully, his time pursuing boy group-dom in 2013 was not for naught. He has some moves and a foundation in dance that has helped him tremendously.)
RUSUR has been studying Korean since 2021 when fans began interacting with his covers on TikTok, and he began hosting live videos twice a day to interact with his audience. In February, he got more serious about his studies, learning more to truly engage in the culture. He now has a tutor, who has been a tremendous help. RUSUR confidently shared that he is able to hold a conversation with the help of a vocabulary book.
"For the Korean release, I want it to be as legitimate as possible…I truly believe that in order for people to believe that you mean well—that you care—is by putting in the work it takes to showcase that you care about their culture," he said. "There's no easy way to learn a language. That's why I keep studying."
RUSUR began his journey thanks to the encouragement from his following on TikTok, who inspired him to pursue K-pop. "I've always been a big fan of [K-pop] and the reception I got through the covers I was like, 'oh wow, people really enjoy this' and personally I want to be part of the K-pop industry so I can see how the industry works."
He added, "Regardless of how many times [people] promoted my content, I still never was reached out to. It was quite frustrating because clearly people are wanting something like this. I decided I'm not to let anybody gatekeep and tell me where I can or can't go."
Creating His Story
Last year, RUSUR released Just In Case, sharing his experiences as an individual in a project that is meant to be his first and last album. The artist explained that one day he might not wake up, and that's why he dropped it.
Although he is still alive, he considers his current situation a transitional period. He is going from pop and R&B to K-pop. In a way, the current RUSUR is different from the one from 2021. He leveraged this storyline in his music video submission for the Talk Talk Korea 2021 contest, where he submitted a self-produced music video and cover of Enhypen's "Fever."
"I wanted to maintain the story that I was pushing," RUSUR said. In the video, RUSUR is in the woods, beaten and bruised, entering a new state of reality. The idea, he shared, was that he was regaining consciousness and entering a new world: the world of K-pop.
RUSUR ended up a semi-finalist, but that did not discourage him. He is happy he got to show his love for K-pop. "I [now] realize that I was breaking new ground," he said. "I know that people are seeing me. I learned that the right time will present itself."
Realizing His Personal Goals
Being an independent artist is no easy feat. RUSUR shared that there is a lot of work and planning that goes into creating and marketing his music. He writes; he edits; he directs; he choreographs. He learns as much as he can so he can create his own content. Even so, it is rewarding for him at the end of the day. "I feel quite empowered showing myself that I'm able to do all these things," RUSUR reflected.
While RUSUR pushes himself to learn various skills, he also wants every move to be intentional. This is partially why the artist decided to take a step back from social media. "It seems like a never ending treadmill," he said, describing the pressure. RUSUR decided that he wanted to set boundaries and take ownership of his goals and truly hone in on developing his career.
"I don't want people to come to me. I want them to listen," he said, emphasizing the importance of being intentional on social media. He does not want to force others to watch him. He wants to make each post meaningful so that people are capturing his story as an artist.
RUSUR has been working toward his goal of being heard with each release, slowly going from R&B and pop to K-pop. He is easing his listeners into his new sound so they can "be introduced to a whole new world of music."
Want more on RUSUR? Follow him on Spotify, Instagram, TikTok, and YouTube to keep up with his latest news and music. Plus, check out EnVi's first interview with him here!