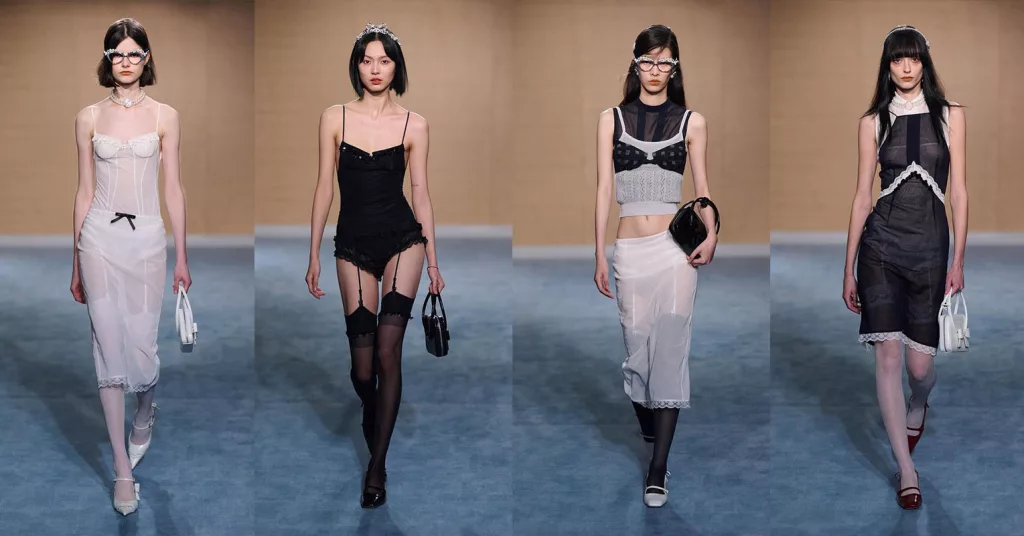 Wrapping up Shanghai Fashion Week, Shanghai-based label SHUSHU/TONG presented its Spring 2024 collection. The brand showcased a fully-fledged runway, focused on interpreting womanhood and exploring the thin line between sexy and sexualized. Aptly titled, "The Nude," this collection made a statement through its subtlety. 
About the Brand
SHUSHU/TONG was founded by Liushu Lei and Yutong Jiang back in 2015. The design duo met in high school and remained friends throughout their university days — they even shared a flat during their MA studies at the London College of Fashion. During their time in London, the designers honed their skills by working at Simone Rocha and Gareth Pugh. 
Inspired by their shared interests, Lei and Jiang eventually founded SHUSHU/TONG — a play on both of the designers' names. The brand took the spectrum of the female experience as a starting point, aiming to bring "special yet accessible" collections to life. Over time, SHUSHU/TONG has grown to be recognized for its youthful hyperfeminine aesthetics that appeal to Gen Z consumers with elements such as ruffles, bows, volume and touches of prep.
Sexy, not Sexualized
For Spring 2024, the design duo found musing in Helmut Newton's photography series "Big Nude." In this body of work, women were photographed naked; some models covering parts of their body, while others were fully nude. Despite being unclothed, the women in these photographs stood powerfully, channeling an image of emancipation rather than objectification. This is precisely the energy that SHUSHU/TONG conveyed in its latest collection. The brand presented pieces with stereotypically "sensual" elements reinterpreted with subtle sensuality and strength.
All About the Looks
Departing from the brand's signature volume, and maximalism, the inaugural look of the collection was a figure-hugging bodysuit with ruffled hems and garter stockings. A sheer chemise-inspired look followed. The outfit consisted of a paneled bodysuit and a matching sheer skirt. Next up were black and white baby-doll dresses with ruffles and lace finishings, paired with lace garters. Just like many brands have done in recent seasons, SHUSHU/TONG tapped into lingerie design and the states of undress as a source of reference. 
As the show progressed, models walked down the runway dressed in looks that oozed prepiness. The sheer fabrics and lace slowly transitioned into gingham prints and deep earthy tones. The fluid and flowy silhouettes transformed into power shoulders, layering, and matching sets, perhaps representing the brand's take on workwear ensembles. To further emphasize their reinterpretation of classic feminine aesthetics, floral prints made an appearance on ruched pieces and sultry mini-dresses.
In the show's next segment, well-loved signature elements of SHUSHU/TONG, namely bows, returned. The brand exploited one of the year's favorite trends via off-the-shoulder dresses and floor-length gowns. To further accentuate that hyperfeminine aesthetic, the designers introduced halter dresses consisting entirely of ruffles and puffy skirts. Whether through short skirts or long and dramatic pieces, this extra volume added a regal aspect to the looks. 
A Steady Development
The past year has served to demonstrate SHUSHU/TONG's growing potential as a brand. Since 2022, the label has been consistently involved in collaborations with footwear powerhouses such as Charles & Keith and ASICS. Their designs have also been spotted on fashion's hottest it girls, including Rosalia, Shay Mitchell, and Olivia Rodrigo. BLACKPINK's Jennie even took a chic SHUSHU/TONG look to the 2023 Cannes Film Festival.
The brand's latest collection further showcased SHUSHU/TONG's ability to reinvent design codes while remaining true to its essence. "The Nude" is an aesthetically pleasant collection that explores the duality of sexiness in a subdued, mature but clever manner.
Want to read more about the latest runways? Read about the hottest moments of Dubai Fashion Week here!