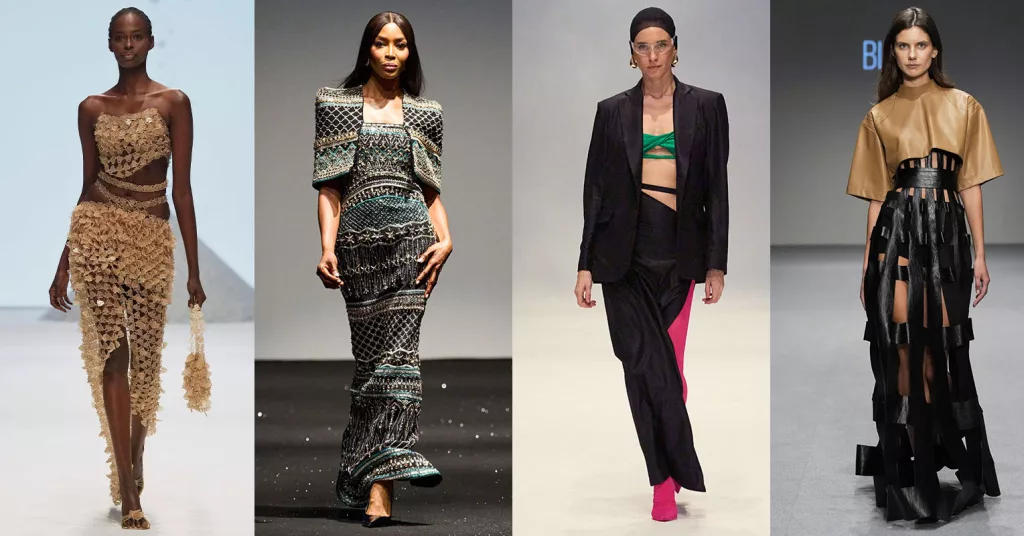 With a market set to expand 7% by 2027 (according to Euromonitor International), the Middle East and North Africa have become places of interest for fashion brands and retailers. The region is growing at a steady pace, shaping up to be an international hub for designers and labels. Dubai, in particular, is consolidating its place among the world's fashion capitals with a renovated Fashion Week.
The second official edition of the event — co-founded by the Dubai Design District (d3) and the Arab Fashion Council — took place between October 9 and October 15. Showcasing the work of designers from 12 countries across Europe, America and Asia, the lineup included names such as PIPATCHARA, Michael Cinco, Weinsanto and LAMA JOUNI.
EnVi recaps the top moments of Dubai Fashion Week's sophomore edition. Read on to discover the highlights of the event uniting the MENA region with the global fashion scene. 
WEINSANTO
Dubai Fashion Week regular Victor Weinsanto returned to the runway with a tastefully whimsical collection. Elements of unconventional extravagance dominated the runway, ranging from sharp geometrical necklines to the full-body mesh decorated with flower appliques that made up Weinsanto's "vase dress." The French designer used a color palette comprising neutral tones with notes of deep green and pink. Corsets, which were all the rage last year, made a return alongside lace embroidery and platform heels in this collection.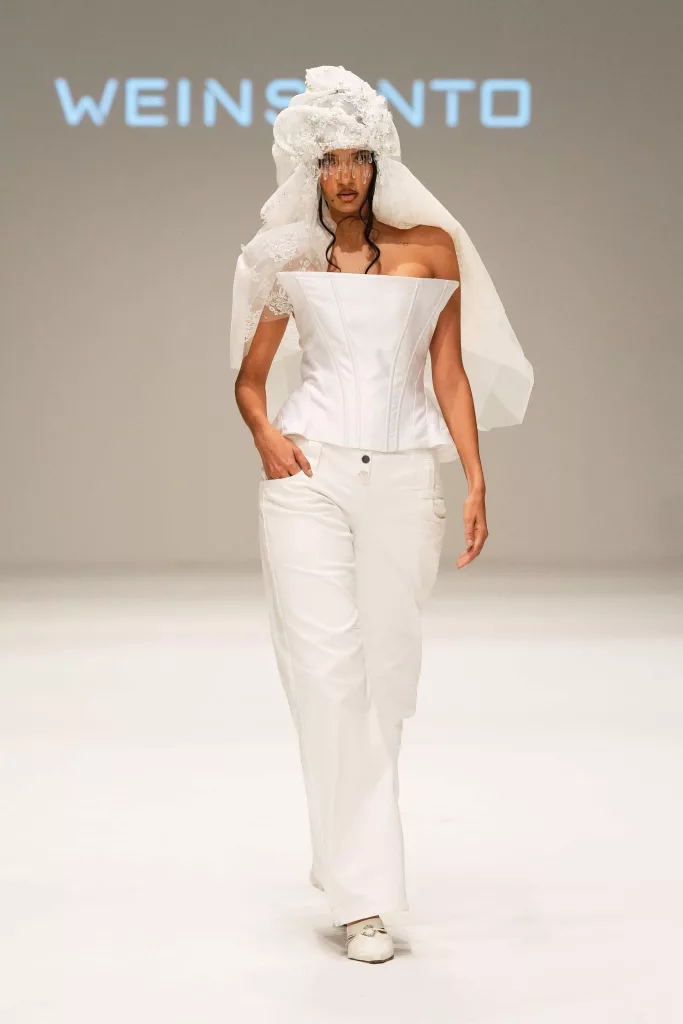 Photos courtesy of Weinsanto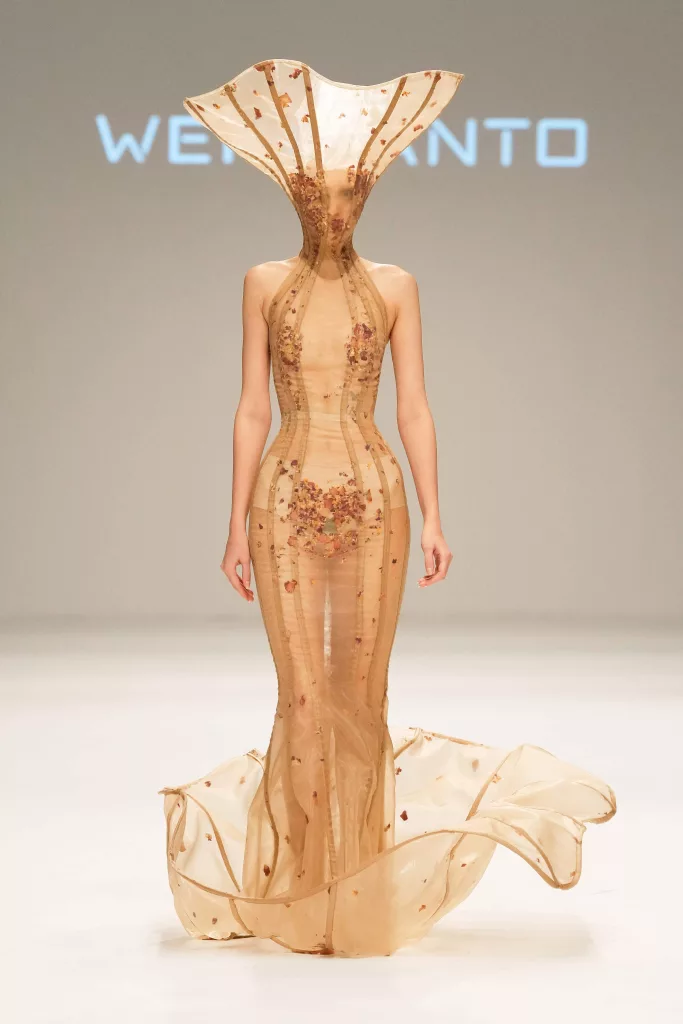 LAMA JOUNI
As one of the Middle East's most prominent designers, Lama Jouni continues to redefine female empowerment for the 21st century. On October 10, the designer presented her Spring Summer 2024 collection, a stylish assortment of renovated classics fitted for a powerful woman who also embraces her most delicate side. The looks featured Lama Jouni's popular cut-out bodycon dresses, oversized blazers, and a variety of tailored pants and body-hugging skirts. Sheer fabrics and bright colors such as electric green, fuchsia, and blue brought the collection to life, bestowing it with dynamism and versatility.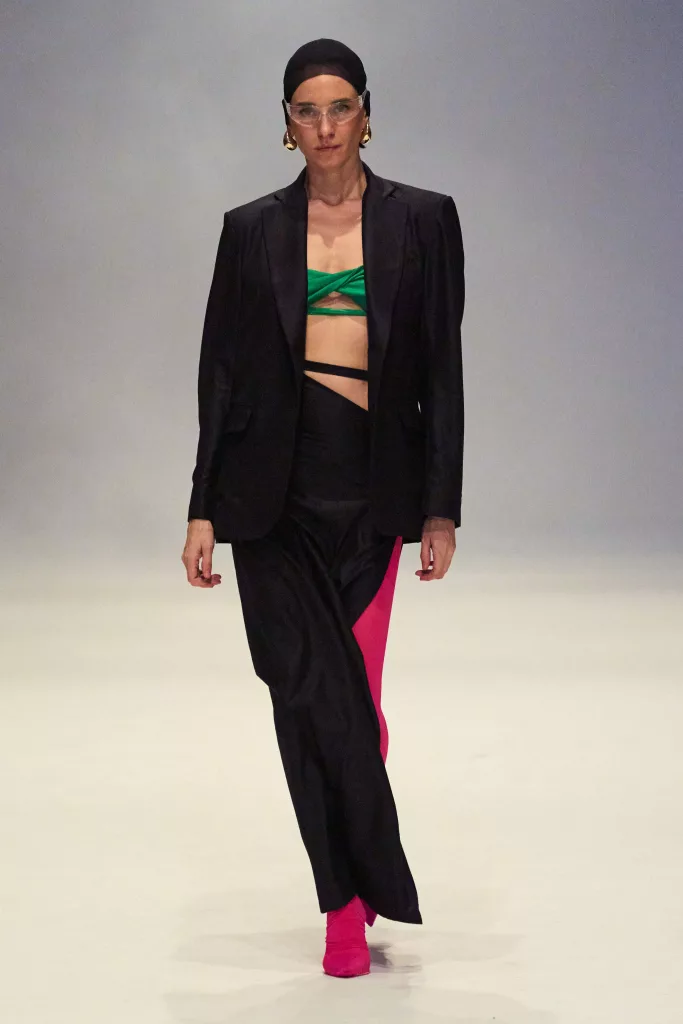 DIMA AYAD
Dima Ayad's latest collection gave the spotlight to metallic fabrics and shades of pink. The runway shimmered as models walked down the runway wearing reflective accessories and intricate organic patterns. Dima Ayad, the Lebanese designer responsible for her eponymous brand, dove into off-shoulder and strapless necklines, three-dimensional swaths of fabric, and billowing skirts. Oversized double-breasted blazers were given a feminine streetwear treatment with sequins, while wide-knit mesh contrasted against crimped fabrics. To complete the night's theme, Ayad introduced pops of green and pink into her collection and dived into one of the most popular runway trends of Spring Summer 2024: polka dots.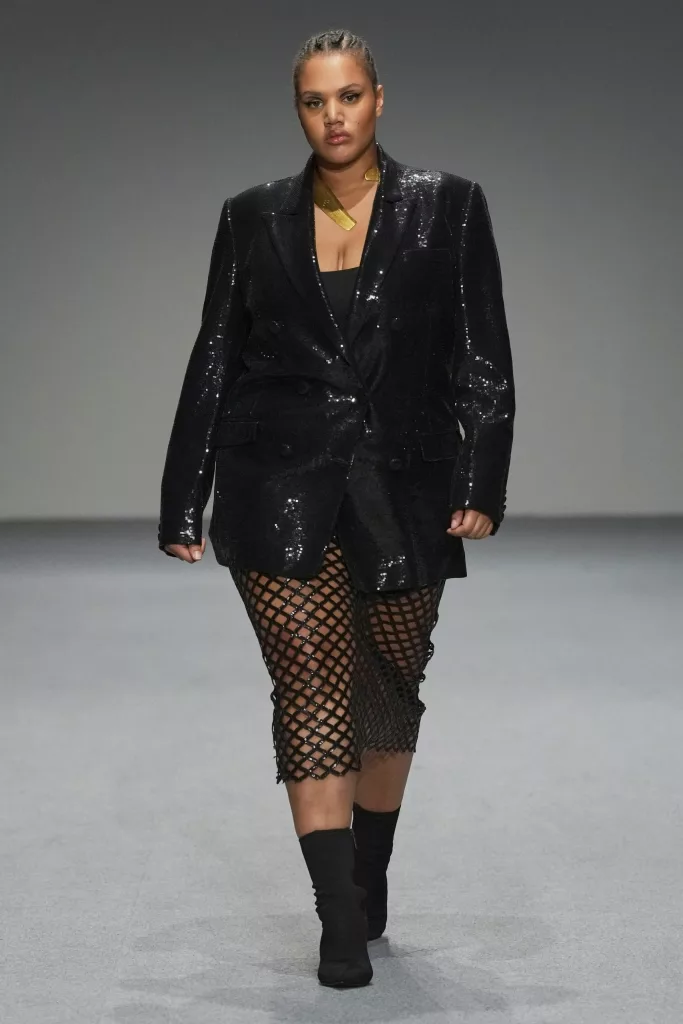 Photos courtesy of Dima Ayad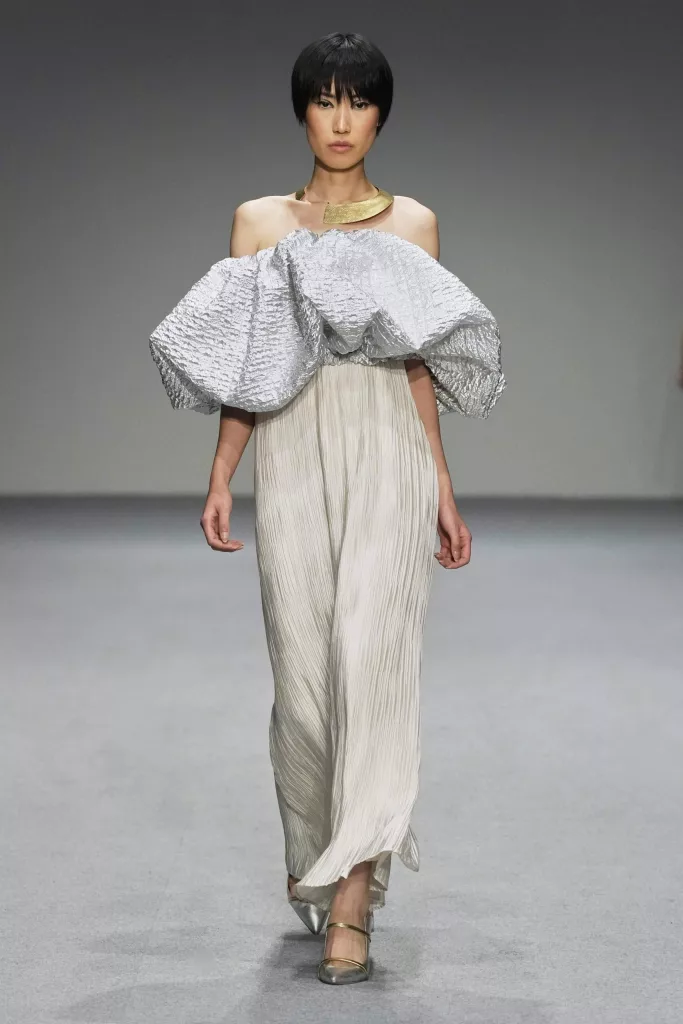 EMERGENCY ROOM
Emergency Room's newest collection, titled "Neverland High," was an upscale take on the preppy aesthetic. In fact, according to the brand, the school-inspired looks conveyed "resistance against conventional, one-size-fits-all educational systems." Appropriately, Emergency Room put a spin on traditional blazers, checked prints, and even cheerleading uniforms, dismantling the concept of dress codes with altered hemline lengths and cut-out details. Then, designer Eric Mathieu Ritter introduced crocheted pieces, vests, and oversized sweaters, bringing comfortable style to the academia-inspired collection.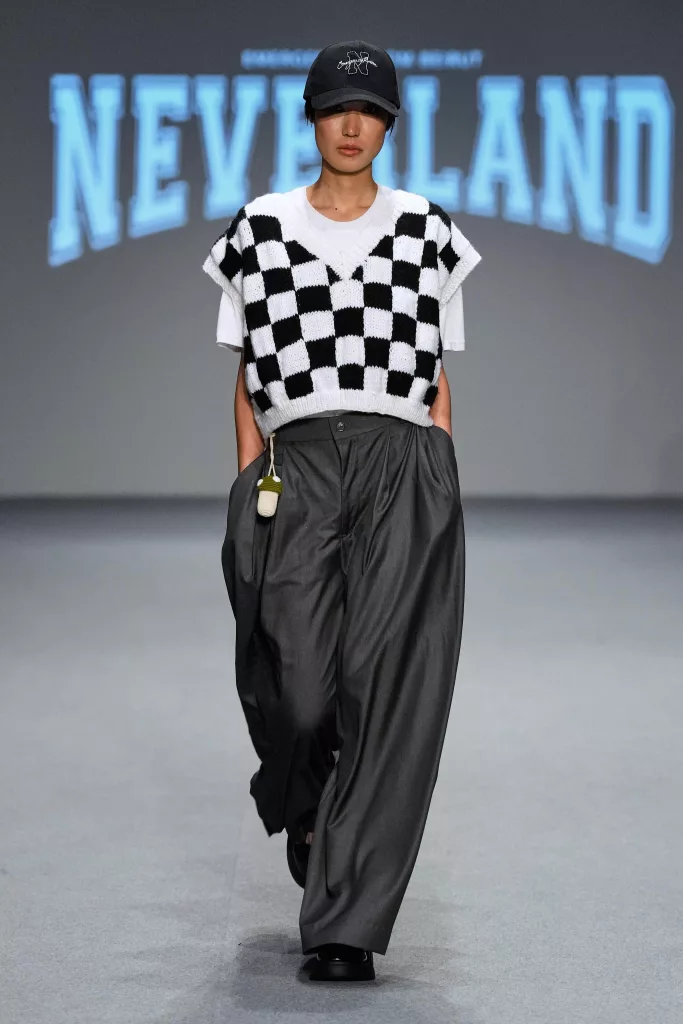 LILI BLANC
Lebanese label Lili Blanc debuted its SS24 collection "Shades of Lili," which, as per press notes, was an ode to "femininity, fresh life, and birth." Black and white looks commanded the runway, each one epitomizing charm and elegance. Founder Sabrina Mouhieddine included neon green and Barbie pink ensembles in her collection, recalling the neoncore and Barbiecore hype of the past twelve months. Structured blazers, mini and maxi skirts, and silver accents brought a classy, feminine take on modern business attire. Then, high-cut slits, subtle lace, and rhinestones breathed new energy into the collection.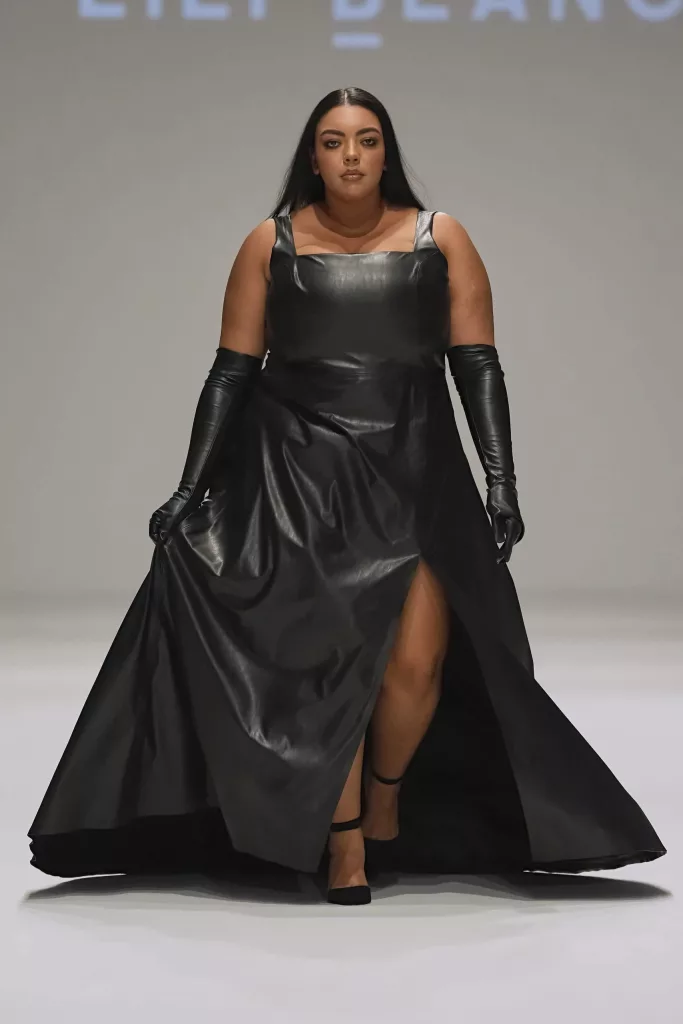 Photos courtesy of Lili Blanc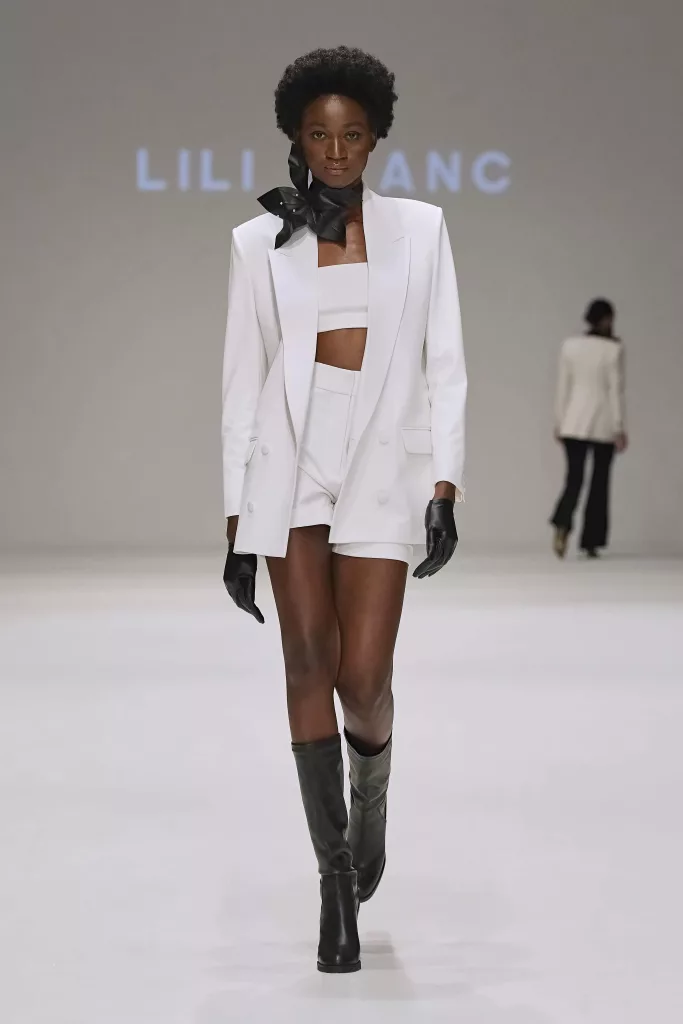 PIPATCHARA
Committed to promoting sustainability and slow fashion, Thai designer Pipatchara Kaeojinda once again took to the runways of Dubai Fashion Week with a sustainable collection. Titled "The Eternal Symphony," PIPATCHARA's latest presentation tapped into modern luxury with 30 looks that championed the plastic aesthetics the brand has grown to be recognized for. The pieces, created with advanced 3D laser cut, ranged from crop top and micro skirt ensembles to glamorous gowns with a Y2K flair. Mixing flower imagery, PIPATCHARA's signature macramé and a color palette where white, black and green predominated; "The Eternal Symphony" made a case for responsible lavishness and contemporary craftsmanship.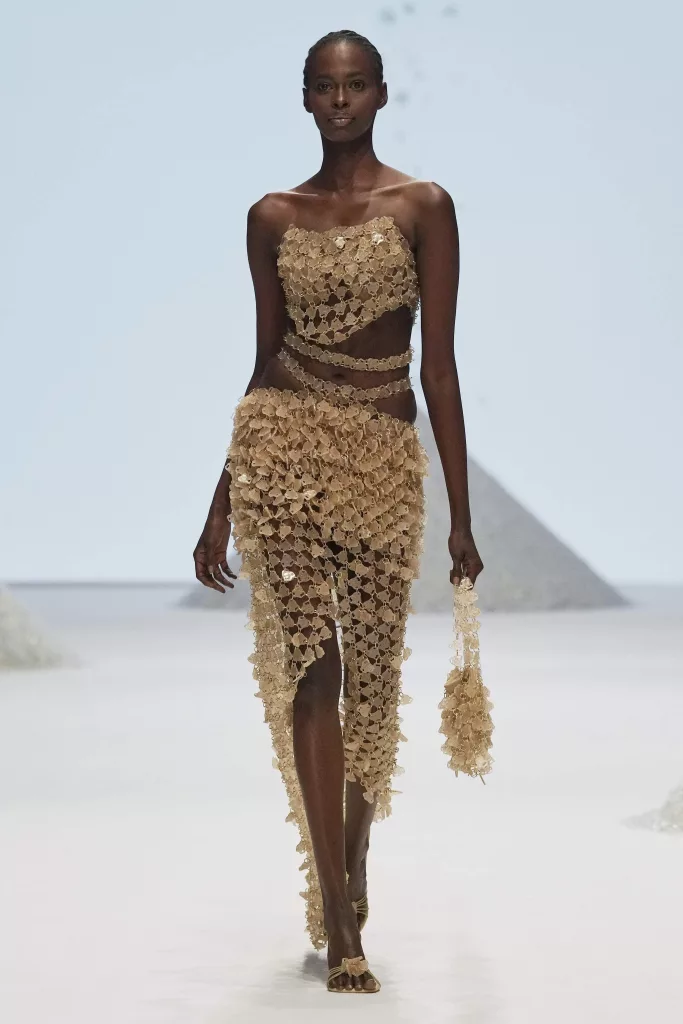 BLSSD
Titled "Not 2.0," BLSSD's latest collection was a follow-up of the brand's previous runway — presented at the Fall Winter 2023 Dubai Fashion Week. Still exploring the question, "What are you not?" the brand experimented with textile manipulation and transparent fabric layering, bringing together sportswear aesthetics, glamour and innovation. Billowing dresses, tailored blazers and crisscross patterns were at the core of "Not 2.0." The brand also introduced pieces created in vegan leather, juxtaposed with delicate organza to further showcase their knack for textile exploration and "authenticity in style."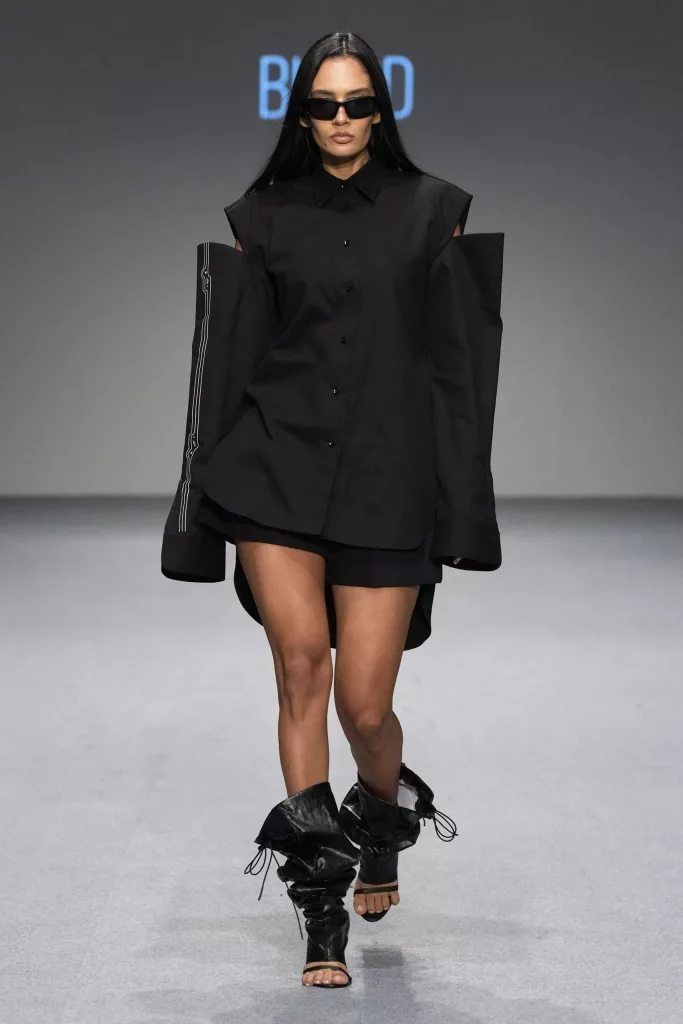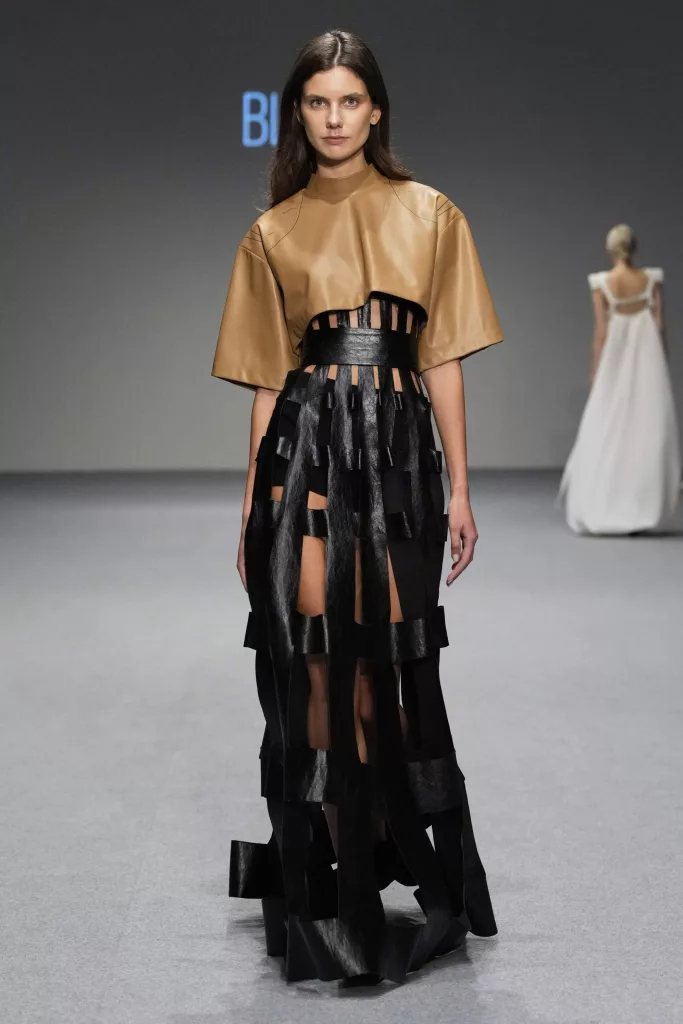 SLIMI STUDIO
Dubai-based designer Sleiman Dayaa — founder of Slimi Studio — drew inspiration from Hindi culture to create a collection that dived into "courage, spirituality, and personal growth." The first segment of the runway focused on streetwear, oversized silhouettes and contemporary sensitivities. The designer sent Y2K-reminiscent denim, bralettes and miniskirts adorned with tassels and ruffles down the runway. Then, for the closing section, Slimi Studio brought mesh tops, sheer gowns, and bright colors, including turquoise, yellow and red. The highlight was perhaps the statement jewelry and headpieces, which tied the collection together with the concept of "The Wheel of Time."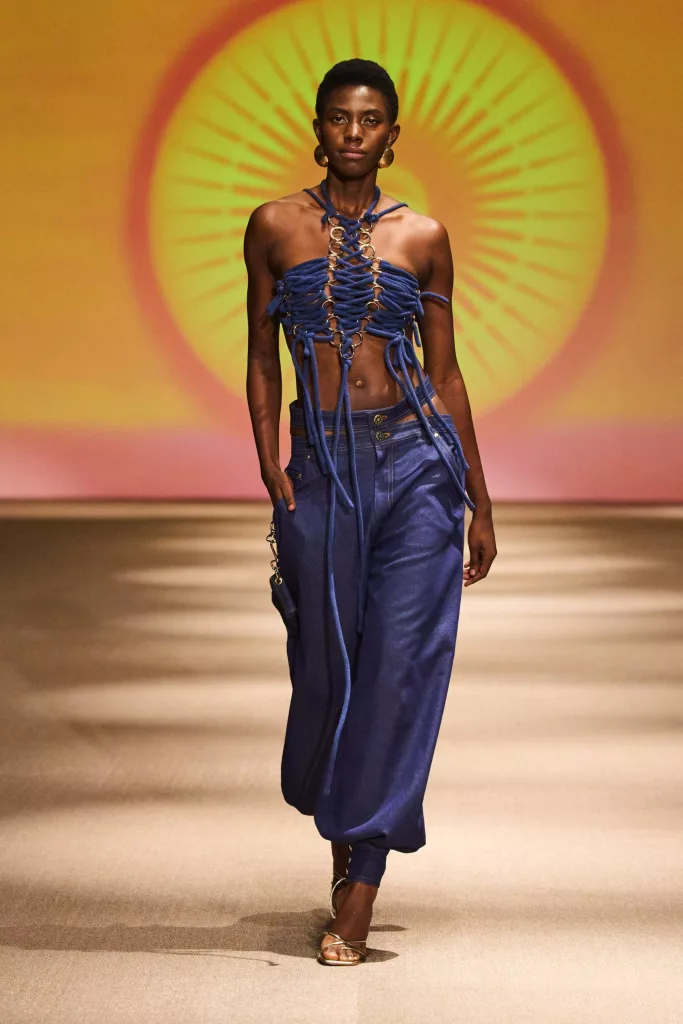 MICHAEL CINCO
Dubai-based Filipino designer Michael Cinco brought his regal designs to the runway of Dubai Fashion Week for the second consecutive season. The designer found inspiration in the rich tapestry of Spanish culture, presenting a lineup of looks reminiscent of flamenco dancer costumes and matadors' attire. The vivid color palette flawlessly incorporated contrasting colors such as red and neon green, proving that red is indeed the color of the season and the neoncore trend is still going strong. Elements such as refined embroideries, oversized epaulets, heavy embellishments and large floral prints took blazers, short playsuits and see-through dresses to the next level. The brand shared, "The collection encapsulated the essence of Spanish heritage and the enduring allure of Mediterranean architecture."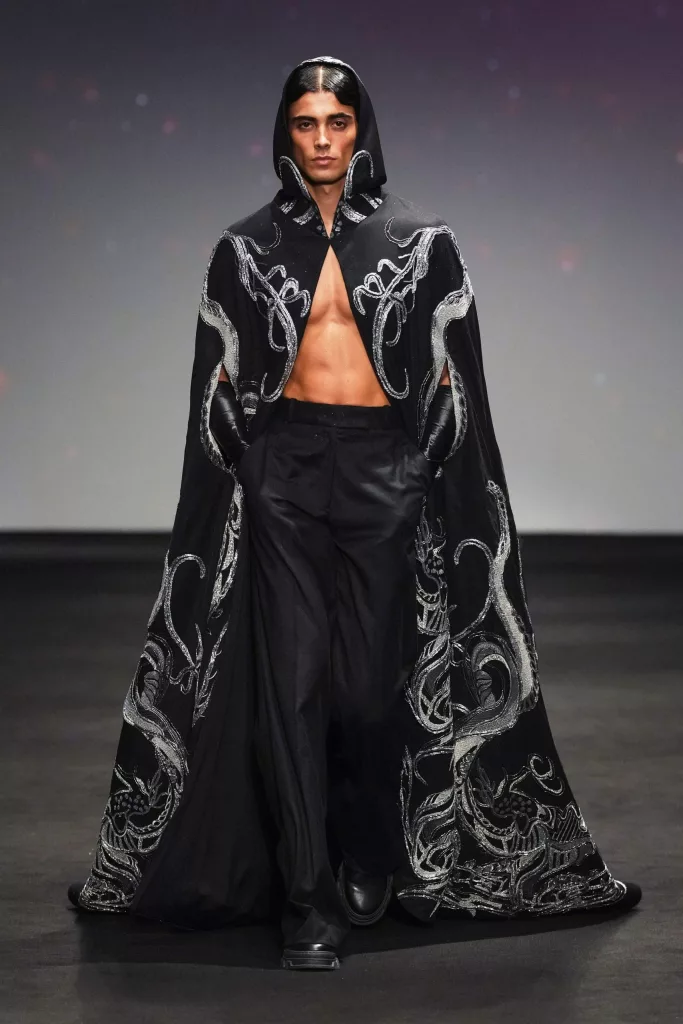 Photos courtesy of Michael Cinco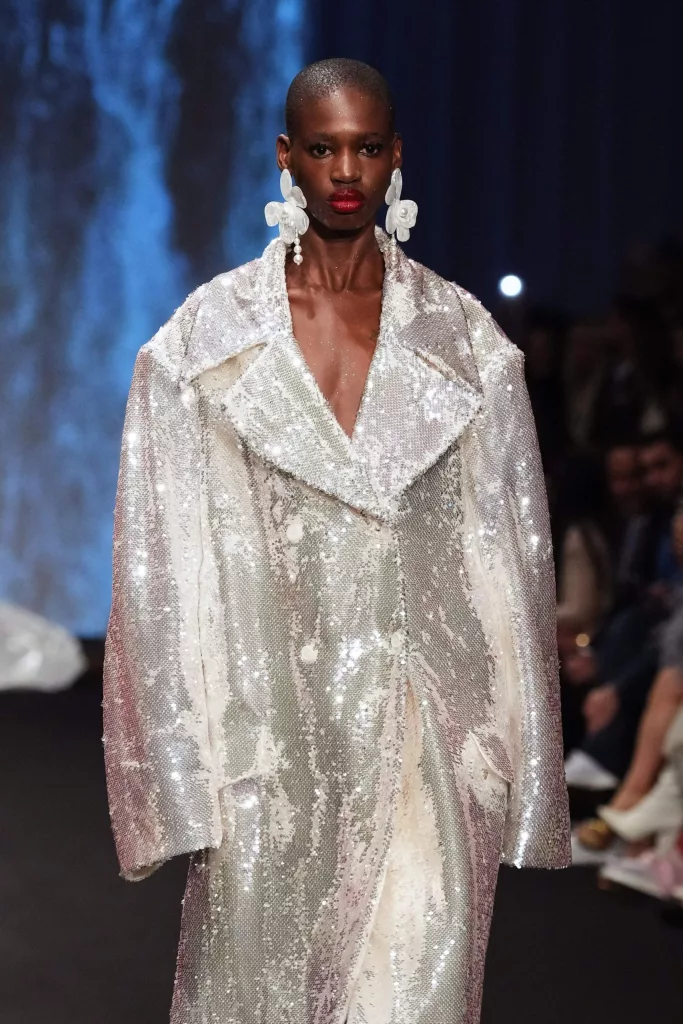 DOMENICO OREFICE
Florence-based designer and Polimoda alumnus, Domenico Orefice, took to Dubai to showcase his eponymous brand's collection," A0 24 MODERATE." The runway marked Orefice's Dubai Fashion Week debut and drew its name from the fundamental grade of climbing in Alpinism. Unfolding in a universe where reality and virtuality merge, the looks were heavily influenced by streetwear and biker aesthetics. The collection explored the interaction between humanity and nature via cargo pants, oversized skirts, elegantly ruffled dresses, bomber jackets, and silhouettes with contrasting white lining.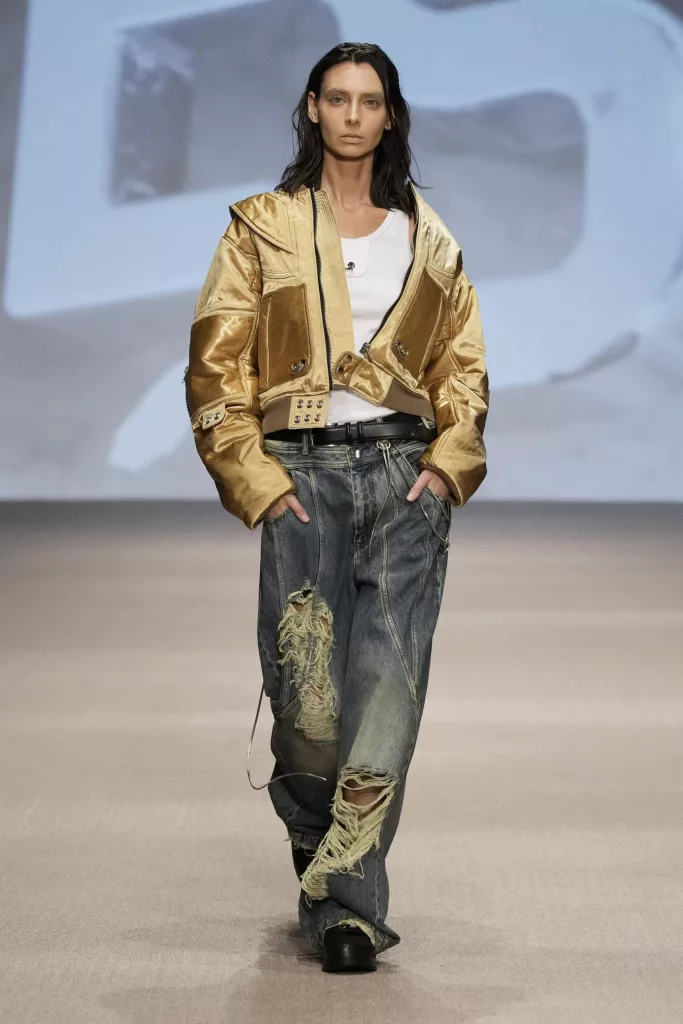 RIZMAN RUZAINI
For the Dubai Fashion Week finale, Rizman Nordin and Ruzaini Jamil debuted their joint label Rizman Ruzaini's newest collection with a cameo of supermodel Naomi Campbell. The Malaysian brand brought an arsenal of textures to the runway, showcasing everything from pleats to sequins and even ostrich feathers across pantsuits and evening dresses. Drawing inspiration from the Malay folktale of Seri Gumum, the blue, orange, and neutral-toned collection was an extravagant display of artistry. Meanwhile, Campbell closed the show in the exquisite two-piece Naomi cape and dress set.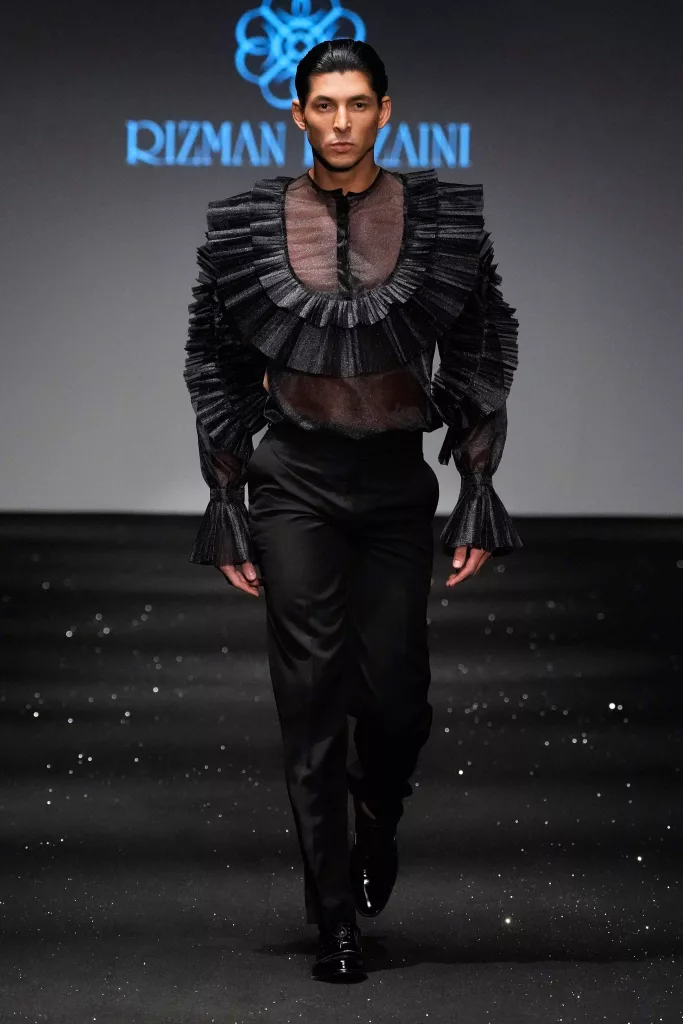 Photos courtesy of Rizman Ruzaini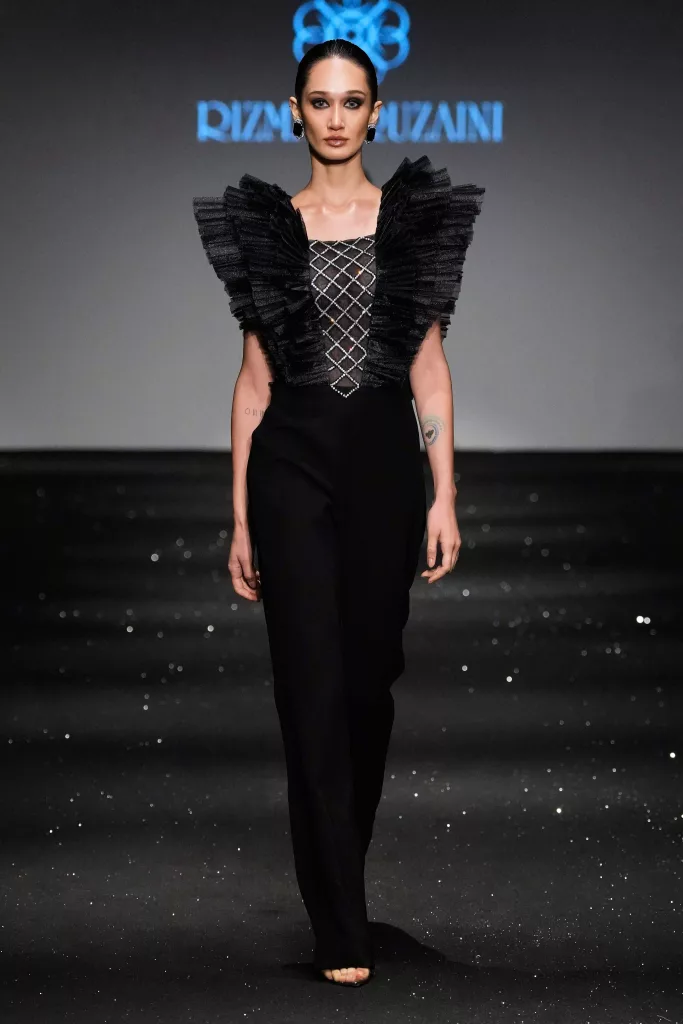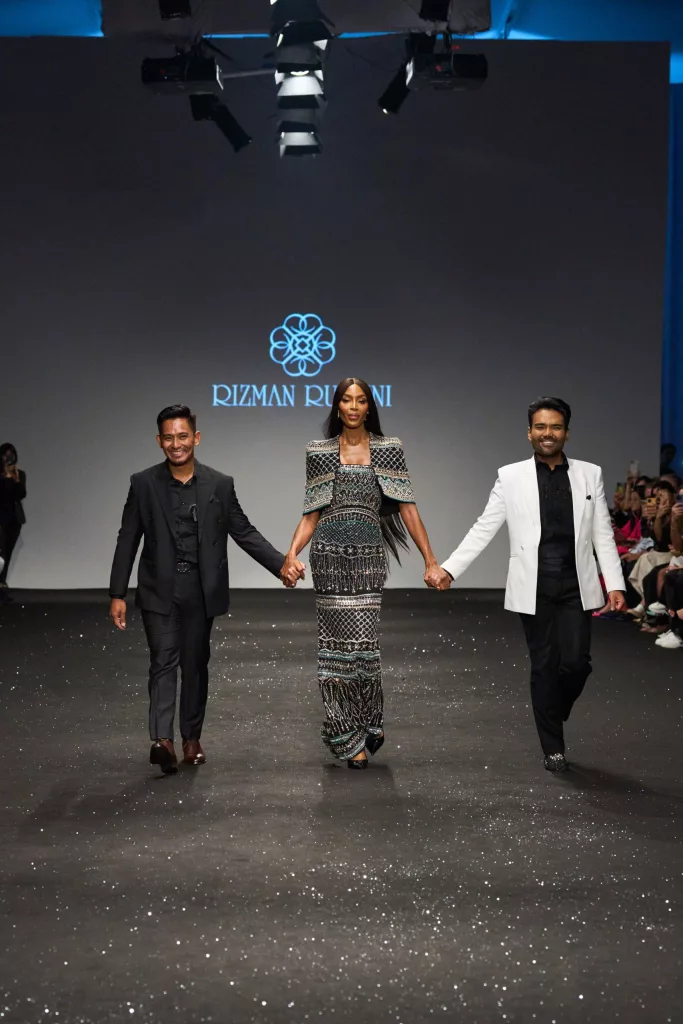 Interested in more fashion content? Check out Instagram's top-performing brands and voices in the Fashion Lifestyle and Beauty sector here.