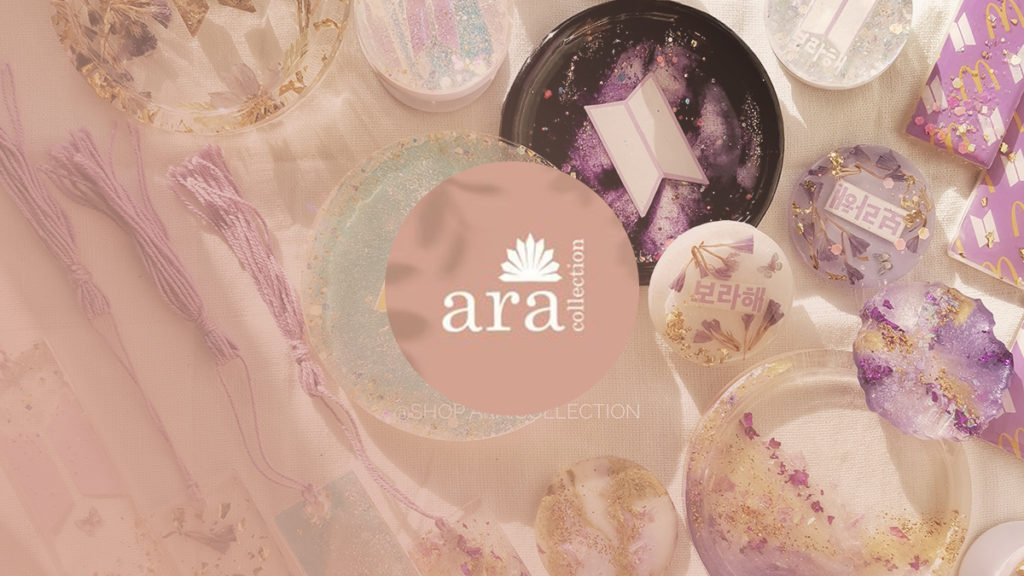 EnVi is back again with another K-pop small business spotlight! This time, we had the pleasure of talking to Miriam, the owner and managing director of Ara Collection. This Philippines-based store is a small business born during the 2020 pandemic and offers a wide range of artisanal resin pieces. Get to know more about their latest items and how they make them!
The Roots of Ara Collection
Starting a small business is not an easy feat. More so, if you began it during a pandemic. But unlike other small businesses that didn't last long during the pandemic, Ara Collection made through with the challenges and continues to sell handcrafted items perfect as gifts to your loved ones and oneself.
A freelance interior designer by profession and by heart, Miriam founded Ara Collection to sell and create resin pieces that are unique and eco-friendly as the shop values mindful thrifting, less waste practice, and clean space. When asked to share why she decided to sell their items, "Resin making can be a hobby or a side hustle. But we decided to sell our items as we want to bring smiles to people & earn a living through our art," Miriam shared.
The Art of Making Resin Pieces
Miriam shared the tedious process of creating their resin arts. It starts with sanding, and later on, multiple resin layers will be poured. Each layer takes at least a day to be cured, so each resin product takes 2 to 7 days to be completed. Hence, they don't allow rush orders and have a lead time of 9 to 12 working days. But don't worry, as they ship them as soon as it's finished!
Ara Collection is meticulous when it comes to crafting. They make sure that they wear their protective gear as uncured resin fumes are harmful to health. They also make sure that they are working in a well-ventilated environment to provide the best resin pieces for their customers. Not only the production process, but the clean-up process takes a lot of time, too, "We really do put our hearts in crafting each piece for days. That is why each item we craft is really precious to us and we hope you will treasure it too," Miriam shared.
Most of their designs have dried florals and greens that are either store-bought or personally handpicked from their garden. They also use pigments, glitters, appliqués, vinyl decal cutouts, and even photos of your or Spotify codes for personal touches. "Each item we craft is inspired by the things we see, by the place we are surrounded with, and with experiences we treasure. We try to lay out the pieces in the way that sparks us joy," Miriam told EnVi.
The Challenges of Hand-crafted Pieces
Hand-crafted pieces are not free from imperfections. At Ara Collection, they make sure that their buyers know about these visible imperfections, but it doesn't affect the purpose of their products. Ara Collection keeps their high standards with their items. "We had our shares of rejected crafted. Rejected means it has a mistake in the custom design, or the resin did not cure well because of the weather, or quite visible dust was cured in the piece," Miriam shared with EnVi. Though it is stressful to create their craft, they are always grateful for the understanding of their buyers. They are also particular about creating less waste, so they try their best to recycle rejected pieces through modification or give them out as freebies.
Though the shop currently focuses on creating small batches of art with having only one crafter, their custom pieces are well-loved by their customers. Miriam hopes and plans to expand and offer more products wholesale.
The BTS Collection
Their BTS-inspired items started as a limited collection to preserve the Mcdonald's BTS Meal packaging as a keepsake for BTS fans. The collection comprises bookmarks, coasters, griptoks, and square dishes.
These cute griptoks will surely make a great decoration on your phone. They also have bookmarks for Php 299 only. If you're quite a drinker, you would love their 8cm round coasters and pebble-shaped ones, ranging from Php 199 to Php 399.
If you're looking for an item inspired by a song, check out this unique coaster inspired by their favorite BTS song, "My Universe," which can transform into a dish with a crystal serving as a ring holder. Among their latest releases is the Bangtan Character Griptoks, which you can buy at Php 339 each. These items are inspired by BTS members Jungkook, V, J-Hope, and Suga. In addition, they'll soon release new designs named after Jin, RM, and Jimin.
They also have purple color-themed products to add more to your purple collection! Check out their Selenophile favorites: Moon Phases Dish and Moon Phases Mini Resin which you can use as fridge magnets or flat lay props. Even their Crescent Moon Ring Stand can be designed in Purple themed with pigments, foils, and dried florals!
Ara Collection's Favorites and Best-Sellers
Their best-selling products are bookmarks and griptoks. Miriam shared how their bookmarks are one of their best-sellers, "Being bookworms ourselves, we were so used to using paper bookmarks, and we are really glad resin bookmarks came into existence for a change. More tangible and personal designs can be put into the resin bookmarks. That made us, and of course, our clients feel a certain connection with the bookmark." Unlike other griptoks that are plain or printed, Ara Collection's griptoks are one of a kind, as they are customizable depending on their customer's preferences. Functionality is why this is their top pick, aside from coasters. "With the right inspiration and imagination, a good and meaningful design can be crafted through our resin products." Miriam shared.
At the end of the interview, Miriam shared that Ara Collection is "always glad to offer our services and bring smiles to people." If you liked their products, you can reach out to their Facebook and TikTok accounts to place a custom order, or shop directly on their Shopee page!
Thank you, Ara Collection! If you liked this feature, check out our other small business monthly spotlight on Meetolohiya.