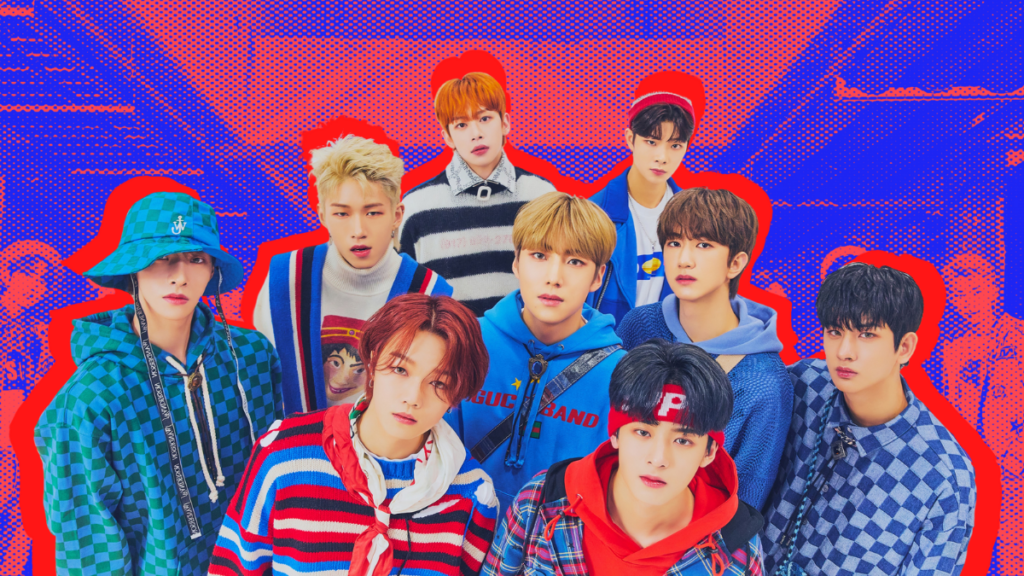 On April 20, YOUNITE made its debut with the mini-album, YOUNI-BIRTH. The EP served as an introduction to the nine-member boy group through a universe-themed storyline. The group name YOUNITE is a combination of "You" and "Unite," indicating the group's promise to create synergy with their fans and be one with them. The members of the BRANDNEW MUSIC group are EUNHO, STEVE, HYUNSEUNG, EUNSANG, HYUNGSEOK, WOONO, DEY, KYUNGMUN, and SION. Weeks after their debut, and after a long day with a radio schedule, the YOUNITE members spoke to EnVi via Zoom about their debut, hopes, and unique talents. 
Road To YOUNI-BIRTH
Expressing excitement at making his debut, EUNHO, the oldest member, indicated it took six months to prepare for their debut. "During that time, we practiced a lot, and worked on our teamwork, and getting everything in sync with each other," he told EnVi. In agreement with EUNHO, dancer HYUNSEUNG recalled retaking parts of the choreography whenever a member made a mistake. He defined those moments as a fond memory from his pre-debut era.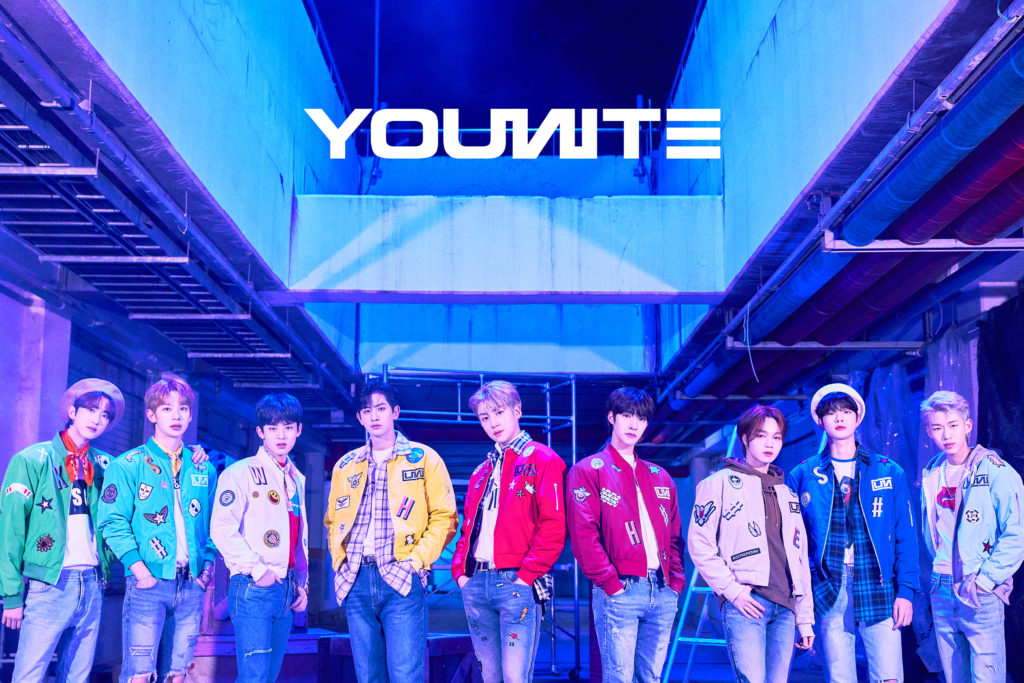 The members also received valuable advice from their friends and senior colleagues while preparing for their debut. For EUNHO, most of his idol friends advised him to put his health first. KYUNGMUN, on the other hand, disclosed labelmate Daehwi of AB6IX gave him the most unforgettable advice. He pointed out, "debuting is not the end but the beginning, and also encouraged me to work hard to sincerely reach the fans."
Outside the practice room, in February 2022, BRANDNEW MUSIC introduced YOUNITE with prologue videos depicting each member's universe story. The prologue videos caught the attention of many Korean Pop fans who anticipated YOUNITE's debut. Feeding off the anticipation, on March 31, YOUNITE released "EVERYBODY," featuring BRANDNEW MUSIC DJ, DJ Juice. The pre-release single, aimed at introducing fans to YOUNITE's sound, was well received by fans.
YOUNI-BIRTH
YOUNITE's debut mini-album consists of six tracks co-written by DEY. On YOUNI-BIRTH, YOUNITE showcase their youthfulness with fresh, dynamic, and soothing tunes. The songs include the pre-released "EVERYBODY," title track "1 OF 9," "YOUNI-BIRTH," "ODYSSEY," "RING RING RING," and "I GOT THE FEELING." On "EVERYBODY," YOUNITE put a refreshing spin to old-school hip-hop with a chunky funk beat. The music video sees the boys show off their energetic performance and charms in a playful manner. Its energetic feel makes "EVERYBODY," WOONO's favorite song from the EP. "It perfectly describes us as a group," he said.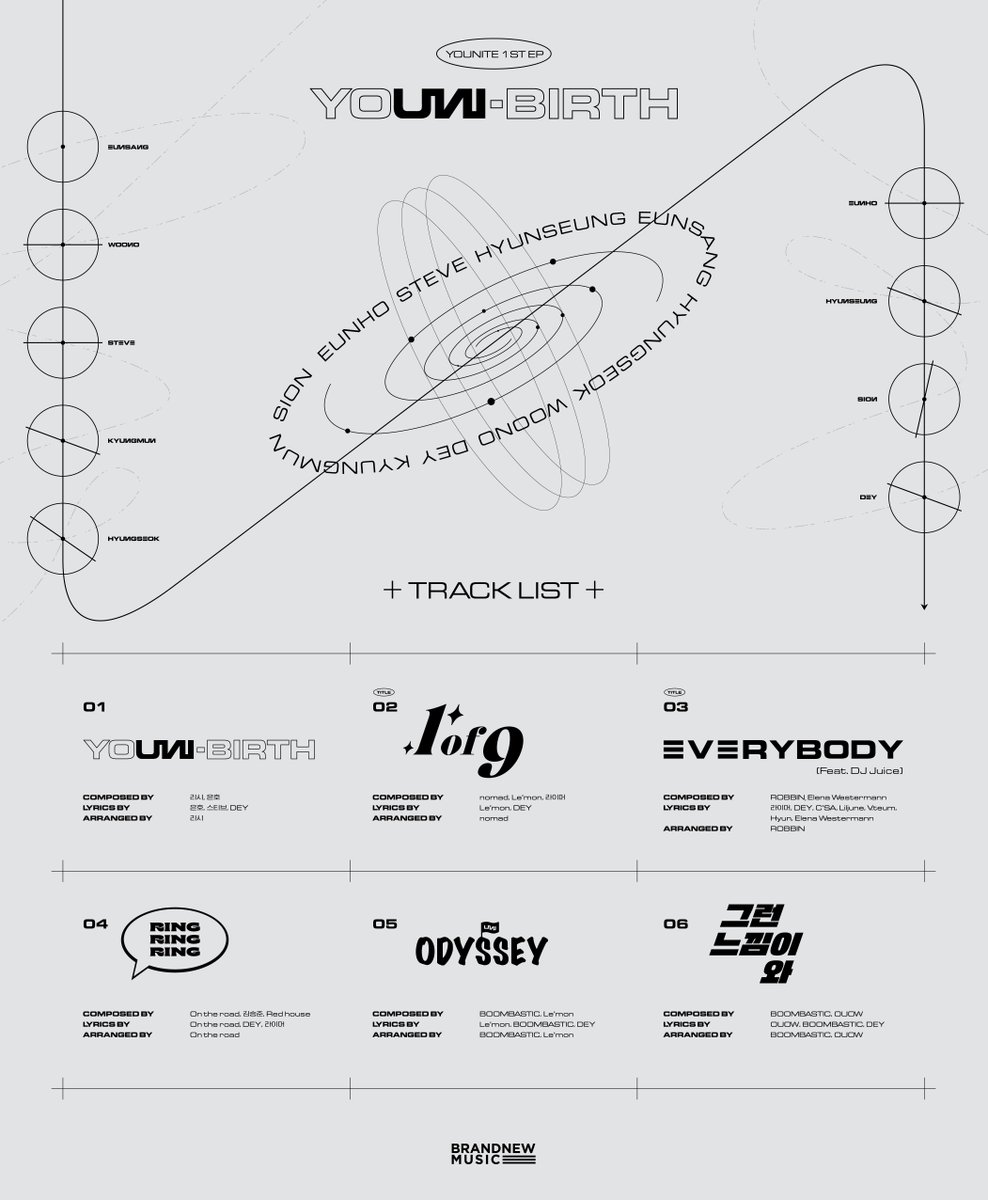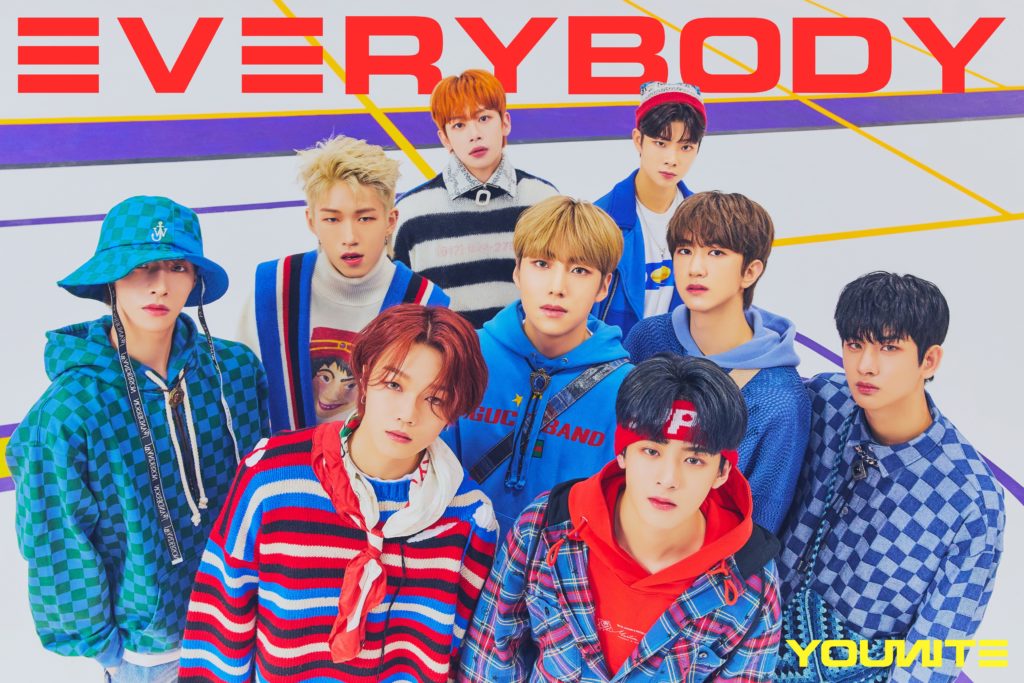 YOUNITE maintains the hip-hop feel in the intro of "YOUNI-BIRTH," which DEY has a soft spot for as his fellow members EUNHO and STEVE participated in writing the lyrics. Showcasing their diversity as a group, YOUNITE opts for a nu-disco pop sound with the title track, "1 OF 9." The music video highlights each member individually as they lobby to be the ultimate bias of the listener asking to be their "One of Nine."
Taking a new twist, YOUNITE dives into the uptempo "ODYSSEY," which EUNHO described as the most challenging to record. "It is very fast-paced and has a lot of high notes which is why it was difficult for me," he admitted. The hopeless romantic in YOUNITE then makes an appearance in "RING RING RING." While EUNHO, STEVE, and HYUNGSEOK revealed it is their favorite song from the EP, KYUNGMUN disclosed it was the most difficult song to record on the EP. "RING RING RING is both fast-paced and slow, and I contemplated how to deliver the feeling to our listeners," he explained. The "RING RING RING" enthusiasts had something else to say. HYUNGSEOK described it as calming and relaxing to listen to thanks to its "soft and heart fluttering lyrics." To EUNHO, it is the perfect song to listen to in the middle of the night, at dawn, or after a hard day's work, and STEVE described it as "his comfort song." YOUNITE's EP ends on a funky note with "I GOT THE FEELING." The song exudes youthfulness and feel-good vibes.
After YOUNI-BIRTH
A month after their official debut, YOUNITE's "1 OF 9" has gained about 10 million views on YouTube. While promoting, EUNSANG, formerly of X1, revealed his former teammate Wooseok watched and complimented his performance which made him happy. EUNSANG had been at the center of attention as many fans were excited for his return to a boy group after X1's disbandment in 2020.
YOUNITE got candid with their aspirations after debut. After launching their career with a youthful and bright concept, the boy group hopes to show another side to fans. "In the future, I will like to try something darker and sexier," HYUNSEUNG told EnVi. Sharing his wish for the group, SION said: "I would really like for us to win the Rookie of the Year award." Adding to their ambitions, YOUNITE wants to establish themselves as universal acts with songs in English, Japanese and Spanish. "We're going to be global idols," EUNSANG excitedly said amidst cheers from the members.
Up and Close with YOUNITE
Off stage, YOUNITE is a group of boys with unique talents, hobbies, and music tastes. Aside from their vocal, rap, and dance abilities, HYUNSEUNG believes a talent the entire group possesses is their athleticism. Every member is athletic and energetic, and YOUNITE managed to show it off during their stage performances. Still touching on talents in the group, SION cites his elucidation as a specialty, while WOONO mentions his waking up as soon as the alarm rings.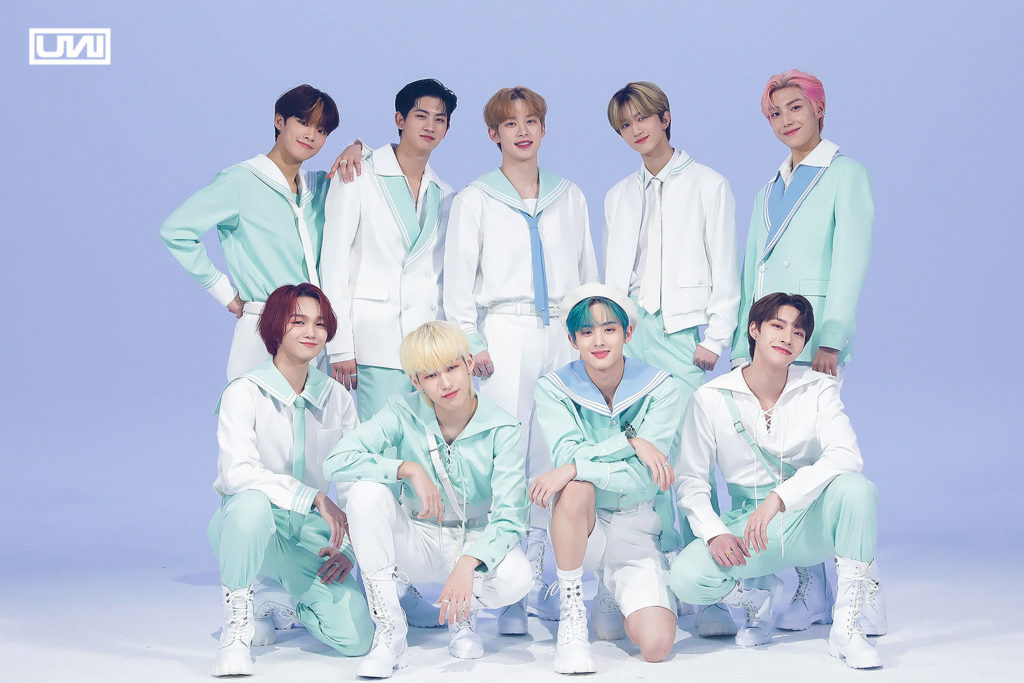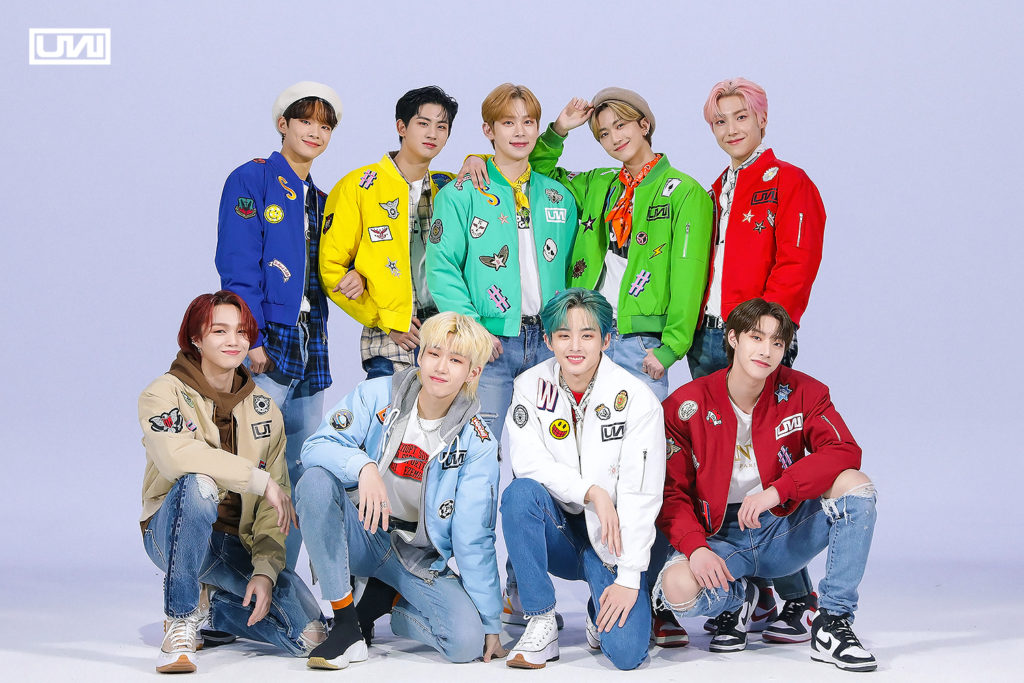 The YOUNITE members are also fanboys in their own right. HYUNSEUNG disclosed he is a fan of EXO and has looked up to Kai since he was little. DEY cites Song Mino as an artist he looks up to, expressing admiration for his gestures while performing. He described them as "impressive." YOUNITE ended the interview with a message from EUNHO, who thanked fans for their love and encouragement and promised to grow as artists before ending with the phrase "I love you."
Shower YOUNITE with love by listening to their debut mini-album YOUNI-BIRTH on Spotify, Apple Music, and other streaming platforms. EnVi recommends "I GOT THE FEELING," a bubbly song guaranteed to put you in a good mood.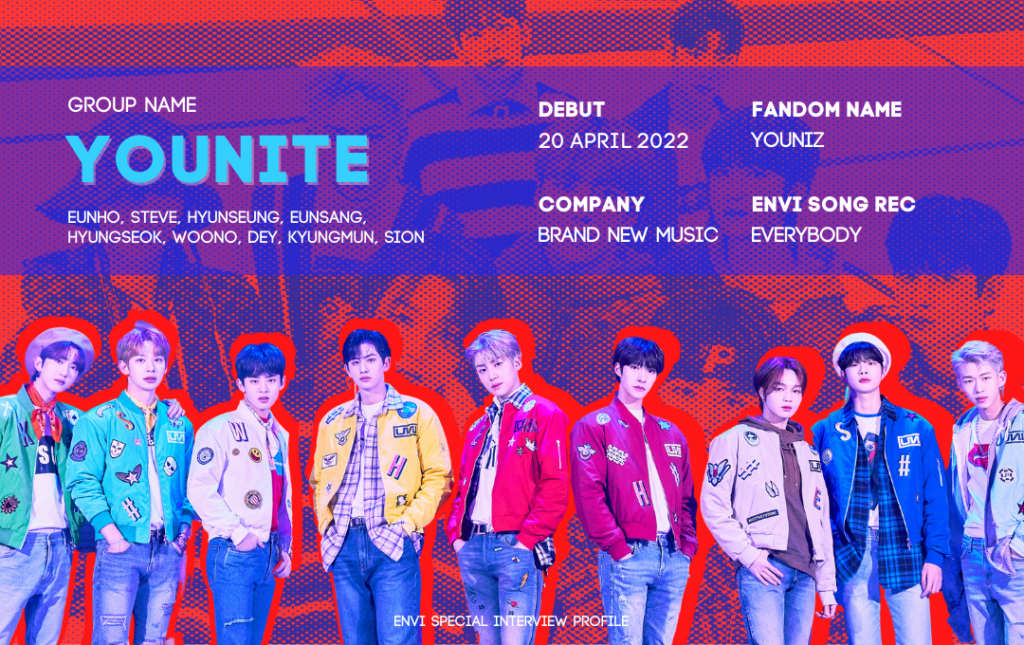 Connect with YOUNITE on Twitter, Instagram, TikTok, and YouTube.
Want to discover more K-pop rookies? Read our exclusive interview with TEMPEST here.