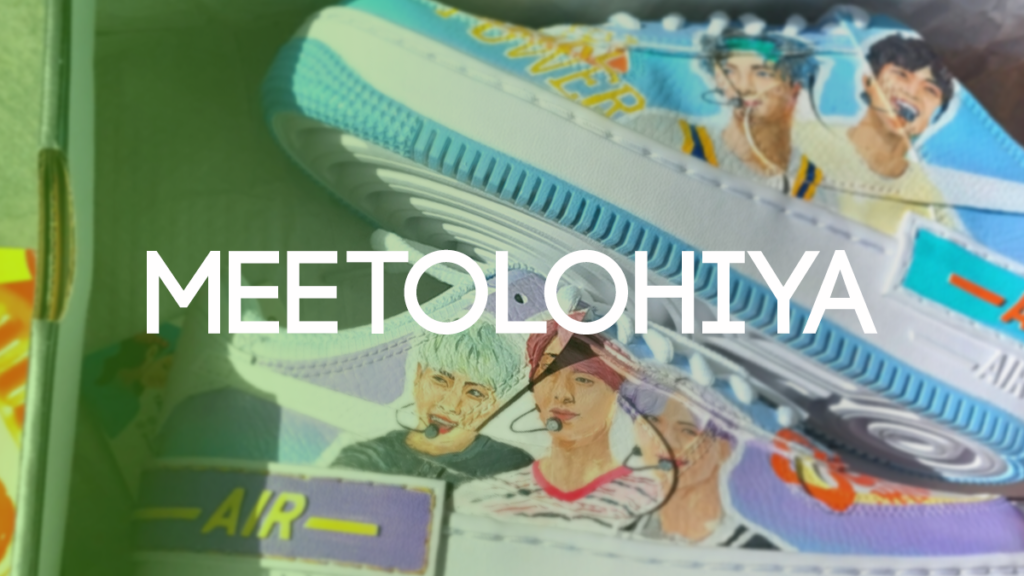 EnVi is back with another K-pop small business spotlight! This time, we spoke to Aimee, the owner of Meetolohiya, about her hand-painted customs. The Philippines-based online store officially opened in August 2020 as a "personal passion project," combining Aimee's love of SHINee with painting. She now commissions customs on canvas and leather shoes, bags, and purses.
A Rekindled Passion for SHINee and Painting
Aimee first fell for SHINee in 2012, when she came across her now-ultimate bias, Taemin, in a duet with IU. She discovered the song "Hello" from their performance was originally by SHINee and never looked back.
Aimee became more distant from SHINee and K-pop following Jonghyun's passing in 2017. However, during quarantine in 2020, she looked up "Good Evening" and The Story of Light trilogy, sparking her "reawakening as a Shawol." Aimee is thankful to the community of Shawols on Twitter for helping her deal with grief and see how SHINee continues Jonghyun's legacy. After not pursuing art as her major in college, she started to share her art again. She expressed her appreciation to Shawols for supporting her art page and encouraging her to start Meetolohiya. 
Sharing the Creative Process
When working on personal canvases, Aimee's art focuses on sharing her feelings with an audience. As for Meetolohiya commissions, customers usually give Aimee a picture, and she creates a custom design based on their preferences. Customs take 4-12 weeks, depending on her schedule and the complexity of designs, and are produced with acrylic paint on canvas or leather paint for shoes, bags, and wallets.
Meetolohiya is an artistic outlet and escape from the stress of her accounting degree. Beyond selling products, Aimee also shares her production process on YouTube and Instagram. Her primary motivation was feeling small artists' work is undervalued in the Philippines. Having heard "art is not something you can pursue as a real job," she wanted to show how much work and creativity goes into custom paintings. "You actually have to practice your skills, hone your creativity, be knowledgeable on your medium, and actually meet and deliver the wants of your clients.
Her Favorite Item
So far, Aimee's favorite Meetolohiya custom is her SHINee ODD shoes, as it was her first item featuring all five SHINee members. "My customer let me have artistic freedom so I really had to think of a way to make them unique," Aimee said. The item has also become popular among fellow Shawols. 
Other Meetolohiya products include shoes depicting iconic SHINee World concert performances and crowds of SHINee's Pearl Aqua lightsticks. Aimee has also customized Nike Air shoes with a stunning reimagination of Jonghyun's colorful She Is album. In addition, a picture of Onew from the "Fake Reality" concept of SHINee's recent album, Don't Call Me, was also recreated on a leather wallet.
Personal Growth 
So far, the most challenging part of running Meetolohiya has been sourcing materials and managing production and shipping. "There were times I had to turn down customers because I knew it was too much work for me to handle," Aimee shared.
However, Aimee has grown as a person since starting her small business. "Through Meetolohiya, I gained confidence and learned that my happiness is essential for my well-being, especially for my mental health." In addition, by running her business, she has shown art is a viable career. "I fought hard to prove that my passion for arts was not for nothing and that I can actually support myself if I pursued a career as an artist," Aimee explained.
Running a small business has also allowed her to become more financially independent, and she is proud to be able to support her family during the pandemic. "I love the feeling of being able to give back to the people who raised me," she shared with EnVi. 
Find Out More
Thank you for talking to us, Aimee! If you are interested in requesting a Meetolohiya custom, you can contact Aimee on Instagram or Facebook with a message about the design you want. Customers can either ship the products they want to be customized to Aimee or choose a product from her catalog. 
Are you looking for more K-pop merch? Check out the other small K-pop businesses that we have featured! 
Image courtesy of Meetolohiya, graphic by Xana.