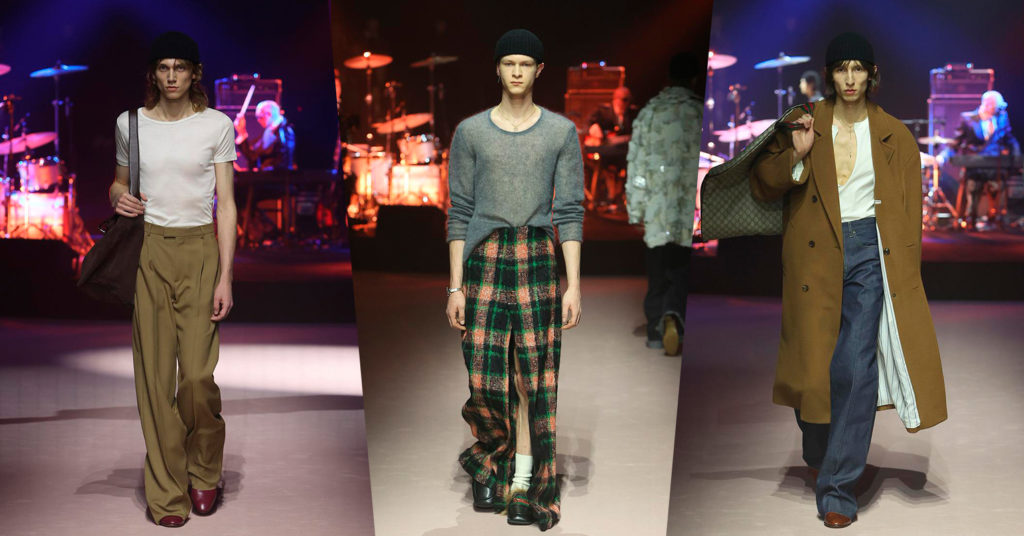 After a long absence from the calendar, Gucci made its long-awaited return to the runways of Milan Men's Fashion Week. The Italian luxury brand raised high expectations for the first collection since the departure of Creative Director Alessandro Michele, drawing an impressive crowd that included A-list attendants and brand ambassadors. Gucci's global ambassador, model, and muse, Kai — member of the K-pop group EXO— was among the most relevant front-row appearances.
Gucci's Menswear Return
On October 2022, Gucci announced its plans to hold a menswear-only show during Men's Fashion Week in Milan. The decision of splitting Gucci's runways into womenswear and menswear came after several seasons of showing large co-ed shows. "We have stuck to two displays per year but together with Alessandro [Michele] we decided to put a stronger emphasis on menswear," said Marco Bizarri, Gucci's president and chief executive officer.
However, only a month later, Alessandro Michele announced his exit from the Italian house, leaving one of the biggest fashion brands in the world without a creative overseer. While many theories about the designer's departure spread in the days and weeks to follow, the Italian house continued with its initial plans and opened Milan Men's Fashion Week with an atypical show at the Gucci Hub in Via Mercenate.
From Baroque To Grunge
Ultimately created by their in-house design team, the Fall Winter 2023 (FW23) collection was built on Gucci's craftsmanship and DNA. While there was definitely a shift from Michele's over-the-top extravagance, the house remained loyal to the design codes that have turned Gucci into the "brand of new rockstardom" — albeit, in a more subdued fashion.
As a rock band played on center stage, models walked through a circular runway sporting oversized blazers, wide-leg pants, jersey tops, and beanies — a minimalist approach compared to Michele's baroque aesthetics. Amid the current resurgence of eras past, there was also an indie sleaze, grunge flair that felt particularly novel for the house. Nevertheless, Gucci's signature tailoring and Italian savoir-faire were still present on the runway via tailored jackets, long coats, trousers, maxi skirts, and leather goods.
Noteworthy Front Row
Offering a glimpse at the new direction the brand is heading to, Gucci's FW23 runway also made online waves for its front row. The likes of Idris Elba, Wednesday star Percy Hynes White, and Italian singer Tananai graced the event. Most notably, there was a parade of Asian celebrities, from Singaporean actor Desmond Tan to Japanese stars Shuhei Uesugi, and Ohira Shuzo. However, it was the front-row return of Gucci's global ambassador and K-pop beau, Kai, that caused quite an online commotion.
The singer, who's grown to become a synonym with Gucci style, showed up at the VIP section clad in a check blue navy suit that featured a double-breasted jacket and straight-leg trousers. Kai, who has collaborated with the house for several years and even inspired his own capsule collection, had been notably absent from the front row in past seasons. Needless to say, his comeback deserved a seat right next to Kering's CEO, François-Henri Pinault.
The New Gucci
Though Alessandro Michele's successor is yet to be decided, Gucci's first show since parting ways with the Roman designer has initiated a style revamp. Departing from the aesthetics that Michele introduced — and that brought Gucci back from decline — however, will take more than minimalist clothing and muted color palettes. As Gucci shifts gears and embarks on a new journey, the lingering question is, where will the Italian house head next? Only time will tell.
Interested in more fashion content? Check out Prada's latest SS23 campaign featuring global stars Vincent Cassel, Jaehyun, Louis Partridge, Hunter Schafer, and Letitia Wright.