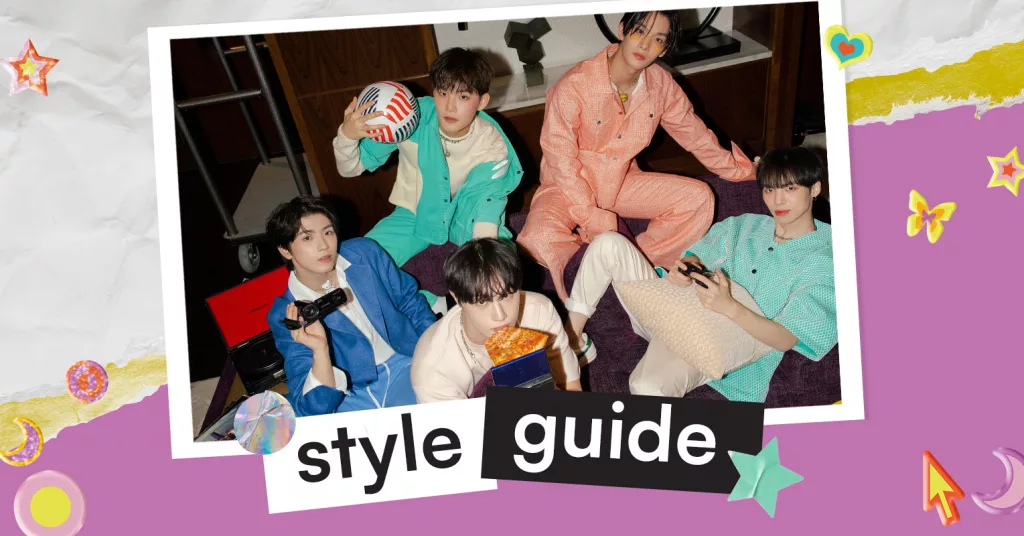 Buoyed by charismatic presences and an all-embracing discography, K-pop group CIX has risen as a force to be reckoned with in the music scene. The five-member act debuted in 2019 and has since delighted fans with a slew of successful music releases. To match their musical evolution, Bae Jinyoung, Yonghee, BX, Hyunsuk, and Seunghun have delivered elevated style moments throughout their career. Off-stage, however, the members get candid about their style preferences.
Behind the scenes of their cover shoot with Envi, the boys of CIX exclusively share their "get ready with me" playlist, must-have items, and style icons. Scroll down to read what's in CIX's Style Guide.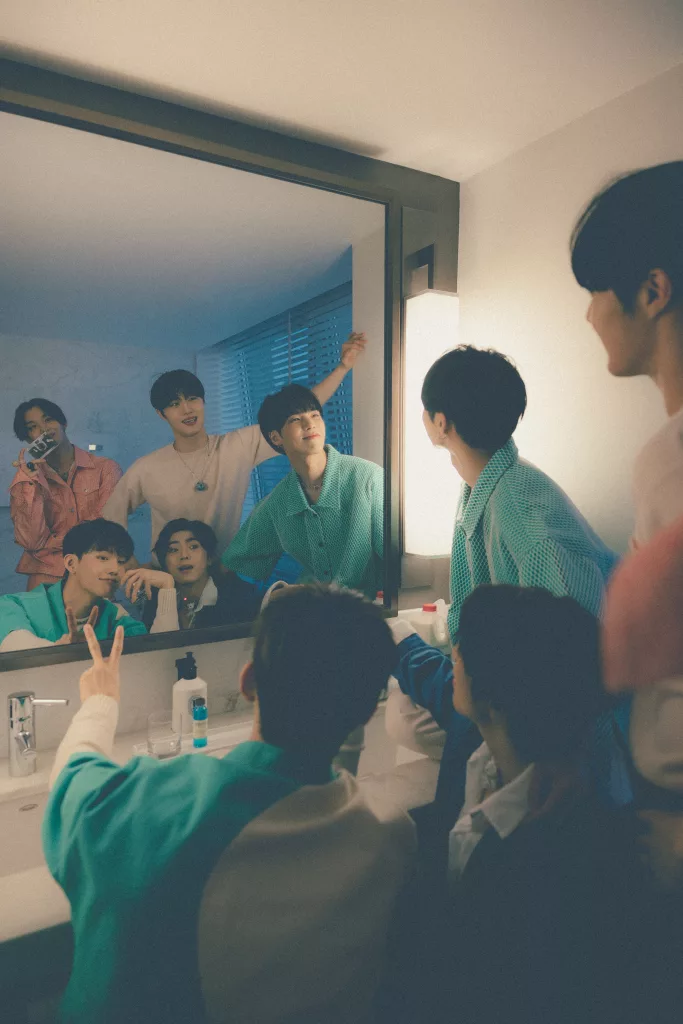 The Style
Displaying their individual and collective versatility, the members of CIX have never shied away from delving into different styles. No matter if they're onstage dressed in suave red looks or making a case for the indie sleaze revival, the K-pop sensations certainly know how to serve looks. Though, as a group, the five men frequently keep their outfits coordinated and cohesive, when it comes down to daily life, each member boasts his own affinities. How would they describe their day-to-day style with keywords?
"[Key] point, comfortable, neat."
— Bae Jinyoung
"Comfortable, neat, stylish."
— Yonghee
"Hoodie, Byounggon-like, cool."
— BX
"Cool, love."
— Hyunsuk
"Boyfriend, hip-hop, ENFP."
— Seunghun
The Essentials
The experimental nature of their jobs often requires CIX to jump from one trend to another and frequently change their fashion and beauty. However, Jinyoung, Yonghee, BX, Hyunsuk, and Seunghun — just like any other person — also have a list of foundational pieces in their closets and vanities. What are their go-to fashion and beauty items?
"Accessories and lip balm"
— Bae Jinyoung
"Tops (knits, cardigans, etc.), perfume, and sometimes glasses"
— Yonghee
"Usually I like accessories, especially bracelets and necklaces. [Beauty wise,] these days I've been using a serum for my skin!"
— BX
"These days, I'm wearing a lot of beanies and baggy pants. I always use moisturizing pads, moisturizing cream and sunscreen!"
— Hyunsuk
"A bag that I can easily take with me and perfume (Jo Malone)"
— Seunghun
The Vision
Nailing a wide range of styling concepts, the members of CIX are in no way strangers to fashion experimentation. Their debut single, "Movie Star," saw the quintet flaunt trendy cut-out pieces, sleek suits, and color-blocked looks. In the music video for the electro-infused single "458," which gives a nod to the Ferrari 458 Italia, Bae Jinyoung, Yonghee, BX, Hyunsuk, and Seunghun are aptly dressed in racer-inspired outfits. Meanwhile, their latest title track, "Save me, Kill me," is accompanied by poignant lyrics and school uniforms (for story plot purposes). Despite crafting such a diverse style book, there are still unexplored fashion territories for the group to discover. We asked them, "If you could be your group's stylist for a day, what concept would you like CIX to try?"
"Luxurious and neat styles"
— Bae Jinyoung
"Since everyone is cool, I would like to style them with matching colors and fabrics."
— Yonghee
"I want to try a super hip [style]"
— BX
"We haven't done a "hip" concept, so I want to give us a hip concept!"
— Hyunsuk
"Jeans and white shirts! Neat and simple is the best!"
— Seunghun
The Style Muse
Whether it is a celebrity, a personal connection, or even a fictional character, in this day and age, nearly everybody finds sartorial inspiration in others. While the members of CIX tick all the boxes to be considered style icons themselves, the quintet also looks up to others to cultivate their style and curate their wardrobe. Who is their style icon?
"Myself"
— Jinyoung
"People on the street that make you look twice [at their looks]"
— Yonghee
"BX ❤️, Lee Byounggon"
— BX
"Virgil Abloh"
— Hyunsuk
"My mom ❤️"
— Seunghun
The GRWM Soundtrack
GRWM (get ready with me) has become a popular video format on social media platforms like TikTok, Instagram, and YouTube. The trend is as casual and comforting as it gets, serving to showcase sartorial choices and beauty routines. As poster boys of Generation Z, the members of CIX are acquainted with the idea and share their favorite music to listen to while getting ready. What are three songs in their GRWM playlist?
"'Peaches' by Justin Bieber, 'Plastic Umbrella' by CIX, and 'Everything' by CIX."
— Bae Jinyoung
"'Talk' by Khalid featuring Disclosure, 'STAY' by The Kid LAROI featuring Justin Bieber, and 'Parachute' by John K."
— Yonghee
"'Hula Hoops' by DPR Live, 'Vibe' by Taeyang, and 'Travel' by BOL4."
— BX
"'Dope Lovers' by DPR IAN, 'Drive It Like You Stole It' by Sing Street, and 'How Deep' by Tai Verdes."
— Hyunsuk
"'golden hour' by JVKE, 'Sacrifice' by The Weeknd, and 'Love Never Felt So Good' by Michael Jackson."
— Seunghun
With a burgeoning career and standout style sensibilities, CIX are one of the K-pop bands consolidating their place in the international landscape. The band's plethora of stunning looks is a telling example of their ability to change, adapt, and experiment with fashion and beauty. Yet, as this Style Guide suggests, Jinyoung, Yonghee, BX, Hyunsuk, and Seunghun are not afraid of embracing the basics and disclosing their rather subdued style predilections. And we admire them the most for that!
Want more Style Guides from your favorite artists? Check out the fashion and beauty notes CRAVITY shared with EnVi here!