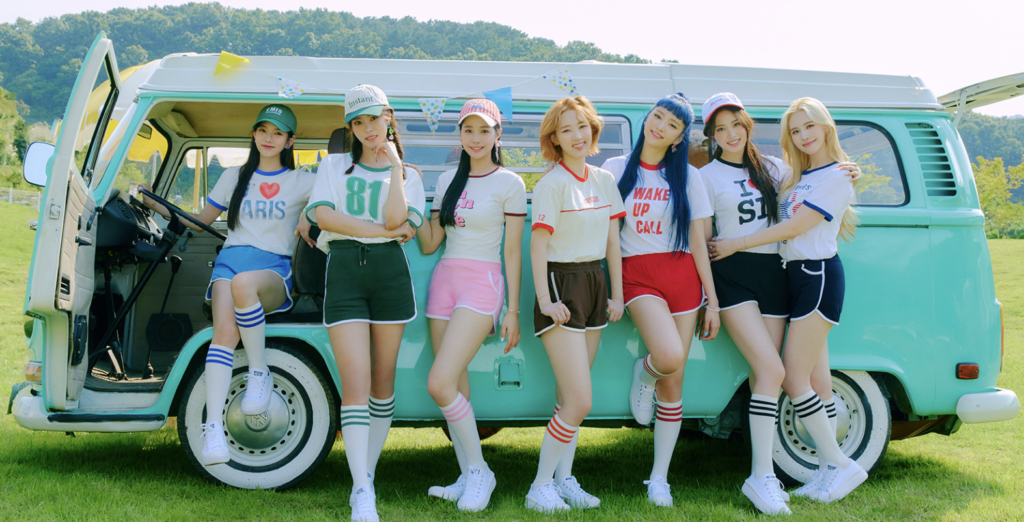 Four months since their third EP We Play release—featuring hit song, "After School," that took the internet by storm—girl group Weeekly is back with their fourth EP. Play Game: Holiday was released on August 4, featuring "Holiday Party" as the lead single. The seven-member girl group, consisting of Lee Soojin, Shin Jiyoon, Monday, Park Soeun, Lee Jaehee, Jihan, and Zoa, are known for their fun and playful concepts. With their latest comeback, they're turning a new leaf with a more fantasy-like sound, showing fans a different side, while still staying true to their fundamental roots.
Holiday Party
"Holiday Party" is an upbeat tempo dance song featuring a unique riff and 808 bass. Coach and Sendo, the arrangers and composers on the title track, also worked with Loona recently on hit songs, "Why Not," "Oh Yes I Am," and "Day & Night." The other composers,  Cazzi Opeia and Ellen Berg, also have amazing backgrounds in songwriting with hits such as "Psycho" and "Peek-A-Boo" by Red Velvet.
The song lyrics, written by popular lyricist Isran play a huge role in portraying the fun and joy of "Holiday Party," with each line having its own unique charm, making up a great summer song.  The concept for the music video is a travel vlog or "travelogue" of Weeekly members going on a holiday trip to Mars, which gives off a fantasy-like vibe fans may not expect to see from Weeekly's usual high school concept.
"There's literally no rest and it's pretty hard," said Weeekly lead rapper and vocalist Jaehee about the choreography in her recent solo VLIVE. "It's next level," she continued. Similar to the group's previous trilogies, the choreography is energetic and fast-paced with a lot of footwork. 
B-Side Tracks Overview
Play Game: Holiday opens up with an addictive pop dance song, "Weekend" which features a light bass and a synth lead that gives it its own unique summer holiday-like charm. It's easy to recognize the familiar Weeekly sound through this song, with the combined cheerful background music and members' animated, lively voices. The lyrics are filled with positive vibes that mention various preparations or 'checklists' for an eventful summer holiday. 
"Check It Out," the next song on the tracklist, is blessed with Jaehee's stunning vocals. Similar to "Weekend" it's a pop dance song with a more refreshing twist, filled with wind instruments and whistle sounds. The lyrics talk about the excitement of going on a holiday with close friends as the members' robust vocals help in catching the cool summer energy. 
The EP continues with "La Luna," a song filled with angelic and soothing melodies. It's made through a collaboration between BlueRhythm and Frankie Day, based on the genre Future Bass. The song shows a deeper and melancholy side of Weeekly with lyrics seemingly picturing the love between the moon and earth that compares their unreachable distance to the unreachable heart of the persons' love interest. 
Finally, the EP closes off with a ballad, "Memories Of Summer Rain." This song has a mellow and dreamy sound, with lyrical flashbacks about meeting a love interest by chance in the rain. When paired up with the members' beautiful vocals, the song exudes soothing vibes.
Since earning the title as high-teen super rookie idols, it's not surprising that Weeekly has a big wave of fans worldwide. This whole EP captures the adventure and journey of having a summer vacation from start to finish. With Play Game: Holiday, which shows a new sound, it's exciting to see what the future holds for Weeekly.
Listen to Weeekly's new EP Play Game: Holiday on Spotify and YouTube Music and if you'd like to see more of this fast-rising girl group don't forget to follow them on Twitter and Instagram!
In case you missed it, read all about Somi's catchy love story in "Dumb, Dumb" here!
Thumbnail Courtesy of Play M Entertainment.