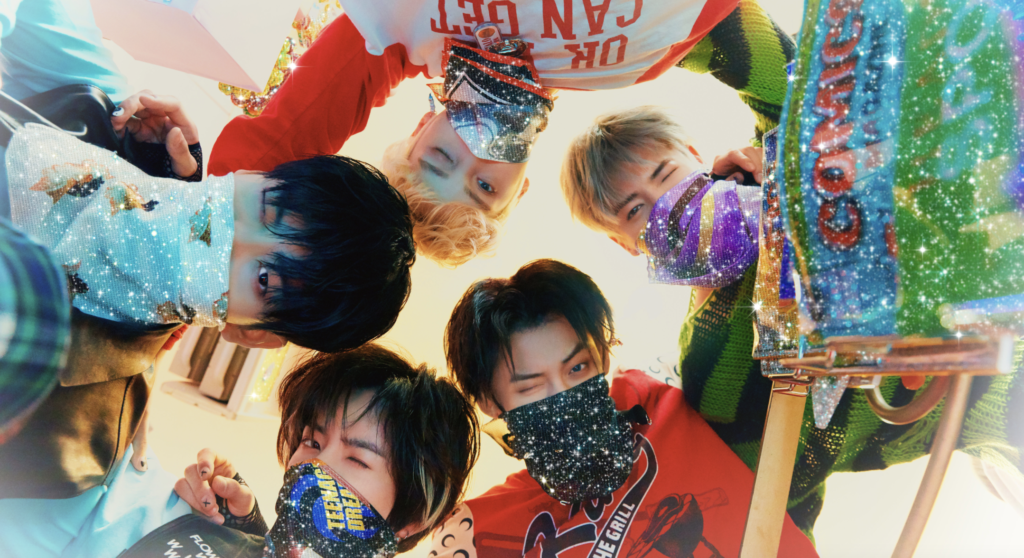 After the success of The Chaos Chapter: Freeze, the five-member boy group TXT returned on August 17 at 6 PM KST with their first repackaged album, The Chaos Chapter: Fight or Escape. The album includes a total of eleven tracks, featuring three new songs: "LO$ER=LO♡ER," "Moa Diary (Dubaddu Wariwari)," and "0X1=LOVESONG (I Know I Love You) feat. Seori (Emocore Mix)."
Three months since the release of The Chaos Chapter: Freeze, Fight or Escape completes the group's chaos chapter series. The series explores a world in which dreams have been replaced by the presence of reality. TXT explores their identities, and learns who they are in this scary, new world. All the while, they awaken feelings of love within themselves as they choose to "fight" against the world, or "escape," together. 
From LO$ER to LO♡ER 
Produced by Slow Rabbit, "LO$ER=LO♡ER" is a pop-punk track with a drumbeat and catchy melody. The lyrics tell the story of a boy who seems like a loser to everyone, but a lover to the person he wants the most, who intends to either fight back against the world, or escape with you. "This life is like a war, I'm always a loser/You were my savior/On the edge of the cliff your light leads, making me a winner," TXT sings.
The track also embodies the need for wealth to escape and save each other, as it can be seen in the use of the dollar sign in the track's stylization. "One of the desires that the boy comes to realize is the honest desire for money, he hates how adults are obsessed with money, but realizes he needs money to escape with you," said TXT's leader, Soobin, at the press conference for the repackaged album. 
The music video maintains the track's heaviness as it follows each member's storyline, and the struggles they face as young adults while deciding between fighting or escaping. Directed by Guzza, the music video allows the viewers to feel immersed by the storyline, while also trying to express the feeling of a heavy heart. 
A MASTERPIECE I SAY. THE VISUALS. THE VOCALS. THE THEME. ANOTHER MASTERPIECE FROM TXT ??#TOMORROW_X_TOGETHER  #FIGHT_OR_ESCAPE  #LOSER_LOVER pic.twitter.com/TY5zve9jKM

— ً riz ? (@ijakefav) August 17, 2021
Honestly this MV and this song made me feel so different and im really in love with this rock vibe ?Stream #LOSER_LOVER#FIGHT_OR_ESCAPE #TOMORROW_X_TOGETHER pic.twitter.com/RGNcwGAM2C

— Sari (@Sar1iii) August 17, 2021
TXT also performed the track live at the album's media showcase.
A Surprise for MOA 
With the release of the repackaged album, TXT showed their love for MOA, TXT's fandom, in "MOA Diary (Dubaddu Wariwari)," a bright and cheerful track self-written by the members. With lyrics like "the time spent between you and I is like a dream/let's gather together forever," the song expresses how grateful the group is for the support, and how they wish to spend time together forever with MOA. 
At the press conference for the repackage album's release, the members wanted to express through the song how thankful they are for the love they've received and the strength they gain while communicating with the fans. 
"When I read the stories from MOA, I always feel very thankful, it also gives me a lot of healing and strength," Yeonjun said.
"I am here for you
Till the end, till you call my name."

Our beautiful promise ~ ?❤️#TXT #MOA_Diary pic.twitter.com/MkbEGBh4yi

— J♡L⁵ is a L0$ER LO♡ER (@jjunieslove) August 17, 2021
I only got to hear the whole album now and then out of nowhere it was playing a song called "MOA Diary"…
Are you telling me they did an entire song for us?!?❤️#TXT #MOA_Diary pic.twitter.com/OELyqbzE6F

— Sunshine n glitter?✨ (@kpops_sunshine) August 17, 2021
Wait, why is this song so cute, GREAT I'M CRYING AGAIN ??‍♀️ if they preform this, I know I'm going to be uncontrollable, I can already see their cute smiles ?#TOMORROW_X_TOGETHER #FIGHT_OR_ESCAPE #MOA_diary pic.twitter.com/IFyuMnlwhQ

— amy⁷? (@OnlyStanTalentt) August 17, 2021
What's Next?
From their debut to this repackaged album, it is no secret that TXT has grown as artists. The group continues to showcase their versatility with each comeback, while consistently sharing their own stories and messages through their music. "Anti-Romantic," a track about the struggles of being scared of love, has resonated with listeners worldwide, peaked at number 8 on Billboard's World Digital Song Sales, and became a viral dance trend on TikTok. With each new release, TXT is cementing themselves as a promising team among fourth-generation K-pop groups, fans can only wait in anticipation for what the future holds. 
The Chaos Chapter: Fight or Escape is now available on Spotify and Apple Music.
Craving more on new K-pop tracks? Check out our coverage on Red Velvet's Queendom.
Thumbnail courtesy of Big Hit Entertainment.