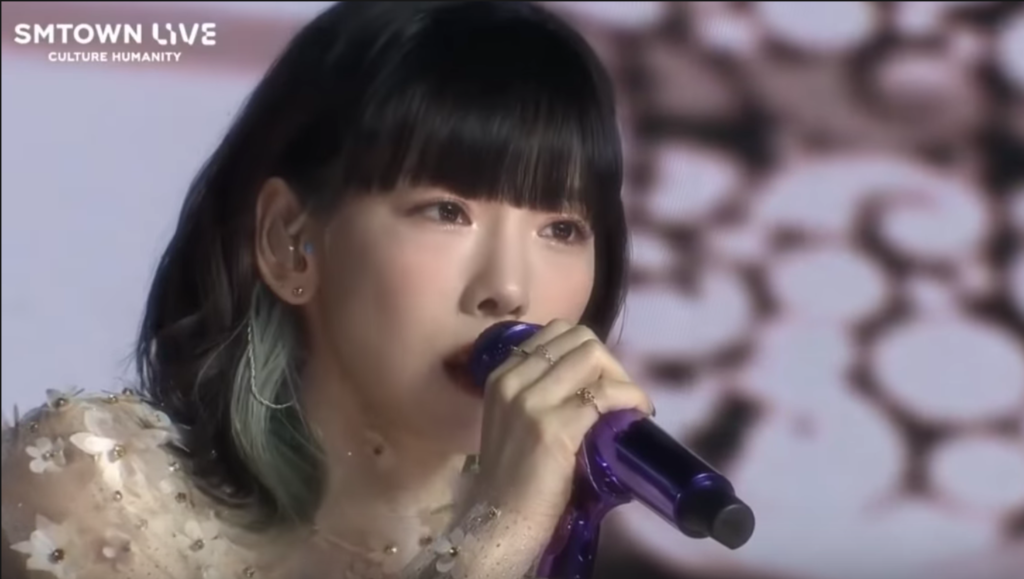 By Bre | @brelyndrop
Taeyeon, main powerhouse vocalist of K-Pop group Girls Generation, sang as a solo artist for the SMTOWN Live: Culture and Humanity concert. Starting off with "Four Seasons," an emotional ballad that compares love to all four seasons, she wore a white, knee length dress comprised of lace and white flowers that made her look ethereal on stage. The song was accompanied by giant CGI clocks and gears enveloping her on stage, with ticking gears complimenting the songs storyline that time was passing by like seasons.
She then performed her single "Happy," a holiday winter song with a very cozy, warm background, decorated with a Christmas scene including a tree, lights and presents.
Taeyeon introduced herself and thanked fans for being a part of the concert. As the only representative of Girls Generation present, she spoke about the troubles faced throughout 2020, but in line with her cheeky personality, she joked that one upside was that fans did not have to "struggle for tickets." Before launching into her final song of the evening, she stated, "I hope everyone can have bright and hopeful days by thinking positively and listening to good songs".
Her third performance was her most recent track, "What Do I Call You," from her newly released mini album. She had an outfit change into a fuchsia skirt and sweater set with a green, purple, and black newsboy hat. Her background was made up of a solid black background, green, blue and purple stripes that complemented her look.