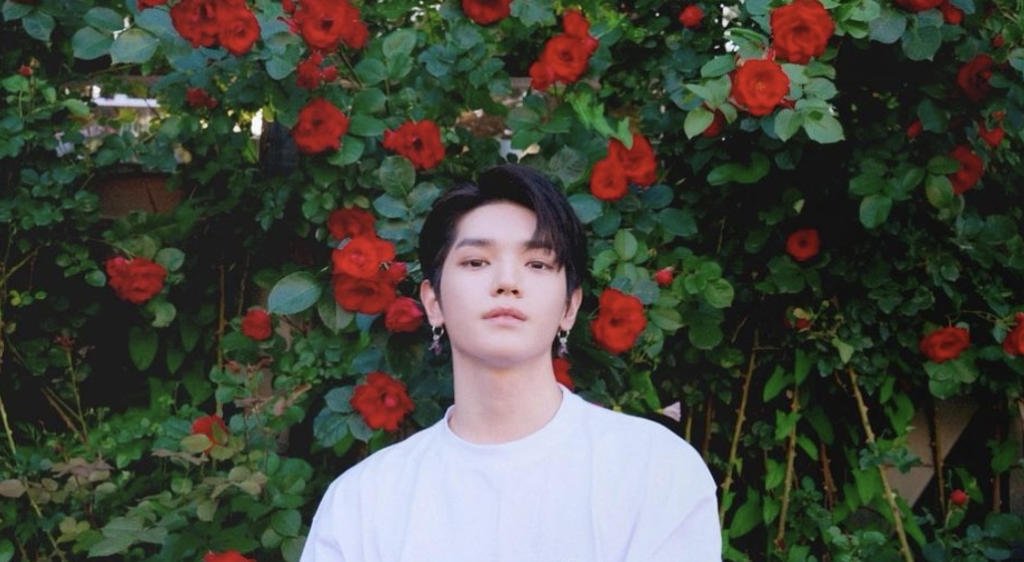 On June 7 at 12 AM KST, Taeyong dropped his latest single, "Rose", in collaboration with Red Velvet's Seulgi. In the days leading up to the release of the song, Taeyong began sharing beautiful images of him in a rose garden on his Instagram. Fans speculated he was teasing a new song or just posting aesthetically pleasing Instagram photos.
View this post on Instagram
One teaser was reminiscent of Red Velvet's "The Reve Festival Finale" teasers. Taeyong let fans know on June 6 at 6PM KST that he was in fact releasing a song and would be featuring Seulgi. Red Velvet fans—known as Reveluvs—joined Taeyong's fans on twitter  to express their excitement for the highlighly anticipated song. 
The hashtag #TAEYONGxSEULGI_Rose trended at number six worldwide on Twitter in support of the new single. The song even trended on the Melon real time search, despite being available only on SoundCloud. In its first hour of release, "Rose" has gained over 270K streams, beating "Monroe" for most streams within the hour. "Rose" is easily becoming a fan-favorite. 
"Rose" by #TAEYONGxSEULGI is currently trending #4 on MelOn Realtime search.

— Kpop Girls Charts (@kpopggsuperior) June 6, 2021
HOW DOES TAEYONG MANAGE TO OUTDO HIMSELF EVERY SINGLE TIME??? HES CRAZY.

— 태용 nom 툥프 将太郎 @.@ (@nctvisuals) June 6, 2021
It's both calming and energetic. Their vocals seriously compliment eachother and taeyong's deeper tone is perfect for this song omg

?️ TAEYONG X SEULGI ROSE OUT NOW #TAEYONGxSEULGI_Rose #싸클에_Rose_피었툥 #태용 #TAEYONG #슬기 #SEULGI

— ? HAECHAN DAY (@CENTERlTUS) June 6, 2021
ngl, the only thing taeyong can't do is to release a bad song

— vics ? (@neotyongg) June 6, 2021
no but how do taeyong surpass his previous releases like why does he keep surpassing himself

— yen (@shotoyongs) June 6, 2021
Jumping Through The Rose
Taeyong starts off the song with the lyrics, "I'm jumping through that rose" with soft and sweet vocals. Known for his deeper rapping voice, Taeyong shows his vocal diversity throughout the song as he switches from softer singing to rapping. Complimenting the vocals, the piano, and synths engage the listener. The piano adds an elegance to the song. 
The lyrics tell a story of two people in love. One side is reassuring their lover they won't hurt them, the other worried they will be pained by the thorns of their lover's "rose." Taeyong and Seulgi sing to each other while carrying listeners through a love story. As they serenade one another, Taeyong's soft voice carries agony. 
Taeyong masterfully has his collaborators pushing the story forward. In his track "Monroe," he also captured the emotions of love and infatuation. Adding nuance to each story, his music is like a book, and with each chapter, listeners can finish the song with a new understanding of Taeyong's artistry. 
Joining Hands to Create a Story
For many, this collaboration was unexpected, but welcomed, as Taeyong has worked with Seulgi in the past. In 2014, Taeyong worked with Red Velvet on the song 'Be Natural' before his debut. He also collaborated with Seulgi in a performance called "I Just X AROUND (Hitchhiker Remix)" at the 2017 Mnet Asian Music Awards. 
Taeyong has been building a community with other musicians and creatives including producers, singers, and idols. These friendships have allowed him to explore new avenues for music and production. Seulgi also took part in writing "Rose" and many of her fans expressed their gratitude to Taeyong for the collaboration. 
Taeyong has once again flexed his musical expertise. Adding to his wide range of songs, "Rose" is the romance track of the summer! Want more? Check out our other coverage of Taeyong's music here!
Thumbnail from @taeoxo_nct