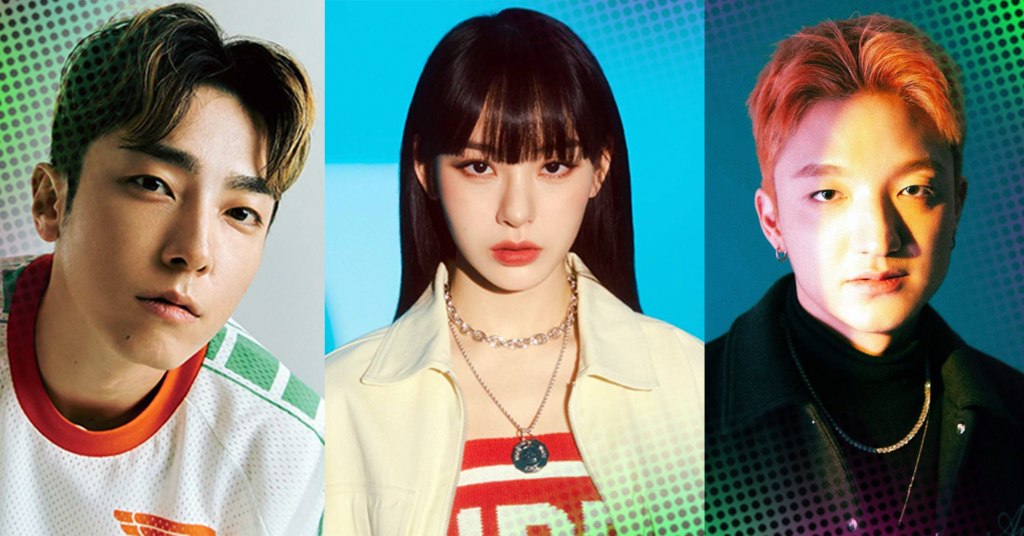 What's the new thing? With its rising popularity due to platforms like TikTok, street dance has become a hot topic worldwide. It has also reached the K-pop industry. Dancers have always supported the performances of K-pop idols, and now, they are having their moment! Competing on shows like Street Woman Fighter (2021) and Street Man Fighter (2022), a new group of "celebrities" have emerged from this growing variety category.
Cha-cha with K-pop
Previously, internationally-recognized South Korean dancers made dancing shows in the past famous. To draw in more viewers, idols entered the professional dance scene in shows like Dancing Nine (2013-15) and Dancing with the Stars (2011-14). In Dancing with the Stars, professional Korean ballroom dancers teamed up with K-pop idols. For instance, Girls' Generation's Hyoyeon participated with Kim Hyung-suk on Dancing with the Stars season 3. The participation highlighted her versatility and talent in dance.
Dance was also a part of the yearly Idol Star Athletics Championships, especially with ballroom. The genre was featured in aerobic gymnastics routines like SEVENTEEN and ASTRO's performance in 2017. Five years later, it developed into its own category of "DanceSport" in 2022. Xiaoting from the rookie group Kep1er performed "Moon River," "Historia de un Amor," and "Beggin'" by Måneskin. About a month after its release, the video of her routine reached 1.2 million views on YouTube.
As K-pop started to gain an increase in momentum, dance segments mainly revolved around boosting an idol's multitalented identity. Particularly, shows like Hit the Stage (2016) were intended to allow idols to partner with existing Korean choreographers and professional dancers to further their artistry. In the show, NCT's Ten battled against fellow K-pop idols like GOT7's Yugyeom, INFINITE's HOYA, TWICE's Momo, and Girls' Generation's Hyoyeon.
Idols were able to improve quickly with weekly challenges and collaborating with experienced crews. For example, Yugyeom's performance featuring dancers Ali, Hype Up, Body & Soul reached 20 million views on YouTube alone. With ideas such as a casino set-up with a light show at the end showcasing the dancers' quick footwork, the creatives' inventiveness blew away audience members. The show allowed idols to have a playground for their ideas. It also allowed some idols to reconnect with their old dance partners. HOYA and Hyojin Choi, who have previously worked together, performed a melodramatic modern dance piece together. Yet, that was only the surface, and much more would come later!
One, and a Two… and a hit!
Brave Girls' "Rollin'" was released in 2017 and resurfaced in 2021 due to the sudden viral military performance video that blew up on YouTube. Brave Girls debuted in 2011 under Brave Entertainment. However, they struggled to stand out in the sea of K-pop groups released yearly. Members participated in the idol reboot project, The Unit (2017), to appeal to the public, but were unsuccessful.
Along with this, the group consistently performed for the military, and soon the song "Rollin'" became a military secret. In the show Never Stop Being a Fan (2021), Brave Girls revealed that they had performed over 100 times at military camps since 2016. Minyoung shared that they traveled up to 12 hours to perform for those stationed at Baengnyeongdo Island. The power of a catchy choreography paired with their dedicated efforts allowed Brave Girls to win their first trophy at Inkigayo ten years after they debuted, saving them from disbandment. 
Choreographers play a massive role in determining a song's success. Their job is especially important in our current media-centric world where we stay updated with the trendiest dance challenges through social media platforms like TikTok and Instagram. Celebrity choreographers like Bailey Sok created many viral dances, from Red Velvet's "Psycho" to working with other creatives like Bada Lee on aespa's "Illusion." Yet, not all celebrity choreographers are recognized internationally for their works. They often work behind the scenes closely with artists, away from the public sphere. On Street Man Fighter, 1MILLION leader Mihwak Back revealed that he has made hundreds of choreographies at SM Entertainment. He has also created countless viral dances for artists like EXO's Kai in the songs "음 (Mmmh)" and "Reason."
A Battle Stage for Dancers
With the rising demand for survival shows like the Produce 101 series, a new series was created not for idols, but dancers. Dancers have always been in the background and helped idols satisfy their dreams on stage. Unfortunately, the public has never given them the same treatment. In episode five of the show Not Hocance But Scance (호캉스 말고 스캉스 2022), LACHICA's Gabee and Rian expressed how they faced discrimination as dancers. "This is the restroom for celebrities, use another one," they were told, rendering them speechless. That said, the two realized that as long as they're doing what they love, they'll live with it.
Despite this, relay dance challenges on Mnet's YouTube with artists like HyunA and Sunmi often showed the reality between the crews and the artist. It was a fun relationship between the two with long hours of practice to really get to know each other. In return, K-pop idols are now becoming fans of their own dancers. "New thing" by ZICO, choreographed by Vata for Street Man Fighter, became a trending dance challenge on TikTok. K-pop idols like TXT's Yeonjun, soloist Choi Yena, and SEVENTEEN's Hoshi have participated in the dance challenge to cheer their dancers on!
Street Woman Fighter's success paved the way for a new group of celebrities: incredibly talented dancers that are the masterminds of viral choreographies of various K-pop groups and artists. The show also inspired those that are currently training vigorously in hopes of being on stage as well. As a result, it provided the perfect publicity to aspirational younger dancers. The first show's success led to the continuation of the series Street Girls' Fighter (2021). It focused on the next generation of K-pop choreographers, especially in the high school category. The most recent show, Street Man Fighter (2022), is currently ongoing, with the finals in sight. As dancers have been supportive of K-pop idols on their journeys to international recognition, idols are also supporting their dancers by participating in dance challenges and actively asking fans to help with the public vote.
Undoubtedly, this is a turning point for dancers not limited to the K-pop industry. By having a platform and an audience to showcase their works, they are now gaining respect. They can also be motivated by others who are inspired by their works! As viewers and creatives, we can all gain inspiration their passion and participate in building the recognition that they deserve.
Aside from dancer-focused survival shows, idol variety shows continue to gain popularity. Read more all about the history of K-pop variety shows here.