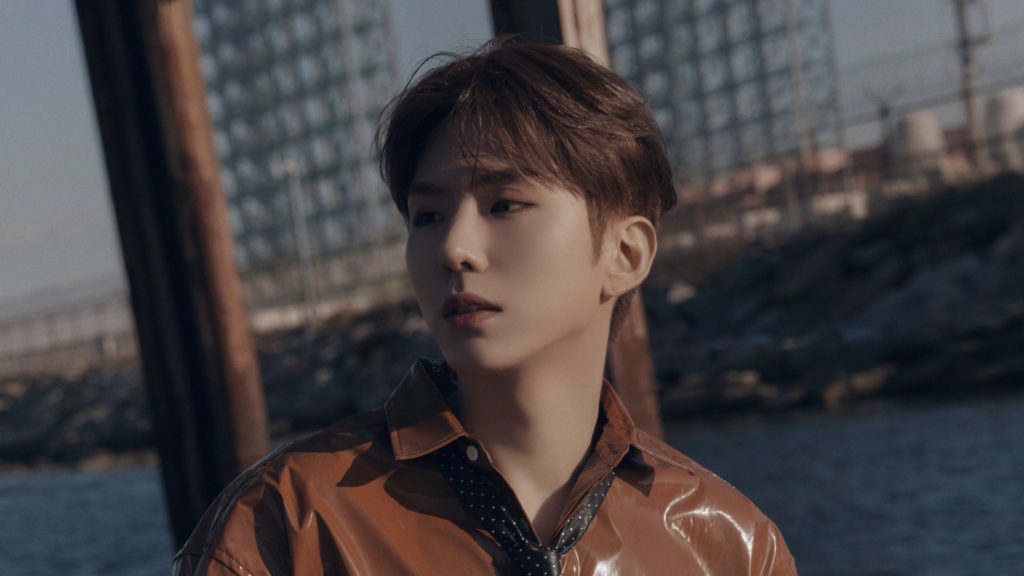 On March 15, MONSTA X's main vocalist, Kihyun, released his first single album, VOYAGER. Dropping seven years after his debut, the album consists of three tracks, including the title track, "VOYAGER," with an accompanying music video.
VOYAGER perfectly captures the image Kihyun has shown, his energetic and deep personality reflected seamlessly in his music.
Take a "Voyage" to Paradise
"VOYAGER" is a high energy pop track, featuring a live band and highlighted by a funky guitar riff and keyboard. Kihyun showcases his range as he sings about feeling free from the confines of his day-to-day life. He also asks the listener to join him on his way to the paradise he's been dreaming of. 
The music video is a mirror image of the lyrics. It features Kihyun unhappy in various shots surrounded by cameras and newspapers with him on the cover. It isn't until he finds his band—his imagined break from reality—that we see him smiling and singing carefree up until the very end, his hair slicked back in a faux mullet and an unbuttoned red top. As Kihyun strongly proclaims, "I can feel the fluster I've been forgetting. The paradise I've been dreaming [of]: so beautiful," the artist dances and sings passionately into his microphone, truly conveying his dream of escaping from one's mundane daily routine.
A Deeper Look at the VOYAGER
While "VOYAGER" shows off Kihyun's more upbeat side, the remaining two tracks delve deeper his emotional side. The second track ", (COMMA)" is one he partook in the lyric writing. A vast step away from the high energy of the title track, Kihyun sings passionately over a somber pop-inspired beat. With ", (COMMA)," Kihyun stated in a press release, "Through my lyrics, I wanted to express the inner feelings and thoughts of those who always try to be positive and cheerful."  His feelings are masterfully displayed as he desperately sings in the chorus, "I want to breathe, even for a moment."
These complex feelings are continued on the final track, "RAIN." Kihyun sings about the sadness after dealing with a breakup. Accompanied by a mysterious and dark sound, he also raps on the track, showing a newer side. 
A Seasoned Artist
It's no secret that Kihyun has cemented himself as a powerful singer ever since the formation of MONSTA X. He is a powerhouse vocalist with incredible range, even deemed as "one of the pillars of MONSTA X." Not only does he excel greatly at what he does, but he continues to showcase his love for his craft, paying homage to some of his favorite musicians throughout the past few years with YouTube covers. His cover of Tom Grennan's "Little Bit of Love" and Imagine Dragons's "Believer" and "Natural" have been praised not only by Monbebe—MONSTA X's fans—but by artists as well.
VOYAGER reflects Kihyun's journey to find out who he truly is. Although the album speaks from Kihyun's personal experience, he said in a press release, he wants it to resonate with anyone who has forgotten about their dreams in order to survive reality.
Keep up with Kihyun following the release of his first solo project by following him on his personal Instagram as well as MONSTA X's Instagram, Twitter, YouTube and Facebook!
Interested in MONSTA X? Check out our coverage of the group's latest full-length English album, THE DREAMING.