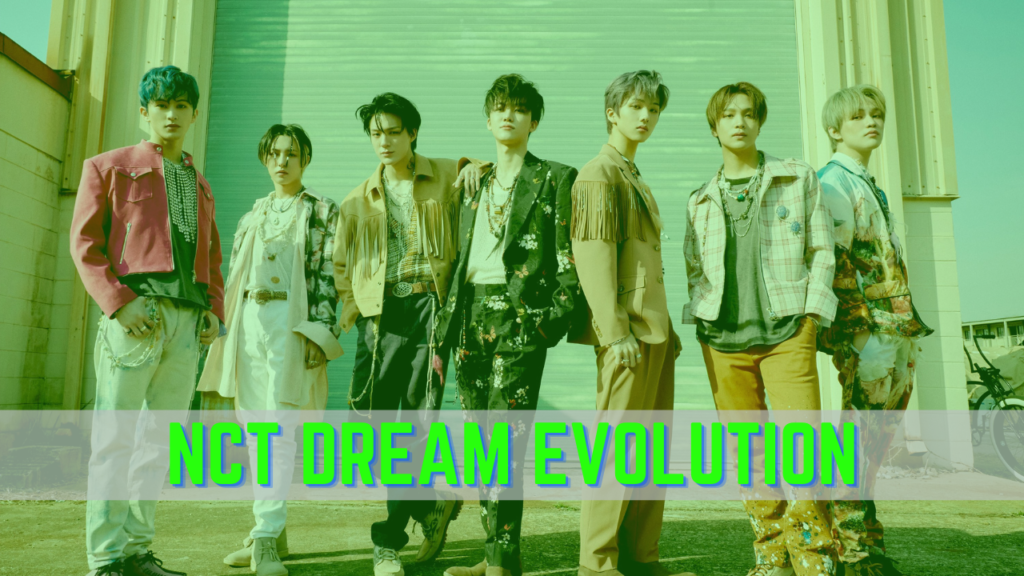 Long before NCT Dream solidified their place as million-selling heartthrobs, they were known as the seven adorable kids under SM Entertainment with a lot to prove. Now, in its fifth year since its debut, the "Dream Team" continues to show its range from playful sweethearts to mischievous misfits. In honor of their first full album, Hot Sauce, let's take a trip down memory lane to look at some of their best moments and how much they've grown.
Chewing Gum on Hoverboards
In August 2016, Dream debuted with their single, "Chewing Gum," in all its deliciously sweet glory. As the youngest subunit under the NCT umbrella, the teenage members were marketed as a group other young tweens and teens could relate to as they navigate adolescence. With ages ranging from 14 (Jisung) to 17 (Mark), their bubblegum pop sound and image quickly became a staple in their brand and were adored by many.
The seven starry-eyed singers took the "bright concept" to new heights as they dazzled fans with the most innovative choreography using hoverboards. If Gen Z could be summed up into one dance, this would be it. Riding hoverboards was nothing new at the time, but being able to execute an entire routine on one (while in sync!) was an unprecedented move in K-pop. 
The balance and agility required to pull off a performance like that were not only a testament to Dream's young age and athleticism but also their incredible work ethic. As if their boyish charms and contagious smiles weren't enough, it was that moment when fans realized there was much more to NCT Dream than meets the eye.
My First and Last
Six months later, the group made its first comeback with chapter one in their love trilogy series, "My First and Last." In comparison to their debut, "My First and Last" showed a light maturity in their sound, leaning more towards funk-pop with an addictive bassline. It was also the first time singing about a crush or falling in love for the first time, another sign of maturity. The purpose of "Chewing Gum" was to appeal to a younger audience, while "My First and Last" was their first transition into capturing the hearts (and ears) of older fans, as well.
Overall, this era was bittersweet for many reasons, the first being Jaemin's absence due to a herniated disc injury. Unfortunately, this suspended him from all group activities for a year and a half. Although this was the last thing fans wanted to hear, their support never wavered from the group as a whole and only made them stronger. On February 14, 2016, NCT Dream became the first NCT unit to achieve its first music show win. If anyone was questioning their potential or popularity, this was the first indication that they were onto something big.
We Hot, We Young
In the midst of what is known to be a golden era of SM summer releases, NCT Dream released their first EP, We Young, on August 17, 2017. The six tracks showed a more tropical side to the group with messages of "young love and other problems teens face."
With the members practically a year into their careers, the growth was becoming evident, both in content and physically. Renjun, Chenle, Jisung, and Jeno had suddenly gotten taller, with the latter growing out of his baby face faster than you can blink. As for Mark and Haechan, the two were coming right off the heels of the explosive "Cherry Bomb" era with NCT 127, quickly shifting gears from hardcore to sunshine all the time.
Although there were many unforgettable songs of the summer that year, Dream held its own as We Young peaked at No. 3 on the Billboard World Albums chart that September. Through B-side tracks like "La La Love" and "My Page," it's clear that the group was still very pop-centric at this point. But, the waters were stirring for something much more impactful and unexpected — NCTzens were in for a long *** ride.
So Young, So Freaky
Fast forward to March 2018, and everything fans thought they knew about NCT was suddenly flipped upside down. For the first time, fifteen members across NCT U, 127, and Dream came together to promote one full album, with the addition of three newer members: Kun, Lucas, and Jungwoo. The group then consisted of 18 members in total. NCT 2018 Empathy was a large-scale project meant to showcase the NCT brand in its entirety through pre-existing subunits and the rotational lineup of NCT U.
With each unit promoting one week after another, NCT Dream was the third unit to release their single, "Go." This comeback marked the return of 7Dream as Jaemin finally resumed his group activities for the first time since his debut in "Chewing Gum." And, with his injury cleared, the 17-year-old was more than ready to cause trouble on everyone's bias list this time around.
"Go" is described as an electro-hop song that offers a more rebellious side to the teenage members. The moment SM dropped the video teasers, it was as if the world had stopped in its tracks. With blaring sirens, flashing LED lights, and a plethora of hip-hop elements, the Dreamies seemed to have taken a page out of 127's book and decided it was time to grow up. Their cotton candy smiles were replaced with "idgaf" stares, and the bright sailor outfits had been traded in for trendy streetwear pieces — this was a new Dream.
In terms of the song itself, it gave members like Jeno a chance to flex more of his rap muscles in a way that he hadn't done before. It was a slick verse shared with Jaemin, who also came out the gate swinging with a deeper voice and powerful presence. Everything about "Go" was wild, untamed, and free, allowing Dream to let loose and explore their inner delinquent before approaching their most sentimental era thus far.
We Go Up
Following the release of "Go," NCT Dream toned the rebelliousness down a few notches with their second EP, We Go Up, in September 2018. Instead of singing about freedom and wanting to break the rules, they opted for messages of team spirit and fond memories. It was an emotional time for both the group and their fans, as it would be Mark's "last" comeback with the team before graduating into adulthood.
The graduating system was not a new concept in K-pop. Pledis Entertainment's girl group After School had experienced several graduations before introducing new members into the lineup. SM Entertainment also planned on using this method with Dream as the members reached adulthood and would no longer fit the "youthful" concept. Although this was common knowledge among the fandom, it didn't hurt any less when the members poured all their emotions into writing "Dear Dream" — a final send-off for Mark and the album's closing track.
Regardless of the pending sadness, We Go Up was enjoyable, lively, and still one of their strongest albums to date. From retro-inspired gems like "1, 2, 3" and "We Go Up" to the sinful fan-favorite "Drippin," it's not a stretch to say Dream was in their bag when making this album. The vocals on Chenle, Renjun, and Haechan continued to evolve and shatter expectations, while Jaemin went viral as the "cute pink-haired guy," snatching hearts left and right. If anything can be said about this era, it's that they truly ended 7Dream with a bang.
DNYL: Transition Period
After We Go Up, fans wondered how Mark's absence would affect the group's overall sound and what their revamped image would look like moving forward. While awaiting the next official album release, fans were able to get a glimpse of Dream's ongoing maturity and evolution through the SM Station project.
"Don't Need Your Love" served as the Dream Team's first collaboration single with British singer HRVY and was released in June 2019. The tropical synth-pop track was a breath of fresh air from their recent singles and teeters more towards their earlier pop days. This was a first look at how much the singers have truly grown with Jisung's voice dropping several octaves, showing the world he's not exactly the little kid you remember. Chenle and Renjun also took center stage for vocals as Haechan was notably absent due to his schedule with NCT 127. 
Although Dream and HRVY had never met before this single, their bond and newly-formed friendship were palpable on-screen. It's rare to see a Western artist fully commit to the choreography aspect of K-pop music video, let alone be available to film it in person with them. HRVY's dedication to Dream helped fill a temporary void with Mark and Haechan's absence and he gained the love and respect of NCTzens because of it. As far as genuine and authentic collabs go, Dream and HRVY struck gold with the "DNYL."
We Boom
Only a month following "Don't Need Your Love," the Dreamies finally returned with their first major release as a sextet, We Boom. The "Boom" era was the ultimate test to see how the six members would further progress as a group without Mark as its leader. With only a few uptempo pop songs, the EP and its lead single emphasized strong hip-hop and R&B flavors, borrowing similar elements from NCT 127 and WayV. Once again, the teens were entering a new chapter and as their style developed, so did their image.
At this point, NCT Dream had already become wildly popular with young K-pop fans. It seemed like Jaemin was going viral every second, this time, for his iconic wink and "ice cream" line in "Boom." Not to mention Haechan's sultry stares and Jeno's toned biceps, this era was exactly the confidence booster the group needed. Haechan had previously confessed that he wasn't too fond of how his voice sounded during his debut. He was young and still had much to learn as a vocalist and performer. But, after hearing him in this EP, it was clear that he (and all the members) had cemented themselves in their specific roles and felt confident in their abilities.
This confidence also translated into their album sales. We Boom became Dream's first release to receive a Platinum certificate by the Korean Music Content Association, earning their spot as the highest-selling NCT unit in 2019. As of May 2021, "Boom" is still their highest viewed music video with 115 million views.
Ridin' & Rollin' Baby
With the Dream Team becoming fully recognized performers at this point, there was just no stopping them. They kept on trailblazing (literally) with their fourth EP, Reload, in April 2020. While We Boom was a mixture of old and new Dream, Reload was thematically more cohesive throughout its five tracks.
With 17 minutes and 30 seconds of media play, the group tackles trap, EDM, hip-hop, and R&B so effortlessly, it's almost unreal. "Ridin," the lead single, is both smooth and rough in all the right places. From Jisung's killer footwork to Renjun's sweet vibrato, each section has a purpose and leaves you breathless. Even with their B-side tracks, "Love Again" is the epitome of '90s hip-hop, and it's a decade that every NCT unit has proven themselves worthy of emulating. 
In terms of critical acclaim, they outdid themselves again with 670,000 physical albums sold in 2020, earning a double-platinum certificate from the KMCA. It was also the first time Dream had topped the Billboard Emerging Artists Chart in the United States. Although fans were immensely proud of their rising numbers, there were still many complaints and pleas for Dream to become a fixed unit. Surprisingly, SM announced that the previous graduation system would be terminated as of April 2020, and Mark would return to the unit. Not only was this a victory for fans, but it provided clarity and reassurance for the future of NCT Dream.
Deja Vu: 7Dream Is Back
In October 2020, 7Dream made its first reappearance in two years with the NCT 2020 Resonance project. Similar to 2018's Empathy, this was the second combined album with all units under the NCT brand with the additions of Sungchan and Shotaro.
"Deja Vu" was the celebratory anthem of 2020 as it harked back to Dream's signature bubblegum pop phase from its early days. The instrumental is like a nursery rhyme mixed with hip-hop as if signifying that regardless of how mature the members are now, they're never too old to have fun. 
Once the shock of seeing the seven of them together again passed, fans remembered how much 7Dream feels like home. It just felt so right when Mark sang, "My team, new age. I'm still dreaming with you," referring to his six teammates. It's because the dream never stopped for Mark, no matter what was going on in his hectic schedule. He still supported them and cheered them on whenever he could, because that's what brothers do. It's reflected in their lyrics and their faces: the journey is far from over, and there are still so many new experiences ahead.
Hot Sauce, New Beginnings
At last, welcome to a new (and even more familiar) era of NCT Dream. On May 10, 2021, SM Entertainment released the one thing missing from Dream's catalog: a full-length album. Hot Sauce is the first standalone project to feature all seven members following the termination of the graduating system. It's also an era packed with milestones before it even got started.
During its first week, Hot Sauce garnered 1.71 million pre-order sales, completely shattering its personal record and all previous records set by SM Entertainment's groups. Within 24 hours, the "Hot Sauce" music video became the fastest SM video to hit 35 million views. And to top it off, Dream is now tied with BTS as the only two boy groups to reach #1 on Korea's FLO Chart. The list of achievements could go on, but the bottom line is: NCT Dream is killing it now more than ever.
Now that Jisung is 19-years-old (legal age in Korea), the entire group has reached adulthood, another milestone that holds great significance to them. Even before the release of Hot Sauce, the team could feel how special this era would become, particularly Mark. "I brought all the guys together, and we talked before the whole momentum started, and I said that I'm willing to put my everything on this one," he said in an interview with Teen Vogue. "There are things that are out of our control, but we can see and feel when the pieces match together sometimes, and I feel like this specific moment, this particular album, kind of had those essential parts." And he was right.
The timing, the circumstances, the music quality, all of it was perfectly aligned to make this a successful comeback. As spicy as "Hot Sauce" is, the album balances the sweet, lovable sides of Dream with the hot flavor they're delivering on other songs like "Countdown" and "Diggity." Overall, they're winning together because they're having fun together, and it shows. No matter what happens next in their journey with NCT, all roads lead back to 7Dream as far as these guys are concerned.
Looking to the Stars: Hello Future
Looking back to 2021, the stars were all aligned for Dream to have its most successful year to date. Only a month after the release of Hot Sauce, the team pulled out all the stops for their first repackaged album, Hello Future, on June 28, 2021. As opposed to the boisterous energy of "Hot Sauce," the follow-up single for "Hello Future" took NCT Dream back to its joyful roots of sunshine and rainbows as the members look ahead to a bright future.
Through the constant growth and maturity, it was an era full of promise and pride that transcended the song itself and took on a life of its own. After selling over two million copies of Hot Sauce, the Hello Future album garnered another whopping 1.19 million sales, officially making Dream a triple-million seller. With their heads held high and a new sense of direction, 7Dream can look to the stars with pride for what they've achieved, and future experiences they have yet to overcome.
Scratch That, Bring It Back
After finishing off the year with NCT's third studio album, Universe, and its groovy house-R&B track, "Dreaming," the Dream Team is back at it in 2022 with Glitch Mode—the unit's second full-length album. In the guys' second kick-off meeting (where they normally discuss their goals and/or worries ahead of a comeback), Mark wondered whether they even deserved all the love and support of Hot Sauce and Hello Future.
"I think we can do better—Hot Sauce received so much love and I think we were very lucky," he confessed. "So the new album will be an album that shows whether we deserved all that luck we received." As they all share similar thoughts and feelings, it's clear no matter how successful they've already become, they're still human and even doubt themselves at times. Regardless, fans would make sure their love is heard loud and clear, putting any of the group's doubts and fears to rest.
On March 28, NCT Dream made their highly anticipated comeback with the R&B/pop/hip-hop hybrid single, "Glitch Mode," and its accompanying 11-track album. Within the first day, the music video garnered over a million views in 21 minutes, achieved 2022's highest-charting SM Ent. song in the first hour of release, and Dream became the second SM group to surpass two million album pre-orders the day before. Yeah, it's a lot.
As the members and fans soak in the comeback and enjoy the moment, a quote from Haechan comes to mind. "There are sides of us that many people think of," he said. "'So this is why I like this group'—I want to remind people of that again." But look around, who needs a reminder? It's hard to forget the way K-pop shines whenever NCT Dream is around.
Eager for more? Check out EnVi's coverage of NCT Dream becoming million-sellers!
Thumbnail image courtesy of SM Entertainment, edit by @orenjunal