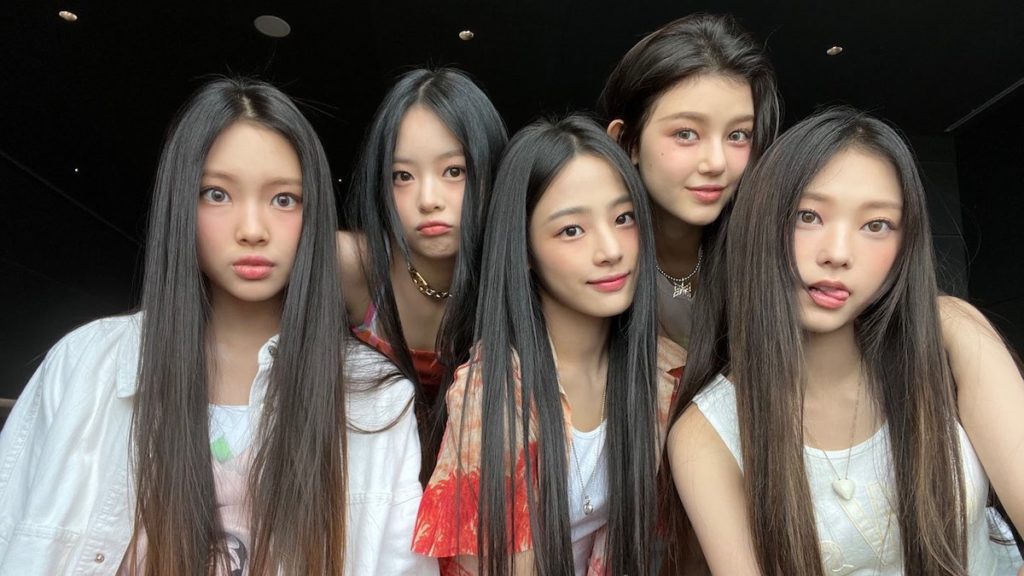 A new month brings new things. More specifically, it brings NewJeans. On August 1, ADOR's NewJeans released debut EP New Jeans, but this is far from the first time K-pop fans caught light of the quintet. The girls had quite an unconventional debut rollout, with three of four songs released on YouTube prior to domestic and international music streaming platforms. Regardless of their newness (pun intended), NewJeans have proven to be a force to be reckoned with, as seen in the records they'd broken roughly a week into the game.
In the first installment of EnVi's newest series "The GGreat Battle" – where we take a deep dive into the most promising girl groups of the year thus far – we take a good look at how NewJeans have established themselves as worthy competitors in the fierce fight for Female Rookie of the Year.
New Jeans on the Block
NewJeans is a five-member girl group composed of both new and familiar faces. Eldest member Minji and Vietnamese member Hanni made pre-debut cameo appearances in BTS' "Permission to Dance" music video. Meanwhile, maknae Hyein was a member of child group USSO and a guest for Pocket TV's Play With Me Club. Danielle and Haerin have had prior exposure to the performing arts before debuting, with children's show guestings and extensive experiences in pansori (traditional Korean musical storytelling) respectively.
Despite the "new" in their name, NewJeans, or the previously unnamed Plus Global New Girl Group (PGNGG), were no strangers to a good chunk of K-pop stans, especially those who devotedly follow HYBE artists. The group's conception was announced in 2019 upon Min Heejin's assumption of the company's Chief Brand Officer (CBO) role.
Between Old and New
A new girl group from K-pop entertainment giant HYBE Corporation is one thing, but debuting under All Doors One Room (ADOR), a newly created independent label led by notable industry creative Min Heejin in the agency's roster, is another. The art director rose to prominence for her involvement in the creative direction of SM Entertainment groups such as Girls' Generation, SHINee, f(x), EXO, Red Velvet, and NCT until she left the company in 2018. 
This time around, Min captured the essence of youth and trendiness through her very own group. In NewJeans, one can easily see a youthful and whimsical vibe from the quintet through puppy love and prominent Y2K elements in their music videos and fan messaging app.
Despite being led by a well-established industry player, NewJeans' debut rollout was novel and fresh. Normally, groups of all seniorities have long teasing periods that rely on vague mood samplers, instrumental releases, and concept photos. NewJeans, however, cut to the chase by dropping three full music videos at midnight KST over the course of a week.
Give us your Attention
More than timely concepts, appealing creative direction, and heightened anticipation, NewJeans have been able to draw in a loyal and driven audience so early into their careers because of their music. Generally speaking, NewJeans songs are highly reminiscent of and influenced by late '90s to early '00s R&B. This flair of theirs takes the spotlight in debut EP New Jeans, made up of 4 songs that all have at least one music video each.
"Attention" was the first track unveiled through a surprise drop on July 23. Its release was also K-pop fans' proper introduction to NewJeans. True to its name, the song was nothing short of attention-grabbing, with its no-nonsense but groovy melody and homage to 2000s R&B. Like a breath of fresh air, NewJeans soothe and energize listeners through a fresh but familiar feel as they sing about a crush they desire attention from.
The alluring music video set in Spain captures quintessential moments of teenhood: concerts with friends, constant social media updates, and, of course, crushes on boys. "Attention" has secured more than 100 Realtime All Kills, which means that the song has been topping all major Korean charts since its digital release on August 1.
New Jams with NewJeans
2000s R&B isn't the only throwback one will see in NewJeans' burgeoning discography. Second title track "Hype Boy" is a Y2K dream come true if its dreamy synths and high-energy beats are anything to go by. "Hype Boy" has been hyped both by fans and ADOR itself, with 4 different music videos to show 4 different sides of an overarching story. "Hype Boy" has also been faring well chart-wise, consistently placing in the top 5 of major Korean charts.
Steering away from their first two bombastic tracks, NewJeans flip the switch for their third single "Hurt," an undeniably mellower tune that highlights the members' vocal abilities. The choice to croon in more muted melodies isn't the only thematic shift present in "Hurt." Instead of being lovesick like they were in the past two songs, the NewJeans girls sing about refusing mixed signals and mind games from a confusing love interest.
The girl group's final single meshes the lovesick and sick of love vibes with everything in between seamlessly. "Cookie" marks the end of their debut single rollout, but a new start for NewJeans. With a simple, understated music video set in white walls and featuring occasional CGI appearances, it's all about the music when it comes to "Cookie." A bubbly R&B pop song, "Cookie" shows NewJeans at their most confident—they now know they've got the best treats to offer in the game of love.
There isn't necessarily a formula for Korean virality and success, as a diverse range of genres, artists, and music trends take their turn in topping domestic charts. Though, if one were to guess why NewJeans performed this well for their first singles, it'd be safe to go with a mix of strategic promotion and music that's generally easy to listen to.
Music videos for NewJeans' singles, save for "Cookie," were all released before they dropped on music streaming platforms. This allowed curious onlookers to stream the music videos as they patiently waited to add the songs to their playlists. Once the songs were digitally released, people were able to relive the feelings they felt upon first listening to NewJeans' music, making it easy for them to stream their way to the top.
It also goes without saying that NewJeans' music is nothing short of refreshing, as they perfectly tread the line of high-energy and light and easy—their songs are neither too noisy nor too muted for anyone's liking. Further, R&B is a widely loved genre, so its prominence in the group's discovery so far has been much appreciated by many.
Moving Forward
"Just as jeans have withstood the test of time and found popularity among many regardless of their age and gender, NewJeans aspire[s] to become an icon of generations – one you never grow tiresome of putting on." Stated by Min Hee-jin herself, this is the philosophy the newest kids on the block swear by. 
While NewJeans are extremely new and young in more ways than one, they're already achieving the seemingly impossible balance of timeliness and timelessness. With their chart-topping hits, record-breaking sales, and simultaneously breath-taking and refreshing overall concept, NewJeans prove that the new kids on the block can be experts in their own league too.