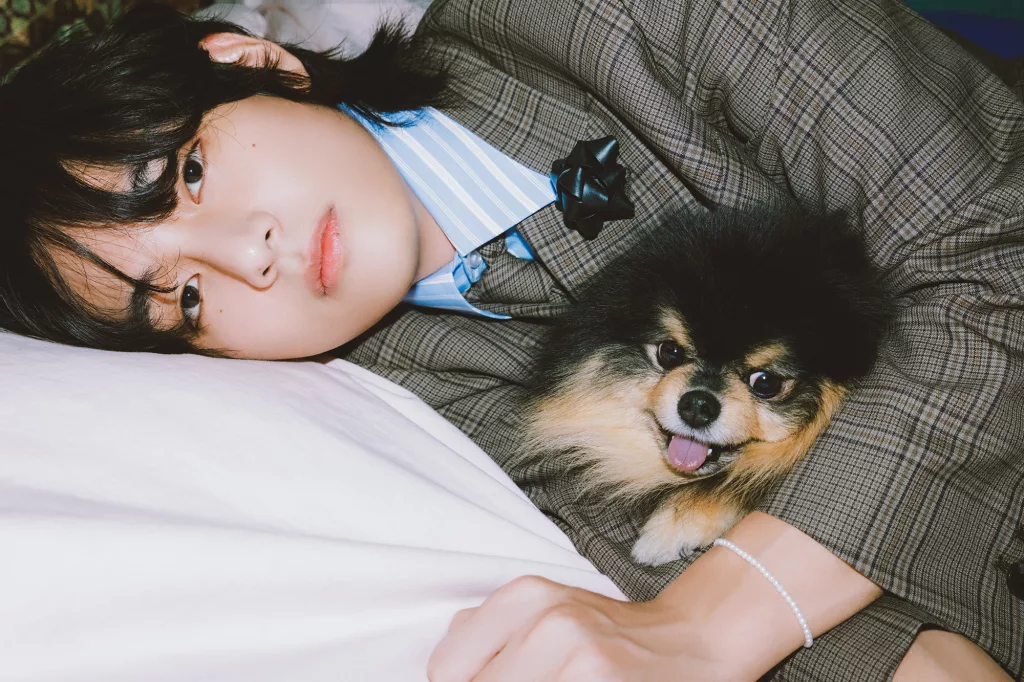 BTS' V has had a long journey with music over the past ten years, sharing his unique vision and passion for his artistry as a singer, songwriter, and even actor. In the past, the singer has demonstrated his abilities as a musician and lyricist outside of BTS with tracks like "Sweet Night" for the drama series Itaewon Class, "Christmas Tree" for Our Beloved Summer, "Winter Bear," "Scenery," and "Snow Flower" — the last three released on SoundCloud before being made available on streaming services. On September 8, 2023, V made his official solo debut with his album, Layover.
With six tracks, all spanning classic R&B blended with jazz rhythms, bass tones, and flute alongside piano sounds, Layover tells a story from beginning to end. Each song appears to be connected to a narrative that explores a past relationship and youth, filled with both melancholy and comfort.
Min Hee Jin, the CEO of HYBE's subsidiary label ADOR and producer of the girl group NewJeans, was tasked with producing the album. V and Min collaborated to create an album that reflects the singer's inner feelings, appreciation for classical melodies, and message.
Exploring Nostalgia with Layover
Layover opens up with a low piano instrumental mixed up with typing and rain sounds, introducing the listener to the album's first track, "Rainy Days." In the R&B song, V tackles
loneliness and heartbreak after losing a lover. From the rhythm to the lyrics, the record dives into hoping for that lover to want you back as V tells the audience that he can't stop thinking about the person he loves, especially on rainy days, "Rainy Days / I'm thinkin' 'bout you / what to say / Wish I knew how to find the way / Right back to you, on rainy days like."
The main charm of "Rainy Days" comes in the second verse. Throughout the whole track, there's a simple melody laying underneath the rain sounds; however, right after the chorus, when it almost feels like the song is about to end, comes the second verse of the record with more powerful harmony, featuring V's deep, soulful voice. 
Nostalgia, melancholy, and reflecting on the past are recurrent themes throughout the album. V, who is no stranger to associating emotions with colors and nature in his music, uses those metaphors to portray sadness, happiness, and longing. In the track "Blue," he references the colors green, yellow, red, and blue, as well as the moon with the stars, to evoke the constant battle between showing happiness amid feeling sorrow. With a low tone, he sings about not knowing which emotions he should display. "What if I show you / And make it all new / Green, yellow, red, blue / Whatever seems good to you / A day to the moon, / Like borrowed stars / Everyone's looking at you."
Immediately after "Blue" comes "Love Me Again," an R&B track with prominent bass. Following the theme of wanting a lover back, the song explores the undeniable emotions of longing and an aching heart after a breakup. In his low-pitched voice, V sings about feeling lost without this person and wishing for them to love him back. In the lyrics, he bares himself, reminiscing about memories, making it seem like he is asking this person to come close to him. "Fine, I will be honest with you / Put it all out there / I think about you all the time / Where you are, who you're with / Lost without you, baby." he sings. 
From Uncertainty To Moving On
With a soulful jazz tone and breezy flute outro, the fourth track in Layover, "Slow Dancing," is an intimate R&B ballad that invites the listener to stay in a relaxed and romantic atmosphere. Without deviating from the album's theme, the song explores the idea of a changing relationship and a turn of events in someone's life, with V wistfully wanting to stay connected to this person despite the fact that it is all over.
Layover also offers the piano version of "Slow Dancing." In contrast to the original record, this version exhibits a piano melody outro, changing the ending flow of the track.
A highlight of Layover is "For Us," the last song on the record. Starting with the lines "You went from my home to / It was nice to know you / And it breaks my heart / That we gave it our best shot," in a distorted voiceover, the soft R&B track offers a contrast between accepting distance and wanting to reconnect with a person. In the track's striking production, the ongoing shift between the high-pitched tone and V's vocals works as a mood changer throughout the song, making it seem like there's a conversation between two people. "For Us" is shaded with nostalgia, longing, and acceptance, yet filled with hope for the next chapter in the story.
Behind Layover
Layover captures the nature of waiting, taking a period to rest and reflect. The album feels like the beginning of a journey. Like the meaning behind the album's title, beneath the layers, it represents a time to stop, to take a break until you find another destination. V manages to encapsulate the intricacies of moving around while reflecting on the past. With Layover, the singer creates a youthful atmosphere, as if it were a story appropriate for slow summer days. With his warm vocals and delicate lyrics, he immerses the listener, embarking them on a path to another destination.
You can listen to Layover on Spotify or Apple Music! 
Want to be up to date with the latest releases? Read all about last week's new music in our FOR YOU FRIDAYS SERIES here!