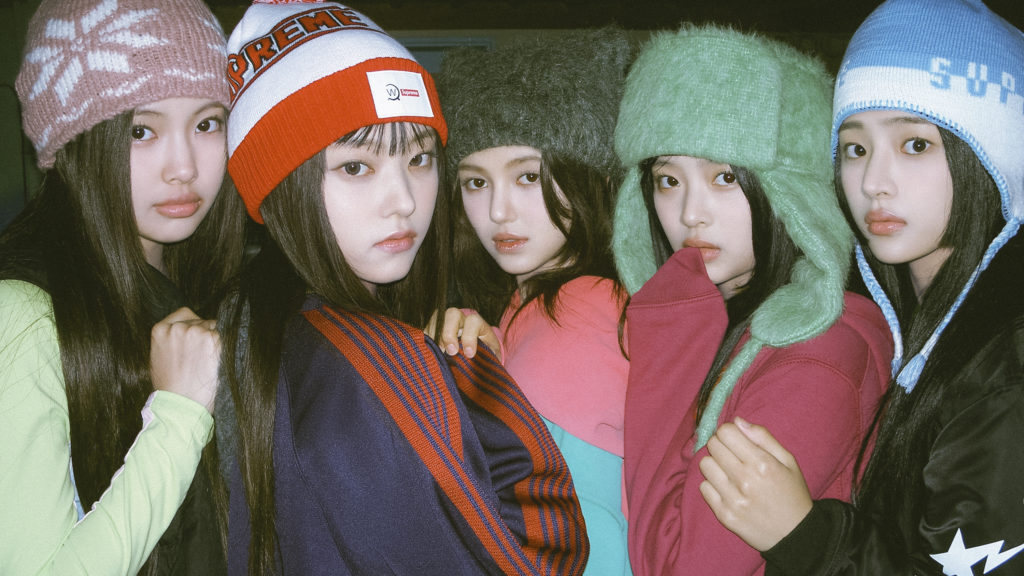 Very few K-pop artists can have the privilege of topping the charts. Even fewer can say that they have multiple songs occupying the highest spots. NewJeans kicked the year off with their single album OMG, with a lead single of the same name. As expected from the star rookies, the single quickly made waves domestically and internationally. However, there seems to be a small problem: "OMG," the single, has yet to reach number one on all Korean charts because the group's pre-release single, "Ditto," released in December, is still topping the charts.
"Being blocked from #1 by your own song," as the group's fans, Bunnies, say, is quite the problem to have, and Bunnies are simultaneously celebrating and getting frustrated. NewJeans are no strangers to success. Their debut was extremely well-received, and they've become synonymous with the freshness and nostalgia of their sleek Y2K concepts. Though, with triumphs this immense, one can't help but wonder: how exactly have they been doing it?
Getting Your Attention
While K-pop is a fairly young music industry, with its first roots dating back to the 1990s, its markets have changed drastically and rapidly over the years. The genre is famously divided into generations marking iconic eras defined by certain artists during specific periods. At present, there are four generations, with the fourth generation being the most recent.
Every generation has its distinctive vibe, and for the longest time, the fourth generation was dominated by what many would classify as noise or experimental music—intense, loud songs accompanied by equally intense and hard-hitting performances. Right from their surprise debut, NewJeans presented themselves as an antithesis to the status quo—quite literally muffling all the noise.
"Anyone who's been following K-pop for some time will probably find NewJeans' sound 'refreshing' in its seeming simplicity. No rap verses, genre-jumping, and a lot of the stuff we see with fourth-gen girl groups today. There's always been a playbook for these things—how comebacks have schedules, concepts, and routine comeback stages, but NewJeans debuted without any of these things, and they['ve] just consistently been releasing hit after hit," Filipino writer and And a Half Design Studio's brand strategist Toni Potenciano shared via an email interview.
On another note, the leading fourth-generation female groups have sought out more fans of the same gender, which is interesting to see because historically, female fans have been more supportive of boy groups. Girl groups started catering less to the "male gaze," as compared to earlier generations.
The target audience of girl groups has become younger female fans looking for role models in fellow women. This shift in preference tells us that female K-pop fans can and will support girl groups, but they need to receive parasocial value (i.e. feel that girl group members are role models or friends) that has been commonly provided by boy groups' fantasy or "boyfriend" marketing.
As for why this shift has occurred, Potenciano hypothesizes that "female fans are less demanding of girl groups. [Girl groups] that cater to a largely male fanbase I've noticed have to deal with such unreasonable standards." While bad apples in fandom transcend gender and misogyny can very much be internalized, girl groups having more female fans can feel more comfortable and conducive for both fans and the members.
Bringing Something "New" to the Table
From their age range to the youthful style and aura they generally exude, NewJeans shows their audience the best parts of being young. This way of presenting themselves has placed them at the intersection of classic and modern. While everyone's familiar with the coming-of-age genre, there's always a sense of newness (pun intended) that comes from Gen Z portrayals.
Speaking of newness, the group has been pushing the envelope promotions-wise through innovative and unconventional methods. They debuted without any of the usual concept or teaser images you'd see from veteran K-pop groups, and their music videos are unafraid of getting intricate and story-centric, even if that entails video lengths otherwise unheard of for the streaming era. To put things into perspective, "Ditto" has two music videos, both four to five minutes long, "Hype Boy" is told in four POVs, and "OMG" is akin to a short film.
"NewJeans has really gone all out online as seen by their multiple MVs for a single comeback, the style of merchandise, and even how they're building the group lore—like how Ban Heesoo (girl in the Ditto MV) has her own Youtube channel. Even the references in the MVs of Twitter [and] video calling [allude to] a very specific life experience," Potenciano says.
As one listens to NewJeans' music for the first time, they may be pleasantly surprised at how easy-going and light the quintet's songs are, especially if they've grown used to more bombastic tunes. Their latest single album includes "Ditto" and "OMG," which both take from K-R&B influences, as seen in their producer roster.
Co-written by member Minji and produced by 250, The Black Skirts, and Ylva Dimberg, "Ditto" is a chill, almost haunting song that takes inspiration from the Baltimore club dance genre while carrying a wistful, nostalgic feel both in the music and film-like music videos. Meanwhile, "OMG," with lyrics from member Hanni, is a whimsical and bouncy R&B and hip-hop song produced by Park Jin-su, Ylva Dimberg, and David Dawood. The 2023 single is more upbeat than its pre-release track, but both share a common theme: their lyrics revolve around young love.
While love songs are far from uncommon in the K-pop industry, NewJeans' focus on first love represents one part of their concept at large. Since their debut, NewJeans has been branded as the "Y2K group," which is a simpler way of saying that the group puts the ideas and experiences of youth at the center of all they do.
Worth the Hype (Boy)
Through masterful marketing, thanks to the company and members alike, NewJeans have faced immense success. On a domestic scale, "Ditto" has the third-highest number of Perfect All-Kills, placing the rookie group at par with the likes of BTS and IU. The group has also won Rookie of the Year at the Melon Music Awards, Golden Disc Awards, and Asia Artists Awards. Globally, NewJeans have become the first 4th-generation group to debut in the Billboard Hot 100 while setting and breaking streaming records worldwide on Spotify.
More importantly, beyond these feats, NewJeans have made a name for themselves in the hyper-competitive industry early on through branding that feels so distinctly theirs. One can say that Y2K and coming-of-age concepts are nothing new, but it's clear that NewJeans' execution will stay unmatched for quite some time.
As best said by Potenciano, "K-pop has come a long way, from fringe interest to community fixation. Whenever someone brings up K-pop at the dinner table, it's hard to stop. It has its own news cycle and I imagine that the target market now is always looking forward to the next new thing. NewJeans upset a couple of things within K-pop and I think that's going to put a lot of labels on their feet — especially those with fourth-gen girl groups. Which is exciting for me, of course, as a consumer of K-pop, to see new things."

Want more NewJeans? Check out our introduction to NewJeans here.