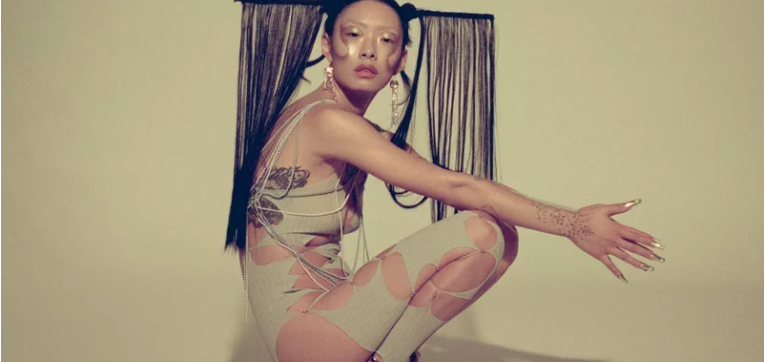 By Mendy | @baobeihei
On April 19, 2021, Rina Sawayama put on a stunning show for NPR's Tiny Desk Concert series. Set in an office building in London, Rina, dressed in a blue Mugler suit, poked fun at the #girlboss meme while singing about pressing social issues for today's generation: familial trauma, capitalism, and homophobia.
This was particularly exciting for Rina fans, known as Pixels, because the pandemic limited her from being able to perform many tracks from her
critically acclaimed debut album
SAWAYAMA, live. SAWAYAMA celebrated its one-year anniversary on
April 17
. 
Let's take a closer look at the three songs she performed to truly understand why so many rave about Rina and her team's artistry.
The First Live Performance of "Dynasty"
DYNASTY LIVE FINALLY !!!! to think this was the first time I performed it …. https://t.co/gO34Cwc3DD

— RINA SAWAYAMA (@rinasawayama) April 19, 2021
Backed by a band and string quartet, Sawayama began by perfectly capturing what it means to carry intergenerational trauma, and implored listeners to also break these chains. "Dynasty," as well as another song on SAWAYAMA, "Akasaka Sad," explores the shared pain and mental illnesses, such as depression, that she has inherited from her own family.  
Listeners can experience a sense of release when listening to Sawayama's incredible vocal range. It even led her to create the #DynastyChallenge on TikTok, celebrating Pixels who pulled off the song's climax.
killed it !!! operatic !!! https://t.co/O4KcpxsNVI

— RINA SAWAYAMA (@rinasawayama) January 23, 2021
"XS"
Rina then performed "XS," a song that speaks to feelings of capitalistic greed, the hypocrisy we all carry as consumers, and the anger that this system inevitably leads us to climate devastation as she explained for Pitchfork. The violin in this NPR version added an electrifying touch, reminiscent of early 2000s pop music.
The track's "jarring" lyrics and sound are just what we need to navigate our virtual and physical spaces, always brimming with sponsorships and ads. That said, be sure to also check out the "XS" performance that she put on for Jimmy Fallon – Rina's U.S. television debut. With the use of silhouettes, Sawayama's crazed expressions, and her layers of jewelry, it screams theatrics and is a parody of excess.
"Chosen Family," A Duet Remix With Elton John
"So many people around the world are not accepted by their parents or their family for who they are, whether it'd be because of their sexual orientation, or gender identity, or anything else. I just wanted to write a very pure and honest love song to my friends a.k.a. my chosen family, who have gone through those experiences," Sawayama said of "Chosen Family."
"Chosen Family" was a special piece written for the LGBTQ community and fans, based on Sawayama's own experiences in college. It is a comforting hug, reassuring listeners that they will be okay, even when confronted with intolerance and heteronormativity, and that they are already part of a beautiful, loving "chosen family." 
For her NPR performance, Rina wove in parts of the recently released duet version of the track, featuring Elton John.
An emotional show from start to finish, it is no surprise that fans were left ready for more. Rina Sawayama truly captures today's musical zeitgeist, from the nostalgic early 2000s to the present-day conversations about social justice and empowerment embedded in her songs. She is an artist to watch, and we can't wait to see what she has for us next.
btw I've already started album 2 with @clarenceclarity and I love it. put next to SAWAYAMA its gonna cover all musical bases

— RINA SAWAYAMA (@rinasawayama) April 17, 2021
Thumbnail courtesy of Dirty Hit Records.
For more female Asian artists, check out our song review of Moon Sujin and NCT's Taeil's "The Moon."