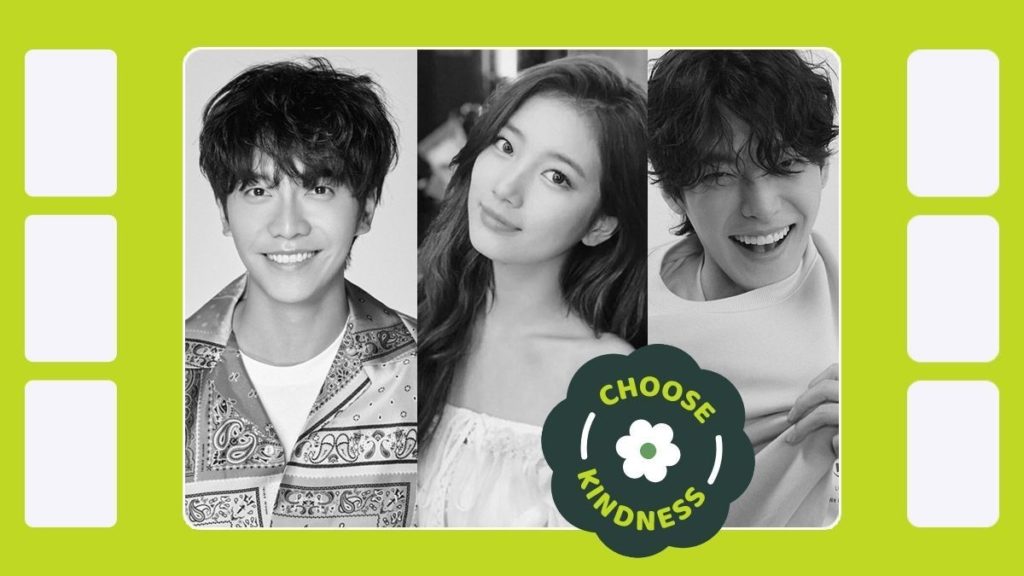 World Kindness Day is here! On this day, it is common to help others by giving back to those in need. These Korean actors and actresses are no exception. Their charitable acts bring visible awareness and inspire their fans to support these good causes in any way they can. Check out the organizations and causes they've aided below! 
IU (Lee Jieun) 
Dubbed by her fans as an angel not only for her voice but her philanthropic efforts, IU has generously donated to a multitude of charities in her career. In fact, she was the youngest Asian star named on Forbes' Heroes of Philanthropy list in 2019. It is her tradition to celebrate big events — anniversaries, holidays, birthdays, and album releases — with charitable aid. 
On her birthday this year, IU made headlines for donating ₩500 million towards less fortunate children. Her donations went towards the Korea Pediatric Cancer Foundation, Yeouldol Association, Korean Unwed Mothers Families' Association, Comprehensive Support Center for Elderly Living Alone, Purme Foundation, and Korea National Association of Child Welfare. Never forgetting her fans, on her fifth album's release, she even made donations in the name of "IUAENA," combining her name and official fan club. The ₩100 million went towards Linker in support of single-parent families and Snail of Love, a hearing loss charity.
View this post on Instagram
For Children's Day, she donated ₩100 million to the Green Umbrella Children's Foundation to provide education for children from underprivileged families. Since 2015, she's donated around ₩820 million to the organization. Recently, Lee donated ₩100 million in COVID-19 relief in addition to gifting 4,600 cooling vests for the hardworking frontline healthcare workers. 
Shin Minah 
This year, Shin Minah ranked 7th on Entertainment Company Live's 2021 list of celebrities who have donated the most in the Korean entertainment industry. Since 2006, she's regularly donated an outstanding ₩2.6 billion — almost $2.2 million USD. The actress's contributions in the last 15 years have aided a number of North Korean refugees, the elderly, and low-income families. 
View this post on Instagram
Most notably, Shin has donated ₩100 million annually since 2015 to the Hallym Burn Foundation.  The organization focuses on providing medical care and education for burn patients. She specifically chose this organization after learning that burn victims tend to receive the least attention and donations in comparison to other causes. According to the foundation's chairperson Yoon Hyunsook, Shin's long-term efforts have been a great source of hope and courage for their patients. 
Park Shin Hye
In 2016, Park Shin Hye (Memories of the Alhambra, Sisyphus: The Myth) was inducted into the Korea Food for the Hungry International (KFHI) Philanthropy Club. The actress reached the requirement of giving at least ₩100 million to the organization – nearly US$85 thousand. Park has been a member of the organization since 2011, when she served as a goodwill ambassador.
View this post on Instagram
In addition to her participation in the KFHI project, the actress and her fans have led the Starlight Angel Project. The project has raised funds to support ending child hunger and poverty both in Korea and overseas. Park also has two project centers in Ghana and Manila that focus on child health and wellbeing.
Bae Suzy
As part of Children's Day, Bae Suzy donated ₩100 million to a non-profit organization called Happiness Sharing Taekwondo Foundation that provides instructors to teach orphaned children Taekwondo. She regularly makes donations to this foundation as her father used to be a Taekwondo instructor. 
She has also made donations of ₩200 million in 2020 to victims of flooding and people who were affected by COVID-19. Suzy has also won "Life Sharing Practice Daesang" for donating ₩500 million to donations and campaigns for five years. 
2019 Come to Blue House as representative of Donation Angel
2020 the only female celeb selected as 'Best 10 Good People'
2021 Won 2021 Life Sharing Grand Prize bcz her good influence in donation

That's our DONATION ANGEL SUZY!! #배수지 #수지 #SUZY #BaeSuzy #suzykindestheart pic.twitter.com/PolXrUL8V4

— Resin is Awesome (@rbrbszsz) November 9, 2021
Kim Woo Bin
Kim Woo Bin participated as a narrator on MBC's documentary Humanimal. He then decided to donate all the funds he's received from the show to the children's cancer foundation. 
AM Entertainment announced Kim Woo Bin's explanation, "I decided to donate after hearing that children with childhood cancer who have weakened their immunity from chemotherapy are struggling to get a mask with COVID-19."
Seo Seon Won (Korea Leukemia Children's Foundation General Secretary) announced that they are grateful for Woo Bin's donations. With the donations, they were able to purchase 995 kits that contain antimicrobial items. 
After Kim Woo Bin's announcement of having nasopharyngeal cancer in 2017, his fans decided to donate funds for his 29th birthday towards medical expenses at the Korea Leukemia Children's Foundation as well. 
Lee Seung Gi
To help with COVID-19 prevention and aid underprivileged children in Korea, Lee Seung Gi has donated ₩100 million to Good Neighbors, an international humanitarian and development NGO.
He has also donated ₩100 million to Severance Hospital in Sinchon to aid patients undergoing rehabilitation, especially those with spinal cord injuries.
View this post on Instagram
Team Up 072, one of Lee Seung Gi's latest variety endeavors, is a golf variety show where the cast together compete against a rising golfer, Yoo Hyun Ju. Lee Seung Gi, along with the cast, has been donating scholarship money for every birdie scored on the show. Additionally, he has sponsored KBS' charity program Field Report Companion for five years.
Jung Woo Sung 
Jung Woo Sung is the first Korean Goodwill Ambassador of the United Nations High Commissioner for Refugees (UNHCR). Since becoming a Goodwill Ambassador in 2015, he has traveled to numerous countries. To experience UNHCR's frontline work, Jung visited Bangladesh, Iraq, Nepal, South Sudan, Djibouti, and Lebanon. The actor has also organized various funds and awareness-raising work on behalf of the refugees he has met. He has donated ₩100 million to said organization for humanitarian aid for people in Afghanistan.
Additionally, Jung has donated ₩100 million to the Community Chest of Korea, the only government-sanctioned charity in Korea, to help fight the coronavirus outbreak. 
View this post on Instagram
It's no surprise these Korean actors and actresses shine so well on screen when they have such admirable devotions off-screen. Being aware of how incredibly blessed they are has only fueled their desires to give back to their communities. This World Kindness Day, their generous hearts have influenced countless lives and hopefully continue to inspire change in others.
Thumbnail by Jenessa, images courtesy of Hook Entertainment, SALT Entertainment and AM Entertainment.