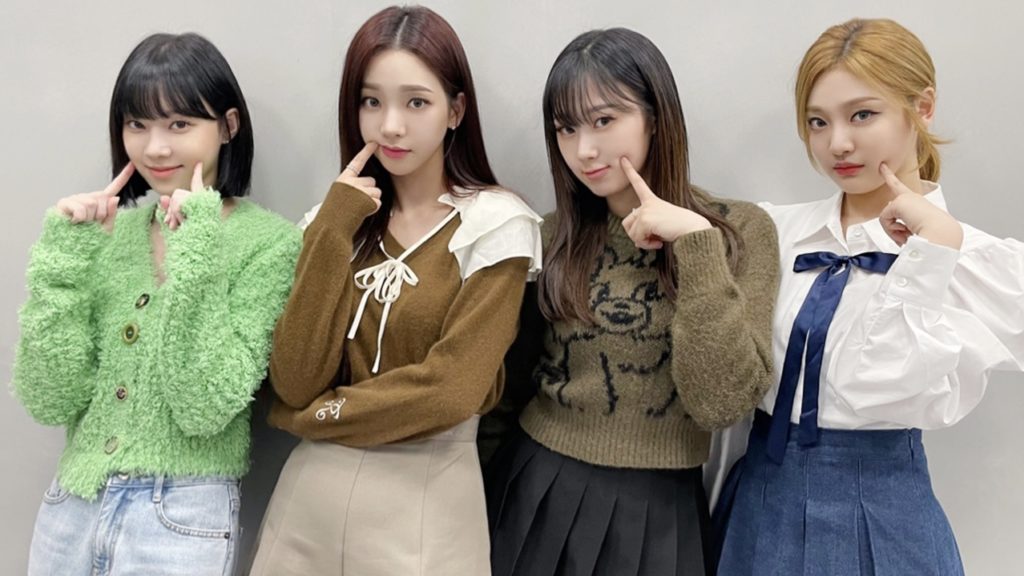 A year ago, the high-tech, lore-heavy girl group, æspa debuted. WINTER, KARINA, NINGNING, and GISELLE were announced as part of the lineup, sharing the spotlight only with their digital avatars. In honor of their first debut anniversary, EnVi compiled a list of some of our favorite things about æspa. 
æspa Represents Many Brands
From Givenchy and CLIO to Kookmin Bank and Kakao Games' "Eternal Return," æspa have found themselves the face of many brands and products across various industries. This is fitting for the idols since each member is stunning and their concept makes use of innovative technology and story-telling elements that make it easy for brands to latch onto.
WINTER's Iconic Bob
WINTER first got a short black bob during "Next Level" and the haircut has since stuck around. Initially, she had blond highlights at the tip, but she has since removed them. She also sported it in "Savage" promotions as well, keeping both the bangs and length.  
안녕하세요 여러분!! 윈터입니다 ~~🤍☃️
저희가 드디어 첫 미니앨범 타이틀곡인 savage를 음악방송에서 선보이게 되었습니당ㅎㅎ 저희와 많은 분들의 노력으로 만들어진 savage!!!🌟 많이 사랑해 주시고 응원해 주세요!!🤍❄️ pic.twitter.com/6I0MeIUazV

— aespa (@aespa_official) October 14, 2021
KARINA's Impeccable Dance
KARINA has shown off her elite dance skills plenty of times in teasers and videos. One of her most notable dances was when she danced alongside EXO's Kai for the Hyundai Tuscon Beyond Drive performance. She also got a duo dance with SHINee's Taemin for "WANT." She teased more of her skills during æspa's guest appearance on Knowing Brothers. She displayed her "pink blood" as she danced to songs by various older artists in SM Entertainment. 
NINGNING's Meme Face
NINGNING showed fans some of her quirky humor by making a funny face while flexing her lips on a radio show. It has become a meme among MY, æspa's fandom, and has been recreated by other members of æspa.
Ningning meme face to bless your feed #aespa_NextLevel #aespa @aespa_official pic.twitter.com/KBtpbq5MrP

— ig.kpopstanstagram (@kpopstanstagram) May 29, 2021
GISELLE's "SMCU" Lines
After the release of "æspa ep. 1 Black Mamba," fans were enamored by GISELLE's lines. Her line, "Professor what if ae gets hacked?" became a meme amongst fans. MY also enjoyed her French line, which hinted at her "xenoglossy" superpower that was recently revealed during "Savage" promotions.
no thoughts heads empty, just giselle's
"Professor, what if ae gets hacked?" pic.twitter.com/1tj8qsDXgs

— Gail (@winjinbae) May 14, 2021
The "Black Mamba" Drop
"Black Mamba" was a strong start for æspa. The EDM track was full of heavy beats which allowed the girls to flaunt their "girl crush" charms. The intensity of the track was equally reflected in their choreography. One of the most iconic moves was their drop at the words "Black Mamba" in the chorus. People should admit that they have tried it at least once. 
WINTER's "Next Level" Growl
WINTER is known for her powerful singing abilities. She has boasted her unique vocals in all of æspa's tracks, but no moment beats her growl. At the song's switch-up, WINTER took on a more soulful singing style, letting out a growl during her line. This moment made fans anticipate more of her gritty vocals, which were definitely featured in "Savage."
KARINA's SYNK Teaser
In her debut teaser, KARINA acts as though she is in an interview alongside her digital avatar, ae-KARINA. This short clip shows the two as they develop a close relationship. Her acting is so convincing one would think that the digital avatar is actually beside her! 
NINGNING's Soulful Singing Voice
NINGNING has been known to be a gifted singer since before her SM Rookie days. One of her most iconic moments in æspa has been her bridge in "Next Level," where she sings in the midst of a volcanic eruption. Her voice stands out as much as her red hair in that scene. More recently, NINGNING sang Alicia Keys' "If I Ain't Got You" on Knowing Brothers, showing more of her irresistible singing capabilities. 
GISELLE's PINK HAIR
In teaser images for "Black Mamba," GISELLE rocked some light pink hair. While it didn't make it to the final video, it was an iconic look for her.
Hear me out, Giselle blonde hair should make a comeback. pic.twitter.com/HCU00dtaX5

— aespa ceo 💕💕 (@shhhhhoe) June 24, 2021
MAGAZINE COVER KILLERS
Since their debut, æspa have been the cover stars for numerous magazines. Their current list includes POP Magazine, glass, DAZED Korea, and Vogue Singapore. They have modeled in Givenchy in each cover, showing off just how well their visuals and style fit with the brand.
The Cover for The March 2021 Issue of <DAZED> KOREA.

에스파 @aespa_official
In @givenchy #MatthewMWilliams
With @dazedkorea#CoverDazedKorea #에스파 #AESPA #GIVENCHY #지방시 #MatthewMWilliams #매튜윌리엄스 pic.twitter.com/GZLmUKC6ly

— DAZED KOREA 데이즈드 코리아 (@DazedKorea) February 18, 2021
WINTER's BOA Tribute Stage
WINTER performed BOA's "Peace B" single at MAMA 2020 as a tribute for her 20th anniversary. WINTER oozed stage presence and talent as she sang and danced to the track.
KARINA's Iconic "Next Level" Teaser Outfit
KARINA's teasers for "Next Level" were on-brand for the song. She took teaser images to the next level with her one-of-a-kind style. KARINA rocked a slick black outfit that was brought together by her iridescent breastplate. æspa's leader looked as though she came straight out of a video game.
aespa 에스파 〖Next Level〗
➫ 2021.05.17 6PM KST#KARINA #카리나#aespa #æspa #에스파#NextLevel pic.twitter.com/jzhGuR1O4R

— aespa (@aespa_official) May 7, 2021
NINGNING's Quarrel with NCT DREAM's Chenle
NINGNING and Chenle united MY and NCTzens after the two began indirectly messaging about each other on LYSN's bubble messenger. During one of Chenle's occasional spamming sessions, Chenle took the first shot at NINGNING. He stated that he does not play games with NINGNING because she is not good. NINGNING responded in a similarly shady yet playful fashion. 
GISELLE's Embracing Her Emo Side
In multiple interviews, GISELLE has shared her love for rock music. GISELLE has cited Blink-182 as one of her favorite artists in an interview with Rolling Stone. She has also reiterated this point in æspa's interview with MTV News, sharing, "I like emo things."
Their Love for Naevis
If we are talking about æspa, we can't forget about Naevis. Naevis is æspa's gatekeeper, who they rely on to connect them with their digital avatars. They gave her a shoutout in their songs 'Next Level" and "Savage." "Next Level" birthed the "Naevis, calling, ae" meme earlier this year in May. Fast forward to October and the girls sang, "My Naevis, we love you" in "Savage."
Next Level

「naevis Calling ae!」

Savage

「危機に陥った私を守ってくれたのは君だった」

「My naevis we love U」 pic.twitter.com/q2RF4H7QsQ

— ア太郎🦦 (@ataro_bot_) October 5, 2021
WINTER Keeps Cat Snacks in Her Bag
During æspa's bag check video, WINTER kept a bunch of snacks in her bag, not just for her but for cats! She shared that she kept food to feed to cats she sees, stating that she enjoys feeding the ones she sees near her stylist. 
KARINA's Presence
KARINA truly got into character in "Black Mamba." During one particular scene when the song stops, she looked absolutely stunning as she stood before the model, Jang Yoon Ju. Both women were wearing dark clothes with gold jewelry as accents. KARINA looked like a dark princess as she sat before Jang Yoon Ju, whose arms were painted like serpent scales. 
one year ago today, karina's black mamba teasers were released pic.twitter.com/4uhCFyYLCn

— karina pics (@karinaspics) November 13, 2021
NINGNING Asking for Rihanna's Album
During æspa's song association game with ELLE, they sang Rihanna's song "Love The Way You Lie." KARINA then revealed that NINGNING is a fan of hers. The room erupted in laughter after NINGNING responded, asking, "Rihanna, where is your album?"
GISELLE's SYNK Rap
For GISELLE's SYNK teaser, she boasted her writing and rapping skills in three languages! In the short music video she rapped in English, Korean, and Japanese, showing off her linguistic capabilities and stage presence.
The TikTok presence
Any fan of K-pop can appreciate a group that is active on social media, especially when said group debuted in a pandemic. From dance covers to short skits, æspa is doing it all on TikTok! They have had their account since day one and they have consistently been posting content over the past year.
WINTER "Savage" Opener
If there is one thing you get from "Savage," it's likely WINTER's opening line. The singer had a jarring entrance as the camera angle focused on her face and she stated, "Oh my god, don't you know I'm a savage?" The lines are highlighted by her valley girl-esque accent as she asks the question. 
KARINA Is The Friend Who Kills The Bug
Everyone needs a KARINA in their life. She is known for her affectionate behavior and taking on the role as the mom of the group. On a live show, members began to freak out over the appearance of a bug and KARINA saved the day. She effortlessly swatted it away, relieving the other members. 
there's a bug on ningning's leg and karina just straight up swat it away like — pic.twitter.com/J3yHXFDQUu

— case stu(dying) (@winterthesniper) October 5, 2021
NINGNING's Pet Lizard
In June, NINGNING shared that she adopted a tailless lizard via LYSN's bubble messenger. She told fans she brought it home because nobody else would adopt it but she thought it was beautiful. She named the lizard Ddongie, which translates to "Little Shit."  
GISELLE's Audition
Fans of NCT and æspa were excited after learning that GISELLE rapped NCT's Mark iconic "Cherry Bomb" rap during her audition for SM Entertainment. She has performed it on a radio show and during a fan call, but has yet to do it on an actual stage.
Giselle wanted to audition into SM as a rapper, so she picked an SM song that had a lot of rap in it. That's why she chose to audition with Mark's rap break in "Cherry Bomb"

Before she did it on radio, she said "Sorry in advance, Mark sunbaenim"pic.twitter.com/6rYpwlokhs

— aespresso (semi-ia) (@aespresso_SM) February 9, 2021
Happy first anniversary to æspa! This marks the start of their careers!
The quartet will be performing at Macy's Thanksgiving Day Parade next week. The group is also working on another album. The "Savage" group will certainly have more to sing about in the coming days. 
If you want to learn more about æspa, check out our piece on their recent win at the EMAs here.
Thumbnail courtesy of SM Ent.