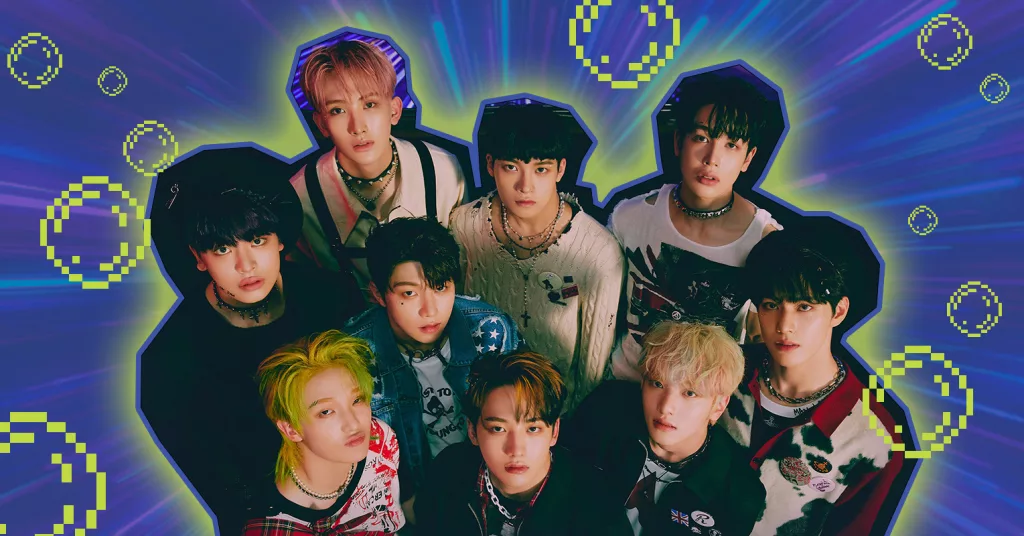 In life, it appears that with time comes knowledge and capability. But in the K-pop industry that couldn't be any further from the truth. In a profession where raw talent, skill, and dedication speaks volumes, 10-piece K-pop group, xikers, screams. With less than a year in the K-pop scene under their belt, KQ Entertainment's monster rookie group, comprising members MINJAE, JUNMIN, SUMIN, JINSIK, HYUNWOO, JUNGHOON, SEEUN, YUJUN, HUNTER, and YECHAN, have shown that it doesn't take decades of experience to become a master at your craft. With two mini-albums, two awards under their belt, and being an MNet Asia Music Awards 2023 nominee among other great K-pop artists and groups, xikers have proven why they're a force to be reckoned with, only seven months into their career.
A few days before the start of the U.S. leg of their TRICKY HOUSE : FIRST ENCOUNTER tour, EnVi met with xikers in New York for an exclusive interview to discuss all things music, their fans, and self reflection. As I stepped into the cozy conference room, I was immediately shown the charm that has captured the hearts of many. After being introduced by their management, the group stood and erupted in applause and cheers, shouting out my name followed by a resounding "EnVi Media!" and a scattered "Nice to meet you!" Their boundless energy and ability to warm a room didn't stop there. After I complimented their outfits, the group turned it back to me, telling me I, too, looked cool. YECHAN even went as far as to say that we matched, since we were all wearing red.
Within seconds, we were in the world of xikers — charms, tricks, joy, and all.
xikers Take Over NYC
With their energy high from the start, xikers set the tone for the interview from the moment we began so we jumped right in. Considering it was the group's first ever tour, it's to be expected that there were many things the members were looking forward to experiencing. I wondered if there was anything they wanted to experience while they were in the states, specifically New York, since it was their first stop after all. YUJUN bashfully answered that he wished to see road𝓨, their fanbase, and the entire group agreed. However, SUMIN, main rapper and ever the moodmaker of the group, was practically bouncing out of his seat to speak once YUJUN finished talking. He jutted his arm out, dramatically counting on each finger when he said, "Times Square, Statue of Liberty…Shake Shack, (YUJUN interrupting, "And Spiderman…Spiderman…Spiderman") and Five Guys," to which the entire group let out a low "oooo" in agreement.
Coincidentally, SUMIN got his wish. The group wound up visiting Times Square through an event in which they collaborated with the K-pop/Hip-hop dance company I LOVE DANCE. Many of their fans shared their experience on X, absolutely floored by their idols' abilities while also in awe of the chance to share such an intimate moment with xikers close.
This spurt of energy encouraged the other members to speak up about their dream experiences while in the Big Apple, since the whole group exploded into a flurry of conversation. Their interests ranged from going to the zoo — which HUNTER suggested while smiling — to watching an NBA game, a goal for the athletically inclined HYUNWOO. But inevitably, the conversation returned back to food with JINSIK concluding that he really wanted to try pulled pork. To many, these activities seem a bit lackluster, but for xikers these experiences are fun, new, and bring a glimmer to their youthful eyes.
Through the lens of their younger selves, we took it back to the beginning to discuss what brought the members to pursue music in the first place.
The Inception of Their Aspirations
Paying respect to the many artists that paved the way for them, a majority of the group agreed that they were inspired to pursue music after watching their seniors perform. SEEUN replied solemnly that he was inspired to pursue K-pop after watching performances of JungKook of BTS. HYUNWOO then piggy-backed off of him to say that his drive stemmed from watching labelmates ATEEZ perform with such vigor. Respect for their predecessors is at the forefront of xikers' minds and they made it clear with the showers of compliments they gave to their seniors.
HUNTER, however, tenderly shared that a fellow dancer opened his eyes to the entertainment industry. "For me," he said with a gentle smile, "I remember when I first started dancing I saw a dance video of a dancer [named] Matt Steffanina. He's actually a dancer in LA, and I think he inspired me to start dancing. Once I started dancing I just wanted to become a K-pop idol, naturally, because I was always surrounded by the local culture. And so, I think Matt Steffanina was definitely one of the [biggest] inspirations for me."
Navigating Music as an Artist
On the topic of their inspirations, the conversation naturally flowed to music and how it defines their everyday lives and experience as artists. Music is a universal language and this sentiment is not lost on the group. xikers cannot navigate life without music. It's like a crutch for them, something to always fall back on. SEEUN said that he listens to music all the time, "[…] not only when I'm practicing, but I listen to music when I'm showering, when I'm in the car going somewhere. When I listen to music I feel like it's comforting me. It's expressing my feelings," earning a nod in agreement from all the members. SUMIN followed up by saying that music speaks to him and aids in uplifting his mood. I'm sure many of us can agree with them when they say that music really is like a saving grace for us all.
Let's not forget that, at the end of the day, the members work in the music industry. And they can't pretend their perception of music has no impact on their growth as artists. HYUNWOO made that abundantly clear when he told EnVi that while listening to music, it makes him think of how he can improve as a singer.
"When I listen to music I want to feel the music [and the message] the singer is [trying to portray] through the lyrics. When I sing songs as an artist, I want to deliver [our] message fully to the audience."
This desire to be able to fully express their feelings to their fans is evident in their music style. While the message may not be crystal clear to all listeners, the tone of their discography reveals quite a bit. With their debut mini album, the group kept the energy high and rowdy, highlighting the big feelings that accompany their teenage years. Meanwhile, with their latest album, the music is still upbeat and youthful, but also nostalgic, extending to the scariness of adulthood while reassuring their audience that everything will be okay. MINJAE, JINSIK, and YUJUN expressed that moving forward, the message they want to send to road𝓨 is that they can always depend on xikers to uplift them with their music. MINJAE softly said, "We want to give [road𝓨] a lot of energy. We want to try and put in more effort in our [future] albums and performances for road𝓨 to cheer up their daily life."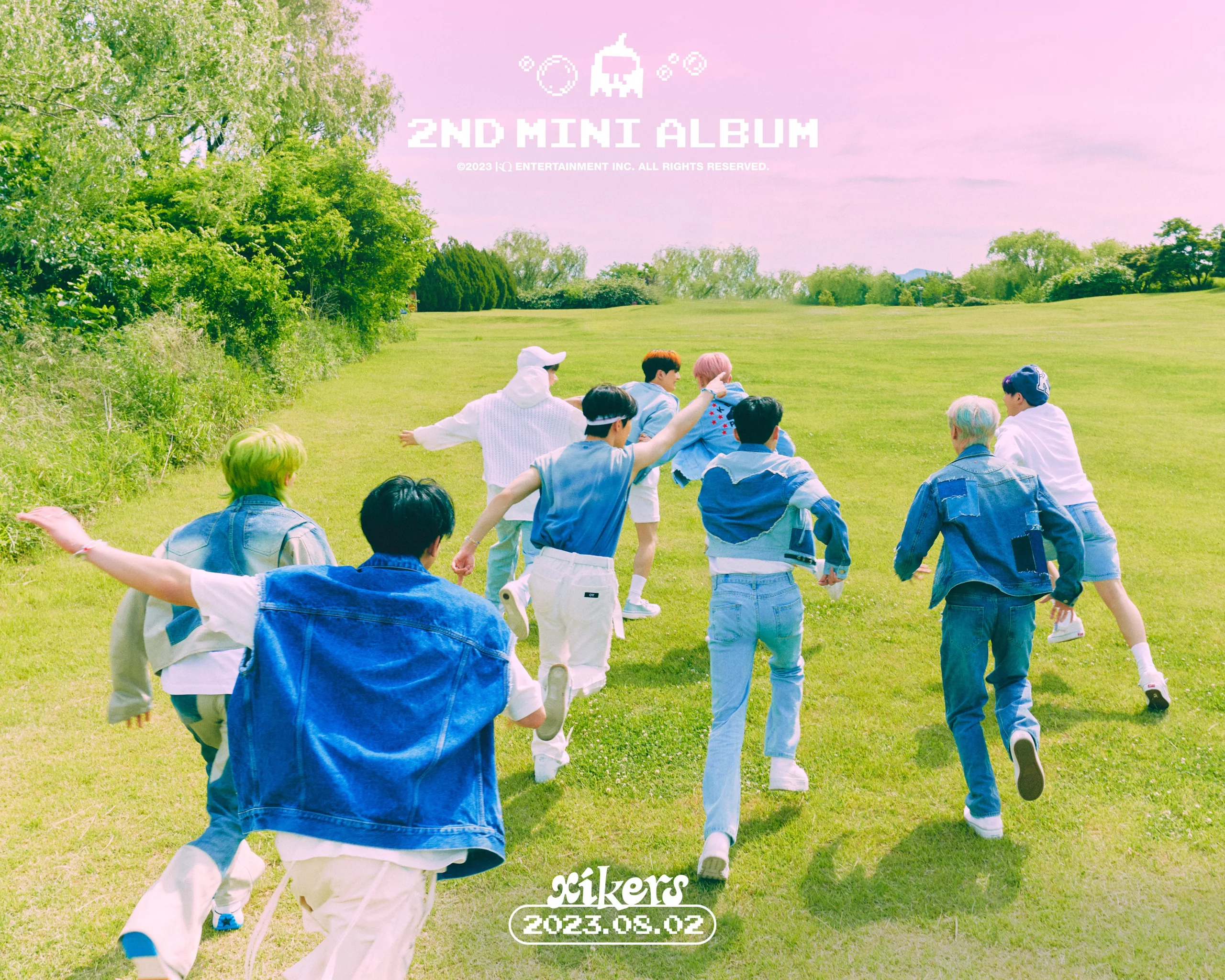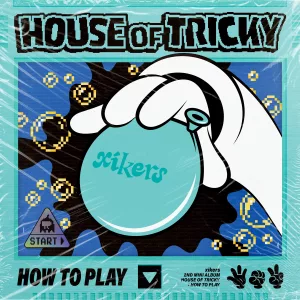 xikers Discography and the Future of Their Sound
As the group discussed the future of their music, the topic of exploring new sounds arose. JUNMIN raised his hand when he began to speak, but SUMIN shouted over him, with joy clear on his face when he answered, "OLD SCHOOL!" The group erupted in laughter at his eagerness to respond with HUNTER coaxing him to explain why he chose that genre. The rapper laughed slightly before reiterating that he loves the chill vibe of old-school hip-hop. "These days," he adds, "I listen to Tupac and Biggie a lot. I just love that vibe." (Okay, taste!) And the vibe certainly suits them. Old-school hip-hop is a genre the group has dabbled in on their latest mini album, HOUSE OF TRICKY : HOW TO PLAY, as experienced in the track "Sunny Side." This genre suits the rap style of the group while still letting their vocalists shine — I think road𝓨 would love to see more of this side of xikers!
JUNMIN went a different route, smiling shyly when he told EnVi, "Right now we're a little bit too young still but later on, as time passes, we would love — in like two or three years — to do a more mature concept." Though they have yet to try a daring concept, the group gave a taste of what their future holds at their show with JUNMIN and HUNTER's performance of "Die For You" by the Weeknd. With more time to grow and mature themselves, road𝓨 absolutely have something to look forward to.
That being said, when it came to their own discography, JINSIK and SEEUN shared their favorite songs they've made thus far. For SEEUN, he said he loved their most recent title track, "DO or DIE."
The title track is powerful and exudes the chaos of youth through its intense choreography and high energy. It's what SEEUN likes the most about the track. Meanwhile, JINSIK went for the nostalgic drill track, "HOMEBOY." He elaborated, "When I first heard the guide for the track, I had this feeling back then, and even now after recording it and releasing it, that it's a song that gives me a feeling of comfort and really heals me. I find it really wonderful to listen to."
The duo honestly couldn't have chosen a better pair of songs that represent the vibe of the group. With "DO or DIE," the instrumental is boisterous and the lyrics talk about not hesitating to do what you want — emphasizing the rebellious nature of youth. However, with "HOMEBOY," the beat is more subdued, a gentle approach to drill hip-hop with lyrics that speak to the beauty in the unknown of growing up.
When you think of xikers, the first thing that should come to mind is "performers" because they can put on a show. It doesn't matter if the song is tame or wild, the members know that their music requires a powerful performance. And as such they are usually pretty hype to perform (along with their pre-show chant). In fact, it's what makes their jobs seem much more real. HUNTER told EnVi that his favorite part of performing is, "…watching the audience's reaction to our performance. Like, for example, when we first performed our song 'XIKEY,' at a music show, we were watching our fans' reactions to our stages, it was also our first time performing that song on stage, and they were like really surprised by this performance so I just really look forward to our fans' reactions everytime we perform."
A Trip Down Memory Lane
Although the group has been launched into stardom, keeping busy since their debut, they never forget their roots. In just four months, xikers will be celebrating their one year anniversary. I asked, "What is something you want to tell your pre-debut selves?" The room went silent as a couple members sucked in a deep breath, the question seeming to resonate with them. SEEUN was the first to speak, leaving a hopeful message to his younger self.
"As you live on in life, there are multiple instances where you are going to come across obstacles and difficult times but [ultimately] all of those things will pass and as time continues to progress, there will be times where even harder things will happen. Enduring and learning from these moments is what is going to make life eventful for you, so don't worry."
Hard work is not always fun, and sometimes it feels best to just push our way through it to see the other side. HYUNWOO fidgeted with his ring, spinning it slowly around his index finger when he shared he regretted doing just that. He said, "Before debut, I felt very rushed in order to get better at things, to be good at something and complete [my tasks] faster. But now that I think back to it, I would like to tell my past self to maybe take things slowly. It will make [the experience] more long lasting." After all, you only get one chance to live out the journey you take to fulfill your dreams, you should never feel afraid to soak up every moment.
Pivoting back to a lighter tone, but still being completely logical, the group's leader, MINJAE, wished he could tell himself to work out more. Not to maintain a better image, but because he had no idea how much work it would be to perform their songs. "Before we debuted, we didn't know how difficult it would be to have a show and how hard live performances would be. Our songs are very high energy and we have to show off our choreography as we sing and I would just like to tell myself to workout more before you debut," he laughed suddenly, "to make your body stronger and performances a bit easier."
Despite taking the time to self-reflect, YECHAN shared that in the future xikers wants "to be the best that we can be and on top of that be a good influence for the artists that come after us!" And what a humble goal that is.
Dear road𝓨
As our time together drew to a close, I asked the group what song they would recommend to people who don't know xikers. The minute the question was asked — and I mean I barely got the words out — half the group shouted out "XIKEY" and "TRICKY HOUSE." Though, YECHAN said it perfectly when he responded, "Actually, listen to all our songs. So sit down and put it on a playlist." (Period!)
Before leaving, xikers shared some heartfelt messages that they wanted to send to road𝓨. JUNMIN wanted to ensure that the fans take care of their health due to the colder weather, which YECHAN punctuated with a loud and elongated message of love, "I love you, road𝓨! I miss you!"
SEEUN wrapped up the interview by tenderly stating, "Thank you so much for giving us your unwavering and unchanging love. We will work hard to become even better artists so please continue to look after us (YECHAN: And we will do our best!)."
Please note that member JUNGHOON was not present for the interview due to his temporary hiatus.
Keep up with xikers and their upcoming projects by following them on Twitter, Instagram, TikTok, and YouTube!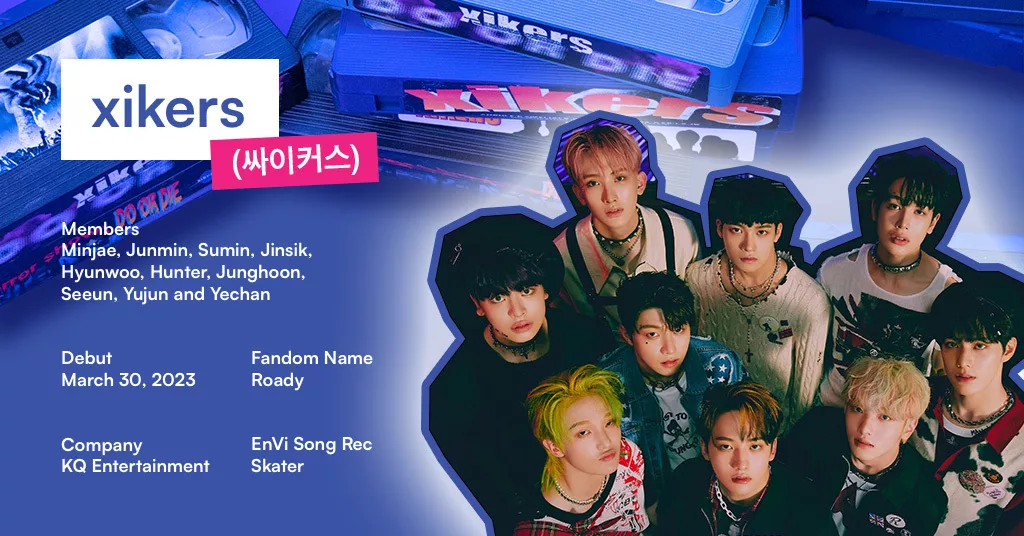 Interested in more xikers? Check out EnVi's coverage of their debut mini-album here!