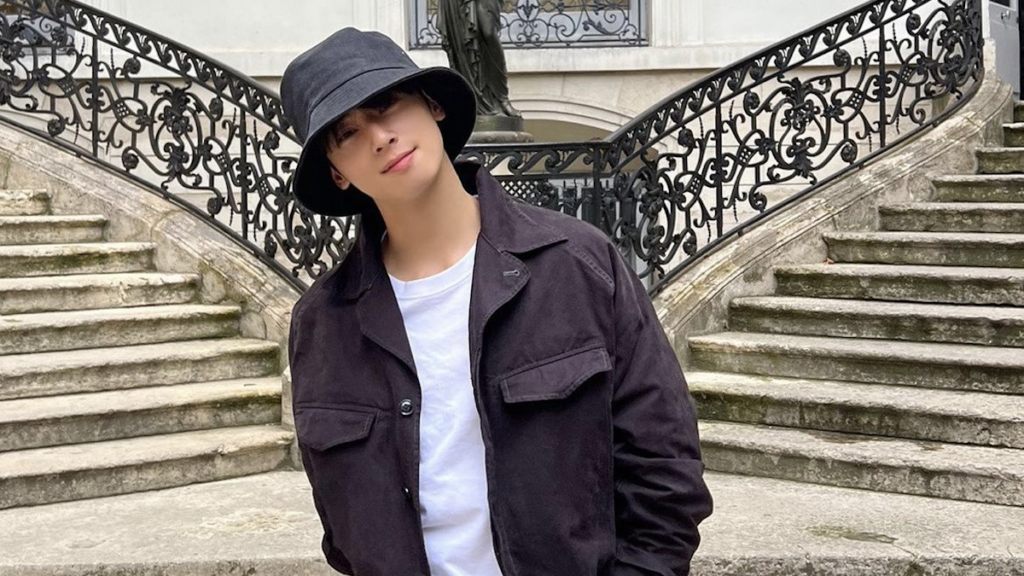 Multi-hyphenate star Cha Eun-woo has reached new frontiers, from Asia fan-meeting tours to new and upcoming on-screen gigs. Soon enough, fans can expect new content from the heartthrob. On November 20, the star launched his own self-titled YouTube channel "차은우 CHAEUNWOO" with a teaser video. In less than 24 hours after its release, the channel gained more than 100,000 subscribers, granting it a silver play button.
Eun-woo is no stranger to virality on YouTube. Luckily, YouTube is a trove of his iconic moments. Prior to this launch, his vlog series, "Eunwoo Like," garnered at least 400,000 views, with his highest-performing videos landing 7 million views. Apart from eye candy, YouTube provides all kinds of videos on Eun-woo's stellar career and personality. To celebrate his channel's successful launch, EnVi revisits some of our favorite viral Eun-woo YouTube content that we can anticipate from his channel.
1. Behind-the-Scenes (BTS) of Recent Projects
Fans can expect the actor to give us a glimpse of his recent projects, Decibel (2022), Island (2022), and A Good Day to be a Dog (2023). The multi-talented actor takes on diverse roles of a sonar technician, an exorcist, and a teacher. Eun-woo's YouTube channel may show us how he took on these various genres — action, fantasy, and romance slash slice-of-life. For now, fans can take a trip down memory lane with his previous projects, whose behind-the-scenes footage also showed the actor's off-screen playful personality.
2. Eun-woo's Competitive Nature
Eun-woo was a fixed cast member in Master in the House (MITH), a variety show that invites "masters" or professionals in various fields. In MITH, Eun-woo's competitive side became evident. He never backed out of a challenge, even if he was competing with or against professionals in taekwondo, boxing, mixed martial arts, and rope climbing. Sure, he didn't win all challenges, but his attempts were both adorable and admirable. Notably, he did achieve a sweet victory in a running race against Kim Jong-kook as the cast happily celebrated. On his own YouTube channel, we may expect similar athletic or competitive games.
3. Basketball Player Eun-woo
Similar to his competitive side in (MITH), Handsome Tigers Eun-woo also brought out the spirit of an ex-captain of a basketball team. In a short performance review from Handsome Tigers (2020), Eun-woo admitted to having an "impatient personality" when it comes to improving. His go-getter attitude makes him all the more admirable as a person that fans can look up to. Of course, his serious and competitive image while he plays on the field is an added bonus. Since basketball is a sport much loved by Eun-woo, fans may see him shooting hoops once again.
4. Getting Over Taste Buds and Fears
Despite his well-rounded nature, the multi-hyphenate also has frontiers he hasn't fully conquered. One of them is eating spicy food. We might see him finally attempt to add Spicy Food Expert to his long list of achievements. In the meantime, we can enjoy seeing him enjoying what he can cook and eat in his baking vlog from "Eunwoo Like." An added bonus to the video: we get to see Eun-woo's mama's boy side.
Another hurdle that Eun-woo might finally overcome is his fear of anything horror. This episode in MITH had the tough guy screaming for his fellow cast members after getting locked in a room as a prank. In a different episode, he was also the quickest to run from fake zombies, which also made him the perfect target. On his YouTube channel, whether he overcomes these challenges or not, the process behind it will be the most enjoyable aspect to see.
5. Authentic Eun-woo
With the constant reminder to uphold a perfect image, it's not every day you get to see celebrities share their true feelings and emotions. In Episode 158 of MITH, Eun-woo heartfully expressed his worries about not having anyone to open up to. The episode caught the attention of thousands for its relatability and look into Eun-woo's true self and struggles. With his upcoming content, we can look forward to seeing more of Lee Dong-min (the actor's real name) and his off-screen persona.
6. Beauty and Brains
Apart from looks and talent, Eun-woo also adds brains to the package. Fans, co-workers, and variety show personas have been in awe of the idol's versatility. It is no surprise that the intelligence of a former ace student and student government leader would show throughout. Still, he may just have hidden strengths and talents up his sleeve. We may expect challenges or quizzes from the star's newly launched YouTube channel. This could also be another opportunity for him to showcase his personality and lovable competitive attitude.
7. Sweet Vocals
Eun-woo expressed his appreciation for AROHA — ASTRO's fandom nickname — in his much-loved cover of Hospital Playlist's OST, "ALOHA." Having a track record for singing webtoon and K-drama OSTs, this was on-brand for the singer. In the past, he has also made song covers for Justin Bieber's "Love Yourself," Shawn Mendes' "When You're Gone," Park Jang Hyun's "Two People," and others.
In his "Just One 10 Minute" 2019 fanmeeting tour, the vocalist also sang covers in the native languages of the tour's stops. This included covers of Ben&Ben's "Kathang Isip" for Manila, Eric Chou's "What's Wrong" for Taipei, and MEAN's "So Mean" for Bangkok. With Eun-woo's sweet vocals, we will certainly be anticipating solo covers and originals on his coming channel.
8. Buff Eun-woo
Over the past few years, Eun-woo has shown a strong interest in exercise and fitness. On MITH, he continuously aced athletic competitions and was always open to advice from fitness aficionado, Kim Jong-kook. It's no secret Eun-woo has continued to embark on his muscle-building journey — his recent W Korea cover shoot is a testament to that. His new channel will be the perfect medium to let fans in on his fitness journey and also inspire viewers to lead an active and healthy lifestyle.
9. Travel Vlogs
Eun-woo's three-part "First Holiday in Italy" series racked up over 2.7 million total views. The series followed Eun-woo's sightseeing journey around Italy's popular tourist areas along with behind-the-scenes footage of his in-street photoshoot. He also made recent trips to various Asian countries for his "Just One 10 Minute: Starry Caravan" 2022 fanmeet and France for Paris Fashion Week. His mysterious visit to Los Angeles may also be revealed in travel vlog content to look out for.
10. Photoshoot Behind-the-Scenes
From promoting countless brands to gracing magazine covers, it's safe to say Eun-woo is a photoshoot expert. During the filming of True Beauty (2020), Cha Suho — the nickname combining the actor's stage surname and his drama character's name — took fans behind the scenes for the K-drama's poster photoshoot. The video garnered much love with over a million views. With Eun-woo having plenty of upcoming films and photo opportunities, we'll definitely be seeing a great deal of behind-the-scenes content from photoshoots.
To keep updated on Eun-woo, you may subscribe to his YouTube channel or follow his Instagram account.
Want to continue reminiscing about Eun-woo's individual activities? Check out our coverage of his "Starry Caravan" exclusive press conference in Manila here!