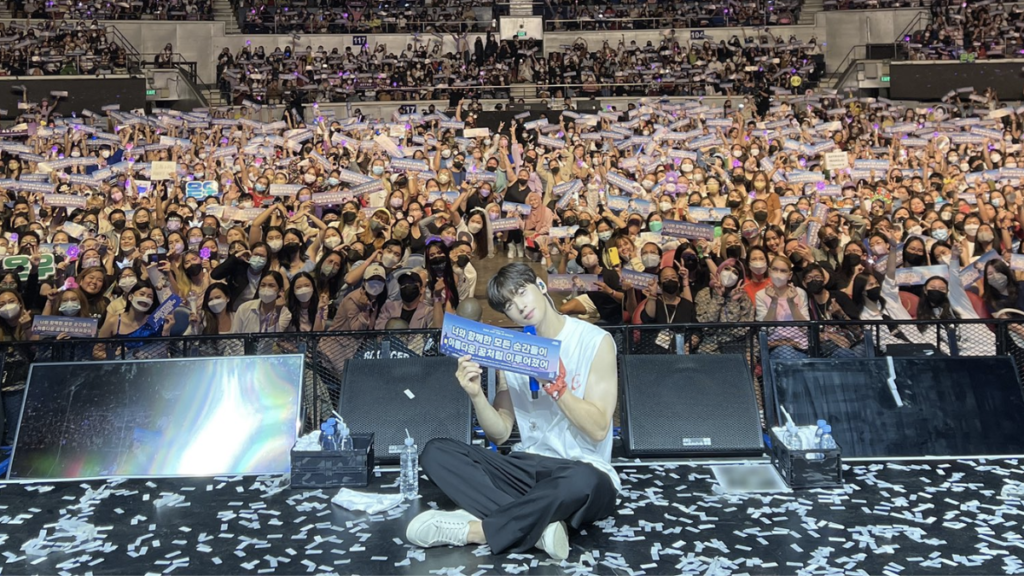 To celebrate Cha Eunwoo's return to the Philippines and his Starry Caravan fanmeeting in Manila on August 6, a press conference was held just hours before the main event. Not only was the press eagerly waiting for the multi-hyphenate to arrive, but lucky fans who won raffled entries to the exclusive and much-coveted press conference also brought their excitement. This high demand and anticipation were not surprising as it had been three years since the artist's last visit to the Philippines for his first fanmeet, Just One 10 Minute, in 2019. Eunwoo's career has been nothing short of impressive as he took strides in a variety of industries—including singing solo and in ASTRO, acting, fashion, emceeing, and even sports. In his press conference, Eunwoo briefly talked about his fond memories in the Philippines and his admirable career.
Welcome Back to Manila!
Eunwoo captured the hearts of the media and raffle-selected fans the moment he took the stage. When he entered the room donning a classy and sleek black suit and white top, the crowd's cheers and flashing cameras bore testament to his ethereal presence. Eunwoo, who boasts an enviable list of accolades, also brought a commanding presence to the room. And yet, the artist's gentle speech and well-mannered gestures showed a rather admirable humbleness. He greeted the press and fans in English, saying, "Long time no see," and "I missed you," with both greetings interspersed with the audience's cheers.
Eunwoo—who had visited the Philippines in prior years as a student, a member of ASTRO, and a soloist—reminisced about his time in the country. When asked if there were a memory he would want to recreate, Eunwoo cited a mall he went to once a month to enjoy delicious kebabs. He also shared his feelings about coming to the Philippines: "Every time I come to the Philippines, I'm so excited and happy. Meeting the fans makes me feel good. Even at the airport yesterday, the fans welcomed me so when I come here, I feel happy." He brought up similar sentiments later in the press conference when he wished, "Let's have a great night tonight."
Personal and Career Growth
Apart from fond memories of the Philippines, Eunwoo also discussed his personal and career growth. After pondering the most noticeable change he sees in himself, he said, "I don't know exactly, but…I think I'm [the] same." But the fans disagreed, teasing, "More handsome" and "More confident!" to which the actor replied with an adorable "Ha!" and a little victory fist pump. Eunwoo also shared two new hobbies, namely golf and tennis, and shared his love for sports.
The questions from the press further delved into Eunwoo's career. Since the all-rounder has achieved so much at a young age, what else does he want to accomplish? Eunwoo admitted, "I don't feel like I've achieved that much." However, the statement was met with protest, as the worldwide sensation collects brand ambassadorship deals and magazine shoots like it is no big deal. Instead of doing new things, the multi-hyphenate revealed he wants to improve further in the fields he frequently dabbles in such as singing and acting. 
Eunwoo's desire to improve his work is evident in his career. As a singer, he is credited with penning his own lyrics for songs such as "After Midnight" and his most recent solo work, "First Love," in ASTRO's latest album, Drive to the Starry Road. The heart-fluttering and fresh lyrics of "First Love" did not go unnoticed, and the inspiration behind the song's sentiments inevitably garnered curiosity from the press. Eunwoo simply mentioned the inspiration to be his general thoughts, experiences, and things that he saw rather than a more specific aspect.
During the closing remarks of the press conference, Eunwoo reiterated, "Like I said before, let's have a great night tonight. Thank you for coming and thank you for waiting [for] me. Thank you! I love you!" As he bowed and waved to the crowd for the last time, he stopped to greet his fans in Filipino, "Mahal ko kayo! (I love you all!)"
Later at 7 p.m., Eunwoo's promise of a "great night" was certainly fulfilled through the Manila leg of his tour, giving Filipino fans a night to remember. Eunwoo is set to continue his Starry Caravan tour in Japan and Korea.
Keep up-to-date with Eunwoo by following him on Instagram and Spotify.
Can't get enough of Cha Eunwoo? Check out our detailed deep-dive into his acting career in our Stage to Screen series.