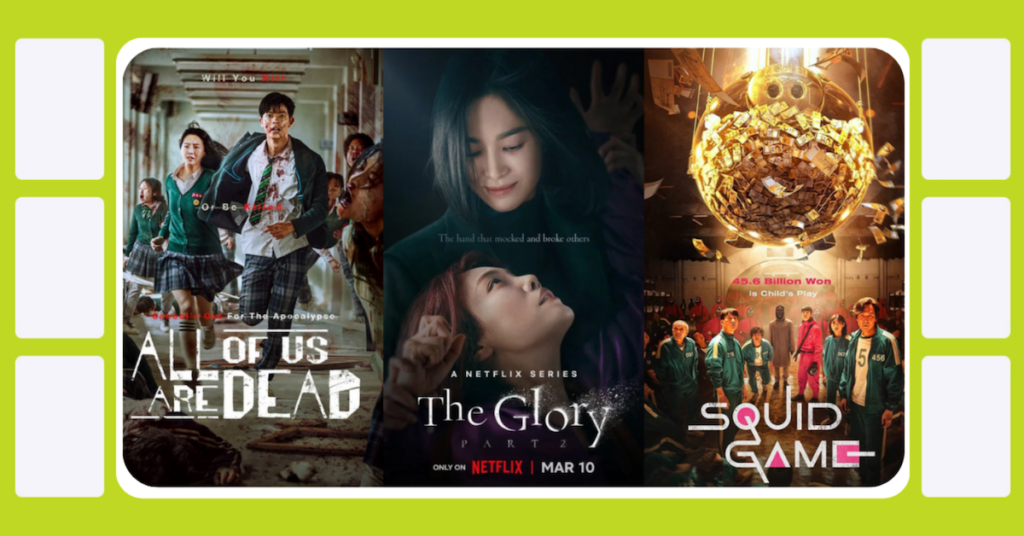 Recently, K-dramas have started to extend beyond one season. The beginning of December 2022 started with the second season of the hit Netflix series Alchemy of Souls (2022). In 2023, the second season of Poong, The Joseon Psychiatrist (2022) was released. This two season format has resulted in more extensive storylines, allowing fans to follow their favorite characters for a longer time, and the trend of extending a show's run doesn't seem to be stopping anytime soon. Many K-dramas are getting sequels, even some that first aired four years ago. In anticipation of these sequels, EnVi shares 12 shows fans can look forward to! 
The Glory (2022)
The Glory, starring Song Hyekyo and Lee Do Hyun, was released on Netflix on December 30, 2022. According to The Korea Times, it ranked number 5 worldwide on Netflix shortly after its release. The drama follows Moon Dong-eun (Song Hyekyo), who suffers abuse at the hands of her teachers and classmates as a student. After many years, she puts her plans in motion and becomes the kindergarten teacher of her bully's child. Along the way, she teams up with Joo Yeo-jeong (Lee Do Hyun) to enact her revenge against her bullies. 
The star studded cast and gripping revenge story is coming back for part 2, which Netflix confirmed will be released on March 10.
Taxi Driver (2021)
In April 2021, Taxi Driver, adapted from "The Deluxe Taxi" webtoon, was released. The series had the fourth highest ratings in its time slot on SBS. The story is about Kim Do-ki, played by Lee Jehoon, whose life changes when his mother is murdered. In the future, he becomes a taxi driver for the Rainbow Taxi Company, which is actually a front for a revenge service where the crew gets justice for its clients.
On January 27, 2023, Lee posted the poster and release date of the show's second season on his Instagram. His comments were flooded with ecstatic fans who had been waiting for news since the announcement of season 2!
Viewers can anticipate more of the Rainbow Taxi Company on February 17. 
Dr. Romantic (2016)
Dr. Romantic is coming into its third season after continuous high ratings. The second season's cast is coming back to reprise their roles, and the story will be a continuation of season 2. Han Suk Kyu, Ahn Hyo Seop, Lee Sung Kyung, and Kim Min Jae are set to reprise their roles as Teacher Kim, Seo Woo-jin, Cha-Eun-Jae, and Park Eun-tak, respectively.
The series follows the medical cases at Doldam hospital run by Teacher Kim, a talented doctor who takes surgery fellows Seo Woo-jin and Cha Eun-jae under his wing. Throughout the series, Teacher Kim teaches them how to care for patients the Doldam way.
Season 3 is set to be released in April.
Uncanny Counter (2020)
The OCN and Netflix's drama Uncanny Counter was released in November 2020. It became OCN's highest rated drama, and was quickly renewed for a second season only 3 months after the first episode aired.
The series follows the lives of Counters who are in charge of banishing evil spirits. So Mun, played by Cho Byeong Kyu, becomes a counter and must learn the responsibilities of his new powers. He joins Ga Mo-tak (Yu Jun Sang) with super-human strength, Do-Hana (Kim Sejeong) with psychometry, and Choo Mae-ok (Yeom Hye-ran) with healing abilities to fight evil. However, So Mun's parents' death soon comes back to haunt him.
Fans can anticipate seeing more of the team fighting evil in Season 2, although there is no fixed release date yet.
D.P (2021)
In August 2021, Netflix released the series D.P., which was praised for highlighting the difficulties in Korea's mandatory military service and listed in New York Times's Best International Shows of 2021. Jung Hae In and Koo Kyohwan will reprise their roles in the second season.
The series follows An Jun-Ho (Jung Hae In) in the Deserter Pursuit – or D.P. – Team. He works alongside Corporal Han Ho-Yeol (Koo Kyohwan) to catch soldiers abandoning their military service. As the story unravels, Jun-Ho discovers the harsh reality and treatment of enlistees during their service.
D.P season 2 is expected to air in the third quarter of 2023.
Squid Game (2021)
Squid Game gained the title of Netflix's most watched show of all time after its release. It became the first non-English series to win several Emmy awards such as Outstanding Drama Series, Outstanding Lead Actor, and Outstanding Actress. The Dalgona Candy challenge, an old childhood game, also reemerged and became a trend when the show aired.
Squid Game centers around Seong Gi-hun (Lee Jung Jae), a gambler in need of money to gain custody of his daughter. He is recruited to enter a contest for a chance to win millions of dollars. The game is simple: compete in several children's games and win. However, the games are more deadly than anyone could have imagined.
The release date of season 2 has not been announced yet.
The First Responders (2022)
The First Responders was released in November 2022, with each episode surpassing the rating of the previous one. Writer Min Ji Eun explained that her inspiration for the series came from observing the heroic and hardworking nature of the Busan police and fire department located next to each other.
In the series, Detective Jin Ho-Gae (Kim Raewon) and Firefighter Bon Do-jin (Son Ho Jun) work together to solve cases. The series explores the relationship of the police and fire department as they work together in emergency situations. Each episode highlights difficult cases the police and fire department respond to in their everyday lives. Writer Min Ji Eun's series sheds light on the good work of the departments.
SBS confirmed The First Responders for a second season before the series even premiered. Season 2 will premiere in 2023.
Island (2022)
Amazon Prime and TVING released Island on December 30 starring Kim Nam Gil, Cha Eun-Woo, Lee Da Hee, and Sung Jun. This supernatural and horror show has 4.8 stars on Amazon and ranked first and second in popularity in many countries. 
Won Mi Ho (Lee Da Hee) is sent to Jeju Island by her father for her selfish behavior. She suddenly finds herself face to face with Van (Kim Nam Gil) when she becomes involved with ghosts. Jeju Island was not the peaceful escape she hoped for, but rather an island haunted with evil spirits that Van and Johan (Cha Eun-Woo) have trained all their lives to kill.
Shortly after its season 1 finale, season 2 was confirmed to air on February 24, 2023.
Sweet Home (2020)
The apocalyptic series was released on Netflix in December 2020. The series' cast is filled with stars like Song Kang, Lee Do Hyun, Go Minsi, and Goo Younjung. According to The Korea Times, the series was the first Korean production to reach top 3 in Netflix's U.S. chart.
Cha Hyun-Su (Song Kang) becomes an orphan when his family dies in a car crash. Left with no one, he moves into a new apartment. His world begins to take a turn for the worst when residents of the building become monsters. Hyun-Su and his neighbors must fight to survive in their own home.
Netflix announced that Sweet Home is renewed for season 2 and 3, with season 2 expected to come out in late 2023.
All of Us are Dead (2022)
This Netflix teen zombie drama became an instant hit the moment it was released. The show was praised not only for its talented cast of Yoon Chan-young, Park Solomon, Cho Yihyun, Lee Youmi, and Park Ji Hu, but also for its portrayal of societal issues. Even one year after its premiere, it remains Netflix's 11th most watched series. 
All of Us are Dead is about a zombie virus that spreads and infests a high school. What was once a classroom becomes a battlefield for survival. Cheong San (Yoon Chan-young) and his classmates must try to make it out of the school alive and keep their humanity intact.
Netflix's announcement of All of Us are Dead's renewal had a supringing cameo from Cheong San who many thought died. Season 2's release date has not yet been confirmed.
Arthdal Chronicles (2019)
Studio Dragon's Arthdal Chronicles is a high budget epic fantasy drama. The Korea Creative Content Agency released a report naming Arthdal Chronicles as one of the most popular dramas in 2019 among viewers in the United States. Jang Dong Gun and Kim Ok Vin will reprise their roles in season 2. The roles of Eun Seom and Tan Ya have been recast with Lee Joongi and Shin Sae Kyeong.
During the Bronze Age, the land of Arth is in the beginning of civilization. Tensions between the Wahan Tribe and Arthdal Union are fierce in the battle for power. Eun Seom is told he is borned destined to destroy the world. He must find his place when Arth becomes a land filled with war and rebellion in the name of taking the throne.
Season 2 will take place a decade after the season 1 finale with tensions between Eun Seom and Ta Gon left unresolved. There is no release date for season 2 yet.
Strong Woman Do Bong Soon (2017)
The JTBC Drama quickly became a fan favorite after its release. When the show aired, it became JTBC's all time highest rated drama. Lee Youmi from All of Us are Dead (2022) and Byeon Woo Seok from 20th Century Girl (2022) have been cast in this new season. 
Strong Woman Do Bong Soon centers around Bong Soon (Park Bo Young), who was born with super strength. Her power lands her the job as CEO Ahn Min-hyuk's (Park Hyung Sik) bodyguard. Danger enters their lives when a series of kidnappings occur. With the help of her childhood best friend turned police officer In Guk-doo (Jisoo), Bong Soon learns her powers are her best bet at protecting her loved ones.
The second season will focus on Do Bong Soon's cousin and will be released in early 2023.
Interested in more ACT!ON content? Read about the movies that swept the 2023 Academy Award nominations here!