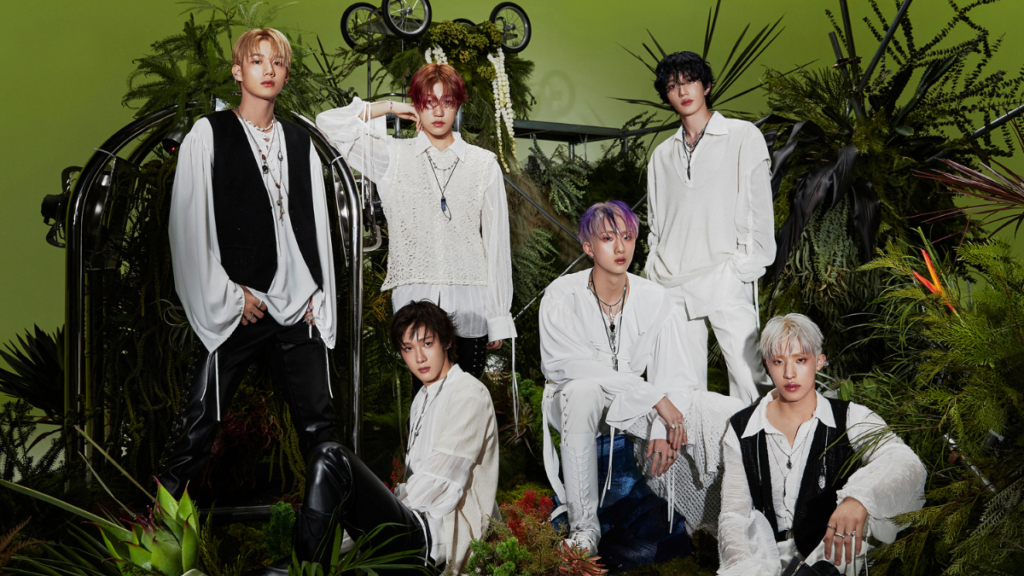 As the clock was about to strike midnight in Seoul, P1Harmony joined their album release party Zoom still clad in their comeback performance outfits. For the next 45 minutes, the six members—Keeho, Theo, Jiung, Intak, Soul, and Jongseob—spoke with the invited press, always taking the time to say an energetic "Hi!" to each person. During the press conference, P1Harmony dove into the details of their latest mini album, HARMONY: ALL IN, their next tour legs, and their growth as artists. 
Bring It All In With HARMONY: ALL IN
The tight and cohesive six-track album HARMONY: ALL IN was released on June 8. Since then, the album debuted on the Billboard Top 200 chart—a first for P1Harmony—as well as #8 on the Top Album Sales chart. Furthermore, at the time of writing, P1Harmony themselves sit neatly at #35 on the Billboard Artist 100 chart, another milestone for the almost three-year-old group. 
As the conclusion of the HARMONY album trilogy, P1Harmony had a few feelings. With leader and Korean-Canadian member Keeho translating, Jongseob expressed how the band can explore beyond a certain genre or theme by closing this chapter and starting a new one.
Before P1Harmony could continue pushing their limits musically (not like it seems like they have many), they honed in on the "contrast" between their two major album series. The themes and vibes of the DISHARMONY and HARMONY albums, according to Jiung, are vastly different. HARMONY, of course, features "more lighthearted songs," and P1Harmony "experiment[ed]…with something different."
Intak added some more thoughts to this experimenting thread. While the group did explore new musical styles in HARMONY : ALL IN, the rapper emphasized, "Every member knows what they're good at." As a result, this self-awareness gave the six members the space to shape a variety of musical palettes and genres into a distinct "P1Harmony style."
"JUMP" with P1Harmony
A celebratory and uplifting dance track, "JUMP" kicks off the HARMONY : ALL IN project. Together, the six members—and listeners—reach for their dreams and keep moving, keep jumping higher despite those who are watching them. As Jongseob raps in the English version of the song, "When I make my move, eyes on me / Eyes on me."
The music video takes this fearless energy to create a visual representation of P1Harmony, one that is overflowing with passionate drive, a unique sense of humor, and a ready invitation for everyone who wants to join in the fun. The six members kill their performances on stage in front of masses of fans, party together with similar energy in a small bedroom, and, of course, jump (a lot). Currently, "JUMP" has 21 million views at the time of writing this article, with 10 million views gained in the first 24 hours.
At the center of "JUMP," however, is the choreography, where the band blends their seamless teamwork and the skills they have honed since before their debut. While each member brings their signature energy, dancer Soul captures special attention through his solo choreography moment, as seen especially in the group's Be Original video from Studio Choom. For other music show performances, P1Harmony even whipped out some jump ropes to add a different edge to the "JUMP" theme. Plus, if anyone doubted the complexity of the choreography, they featured an "easy" version of it for a social media challenge. Stars like Hyunsuk of CIX, Hongjoong and Yunho of ATEEZ, and Daewhi of AB6IX joined the fun, in addition to Taeyong from NCT, whose promotion of "Shalala" coincided with P1Harmony and "JUMP."
Me, Myself, and I
P1Harmony have finally found their harmony, almost three years after their debut and the initiation of their DISHARMONY series. While struggle and anxiety characterized these first three albums, the group's HARMONY series has been all about love, including love for friends, and now, love for oneself. HARMONY : ALL IN's self-love journey comes across most clearly in "Love Me For Me," "More Than Words," and "I Am You."
A verified summer bop with its bouncy rhythm and funky piano line, "Love Me For Me" gathers the collective confidence and wide smiles of P1Harmony into a bright anthem. As they cheer in the post-chorus, indeed "Nobody can love me like I do." In a live clip of the track, the six don colorful sweaters and loose button downs, soft T-shirts peeking from underneath. They sing together on a green couch, in front of a stocked bookcase, and hug a fluffy pillow while proclaiming their self-love. These small details further highlight the casual yet revolutionary love they have for themselves—and one another.
P1Harmony have also spotlighted their upbeat and heartfelt B-side "More Than Words" during this promotion cycle. Written by Jiung and the two rappers, Intak and Jongseob, and composed by Jiung and Keeho, the group "tackle[s]" a new genre with "More Than Words." Furthermore, through the lyrics, "More Than Words" emphasizes the "different ways to express love without saying 'love.'" The members agreed that it took a while to shape this song into its final version; Jongseob even mentioned that he had four or five versions of his verse. Despite the difficult creation process, it was a "fun experiment," according to the youngest rapper.
HARMONY : ALL IN concludes with the sentimental R&B track "I Am You." The steady ballad may be a departure from the usual sounds found in P1Harmony's repertoire; however, the lyrics bring the underlying message of the album to a satisfying and emotional close. The members open their hearts to fans, crooning, "So let me dry your tears tonight," "We'll lift each other (Up)," and "I am you and you are me." Through HARMONY : ALL IN, above all, P1Harmony reach out to others with empathy because they have been there, too.
Love You, Love Me
During the press conference, P1Harmony revealed what they do for self-care. (They also gave little claps when each member finished answering the question, a testament to their obvious care for one another.) Jiung answered first in English, noting that "making beads, jewelry, or going fishing or going on a trip alone" is his way of carving out much-needed "'me' time." Keeho, too, emphasized creating as his method of self-care. He tries to "journal as often as possible," citing this as a "way to stay grounded."
Intak took a broader approach to the question, noting that he "focus[es] on things he likes and loves" and prefers to "reconnect with things that bring him happiness." A similar line of thought characterized Theo's response, as translated by Keeho. The young vocalist knows when he is good at something and when he is not; thus, he tends to pursue the former and increase his confidence in that activity. Meanwhile maknae and rapper Jongseob highlighted how much the stage means to him. Performing—and doing so with his fellow P1Harmony members—"makes me love myself," he replied with a small smile.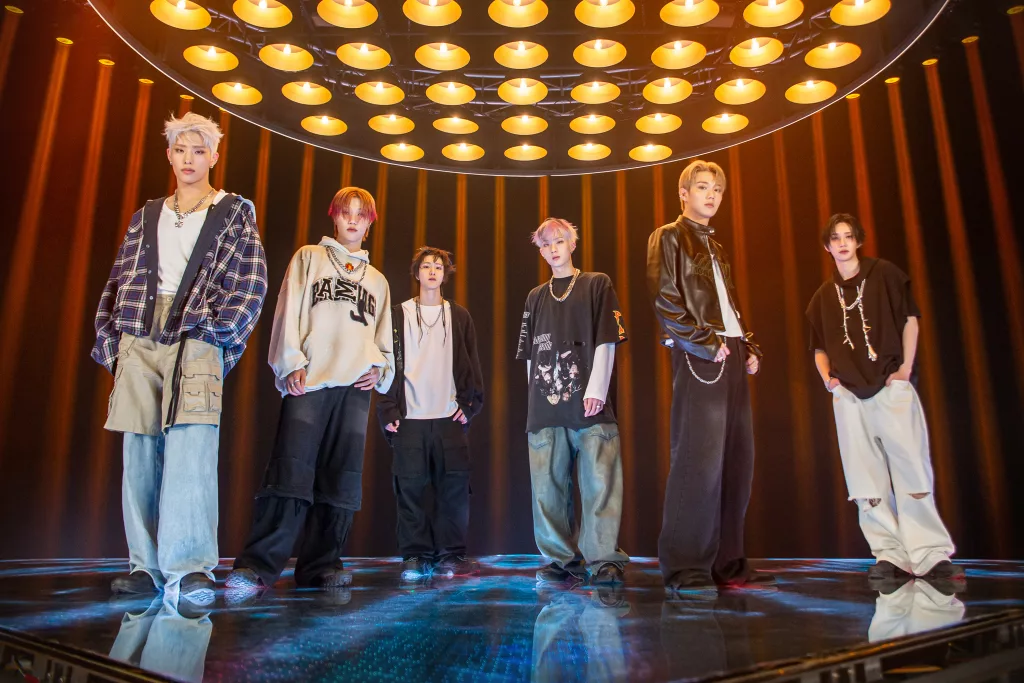 Although this was Soul's first time speaking in the interview, he offered a unique perspective. One way he practices self-care is by playing video games but with a twist that involves Keeho. When Soul relayed his answer, the leader turned around in his chair to face the younger member and gave a slight chuckle before addressing the press again. "He wants to show me…him win[ning] first place," Keeho said, also uttering a soft "cute" in Korean. Besides this, the nimble dancer likes to "listen to calming piano instrumentals," among other things, to "calm himself down" after a busy day.
Shout It Out Loud
Just speaking to P1Harmony about their newest album and observing their group dynamic allows you to witness their down-to-earth personalities but also their subtle self-assurance. "New Classic" and "Heartbeat Drum" underscore this balance that exists in the six members and their synergy as a group. They stay humble in their journey, yet they always recognize how far they have come since their debut.
A powerful show of P1Harmony confidence, "New Classic" is nestled between the more introspective tracks, "Love Me For Me" and "More Than Words." The electronic elements speed alongside the members as they declare themselves the "new classic." The fifth track of HARMONY : ALL IN also brings a wider anthemic feel to the latest P1Harmony era. "Heartbeat Drum" is the self-love anthem, calling listeners to "Danc[e] 'round your heartbeat drum." Vocal touches throughout the track emulate a heartbeat to add even more conviction to lyrics such as "It don't slow down when you feel the love." 
And boy, did we feel the love with P1Harmony. As the interview with the media began to wrap up, the group was asked about something they would tell their younger selves with what they know now. As a K-pop band with six mini albums and a handful of notable collaborations (including with Pink Sweat$ and New Hope Club), P1Harmony had a few things to say. Soul piped up, addressing his younger self "to please stay in school and do well in school." He added on, "Please do your best because it really makes a difference."
Meanwhile, Jiung kept it simple. He plainly told his younger self to "love yourself" and to please "take care of yourself."
P1ece, Love, and P1Harmony
A whirlwind of a year preceded HARMONY : ALL IN, including P1Harmony's American television debut on The Kelly Clarkson Show and taking part in a late-night comedy skit on The Daily Show. Besides these appearances, the rising force of a group launched their "P1ustage H: P1IONEER," starting with a show in Seoul this past January. Hot off the heels of their first U.S. tour, P1Harmony will continue their trek around the world with Canada and Latin America legs. These new concerts of "P1lustage H: P1ONEER" will kick off in Vancouver, then jump to Keeho's hometown of Toronto, and conclude in Mexico City at the end of July. After headlining these concerts, nine shows across Asia, Australia, and New Zealand will follow in the fall.
Although P1Harmony concerts are lively, chaotic, and just overall unforgettable events, the band can't wait to perform more songs and see more fans. When EnVi asked if there are any songs they are particularly excited to perform, Theo jumped right in. Although the sweet-voiced vocalist had mostly observed with a keen eye during the press conference, he immediately offered "Follow Me" as his answer. He added that it would be cool if the 2022 B-side from DISHARMONY : FIND OUT, led by single "Do It Like This," could be accompanied by water cannons. (We agree.)
Despite P1Harmony's extremely relatable sense of humor often bringing new fans into the fold, it's the band's music and the strength of their performances that make P1ece stay. The six maintain a mature perspective of growth, explaining that being on stage "help[ed] them grow," although they debuted during Covid-19 and lacked in-person opportunities to showcase their skills. Now, they're just "excited to see what's next," what is coming on the next horizon.
Well, we also can't wait to see where P1Harmony's energy, their humor and groundedness, and their ever-expanding creativity take them next. 
Listen to HARMONY : ALL IN here, and keep up with P1Harmony on YouTube, Twitter, Instagram, and TikTok. 
Want more P1Harmony? Check out EnVi's recap of P1Harmony's concert in Chicago here!