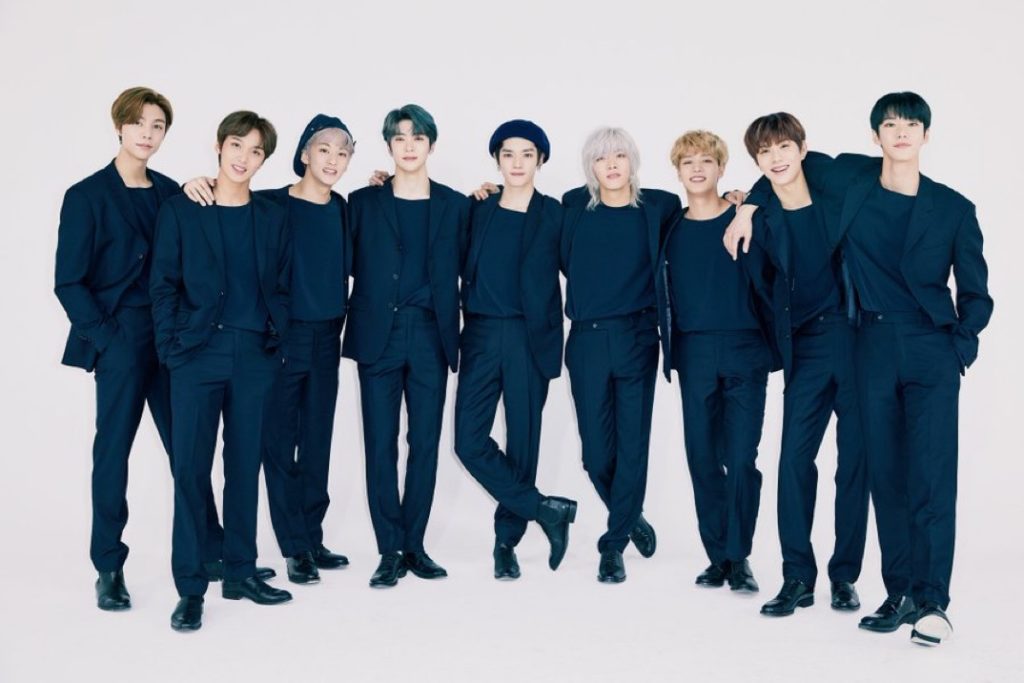 For almost five years now, NCT 127 have brought friendship, music, light, happiness, and tons of humor into the lives of NCTzens. 127 Day is a day we get to celebrate all the ways they've shown us love. We couldn't imagine life, and NCT, without the members of 127, and we can't wait for more 127 Days to come. Team EnVi curated a trip down memory lane with 127 reasons why we love NCT 127.
1. Johnny's Communication Center – Johnny's YouTube vlog always shows us sincere, behind the scenes moments of the member's daily lives. He thinks of fun activities to show czennie, how can we not love?
2. The Siren – During the boy's first ever VLive (July 9th 2016) they had a siren on the middle of the table to press every time the atmosphere became awkward to liven up the mood. Safe to say they used it excessively.
3. Mark and the Will Smith Song – While visiting a local store in Miami during NeoCity Tour, Mark asked the cashier while singing if she knew the song "Miami" by Will Smith, however, the cashier had no idea about the song leaving Mark adorably embarrassed with the song stuck in his head. 
4. Taeyong's Creativity – Taeyong shows his love and appreciation to his fellow members by customizing their items, like bags and clothes, with his art.
5. Jaehyun's Vinyls – Jaehyun shared an entire vlog purchasing a record player and loves to share his growing collection with fans. 
6. Johnny's Love for Coffee – His passion is always evident in whatever he likes or does, especially coffee, and enjoying it with his coffee and wine mate Jaehyun.
7. Doyoung's Instagram Game –  Since he created an Instagram account, his posts have caused major reactions from fans. One for his transformation from cute to sexy posts, and two for his way of comforting fans through songs on Instagram lives. 
 

 

View this post on Instagram

 
8. Haechan's Love for Sunflowers – Like the meaning of his name, our Fullsun is well known for his connection with sunflowers.
9. "Member with the Best Hair" – Who can forget Jungwoo's iconic line from one of the funniest interviews with Buzzfeed? 
10. Johnny's Fashion Evaluation – Johnny's take on the member's fashion is arguably one of NCity's favorite moments! From NCT's Night Night to JCC, NCT's resident fashion critic never disappoints! 
11. Yuta's Healing Smile – Yuta's contagious smile never fails to make NCTzens smile. His radiant smile in "Touch" further proves this bright trait.
12. Helping out the Foreign Members – When they were first starting out as trainees, Johnny and Yuta couldn't go home for the holidays, so Doyoung took them home with his family.
13. Taeil's High Notes – Taeil's singing literally feels like heaven. A moment to appreciate his note in "Simon Says," and "Kick It!"
14. Loving Winwin – No matter where Winwin goes, he is sure to be showered with affection from every member because they love him that much!
15. Mafia Game – NCT 127 playing mafia is one of the most memorable VLives as the members skipped the Asian Artist Awards on November 28, 2018 to spend the evening full of laughter.
16. Possibility of All Those Possibilities – During an Instagram live with Johnny, Mark made a funny and nonsensical statement: "The possibility of all those possibilities being possible is just another possibility that can possibly happen," leaving fans and Johnny wondering what he was trying to say.
17. "Kick It" First Win – The boys worked tirelessly hard on the Neo Zone album, and to finally be able to show them how grateful we were for the music with a trophy was an amazing experience after working hard to get them that win. Over 3 million joyful tweets that night alone!
18. Jaehyun's Chelsea Boots – You're either team Chelsea boots or team kicks in NCity… which one are you? 
19. Jungwoo and Yuta's "Lion" – Every time Jungwoo says "lion" Yuta will growl back without fail.
20. Taeil's Soft Adoration – As their hyung, he's a quieter, yet strong presence for them all. Taeil is always caring for his teammates. 
21. Taeyong's Solo VLives – Taeyong is always so adorable and comforting when he hops on. He constantly cheers fans up with his relatable and funny conversations.
22. "Your head is flat AF"– During one of their VLives, Johnny and Jaehyun read a fan comment talking about Mark's head, that had them laughing it up, especially when Johnny read the comment out loud to Mark as he took the phone to see for himself. Johnny: "They said your head is flat AF." 
23. Sunny Side Up – Johnny put his stellar mixing skills to use for his first live DJ set in a really long time. Mark also jammed out with him and helped ease Johnny's nerves. It was certainly a party in NCity that night—talk about a cultural reset.
24. Jungwoo Joining 127 – When he joined, he was still timid, but seeing him open up and become so comfortable with members he calls family has been amazing!
25. 127% – NCTzens using 127% when 100% just isn't enough.
26. Friendship Tests – We got to see a more vulnerable side, and how much they trust, respect, and love one another.
27. …& Johnny grabbed Jaehyun's Butt – An iconic moment, where these two showed their fun relationship with each other.
28. Under the Sea – Jungwoo's moment from Johnny's Fashion Evaluation that lives in our minds, rent free. 
29. Taeyong's (t)hank (y)ou Tweet – It forever changed the way Ncity says thanks.
30. Meeting Haechan the Pudu – In an almost The Office-like interview we saw NCT 127 visit the LA Zoo where fans had come together to achieve the naming rights for a newly born Pudu after donating $2500. Haechan has famously had his looks compared to this adorable animal many times before.  
31. Macy's Thanksgiving Day Parade 2019 – NCT 127 was the first K-pop band to perform at the parade. Fans all over the world saw them on TV ride the LEGO float and perform "Highway to Heaven."
32. Yuta Pepero Game – It was meant to be a punishment, but we all know Mark loved it! 
33. Quarantine VLives – Taeyong and Doyoung in "Paris," Johnny and Mark in "England" making a concoction of sugar and tea, Yuta and Jaehyun in "Japan," and Jungwoo and Taeil in "S.E.A." 
34. "It's Taeil Time!" – Arguably, it's Taeil time all the time, but in his own time slot for the original NCT 127 Relay Cams, Taeil started off with this iconic line.
35. Jaehyun and Winwin's Lemon-Orange Cross – A little phrase that started with orange and yellow shirts on a cooking challenge during NCT Life still persists to this day, and is a beautiful reminder of the 97 Line's friendship.
36. Yuta Singing on Bubble – Yuta's first voice note featured his sweet voice trying to sing "Lemon," as requested by a czennie during a fan video call. Yuta's constantly sharing his favorite Japanese Rock Band's with czennies, he's since sent another cute voice note singing L'Arc-en-Ciel's "Flower." 
37. Mark's Laugh – In a 2017 KCON interview, Mark said how after hearing Haechan's laugh he was inspired to laugh freely too. 
38. JohnJae's W Korea shoot – The photoshoot caused a major uproar in NCity from all the abs. The shoot will go down in NCTzen history as one of the best—their arms and abs etched into our memory.
 

 

View this post on Instagram

 
39. "127 Home" – The members are so close with one another that they consider each other family—and we see that a lot with the things 127 says or posts about each other 
40. "Fly Away With Me" MV– While NCT 127 were in the US, they stopped in Santa Monica and self-filmed a heart-warming video for "Fly Away With Me." The video showed a day full of fun at the beach, enjoying the time they spent together while a rainbow made a special appearance.
41. Taeyong's Closed Dance – How could anyone forget this adorable (and tbh relatable) moment in Phoenix during the 'Hit the States' series? 
42. Yuta's Belly Button Ring – Remember when Yuta's navel piercing reveal made NCity have a collective break down? 
43. …and his hair. – On 06/14/19 Yuta broke the Internet when he was seen sporting a messy bun and bangs with bright red hair. He captivated not only NCTzens, but fans of K-pop in general causing him to trend worldwide. 
44. Haechan's Woah – 127 met JRE backstage and in a fun round of dance offs Haechan hit the Woah through his butt.  
45. NCT Night Night – JohnD and JaeD were our first NCT radio DJs who comforted us with their music recommendations, fun stories, and advice. 
46. "Your efforts will never betray you" – While shooting "Dreams Come True" Taeyong said this line that has since motivated countless NCTzens. 
47. NCT 127 Relay Cam – The members gave us snippets into their daily lives and how they spend their days when they're not jam-packed with schedules. They're comfort videos for many NCTzen when they want to feel relaxed and spend time with the boys. 
48. "Not my problem"– Johnny Suh.
49. 'I Love You' Game – A memorable VLive that gave us one of the most iconic Doyoung memes.
50. "It's a bop" – Jaehyun, Doyoung, and Taeil being confused and repeatedly asking an exasperated Haechan what it means. "Rice?" "Bomb?"
51. Freaky Handshake – Pure cinematic greatness. 
52. Taeyong's Ruby Tattoo – Taeyong was really close with his late dog Ruby, and the tattoo of the doodle he drew of her is a beautiful reminder of their relationship.
53. …& Johnny and Yuta's Tattoo Reveals – The pictures of Yuta's waist and Johnny's bicep left NCity shaken to the core, which was the perfect way to start off 2021.
54. NCT 127 Concert at Rodeo Houston– Lucky fans who attended the concert got to experience "Kick It" live and other precious 127 songs that day.
55. Cherry Bomb 1.5x – "Cherry Bomb" was played at 1.5 speed, but the guys kept going (and laughing) through it. 
56. Winwin's "Fire Truck" Lift – It's a prime example of teamwork and showmanship from the group. Mark and Yuta flawlessly support Winwin's leap over the other members. It's a brilliant piece of choreography, and in some fan cams you can see Mark and Yuta nodding to check they're both ready. 
57. Brooklyn Boys – While the members were in New York, they rented an AirBnB in Brooklyn, went grocery shopping, cooked, played beer pong, sang karaoke, and explored a haunted basement for ghosts.
58. 171201 Taeyong – Seeing him perform at MAMA with Seulgi in the bright green hair was THE cultural reset. 
59. "I Like Me Better"– Jaehyun's heart melting cover was an amazing opportunity to hear his solo vocals with the backdrop of some amazing cities. 
60. Johnny' Biceps – Mr. Hercules made every attempt to remind NCity of how strong and ripped he was after finally showing off his body for "Kick It" promotions… RIP to Mark's dignity.
61. Global Citizen Festival – Not only did they get to perform on a worldwide stage for global issues, but the pictures of the guys in the crowd enjoying the concert themselves live rent free in our minds. 
62. Late Night Punch Punch Show – As a comedic remake of the usual late night shows on TV, NCT 127 filmed episodes of guest stars (actors Johnny and Mark, and boxer Jaehyun) with the Haechan's Children band, and wonderful hosts Doyoung and Jungwoo.
63. The Jungle Gym – One of the most creative stage sets used to perform fan favorite, "Baby Don't Like It." The members slip and slide through the jungle gym adding to the song's sexy rhythm, with plenty of body rolls and hot camera glances to top it off.
64. The Mystery of the Mouth Breather – On episode 462 of Weekly Idol, Doyoung had to choose the member who corresponded with the question "Who breathes too hard into the microphone?" They proceeded to comically argue over who the culprit was, as it's been an ongoing mystery over who breathes so heavily in their in-ear mics after each performance. 
65. Washington Square Park RPD – The members made an appearance at one random play dance in New York, and danced to some of their songs together with NCTzens. 
66. The Genius "Highway to Heaven" Interview – This remains such an iconic interview as NCTzens watch the members explain "Highway to Heaven" and try to avoid saying THAT word the whole time. 
67. "Whiplash" at KCON NY 2018 – NCTzens still haven't recovered from Taeyong, Mark, and Jaehyun's performance. 
68. Turkey vs Chicken – In the first-ever Johnny JCC, Johnny introduced the members to the American holiday, Thanksgiving. When the food came out Jaehyun marveled at how large the chicken was before realizing it was actually a turkey. 
69. "Superhuman" MV Reaction – When Mark and Johnny screamed at their part in the video.
70. Haechan's Birthday Song for Yuta & Winwin – This was a hilarious, show-stealing moment in Winwin and Yuta's birthday video. Something that left both members and NCTzens in hysterics.
71. Welcome Home Johnny: JCC – Johnny's family welcomed him home during their stop in Johnny's hometown of Chicago during the NeoCity Tour. The members visited Johnny's childhood home and later, Mark and Doyoung stayed over. Remember when they lost Doyoung at Target?
72. High School Graduation Tradition – NCT members visiting freshly graduated Jaehyun and Mark, and snapped the iconic shoulder ride photos to commemorate the moment and show their love. 
73. Wholesome Haechan in NCT life – He said, "Hi friends! :D" while skipping towards a group of children!  
74. "Ai Se Eu Te Pego" –  NCT 127 performed at KCON in Mexico in 2017. It was a sincere moment for the fans, as it's a well known song that held meaning for those in attendance. 
75. Yuta's Adorable VLive Mistake – When the sound wasn't working on Yuta's VLive, he held up a note to tell fans watching he was going to restart it only to later discover the paper had the name of the hotel they were staying in.  
76. Korean Englishman – Mark & Jaehyun met up with Ollie & Josh from the 'Korean Englishman' YouTube channel, where they introduced their favorite Korean-Chinese food to the hosts while chatting about their lives and Korea's cultural impact. 
77. The Late Late Show – They played The Flinch Game during an appearance on James Corden's nighttime hit. 
78. "NCT C" – Taeyong, Johnny, Yuta, Jungwoo, Doyoung, and Haeachan performed Celeb 5's "I Wanna Be A Celeb" on Music Core. The boys somehow managed to show us both their serious and fun sides with this performance in tribute to the original artists. 
79. Taeyong Playing Among Us – During a recent VLive, Taeyong shared a code to play the popular Among Us game with fans. It was sweet to see him interact with fans in this new way, especially with such limited opportunities to see one another. 
80. 127 American School – The whole series was iconic and filled with so many funny moments, especially Jungwoo's "B…B…S my diamonds-" and "hi, hello, annyeong"
81. Jack and Rose – Jaehyun and Jungwoo's iconic halloween costumes from Titanic. They even recreated the movie scene! 
82. Yuta almost spills a secret – Will we ever know what secret Yuta was going to expose during Weekly Idol? 
83. Haechan Reciting "Boyfriend" – Sometimes when Haechan is asked to speak English or just doesn't know what to say he hits us with a, "If I was your boyfriend, I'd never let you go. I can take you places you ain't never been before."  
84. NCT 127 on Despierta América – During the group's appearance on the Spanish morning show, fans enjoyed seeing the boys use some Spanish and dance to Abusadora. 
85. The Big Blue Balloon – All the members screamed in laughter when it flew away to a little island, leaving Taeil in its wake. 
86. Breaking Lightsticks – There is no shortage of casualties for NCT lightsticks at concerts when the members are having fun. Despite looking like durable hammers, the Neobong has faced many adversaries in Taeyong and Jaehyun. 
87. Doyoung Posing on Instagram Live – During one of his Instagram lives, Doyoung held poses and waited so fans could take screenshots. Doyoung is so kind and caring towards fans! 
88. Taeil and Johnny's Friendship – Their friendship is one of the subtler ones in NCT 127, but as the two eldest members they always support each other and have one another's backs. Plus, their height difference is the cutest thing ever!
89. "Chicago? Vancouver??" – Johnny and Mark reenacted their stunned reactions when they found out both of their hometowns had been included on the NeoCity list of tour stops. 
90. ABC's Mickey's 90th Spectacular – Mickey Mouse busting it down to "Regular" with 127.  
91. Taeyong's Apple Hair – During their last promotional performance of "Touch," he mentioned he chose to have this style due to not knowing when they'd next be promoting a song with such a cute and sweet vibe again. 
92. Hour Hike – After a baeksuk mukbang, Johnny and Yuta embarked on a memorable hike filled with plenty of laughs and mentions of Mark. 
 93. Regular Challenge – Johnny, Jaehyun, and Haechan demonstrated their challenge in a coffee shop, quoting their song when the barista asked what size drink they wanted. Complete with their signature dance move, this fun challenge was later shared with celebrities like Tyra Banks. 
94. 127 on Weekly Idol – Many iconic moments such as the Curtain Game, the Rose Game, Jungwoo dancing to "Havana" for the other members… 
 95. "WE! ARE! NEED! COFFEEEEE!" – Yuta hanging with '95 line in Chicago, eternally searching for Starbucks.  
96. Mark's Birthday Card – During their duo part in "Touch," Taeyong presented Mark with a card. This was a heartwarming moment where Mark looked genuinely surprised by his TY's actions. 
97. Neo Chicken – "You guys are so ''neo.'' Neomu, neomu, neomu, neomu, neomu, neomu, neomu, neo, neo, neo, neo, neo, neo CHICKEN!"  
98. Jaehyun and Normani – Jaehyun and Normani broke the Internet when the picture NCT 127 took with her backstage at Jingle Bash in Chicago went viral at the end of 2019. Posed next to each other, the pair looked like a royal couple. 
99. "Explain, Explain" – Mark asking Haechan to explain his connection to sunflowers, and Haechan just saying "okay" and never actually explaining.
100. Oh My Gosh, Seals – Taeyong and Doyoung visit pier 39 in San Francisco, where they become excited by the view of the seals, and Taeyong cutely mimics them.
101. NBA Fashion – The courtside looks by Taeyong, Johnny, and Mark had NCTzens falling for them all over again! The Disco Cam at the game captured them showing off their moves too! 
102. "Dude, he's flirting!" – The neos let us know they absolutely cannot flirt to save their lives in 19 Emotions. 
103. Baby Don't Like It… but NCTzens do! – Haechan and Taeil continued to one-up their spicy and intimate interaction during the Beyond Live concert. Sun and Moon stans, how ya doing?
104. Family Roles Trader Joe's – In the 127 Family according to Mark and Jungwoo, there is Taeyong Mom, Johnny Dad, and Mark and Jungwoo children. 
105. Jungwoo Slipping Snacks into Taeyong's cart – Also at Trader Joe's, Jungwoo kept sneaking snacks of his choice into the shopping cart without Taeyong's approval. Jungwoo's playfulness and humor is always so fun to watch and be a part of. 
106. Jaehyun's Wet Shirt in Miami – While in Miami, the members spent some time at the beach and went swimming. Fans lost it at the shots of sun-kissed Jaehyun coming out of the ocean with his great visuals and wet shirt. 
107. Johnny's Words of Comfort – Johnny always has a way of making Johfam feel loved and appreciated. As humorous as he can be during Twitter menpas, he also doesn't mind dropping a sweet reply every now and then. 
108. Haechan's Silver Hair – His silver hair during NeoCity is truly one of his most unforgettable and iconic looks that NCTzens continue to love now. 
109. Queso Queso – Jaehyun's iconic line in "Regular (English Ver.)" continues to be a meme for the ages that is quotable in any situation.
110. Jungwoo Being Chased By Security – During concerts in 2019, Jungwoo was chased two times by security when interacting with fans. He did ballet jumps all the while smiling at Czennies with Neobong in hand.
111. Taeil's Belle Costume – Yeri from Red Velvet said she thought he looked beautiful, and Taeil really did look magical! 
112. Anderson Paak – While in LA for press, musician Anderson Paak met NCT 127 at a radio show, jumped on a table in excitement, and fell off! Being the amazing and helpful guys we know, NCT 127 offered to help him, including Johnny, though his response was a tad late.
113. #UproarChallenge – On Beats 1, the boys had a dancing segment where they fulfilled the #UproarChallenge and each member certainly delivered, hyping each other up. Notably, Jungwoo surprised us all by abandoning his usual cute image for a swag-filled performance.  
114. Yuta's cover of TVXQ's "White" – It's well known that Yuta was largely inspired to become an idol because of seeing TVXQ in Japan, so this beautiful cover of their Christmas song featuring him roaming the streets during wintertime is incredibly sweet and sentimental.
115. Taeil & Haunted Houses – Taeil is known for his unflinching nerves of steel, but this clip of him hugging and taking pictures with a haunted house actor shows just how unbothered he is!
116. Teachers For a Day – As part of a writing competition, Taeyong, Jaehyun, and Jungwoo visited an elementary school for a day to spend time with students. The trio answered the children's questions, taught some dance moves, and decorated cakes together. 
117. Taeil Visits the Zoo – Accompanied by Doyoung and Jaehyun, Taeil visited a zoo in the city he represented on their North American tour, Houston. Together, they got temporary tattoos, saw the animals, and even fed giraffes.  
118. Coach Johnny – In the '95 liners' VLive, Johnny guided Taeyong, Yuta, and fans in an at-home exercise routine. Filled with funny moments, even if viewers could not follow along, they still got an ab workout just from laughing. 
119. Star-studded Collaborations – NCT 127 has worked with other amazing artists to create iconic releases for fans, including "Let's Shut Up & Dance" with Jason Derulo and Lay and "So Am I" with Ava Max.
120. Chicago's Hero – The 6 foot (or 6'1 depending on who you talk to) man from the Midwest became teary-eyed during his ending ment at 127's Chicago show. Seeing how everyone showed up to cheer him on in his hometown left him at a loss for words, but the rest of his members (whom he sees as his brothers) were quick to bring him into an emotional group hug. 
121. Our Osaka Prince – Returning home for the foreign members is a big deal, and when NCT 127 held a concert in Japan, Yuta was overcome with emotion being able to perform in his hometown. Surrounded by the members he calls his family, he was able to perform back home with the support of them around him.  
122. Group Photo Poses – Whether NCT 127 is at an event or taking a trip through the city, they constantly take group photos in various poses, each telling a different story.
123. "Dreams Come True" – Last year on 127 Day, we were gifted with this sweet song that the members did for us NCTzens. It was a beautiful gift on a beautiful day celebrating NCT 127, and even more excitingly, Jungwoo's return after hiatus.
124. Taeyong Coloring His Shoes – In his solo Relay Cam, Taeyong invited fans into his room for the first time. We saw him unfiltered in his element, where he intimately showed us how he decompresses off-hours. One of the most tender moments was when he colored his Off-White Air Force One sneakers.
125. 'To You'  – During this special series, NCT 127 shared the strength of their friendships with heartfelt sentiments and memorable experiences together. A real tear-jerker.  
126. NCT 127's First Win with "Cherry Bomb" – NCT 127 got their first music show win on MCountdown with "Cherry Bomb." It was a beautiful moment of success and the beginning of a bright future.
127. The Birth of NCT 127 – On July 6, 2016 NCT 127's story began with the debut of their hit song, "Fire Truck." They shook the music industry, introducing a new hip-hop and trap sound, now known as 'NCT Noise.' This multinational group has continued to grow into the polished artists that we have come to love.