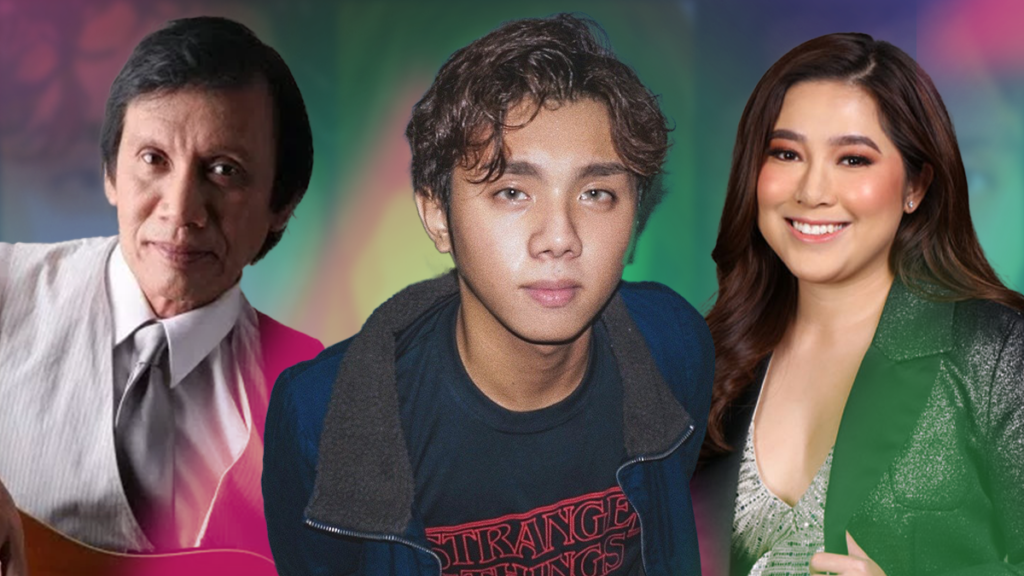 New to Filipino music and don't know where to start? OPM, better known as Original Pinoy Music, was a term established around the '70s and '80s as a successor to Manila Sound. First used as an umbrella term to cover Philippine pop ballads, OPM has become a catch-all term for music produced by Filipinos. One of the defining characteristics of the genre is the use of several Filipino languages, whether it be Tagalog, Bisaya, or Ilocano, to name a few. The country's diverse linguistic heritage adds a flair to the genre. With recurring themes such as love, heartbreak, or nostalgia, the sentimentality holds the genre together. 
Additionally, its use of traditional Filipino traditions such as harana and kundiman makes OPM unique to the Philippines. Both of these relate to traditional Filipino courting styles, so it is no wonder love songs have become synonymous with the country's greatest hits! For over four decades, the genre encompasses multiple songs that  single-handedly shaped the music-filled childhoods of Filipinos everywhere. 
As OPM develops internationally with viral TikTok sounds, collaborations with international artists, and wider fanbases, OPM is making its way to playlists all over. To start your venture out into the world of OPM, EnVi has compiled five OPM artists over the decades to check out.
Rey Valera
Regarded as one of icons of OPM, Reynaldo Valera Guardiano, otherwise known as Rey Valera is a Filipino singer, songwriter, music director, television host, and composer. Throughout his career, he has written and produced songs for notable artists across the Philippines. He started his career as a soloist in 1977 with hits such as "Kahit Maputi Na Ang Buhok KO" and "Ako'y Ako." 
Moreover, Valera's songs have been commonly used for primetime soap operas in the Philippines. Aided by his background in film scoring and directing, there is a cinematic aspect to Valera's voice. For those who enjoy acoustic OSTs, Valera's discography is sure to capture the hopeless romantic that lies within. To start your venture, EnVi recommends "Tayong Dalawa" or "Ikaw Lamang Pala" to get a feel of Valera's sound.
Zack Tabudlo
Best known for his hit song "Pano" which entered local and international charts through its online virality, Zack Tabudlo is OPM's newest upcoming star. The Filipino singer, songwriter, and producer is making milestones with his latest hits. First releasing his debut album Episode in the last quarter of 2021, he remains on top of the charts with "Habang Buhay" and "Give Me Your Forever." After earning a billboard in Times Square for "Binibini" as the most streamed song of 2021 in the Philippines, Tabudlo is taking his music to bigger stages. Tabudlo is now actively collaborating with both OPM and international artists such as James TW, Billkin, and James Reid.
Filled with longing and sentiment, Tabudlo's discography will speak to those who are searching for songs to add to those late night playlists. His hits will either make you want to dance with your loved ones or relish the serenity of your surroundings. From slow ballads to upbeat tunes, Tabdulo has it all. EnVi recommends "Pero" and "Asan Ka Na Ba" to immerse yourself in Tabdulo's musicality.
Eraserheads
Named as one of the most critically-acclaimed and significant bands in the OPM genre, Eraserheads, or E-Heads, are a Filipino rock band. Formed in 1989, they have been credited for starting the second wave of Manila bands internationally. In 1997, they became the first-ever Filipino artists to win MTV Asia Viewer's Choice Award. Over the course of their career, they produced several singles, albums, and EPs that topped domestic and international charts. Their most well-known songs include "Ang Huling El Bimbo," "With A Smile" and "Ligaya."
In the first half of 2023, Eraserheads embarked on their North American tour, fans of all ages came to share nostalgia. By retaining indie-inspired sounds, they spearhead the musical direction for OPM bands. Additionally, while still keeping the sentiment of the genre, they have added a pure electronic take that remains unique to the group. To step into their discography, EnVi recommends "Pare Ko," "Back2Me," and "Overdrive."
Moira Dela Torre
Described by many to have a "heartfelt" and "angelic" voice, Moira Dela Torre is a Filipina singer-songwriter best known for her OSTs and voice work. She first began her career as a voice artist for corporate jingles and theme songs. After making her public appearance on the first season of The Voice, she forayed into releasing singles and EPs. Her debut album, Malaya, gained national recognition and earned her numerous rewards. Her collaborations with other OPM artists, such as Ben & Ben, IV of Spades, and Daniel Padilla, also proved to be a success.
With a sweet voice that transports listeners to spring, Dela Torre's discography will appeal to those who indulge in romance dramas. In her collaboration with Daniel Padilla, she brings listeners back to the 20th century in "Mabagal," where they narrate a slow ballroom dance. Other fan favorites include "Before It Sinks In," "Paubaya," and "Patawad, Paalam." However, if you would like to take a step further into her tender discography, EnVi recommends "Titibo-Tibo" and "Sundo."
Inigo Pascual
When it comes to youth in the OPM genre, the first face to come to mind is Inigo Pascual. Born and raised in the United States and later moving to the Philippines at the age of 15, his career bloomed in the film and music industries. Following in his father's footsteps, he starred in films such as Crazy Beautiful You and the TV series And I Love You So. His 2016 debut with "Dahil Sa'Yo" went viral, reaching over 100 million views on YouTube. 
Over the last few years, Pascual has released a few singles and three studio albums: Options, Inigo Pascual, and Lockdown Sessions. Known for his fresh, youthful, and acoustic sound, he crafts a discography that appeals to younger generations. From his newly released albums, which are unplugged versions of his pre-released tracks, EnVi recommends "Catching Feelings," and "Neverland."
As OPM transcends into global charts, its presence is growing stronger. Your journey into these five OPM artists will leave you with new songs to get a better feel for the genre altogether. So, whether you are already an OPM fan or a curious newcomer, let this be your new guide.
Looking for new artists to add to your playlist? Check out EnVi's new series "For You Friday" here.