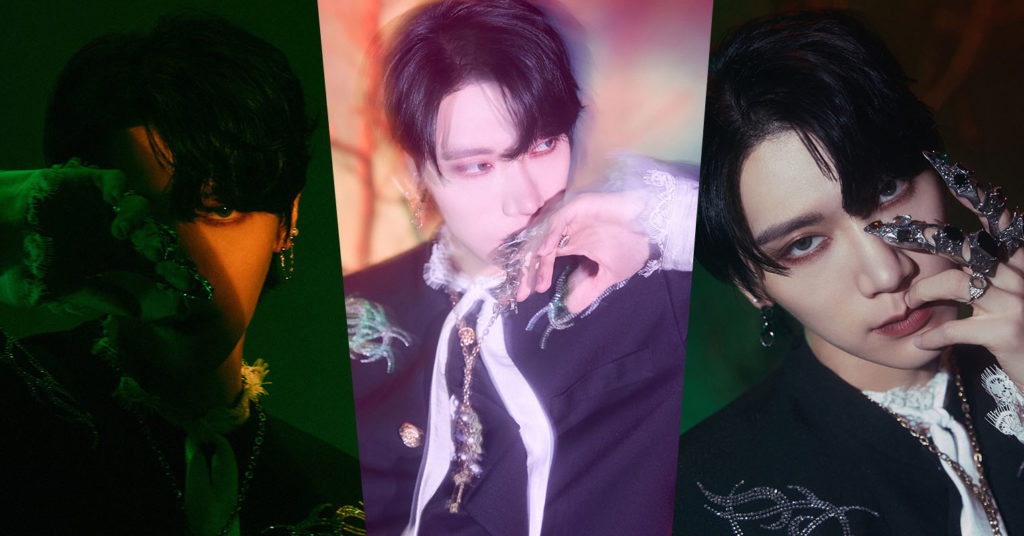 The wait is finally over and WayV are officially making their long-awaited return with their fourth mini-album, Phantom, on December 28. Over a year and a half since their last EP, Kick Back, the group has prepared an exciting amount of content to look forward to with this release. To get ready for the mysteriously-themed comeback, EnVi is here to celebrate with a series of fun facts about the WayV members. Here are seven things to know about the all-rounder, Ten Lee!
Versatile Vocals
As the main vocalist and sub-rapper of WayV, Ten never misses the opportunity to highlight his vocal range and abilities. From his deep rap in "Kick Back" to his powerful belting in "Turn Back Time," he has extraordinary control over his voice that allows him to adapt to any genre. He tends to play into his delicate tone whenever he utilizes the falsetto range. One of the best examples that accentuate his versatility, power, and control is his latest addition to SM Station's NCT LABseries, "Birthday."
Born To Dance
As the group's main dancer, Ten continues to display why he holds the title. The archive of his iconic dances is extensive, but some of his most notable ones can be found in "Birthday," "Black on Black," "Dream In A Dream," and "Moonwalk." To top it all off, Ten has shown his choreography skills as seen in his riveting dance video with Winwin to the track "lovely," by Billie Eilish and Khalid.
Artistic In Every Way
If life is a canvas, then Ten is always ready to tackle his next project with an impressive palette. From music to dance to painting to drawing, he is not bound to just one medium and chooses to express himself in multiple forms. Ten has participated in a variety of projects, but perhaps some of his most underrated work is that which is crafted by his own hand.
After WayV's debut in 2019, the members began to work on their Rainbow V series, which involved the members collaborating in different subunits to self-produce content to show their true selves to fans. The logo for the series was designed by Ten and left fans praising his art skills and begging for more content. Since then, he has gone on to design official merchandise for WayV twice, partnered with Represent for a collaborative merch line, and has even drawn tattoo designs for fans.
Cutest Cat Dad
They say dogs are a man's best friend, but in Ten's case, it is his two cats, Leon and Louis. Deemed a top notch cat dad by fans, Ten makes sure to share photos and videos of his fur babies on social media. During NCT's 24-hour relay cam series in 2021, he shared two hours of his day in a vlog — most of which is him cutely playing around with Leon and Louis. If that is not enough, then you are in luck because WayV created an entire photo book with Leon, Louis, and Xiaojun's sweet Beagle, Bella. However, the cutest cat updates come from Ten's Instagram, as you can scroll back and see just how much the little fur balls have grown.
Multilingual Legend
Multitalented, multifaceted, and multilingual. Since Ten was born in Thailand, he is fluent in Thai. But being part of global C-pop and K-pop groups has allowed him to expand his vocabulary in new languages. In fact, Ten can speak English, Japanese, Korean, Mandarin, and Thai!
Sensational Soloist
For someone as creative and skilled as Ten, it is no surprise he has a few solo projects under his belt already. His solo works tend to be eccentric in the best way possible, showing the world the different colors that make up his personality. From his traditional-style solo debut of "Dream In A Dream" to his romantic pop-rock hit "Paint Me Naked," he displays his versatility through his solos. As he continuously explores genres, there is no telling what to expect from him next.
From The Beginning
In 2013, Ten was revealed as a new member of SMROOKIES — a pre-debut training team for SM Entertainment. During that time he participated in multiple projects, such as performances and choreography videos, with fellow trainees that showed the public their talent was something special. Finally, in 2016, Ten debuted in the original lineup of NCT in "The 7th Sense." The debut track's music video emphasized his phenomenal dance skills as the choreography featured an array of isolation movements. It has been nearly nine years since he was revealed as a trainee and his career just goes to show that his dedication and perseverance have paid off. From performing in multiple groups to kick-starting his solo career, Ten has been a hard worker from the start and has made a reputable name for himself within the entertainment industry.
The Wait Is Almost Over
Phantom could not come out soon enough, but until then make sure to keep up with EnVi for more fun facts about WayV. Phantom, the fourth mini-album by WayV, will be released on December 28. Make sure to follow the group on Instagram, TikTok, and Twitter to stay up-to-date!
Want more WayV content? Check out our piece with 7 Things About Kun here!